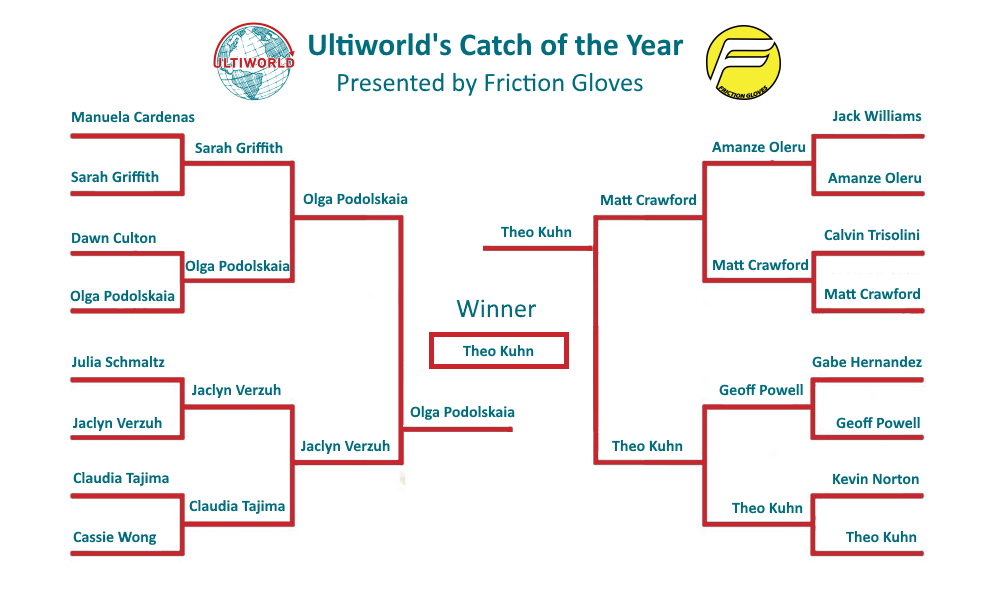 This article is presented by Friction Gloves; all opinions are those of the author. Please support the brands that make Ultiworld possible and shop at Friction!
We have a winner! Yale's Theo Kuhn, you've been voted the 2017 Catch of the Year by Ultiworld readers.
After a week and a half of growing engagement with the bracket, the final blew the doors off of all previous voting totals. In what eventually amounted to a demonstration of national pride,1 Kuhn edged past Olga Podolskaia despite incredible support from her home country.2 His spectacular chest-high layout grab had previously earned a spot on a daily Sportscenter Top 10, but now earns a more prominent distinction. Congratulations Theo and thanks to all who weighed in with their picks here!
Good news for bracket fans, we'll be back next week with our 2017 Block of the Year competition.
---
Unfortunately fitting for 2017. ↩

During the year prior to this bracket competition, the percentage of Ultiworld's traffic that came from Russia was .1% — good enough for the 32nd spot in our audience demographics. In the ten days this competition ran on the site, we saw more than twice as many visits from Russia than in the 12 months prior combined and saw Russia become the second largest source of traffic. ↩