See who's headed to Regionals and D-III Nationals!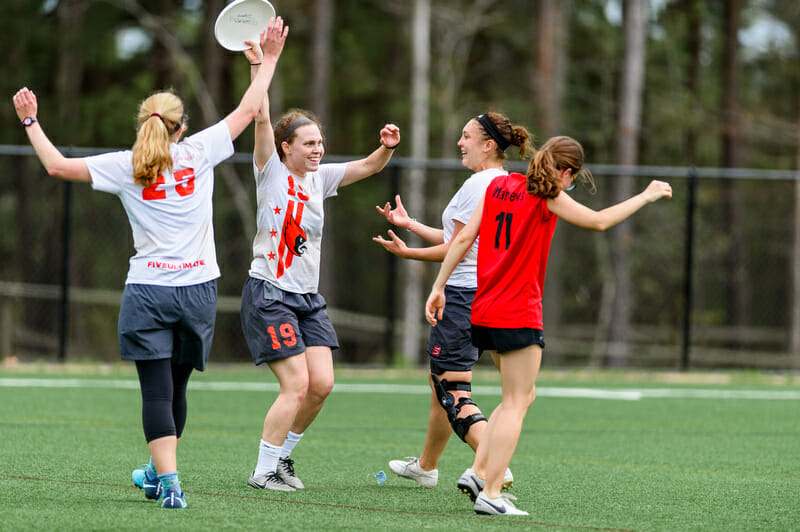 The 2018 College Series is underway as Conference tournaments began this past weekend across the country. See below for a rundown of all the teams that have qualified for Regionals—or D-III Nationals.
Also, feel free to send us a short (<250 words) recap of your tournament—we'll add it to the article!
* indicates qualification to Division III College Championships
ATLANTIC COAST
Men's D-I
1. #2 North Carolina
2. #17 North Carolina Wilmington
3. #14 NC State
4. South Carolina
5. UNC Charlotte
6. Appalachian State
7. East Carolina
1. Georgetown
2. Maryland
3. Delaware
4. Johns Hopkins
1. William & Mary
2. #15 Virginia Tech
3. James Madison
4. Virginia
5. George Mason
Women's D-I
1. #5 North Carolina
2. #18 North Carolina State
3. Clemson
4. South Carolina
5. Duke
6. UNC Wilmington
1. Maryland
T2. Georgetown
T2. Towson
4. American
5. George Washington
1. Virginia
2. James Madison
3. Liberty
4. William & Mary
5. George Mason
Men's D-III
1. Elon
2. Davidson
3. North Carolina Asheville
4. High Point
1. #7 Richmond
2. Navy
3. #6 Mary Washington
4. Catholic
Women's D-III
1. Catholic*
Regional recap written by Layne Scherer, coach of Catholic University and D-III women's reporter for Ultiworld: 
During a windy Saturday, pool play went two ways. Pool A went to seed, with No. 1 seed Richmond Red Hots going 3-0 over UNC Asheville Hellbenders, Goucher All-You-Can-Eat, and Christopher Newport Airbenders, only giving up seven points total against the three teams. Over in Pool B, No 2. seed Catholic Nun Betta went 1-2, losing to No. 5 seed Elon Wild Rumpus (11-7) as well as the top finisher in the pool, No. 4 seed Mary Washington Mary Massacre, who went 3-0 through the strong play of Leslie Pullen and Rose Kostka.
The wind died down and the rain remained at a distance for Sunday. In semis, Richmond earned a solid 14-8 win over Elon to continue their dominant weekend. On the other side of the bracket, the rematch between Catholic and Mary Washington proved a much more competitive game than Saturday's 12-5 smackdown. Catholic came out hot and was able to earn revenge, taking the semifinal 10-7 and keeping alive their shot for a repeat run to Nationals.
In a rematch of the 2017 Atlantic Coast final, Catholic again struck hard at the start through great performances from Grace Castro and Christine "Gram" Tomasic, taking half 8-5 over a Richmond team being challenged for the first time all weekend. While the Red Hots brought determination in the second half, they ran out of time with the game capped to 11. The final score of 11-8 earned Catholic their second consecutive ticket to Nationals.

Men's Developmental
1. Maryland B
2. Georgetown B
3. Delaware B
1. North Carolina B
2. William and Mary B
3. James Madison B
4. South Carolina B
5. Virginia B
GREAT LAKES
Men's D-I
1. Notre Dame
2. Purdue
3. Kentucky
4. Indiana
1. Chicago
2. Illinois
3. Illinois State
4. Northwestern
1. Michigan State
2. #16 Michigan
3. Grand Valley State
Women's D-I
1. #19 Michigan
2. Notre Dame
3. Purdue
4. Ball State
5. Michigan State
1. Northwestern
2. Chicago
3. Illinois
Men's D-III
1. Valparaiso
2. Rose-Hulman
Kalamazoo
Knox
North Park
#18 Wheaton
After finishing pool play and the quarterfinal round on Saturday, Day 2 of the tournament was cancelled due to flooded fields. The four semifinalists have all secured bids to Regionals but will not play out the remainder of games to determine seeding.
Women's D-III
1. #18 North Park
Men's Developmental
1. Illinois B
METRO EAST
Men's D-I
1. Connecticut
1. Rutgers
2. Stony Brook
3. NYU
4. Columbia
5. Rowan
1. Cornell
2. RIT
3. Rochester
4. SUNY Binghamton
5. Syracuse
6. SUNY Buffalo
Women's D-I
Eastern Metro East
1. Connecticut
2. Columbia
3. Rutgers
4. SUNY-Albany
5. NYU
6. Princeton
1. Ottawa
2. Cornell
Men's D-III
1. #20 Wesleyan
2. #19 RPI
3. Hartford
4. Marist
1. Stevens Tech
2. The College of New Jersey
1. Hamilton
2. Colgate
3. SUNY Geneseo
4. Clarkson
Women's D-III
1. #21 RPI
2. #11 Wesleyan
3. #12 Skidmore
4. Vassar
1. #24 SUNY Geneseo
2. SUNY Oneonta
3. Hamilton
4. SUNY Fredonia
Men's Developmental
1. Cornell B
NEW ENGLAND
Men's D-I
1. Tufts
2. Northeastern
3. Harvard
4. MIT
5. Boston College
T6. Massachusetts Dartmouth
T6. Boston University
1. Vermont
2. New Hampshire
3. Maine
1. #8 Brown
2. #6 Massachusetts
3. Rhode Island
Women's D-I
1. #1 Dartmouth
2. #20 Vermont
3. Massachusetts
4. New Hampshire
Thanks to some poor weather, Brown and New Hampshire met a full week after the rest of the Conference settled things. UNH ran off four straight to come back from a 10-8 deficit to take the last spot to Regionals, 12-10.
1. #9 Tufts
2. Northeastern
3. Harvard
4. Boston College
5. Boston University
6. MIT
Men's D-III
1. Bentley
2. Wentworth
3. Brandeis
Conference recap written by Colin Kenney, player from Bentley:
Bentley Icehouse went 6-1 over two days to win the Metro Boston Conference, including notching consecutive 15-4 wins in the semifinal and final over Emerson and Wentworth, respectively. Jon Ramsey shined on defense while Joe Kane and Christian Mangold has great offensive performances for the newly-crowned conference champs. No 4. seed Wentworth earned their Regionals bid by reaching the final while top-seeded Brandeis will also advance, as they battled back from a semifinal defeat to take down Emerson for the final spot.
1. #4 Middlebury
2. Dartmouth (Qualified for D-I Regionals)
3. #9 Bowdoin
4. #17 Bates
5. Colby
1. #3 Bryant
2. #11 Amherst College
3. #23 Williams
Women's D-III
1. Brandeis
1. #1 Bates
2. #13 Bowdoin
3. #9 Middlebury
1. #2 Williams
2. #6 Mount Holyoke
3. #5 Amherst
4. Smith
Men's Developmental
1. Tufts B (Qualified for D-I Regionals)
T2. Harvard B
T2. Northeastern B
4. Northeastern C
5. Boston College B
Conference recap written by Daniel Bowler, player from Northeastern B:
For the fourth year in a row, Northeastern B and Tufts B met in the final of the Developmental division at Metro Boston Conferences. While Tufts B had not competed in any other tournaments in 2018 prior to Conferences, Northeastern B was on their fourth tournament and had not dropped a game to another B team all spring, while also notching wins over a few A teams. Both squads were undefeated on the weekend heading into the title clash and the Tufts Bmen completed their blemish-free weekend with a 10-7 finish at the hard cap. Tufts capitalized on the wind using a stout sideline trap, while Northeastern relied on standout performances from sophomore handlers Malcom Scruggs, Alfred Maler, and Ben Rubasch to keep the game within reach.
The top four teams at the event (Tufts B, Northeastern B and C, and Harvard B) appeared to clearly be on a different level than the rest of the competition. Also of note was Boston University B playing through some tough injuries on Saturday.
1. Massachusetts C (Qualified for D-I Regionals)
T2. Massachusetts B
T2. Brown B
4. Dartmouth B
5. Vermont B
NORTH CENTRAL
Men's D-I
1. #5 Wisconsin
2. UW-Whitewater
3. UW-Milwaukee
4. Marquette
5. Wisconsin-Eau Claire
1. #1 Carleton
2. #10 Minnesota
3. Minnesota-Duluth
4. Minnesota State-Mankato
1. Iowa
2. Nebraska
3. Iowa State
Womens D-I
1. Wisconsin
2. Wisconsin-Eau Claire
3. Wisconsin-La Crosse
1. #13 Carleton
2. #22 Minnesota
3. Iowa State
4. Iowa
5. Northern Iowa
Men's D-III
1. #13 Michigan Tech
2. Beloit/Wisconin-Platteville
1. #5 Carleton GoP
2. #24 St. Olaf
3. Macalester
4. Carleton Hot Karls
5. St. John's
6. Winona State
1. Luther
2. Drake
3. Grinnell
4. Luther B
Women's D-III
For the second straight weekend, this event was postponed, and will be held April 28-29.
NORTHWEST
Men's D-I
1. Utah
2. Gonzaga
3. Montana
4. Boise State
#20 BYU went 5-0 on Saturday before dropping out due to the university's Sunday play restriction.
1. #3 Oregon
T2. #4 Washington
T2. #23 Western Washington
4. Victoria
5. British Columbia
6. Oregon State
Women's D-I
1. #15 Whitman
2. Utah
3. Boise State
#12 BYU went 3-0 on Saturday before dropping out due to the university's Sunday play restriction.
1. #6 British Columbia
2. #4 Oregon
3. #11 Western Washington
4. #21 Washington
5. Victoria
Men's D-III
1. #2 Whitman*
2. #25 Puget Sound*
Women's D-III
1. #3 Puget Sound*
2. #14 Pacific Lutheran*
OHIO VALLEY
Men's D-I
1. Villanova
2. Temple
3. Lehigh
4. West Chester
5. Pennsylvania
1. Ohio State
2. Case Western
3. Akron
4. Cincinnati
5. Ohio
6. Dayton
7. Wright State
1. #7 Pittsburgh
2. Carnegie Mellon
3. Penn State
Women's D-I
1. #8 Ohio State
2. Case Western
1. #10 Pittsburgh
2. #16 West Chester
3. Pennsylvania
4. Penn State
5. Carnegie Mellon
6. West Virginia
Men's D-III
1. Haverford
2. Swarthmore
3. Scranton
4. Jefferson
1. #22 Oberlin
2. Xavier
3. Franciscan
4. Cedarville
1. Shippensburg
2. Grove City
3. Messiah
4. Dickinson
Women's D-III
1. #17 Oberlin
2. Ohio Wesleyan
3. Cedarville
1. #8 Lehigh
2. Swarthmore
3. #20 Dickinson
4. Haverford
5. Messiah
Men's Developmental
1. Pittsburgh B (Qualifies for D-I Regionals)
SOUTH CENTRAL
Men's D-I
1. Texas Dallas
2. North Texas
3. Texas Tech
4. Baylor
1. Arkansas
2. Kansas
3. Washington University
4. Oklahoma State
5. St. Louis University
Conference recap written by Jarrod Hockett:
Mid-April in Fayetteville is usually a lock for a beautiful weekend, but it'd be hard to understate how awful the weather was. Saturday saw 20+ mph winds and bone-chilling cold; on Sunday, teams arrived to warmups with snow flurries coming down. The cold wind really changed the strategy; it was a constant crosswind on all fields, so less upwind/downwind and more pinning the disc on the sideline.
Arkansas upset Kansas to win the conference after falling behind 4-1 in the championship game, getting a hold on a Kaplan Maurer backhand down the force side to Marcus Payne for the win on double game point. Maurer is pretty deserving of his inevitable All-Region nomination, but the team's system also really impressed; they punished teams with the speed of their cuts out of the stack, with opponents spending much the time chasing them until throwing in the towel. As usual, Kansas looked like a faceless army of solid players.
Wash U narrowly edged Oklahoma State in the third place game with an upwind hold on double game point. Contra also utilized depth and some really solid break throws to advance; Nate Vogt had himself a nice Saturday, picking up at least two Callahans. Oklahoma State are a talented but fairly young team, with only two graduating players contributing at the top end of the roster, while also trotting out four true freshmen on their starting line. This showed on Sunday morning as they were nearly upset by Oklahoma behind strong play from Harper Stanfield and Scotty Guidry. Ultimato will have a lot to manage in the next few seasons as they gain experience, though Connor Olson from the Dallas Roughnecks and Public Enemy can and does do it all.
Elsewhere, Saint Louis University beat Kansas State handily to take the fifth and final Regionals bid.
1. #24 Colorado State
2. #19 Colorado
3. Colorado State B
4. Colorado Denver
1. #25 Texas A&M
2. Texas
3. Texas State
Women's D-I
1. Washington University
2. Kansas
3. Arkansas
1. #14 Colorado
2. Colorado College
3. Denver
4. Colorado State
5. Colorado B
1. #7 Texas
2. Texas Christian
3. Texas State
4. Texas Dallas
Men's D-III
1. #10 John Brown
2. Missouri S&T
3. Harding
4. Truman State
1. #1 Air Force
2. Colorado Mines
3. #8 Colorado College
1. Rice
Women's D-III
1. Rice*
SOUTHEAST
Men's D-I
1. Florida
2. Florida State
3. South Florida
A shocking result for USF, who defeated Central Florida on double game point.
1. #13 Auburn
2. #22 LSU
3. Tulane
4. Alabama
5. Alabama-Huntsville
6. Mississippi
7. Mississippi State
1. #11 Georgia
2. Kennesaw State
3. #21 Emory
4. Tennessee
5. Tennessee Chattanooga
6. Georgia Tech
Women's D-I
1. #24 Florida
2. Florida State
3. Central Florida
1. #23 Auburn
2. Mississippi
3. Vanderbilt
4. LSU
5. Mississippi State
1. Kennesaw State
2. Georgia Tech
3. Georgia
4. Emory
Men's D-III
1. #12 Georgia College*
The reigning champions, Georgia College, lost to Samford in pool play Saturday, but defeated them 15-10 in the final on Sunday.
Women's D-III
1. #4 Georgia College*
SOUTHWEST
Men's D-I
1. Arizona
2. Northern Arizona
3. Arizona State
1. #12 Stanford
2. California
3. Santa Clara
4. Las Positas
5. UC Davis
6. Nevada Reno
7. Chico State
1. #18 Cal Poly SLO
2. UC Santa Barbara
3. Southern California
4. UCLA
5. Cal Poly Pomona
6. San Diego State
Women's D-I
1. Arizona
2. Arizona State
3. Northern Arizona
1. #2 Stanford
2. California
3. Chico
4. UC Davis
5. UC Santa Cruz
6. Santa Clara
1. #3 UC San Diego
2. #17 UC Santa Barbara
3. Cal Poly SLO
4. #25 UCLA
5. Southern California
6. San Diego State
Men's D-III
1. Occidental*
Regional recap written by Nate Warden, coach of Occidental:
In a clean and thrilling Sunday final in wonderful weather, Occidental College Detox defeated the long-standing regional powerhouse #18 Claremont Braineaters 12-11 to defend their conference title and return to D-III Nationals for the second year in a row.
The result would appear to be a surprise, considering the Braineaters beat Detox handily on Saturday 9-6 and looked better in all of their Saturday games overall. But the Detox team that showed up on Sunday was a very different animal. Lines were tightened, players limited by injury played in full, and Detox showed sharp focus. Adam Grammer and Kade Cheatham in particular were excellent.
It's a disappointing result for Claremont, who played an excellent game in the final. There were very few turnovers by either team despite aggressive defense, with multiple one-possession scores and no point taking more than three possessions. Each team punched in three breaks, but the game finished on serve 12-11—a game so tight wire to wire that the flip alone may have been the difference. William "Hill" Balliet and Charlie Capron were the engines of the Braineasters offense.
Elsewhere, Bryce Edwards and Daryl Yee were excellent as expected for Cal Tech. Although this was Biola's first and last tournament of the season, they arguably had the most top-end athletic talent of any team in attendance, as demonstrated in a Sunday win over Cal Tech. Biola was too raw and inexperienced to dent either of the top contenders, but if they committed to proper coaching and skill development they could become a threat in the region in a year or two, but that is one very large if in D-III.
Women's D-III
Southwest
1. #23 Claremont*
No tournament scheduled, but Claremont advances to D-III Nationals with the highest ranking at the end of the regular season.
---
The Michigan Conference combined with Illinois in 2018. ↩

Combined with North New England Dev in 2018. ↩