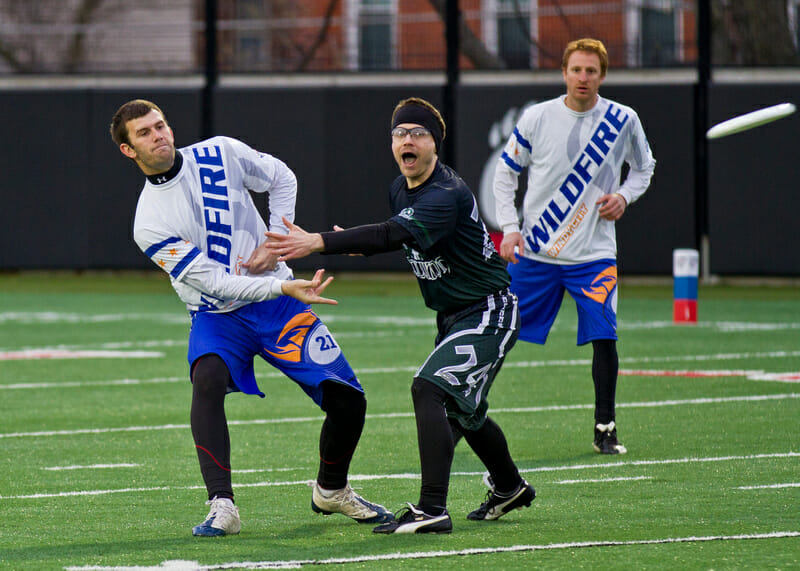 Throughout this AUDL season, Ultiworld will be publishing a weekly Throwaround, a chance for you to catch up on the amazing, funny, and interesting moments that you might have missed from the weekend's games.
College Regionals took the front seat this weekend, but there was plenty of action around the AUDL. With some split doubleheaders with teams winning in the second game of a back-to-back (rare indeed!), some teams defied the odds.
The Scores1
Austin 25-23 (OT) Raleigh
San Jose 18-17 (OT) San Diego
Montreal 35-33 (OT) Ottawa
Madison 29-13 Pittsburgh
DC 18-18 Philadelphia (yes, a tie)
San Diego 25-21 San Francisco
Tampa Bay 25-13 Nashville
Raleigh 24-20 Dallas
Indianapolis 25-21 Chicago
Montreal Forces Overtime In Wild Fashion
The Ottawa Outlaws were mere seconds from a big upset win over the Montreal Royal. Leading 30-29 and receiving with under 20 seconds to go, all they needed to do was avoid a turnover. Gulp.
That Montreal score from Gabriel Monfette to Malik Auger-Semmar beat the buzzer, completing a five point fourth quarter comeback (!) to send the game into overtime. Of course, Montreal went on to win, stunning Ottawa, who falls to 0-3.
– Charlie Eisenhood
Advertising Works!
San Diego Impresses in Bay Area Back-To-Back
Many of the stars who populate the rosters of the San Jose Spiders and San Francisco Flamethrowers grew up playing in the robust ultimate scene in the Bay Area, and in turn now coach the next generation of players, developing a widely recognized depth of talent throughout the region. That depth was tested this weekend, with many Spiders and Flamethrowers unavailable due to coaching responsibilities (and a few out with injuries). Missing talent is a given in the AUDL, where few teams are able to reliably fill out the same lineup each week, but being able to win without stars is what separates the best teams from the average. Both Bay Area teams faced the San Diego Growlers this weekend, and their depth was on full display.
On Friday night, the Spiders beat the Growlers 18-17 in OT. The low scoring, windy affair was highlighted by the Growlers' lefty throwers' ability to use their backhands (facing a traditional forehand force) to cut through wind and shake off marks. While they were able to find early success, jumping out to an 8-3 lead, the Spiders were able to crawl back and win the tough points to close out the game.
San Diego didn't have much time to sulk, facing another game Saturday night against the Flamethrowers. San Diego hadn't won against San Francisco since 2015, but given the absences on the Flamethrowers (notably Davis, Sanchez, Kerns, Corbitt, Cohen, and Liu), this game was anyone's for the taking.
San Francisco dug into their depth chart, pulling in street free agents Ryo Kawaoka and Nick Schlag to play serious minutes. They also got major contributions from lesser known players like Jacob Greenberg, Alex Grande, and Vincenzo Vitiello. If the Flamethrowers make the playoffs, that kind of depth will be really important as coach Joshua Greenough can rely on his entire roster to make plays, saving key minutes for more rested stars.
While San Francisco was able to stay in the game despite missing many starters, they fell apart late, surrendering a 10-1 run to close the game. San Diego deserves credit for keeping their energy through both games of a road back-to-back (especially after the first went to overtime). They were able to make plays down the stretch thanks to their smart use of a 2-3-2 zone, taking advantage of every San Francisco mistake. They also got a boost in Steven Milardovich, who made his season debut this weekend. Travis Dunn, Sean Ham, Nate Page, and Trevor Purdy also stood out as key contributors. You might want to start learning those names because the Growlers win makes them only West team above .500.
– Alex Rubin
Raleigh Splits Texas Two-Step
In a wildcard weekend for the AUDL, with college Regionals stealing away many players, the Southern Division was not immune to tight games and some surprising outcomes. Raleigh went out to Texas for a doubleheader. They opened their trip with an inauspicious start: a 25-23 loss to the Austin Sol with a looming back-to-back against a Roughnecks team that came into Raleigh a couple weeks ago and soundly beat them. Three hours north in Dallas on Saturday, they redeemed their Week 2 loss in another AUDL Game of the Week featured on Stadium, defeating the Dallas Roughnecks 24-20. Jonathan "Goose" Helton had a strong weekend, despite playing on a broken toe!
How about this: the Flyers' Justin Allen caught a pull and released a massive 90-yard flick with one second on the clock for this buzzer beater score.
https://twitter.com/WatchStadium/status/990313104922873858
– Ally McCarthy
Lightning Delays Force A Tie In Philly
Philadelphia and DC finished in the AUDL's second-ever tie this weekend, 18-18. The odd final score resulted from a whopping four lightning delays in a game that really should have been postponed. Because the teams had to vacate the stadium by 10 PM per Philadelphia's contract, that meant there was a hard stop at 9:50 PM.
Philly punched in back-to-back breaks in the fourth quarter to knot the game at 18, and DC couldn't punch in a go-ahead score. With no time for an overtime period, the game was ruled a tie.
– Charlie Eisenhood
Cascades Lose Mixed Showcase
Seattle was idle in AUDL play this weekend but lost 15-10 to Vancouver in a mixed showcase game at the youth tournament Spring Reign. The game was played as a fundraiser for the DiscNW Youth Development Fund and is part of the Cascades's ongoing commitment to gender equity, providing equal playing opportunities to men and women. Props to the Cascades for making this game happen outside of the AUDL framework. They will play again as a mixed team later this season in the Cascades Cup and the Rainier Cup.
– Alex Rubin
#RocaWatch
Despite getting called out by Tuscaloosa Ultimate for imitating a "college coach with no fashion sense" (ex-Tennessee football coach Derek Dooley), Tampa Bay Cannons' coach Andrew Roca finally led the team to their first win of the season against the Nashville Nightwatch.
With an outfit which matched coach Dooley from the orange pants down to the sleek brown shoes, his creativity paid off and resulted in the Cannons taking down the Nightwatch with one of the biggest point differentials of the weekend, winning 25-13.
https://twitter.com/TampaBayCannons/status/990358894882033666
The Tampa Bay Cannons also partnered with Tampa Bay Ultimate to raise money benefiting the Fallen Soldiers March. Entry to their Saturday home game was free for military members and 50% of ticket sales using a special promo code went to Fallen Soldiers March.
– Ally McCarthy
Brodie Back?
Brodie hasn't said what team he'll play for, and it's worth noting that he hasn't played meaningful minutes in the AUDL (or in club for that matter) in years. Is this just another team taking a flyer?
– Charlie Eisenhood
---
Home team in bold. ↩