Oregon regained the upper hand on UBC, retaking the Regional Championship.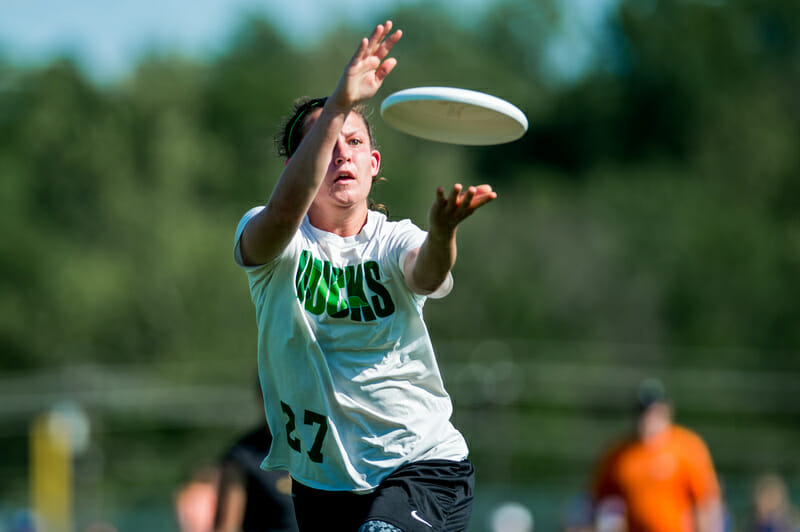 Coverage of D-I women's regionals is presented by VC Ultimate as part of their season-long support of our women's coverage. All opinions are those of the authors. Please support the brands that make Ultiworld possible and shop at VC Ultimate!
#5 Oregon Fugue bested the #4 British Columbia Thunderbirds 15-13 to reclaim the title of Northwest Regional Champions. Oregon and UBC will be joined in Milwaukee by Western Washington and Whitman, two programs that will return to Nationals for the first time since 2016. In a bizarre twist of rankings and fate, half of this small Northwest Regionals qualified for Nationals.
Saturday's gusty winds weren't prohibitive like they were in other regions, but they added some intrigue to pool play that went mostly to seed. Utah delivered the day's only upset over the Victoria Vixens 13-6, and indeed Utah played tight against some of the region's best teams, losing to Oregon 11-9. Jess Olsen has a cannon and Kyra Khoroujnikova was an athletic receiver in the deep space.
Oregon Pushes Past UBC to Claim Title
Oregon discovered they knew how to play possession offense, and it brought them the win and the title, 15-13, over UBC for the first time in over a season of matchups. British Columbia had defeated Oregon five of the previous six times they played in the last two seasons before this Sunday, often winning with offensive efficiency that Oregon disregarded. When Oregon tightened the screws in their decision-making, they were unstoppable.
"We played with incredible intensity," said Callahan nominee Ella Hansen after the final win. "And even when we got broken in the first half, we in general had very few turnovers, which for our style of play, that's something we've had a lot of this season…"
UBC and Oregon traded leads throughout the game, and UBC's defense wrenched turns from Oregon with a zone set and big plays from Kaitlyn Harper and Brianne Wager. UBC led at 11-9, when Oregon pulled off a late surge, a specialty for this Fugue team. They went on a break run to steal a late lead, 13-11, and they held the lead until their victory.
"We have had a really good playing relationship with UBC the past few seasons," said Hansen. "It's just awesome to play a team like that consistently and have very spirited and hard fought and intense games."
Despite losing the Regional title, the UBC Thunderbirds have no reason to hang their heads. Not only did they qualify for Nationals for the eighth season in a row — every year of the modern era — but they looked stronger and more poised than they did at Northwest Challenge, despite missing core handler Judith Yeo to a hand injury. They were unchallenged during pool play, and they closed games with the elite execution needed for longer tournaments than Regionals.
UBC set several defenses against Oregon, including a backhand force and a zone, and their young defensive line generated blocks in space. Naomi Morcilla and Ellen Au-Yeung shifted between the O- and D-lines in the final, and their speed crucially deepened the field for handlers Janelle Siwa and Brianne Wager. They may be a dangerous no. 2 seed in Milwaukee.
Western and Whitman Return to the 'Ship
#11 Western Washington Chaos made their weekend's mission clear from the first point they played: they were ready to prove they deserve the bid they earned and a spot at the College Championships. They accomplished both tasks this weekend, earning the third bid from the region and only losing to UBC, whom they played twice.
This team missed the postseason last year after they were suspended by their university. This year, Chaos was anything but. They executed with discipline, focus, and defensive energy that kept them in opponents' pockets from the first pull to the final point.
"I think it was just, more of us figuring out what each other likes and getting to know your teammates more… and just taking a breath," said captain Samiya Ismail. "And because it's Regionals, you gotta take a breath sometimes."
While veterans Maddie Gilbert, Samiya Ismail, Ruby Cassidy, and Tian Qing Yen played with composure and skill, it was younger players like Eleanor Joselyn and Camille de Guzman who kept up Western's rabid pace.
What does it feel like to qualify again for Nationals?
"Amaaazing!" Ismail said.
The #15 Whitman Sweets were the last team to qualify for Nationals. They held seed on Saturday, going 2-1, and they won the 4th place bracket game to go with conviction against #21 Washington 15-5. The Sweets took an early 5-2 lead over Washington with break after break. Their athleticism showed as cutters ran down hucks and patiently worked through under cuts, even late in the day on Sunday.
"A lot of us feel like, 'We've worked really hard, we've trained really hard, we've done a lot of conditioning…'" said captain Linnea Soo. "And something that we always talk about is 'Play our game!' and we think about [doing] the easy thing. What is the first thing to think about, point by point, play by play, throw by throw."
"And with that, we win with our legs, moment by moment," agreed Alissa Soo. "I think we took that as every point is our opportunity to show what we can do and to own it."
One or both of the Soo sisters played most points for Whitman this weekend. Their agility and penchant for playmaking greased the wheels for Whitman on offense and defense, and they could be counted on for hucks, blocks, bids, and endless resets.
One promising Northwest team did not qualify this weekend, however: Washington Element entered the weekend ranked #21 by USA Ultimate, and they were a darkhorse contender to steal the last bid. Washington struggled from the jump, however, to connect on their fundamentals. The team grappled with fumbled discs and poor throws in Saturday's wind and, while they held seed, the performance stayed with them mentally into Sunday. Nicole Cramer, Sophia Johansen, Kate Dusenbury, and Alexa Yadama played heavy minutes on Sunday and helped Washington reach the game to go, but the team couldn't find their rhythm when it mattered.
All-Tournament Team
Ella Hansen (Oregon)
Sarafina Angstadt-Leto (Oregon)
Ellen Au-Yeung (British Columbia)
Julia Zhang (British Columbia)
Linnea Soo (Whitman)
Samiya Ismail (Western Washington)
Nicole Cramer (Washington)