Bryant won their first D-III National Championship with big plays and a disciplined zone.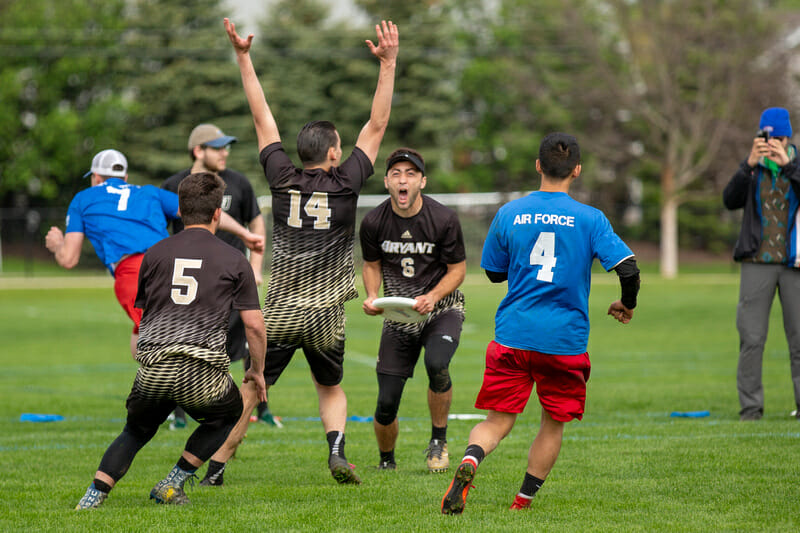 Coverage of the Men's Division of the 2018 D-III College Championships is presented by Spin Ultimate as part of their season-long support of our coverage. All opinions are those of the authors. Please support the brands that make Ultiworld possible and shop at Spin Ultimate!
ROCKFORD– In a game that was defined by zone play and big runs, #2 Bryant Craze defeated #1 Air Force Afterburn 11-10. The game was slow paced, courtesy of Bryant, who controlled the tempo effectively. Despite that, they needed a few runs to get in front of Air Force and claim the victory in the tense and tightly contested matchup.
Air Force received the disc to begin the game and scored quickly. Immediately, Bryant came down in a zone, mucking up the throwing lanes, and forcing the Air Force to work the disc patiently. Air Force's offense would not be able to rely on their usual deep-shot laden offense.
"[The zone] is our strongest look," said Bryant captain Alex Kenworthy. "We've run that zone for, who knows how many years. Probably since before I even got here."
Air Force executed well against the zone early, and took off to a 5-1 lead. Alan Villanueva and Noa Chun-Moy led the way in tearing apart Bryant's clogging defense. Using a variety of blades and over the top throws, they were able to find open space for their teammates.
"We just wanted to get outside of the cup, and keep swinging around the cup," said Air Force coach Carl Chan. "Every once in a while we attacked over the top, but I thought we had the throwers and the ability to take the dump swing over and over again."
Despite the early breakdown, Bryant stuck with their zone defense, an impressive show of faith in their own ability to execute. The strategy paid off, enhanced small changes and adjustments to react to Air Force's attack. Bryant pulled off an incredible 6-0 run to take the lead over Air Force, 7-5.
"When we run our defense, we have a lot of guys on the sideline and our two coaches who can watch for us," said Kenworthy. "They see what's not working, what's working, and move people around. Making just a few small adjustments, our zone can continue to work, and I think it depends team to team how we are going to run it."
As Bryant made their run, the Air Force offense crumbled. Turnovers came time and time again, due to overthrows and miscommunications from the Air Force throwers. Bryant's defense gained confidence, and their offense caught fire.
"The unfortunate part is that it was just self-inflicted gunshots," said Chan. "We just kept making silly mistakes."
Air Force fought back with a couple of breaks to take half 8-7, led by Chun-Moy. He spearheaded the run, getting a layout block on a Bryant deep shot and picking up a pair of assists. The three goal run put the game back on serve and Air Force in the driver's seat coming out of half time.
Bryant started the second half hot, with their two stars–handler Cameron Jack and cutter Alex Kenworthy– connecting for a deep goal. After trading points back and forth, Air Force and Bryant found themselves locked up at 9-9 as soft cap went off, to make it a game to 11.
Bryant continued to stick to the zone defense  as they had all game, and forced an Air Force turnover, then converted on a break when Austin Kelson caught an amazing layout score to save a high stall hammer throw from Zach Tuxbury. Air Force answered on a long O-point, reaching the back line of their own end zone twice against the zone, before finally scoring. Chun-Moy found Michael Delatte for a wide open goal to force double game point.
On the climactic point, the Bryant offense showed poise, working the disc up the field. Air Force brought out a powerful defensive line, with loads of athleticism to matchup on Bryant. Their defense took away lots of throws, but a patient Bryant offense marched the disc towards the end zone. Stifling defense forced a high stall huck attempt by Bryant that Kelson managed to come down with. After a timeout, Billy Goldenstein found Tuxbury in the end zone to win the National Championship.
"We knew this matchup with Air Force would come eventually," said Bryant's Cameron Jack. "We've both been at Nationals for the past three years."
Bryant entered Nationals as the no. 1 seed for three straight years, but this is their first National Championship. Prior to this, their highest finish was tied for third.
"I'm so proud of [these guys]," said Bryant coach Jim Bishop. "We just kept trying and we got one, so I'm happy."
Air Force standouts Chun-Moy and Villanueva did a lot of the heavy lifting in moving the disc for the offense. Chun-Moy finished the game with 4 assists and 3 blocks. For Bryant, it was the power of Jack and Kenworthy moving the disc, but Kelson benefited from all of the attention they took. Kelson finished the game with 1 assist, 2 goals, and 3 blocks, while Kenworthy finished the game with 4 assists and 2 goals.