A new team from a developing ultimate country.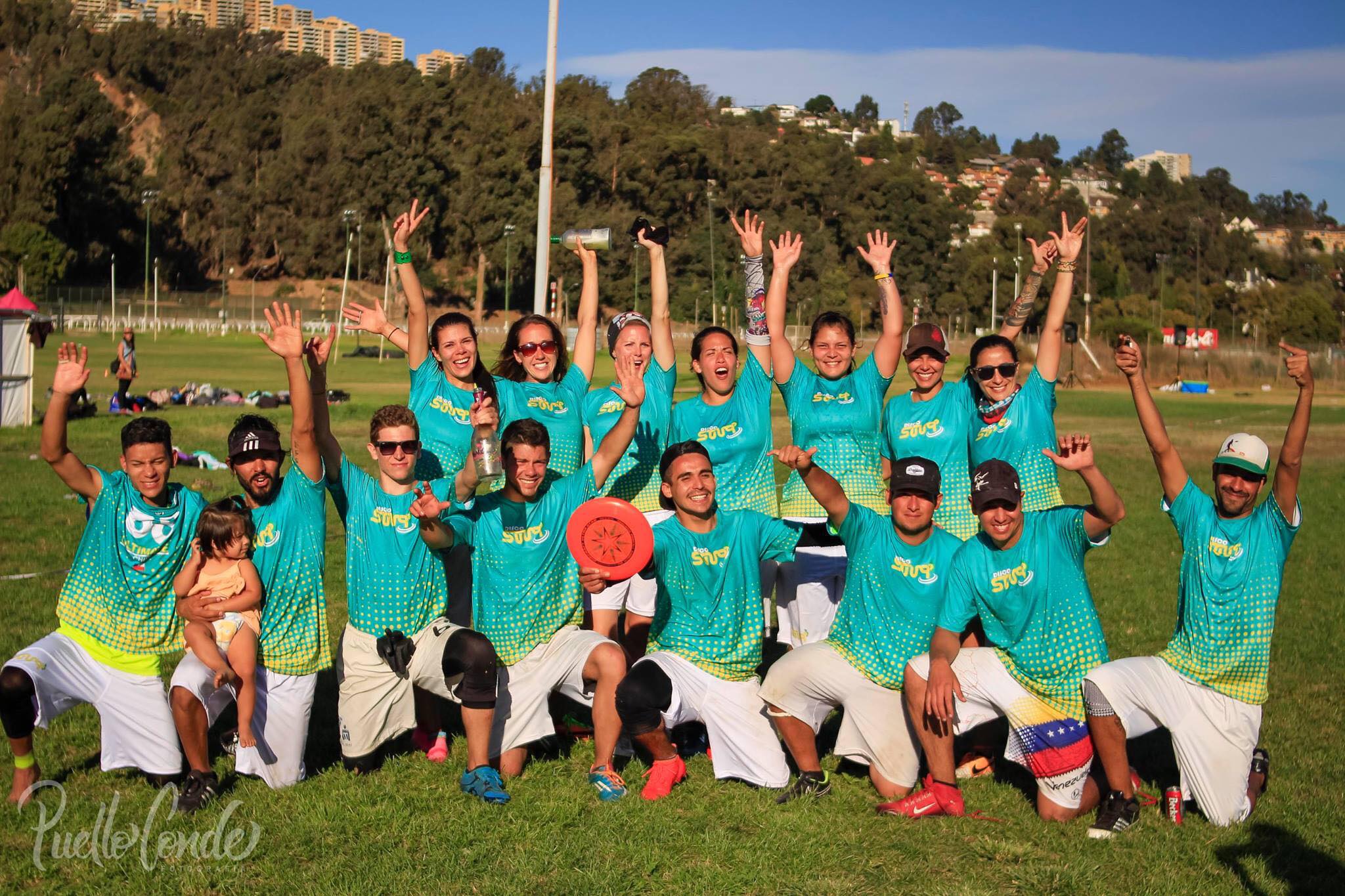 Ultiworld's coverage of the 2018 WFDF World Ultimate Club Championships is presented by VC Ultimate; all opinions are those of the authors. Please support the brands that make Ultiworld possible and shop at VC Ultimate!
For the first time ever, Chilean ultimate will be represented on the World ultimate stage, as Santiago's Disco Sour1 heads to the 2018 WFDF World Ultimate Club Championships set to begin on Saturday.
We spoke to Josh Levin, the captain of Disco Sour, about the team and the development of the sport in Chile.
Ultiworld: So I studied abroad in Chile (in Viña del Mar) for five months back in 2012 and loved every second of it. At least back then, there wasn't really a huge ultimate presence in Chile, and from what I understand this is the first time Chile is sending a team to Worlds, correct?
Josh Levin: Very cool, Viña is definitely a hotspot for exchange programs in Chile. I am more of a Valpo fan, but either way you're on the coast.
You are correct, this is the first time we are sending a team to Worlds, and it's actually the first time we've been invited. The way it works with WFDF is that they require countries to participate in international WFDF events before they can invite you to the next Worlds event. So last year, in November of 2017, Chile sent a few teams, Disco Sour not included, to PAUCC in Argentina, thus qualifying Chile as a recipient of just one bid to Club Worlds.
UW: Can you talk about how the team came together and comment on Chilean ultimate as a whole?
So since your time in Chile in 2012, the ultimate community has exploded, the reason being a bit more humanitarian than normal. Since even before the Venezuelan crisis escalated in the beginning of 2016, many Venezuelans have been seeking refuge in Chile. Now for those of you just now figuring out that Colombia is good at ultimate, you may not have realized that, not so long ago, Venezuela was their equal in the sport.
So while it is far from a bright side in the horrific events ongoing in Venezuela, it did cause a huge influx of talented ultimate players into Chile. As it was when I left in March of 2017, after being there for a full two years, the community was about 400 people all together. 10 mixed teams — eight based in Santiago and two based out of Viña. As a whole, I'd have to guess that around 80% of the players are Venezuelan. We host a tournaments in Santiago or Viña probably once every month and a half, plus a league or two a year. As you can imagine, though, the matchups get pretty redundant, which lends itself to teams mixing up their rosters now and again.
So, by January of 2016, I had had eight months to really practice my ultimate-related vocabulary, and I decided that my Spanish had gotten to a level that would allow me to start explaining some of the ideas that I had only been able to articulate to the English speakers in the community. Having played ultimate for 10 years, including a trip to Club Mixed Nationals with Madison NOISE the summer before I came to Chile, I felt like I had an opportunity to help shape a young and growing ultimate community. I started to host open practices and workouts to anyone that wanted to join. By February I realized that the only people showing up were the people living in my part of Santiago — the problem is that in Santiago it takes 45 minutes to get anywhere outside of your barrio in rush hour.
Realizing that we were already friends and all were traveling an hour and a half round trip to practice with our teams, we decided to create our own team for the next tournament in Viña, and we won! From there, we became one of the eight teams based out of Santiago. Pretty soon after, I caught word of bids for Worlds opening up. Due to location, and the USA's strict anti-helping-those-in-need policies, the aforementioned 80% of the community was excluded from the process from the start. That left really only three teams that even submitted a bid.
Having an idea of the level of competition we would see, I pushed for a more open selection process, meaning anyone from any team could play. So we played a round robin to decide the name and who would have control over the roster. We won our first game 14-8, but after a slow start in the second game we were looking at tournament universe point when the score was 14-11 in the second game (they had lost by one in the other game, leaving it to point differential). As you know, we scored that point, and qualified for Worlds. We ended up inviting many players from the teams we played that day anyways.
The only other thing I want to comment on is the roster. A tournament of this length and price was a huge limiting factor, especially coming from Chile, where flights are a minimum of $1400 round trip. That plus a few rejected tourist visa applications forced our hand to reach out. So if you have looked at the roster, you will probably find that there are a fair number of gringos. I attempted to make sure that all of said gringos had at least lived in Chile, but even that left us shorthanded, so I regretfully reached out to some old teammates on NOISE. Two of our twenty have never lived in Chile, but that won't stop us from running all huddles and strategy in Spanish.
UW: Why did you opt to compete in the Mixed Division?
We were given the option of mixed or open, and more teams submitted bids to play mixed. Most tournaments in Chile are mixed anyways, plus it didn't make sense to eliminate half the interested players right away!
UW: Where do you see Chilean ultimate 10 years down the line?
I'm really excited to see where Chilean ultimate goes, but, more than that, I'm excited for 20 years from now. In 10, there will be high school and middle school leagues, getting kids interested, and growing the community from a young age. In 20 years, the community will be dominated by people who grew up with the sport, and, in the end, that's how you build a strong community of players.
UW: What are your goals for the tournament?
I think the goal for this weekend is to learn some stuff, have some fun, win a game, and represent Chilean ultimate with spirit and pride. I don't think anyone on our team is entering with the idea that we are going to win this thing!
You can learn more about the team and follow their progress on their Facebook page!
---
A great name. ↩