Some big surprises on the first major competition day.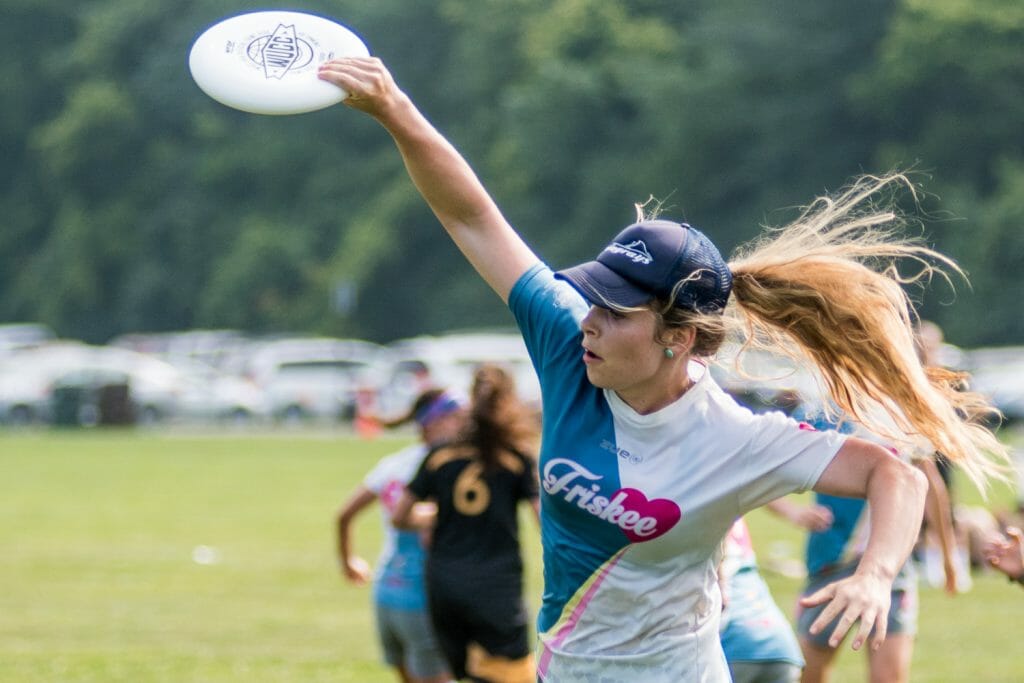 Ultiworld's coverage of the 2018 WFDF World Ultimate Club Championships is presented by VC Ultimate; all opinions are those of the authors. Please support the brands that make Ultiworld possible and shop at VC Ultimate!
MASON, Ohio — The mixed division is in a fairly stable position after one day of play, with most of the favorites going 2-0. There were a few exceptions, as well as some close calls that might change perceptions of top teams' title chances.
The biggest news was the downward spiral of No. 5 seed GRUT (NED), who tumbled to 0-3. The talented young Dutch squad needed to score just once in four points to top Wild Card (USA) in the showcase event on Saturday evening and continued to struggle in late game situations on Sunday. After falling in an 8-5 hole at halftime to Reading Ultimate (GBR), they tied the game at 13-13 before conceding two more goals to lose the game. They followed that up by losing on double game point to RusMixed (RUS) in a match that was tight the whole way through. They are just -4 in their three losses.
A few narrow victories also merited an eyebrow raise. Slow White (USA) fought off what would have been the upset of the tournament when they held on double game point to top Mubidisk (ESP) 14-13. Crash (CAN) gave up the lead going into the halftime to Sesquidistus, but scored six of the first eight points out of half and won 15-13. After their impressive victory over GRUT, Reading Ultimate was nearly surprised by Chuckies (SGP) but escaped with their loss column untouched.
Some other higher seeds were not so fortunate when tested. Battleship (CAN) found themselves edged out by Macondo (COL), who came back from trailing twice to claim an impressive Pool A victory. Mulatto Pilipinas (PHI) never trailed on their way to upsetting Marvellous DC (NZL), led by an explosive four goal and four assist performance by Antonio Francisco. No. 11 seed Freakshow (SGP) was felled in two separate upsets: first at the hands of Glasgow (GBR) and second to Vanguard (AUS). Their countrymen, Chuckies, scored a victory over a higher seed when they trounced Flying Rabbits (BEL) by a 15-5 count.
Discterics (ESP) topped Urosoul (COL) 15-12 in what could wind up as one of the division's most surprising results.
Of course, the other side of the upsets coin are teams performing well above their seed. RusMixed delivered on the promise their roster offered. While they went 1-1, they seemed capable against Wild Card on top of their quality win over GRUT. Aleksandr Rudomentkin and Mikhail Khudobin led the way with a combined 10 goals and five assists. Chuckies were a point away from a 2-0 start despite being the bottom seed in Pool E. Jun Hong Lok's two goals and five assists paced the Singapore squad's strong Sunday. Mulatto Pilipinas +10 goal differential, after their aforementioned upset over the Australians and a 15-10 win over Argentina Ultimate Club, was good for 11th in the division.