Virginia Rebellion are the only team to escape Maryland unscathed.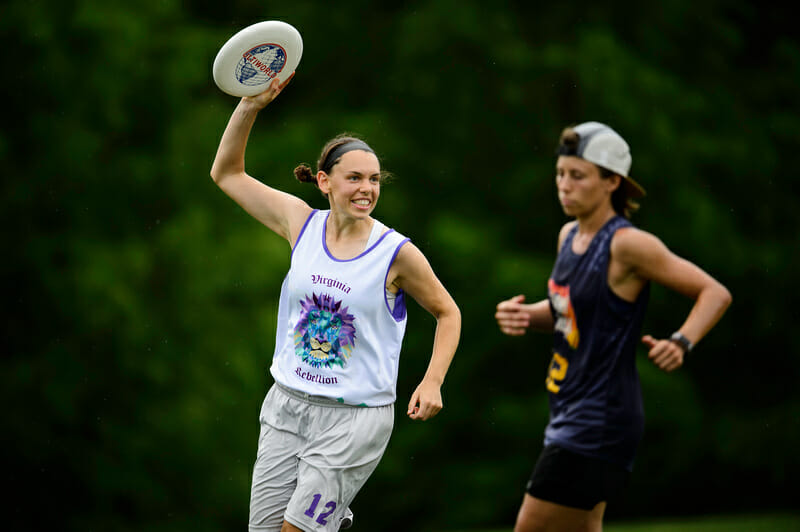 During the 2018 summer and fall season, we will publish a bite-sized weekly recap of the action across the Club Division. This will serve as a supplement to our standard tournament reporting and will offer a high-level look at the latest happenings and the biggest stories of the week.
I go through the annals of score reporter so you don't have to!
Want your tournament listed here? Submit a recap of what happened right here. Joel Prushan is doing it, so should you!
—
In a relatively quiet club weekend with no named TCT events on the docket, much of the action revolved around Chesapeake Open in Boyds, Maryland. There was competition in all three gender divisions, but the most nationally relevant results were in the mixed division. There were some surprising results to say the least, and I found myself hotly debating…myself.
Me: So Space Heater, huh? Two losses on the weekend? I thought this was the team of destiny and that their divine right to the throne would be denied by no one. How are they going to go lose three games this past weekend at basically their hometown tournament? Maybe I should hop off this hype train.
Also Me: Space Heater is the best team ever. Space Heater going to win Nationals going away. I'm ready to bet on it.
An argument to be decided later. For now, a full rundown of the week's club results.
Women's Division
Virginia Rebellion was the only team in any division to emerge from the Chesapeake Open with a spotless record, taking home a 7-0 record and a tournament victory. In the final, they took down an up-to-that-point undefeated Gainesville Tabby Rosa, the second straight tournament these two have clashed with a title on the line. Pittsburgh Hot Metal was almost able to knock off Rebellion in pool play, falling by two, but wasn't up to the task in the semifinals where they lost to the Florida squad by five. It was a similar story for the other semifinalist, Philadelphia Green Means Go, who only took losses to the two finalists.
Quick Hits
In a one-day round robin at the Philly Open, Cambridge Vice went 4-0 with a point differential of +29.
Men's Division
After taking a first-round loss to Cleveland Smokestack, #25 Richmond Floodwall swept their competition en route to a tournament victory at Chesapeake Open. In the final, they saw the other pool play winner, Oakgrove Boys, who also had a pool play loss on their resume, winning 12-7. Both semifinal contests were much closer with Oakgrove and Floodwall only prevailing over Brooklyn Blueprint and Garden State Ultimate, respectively, by two points each.
It was a disappointing tournament for Baltimore Medicine Men and Huntsville Freaks who both missed the bracket with two losses apiece in their pool play games. Freaks did rebound with two wins to claim fifth place over Durham Brickhouse.
Quick Hits
Additional Reporting from Joel Prushan (lightly edited): At Nucci's Cup, New York Shade, the one-seed, waltzed through Pool A undefeated with a +33 point diff. Meanwhile Westchester Magma Bears appeared to have a much tougher pool, scratching their way to an undefeated pool victory. Those two met in the final with Shade taking a hard cap championship 12-11. Pool B clearly proved to be the tougher of the two; after Magma Bears, there was a three-way tie between Needham Deathsquad, Adelphos, and Jawn, with Deathsquad moving on to the championship bracket thanks to point differential. The three teams finished third, fifth, and sixth respectively after all taking down a non-title winning A pool team in consolation. Adelphos rocked Jawn in their rematch for fifth 13-7.
Mixed Division
The mixed division featured the most firepower at the Chesapeake Open but some of the top teams started off with a rough round in pool play. Newly created juggernaut #11 Washington D.C. Space Heater and #6 Boston Snake Country both took losses in pool play and only advanced as pool winners on point differential. In a seeding crossover game, Snake Country convincingly beat Space Heater by five, foreshadowing trouble for D.C. in the bracket. They ultimately fell to fellow new Mid-Atlantic contender #9 West Chester Loco in the semifinals. Space Heater was missing some of their key pieces this past weekend and appear to still be in bid territory so everyone in the Mid-Atlantic must be breathing a sigh of relief.  Snake Country, on the other hand, overcame a tough challenger in their quarterfinal and then looked unbeatable, taking their semifinal and final by five and six points, respectively.
Quick Hits
At the Philly Open, Long Island Birds capped off a 7-0 weekend with a win over The Process out of, of course, Philadelphia. To their credit, The Process lived up to their name. The club took an early loss,1 developed through the draft, didn't overpay for veterans, and made went all the way to the final before losing. Still, it looks like they're a year away.
Looking Ahead
Elite-Select Challenge is maybe the most exciting tournament of the entire USAU Triple Crown Tour. In each division, it features teams on the inside of the bid picture nervously holding on and the teams right on the outside poised to pounce and earn their region an extra bid to San Diego this October.
In the men's division, Pittsburgh Temper will look to continue their hot streak while Seattle Sockeye will be eyeing revenge from their loss at Colorado Cup. There are also six of the first seven teams out of bid-earning territory in attendance and all of them will have the singular goal of racking up the points necessary to bump out one of the teams in front of them. Expect desperation.
Raleigh Phoenix is looking to carry momentum from a strong Colorado into this weekend and is hoping to claim more wins over Madison Heist, Portland Schwa, and Minneapolis Pop. Pop, Seattle Underground, New York BENT, and Colorado Small Batch are all within striking distance of earning a bid and will be all hands on deck.
In the mixed division, Boston League of Shadows leads the way followed by the two Colorado teams who faced off in the final of the Pro-Elite Challenge. San Francisco Mischief, Iow Chad Larsen Experience, Minneapolis No Touching!, along with League of Shadows, are all on the wrong side of the bid cutoff and will need to win and win big to secure another spot at Nationals for their region.
Elsewhere:
---
To a team called Unlimited Swipes — wow, this tournament seriously had the best team names. ↩