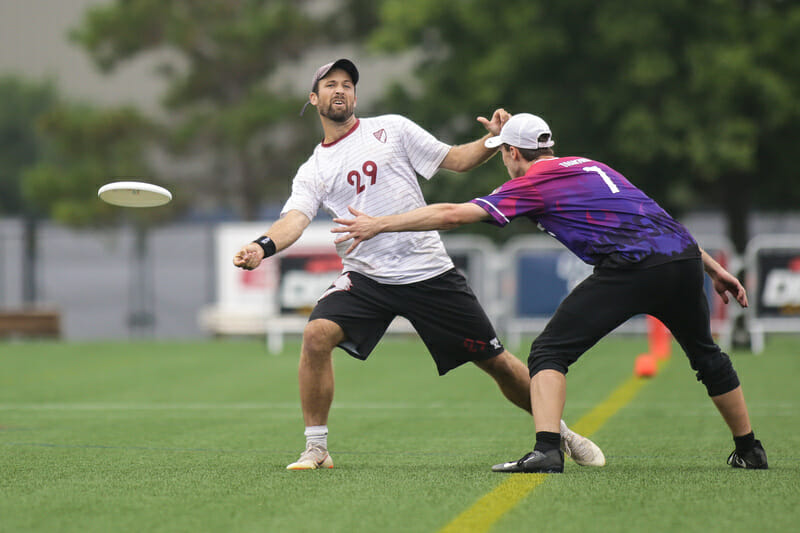 Ultiworld's reporting on the mixed division is presented by Universe Point cleats. All opinions are those of the authors. Please support the brands that make Ultiworld possible and shop at Universe Point!
After an exciting weekend of Regionals, we now have the full field of teams and the post-Regionals rankings update from USA Ultimate. It's time to start thinking about what the seeding and pools might look like for Nationals.
Note that Regionals finish no longer binds seeding at Nationals. We do our best to follow USA Ultimate's guidelines for seeding: USAU's post-Regionals rankings are very heavily weighted, head-to-head wins matter at the margin, and historic success is considered. We do not explicitly try to avoid regional matchups.
Let's kick things off right away with the pools generated by my predicted seeding.
| POOL A | POOL B | POOL C | POOL D |
| --- | --- | --- | --- |
| AMP (1) | Drag'N Thrust (2) | Mixtape (3) | BFG (4) |
| Blackbird (8) | shame. (7) | Space Heater (6) | Snake Country (5) |
| No Touching (12) | Polar Bears (11) | Mischief (10) | Slow White (9) |
| Toro (13) | Jughandle (14) | XIST (15) | Cocktails (16) |
1. Philadelphia AMP – #1 ranked team. H2H win over Drag'N Thrust. US Open champions.
2. Minneapolis Drag'N Thrust – #2 ranked team. 2-0 vs. Mixtape. Pro Champs champs.
3. Seattle Mixtape – The clear #3 team. Ranked #3. Northwest champs. 2-1 vs. BFG.
4. Seattle BFG – #4 ranked, with a wide margin over Snake Country.
5. Boston Snake Country – H2H win over Space Heater. #5 ranked team. Northeast champs.
6. Washington DC Space Heater – #7 ranked1. No reason to move them up or down. And who doesn't want a little pool play game vs. Mixtape?!
7. Fort Collins shame. – Alright, the first six were easy. Now it gets wild. Shame is ranked a few points lower than Blackbird, but shame beat an excellent Love Tractor team to win the South Central and Blackbird finished in third in the Southwest. Bumped up.
8. San Francisco Blackbird – Blackbird is the #8 ranked team and they're 1-1 v. shame. So this seems reasonable enough. But they lost to Polar Bears and Mischief at Regionals (both by a point). But isn't this the point of the 'Regionals finish doesn't bind' rule? Blackbird was far and away the best performing of the three SF teams during the regular season. It's hard to see them really moving down given their big rankings points margin over Slow White.
9. Boston Slow White – #11 ranked. No games against Blackbird or Polar Bears. No reason to move them.
10. San Francisco Mischief – This would be, for USAU, a fairly unusual two spot bump relative to their ranking for Mischief. But with a 2-1 record v. Polar Bears and a Regional title, this feels correct. Could they go higher? Maybe. Could they go lower? Maybe. This is a big test case for how USAU treats club teams whose Regional finish differs so much from their ranking.
11. San Francisco Polar Bears – H2H win over No Touching.
12. Minneapolis No Touching! – #13 ranked. Will not go lower than 12. Could go higher if Mischief doesn't get a bump.
13. Durham Toro – The last four seeds are mostly clear given the rankings differentials. #18 ranked.
14. New Jersey Jughandle – Despite being 120 points behind XIST in the rankings, Jughandle has a H2H win in hand. Neither team has an impressive resume. Jughandle is 1-6 vs. the Nationals field. XIST is 1-9 against the field. You could definitely see XIST go here.
15. New York XIST – #22 ranked. Will go at #14 or #15.
16. Columbus Cocktails – #41 ranked.
---
#6 Love Tractor did not qualify ↩