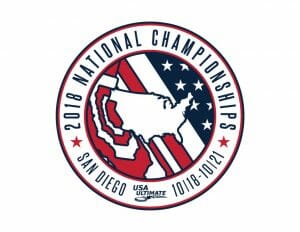 Here is the list of teams that have qualified for the 2018 USA Ultimate National Championships in San Diego, CA. This list will be frequently updated with new information.
Below are lists of the teams that have qualified (region-by-region breakdowns and scores below).
MEN'S QUALIFIERS
Machine
High Five
Truck Stop
Temper
Sub Zero
Madison Club
PoNY
Dig
Furious George
Sockeye
Rhino Slam
Doublewide
Johnny Bravo
Ring of Fire
Chain Lightning
Revolver
MIXED QUALIFIERS
Columbus Cocktails
AMP
Space Heater
Jughandle
Drag'N Thrust
No Touching!
Snake Country
XIST
Slow White
Mixtape
BFG
shame.
Toro
Mischief
Polar Bears
Blackbird
WOMEN'S QUALIFIERS
Nemesis
Rival
Scandal
Heist
Pop
Brute Squad
6ixers
Riot
Schwa
Traffic
Molly Brown
Ozone
Phoenix
Fury
Nightlock
Wildfire
***
Nationals qualifiers in bold. Italics denote Top Select.
GREAT LAKES
Men's
1. Chicago Machine (13-11 over High Five)
2. Michigan High Five (15-7 over Indianapolis Brickyard)
Mixed
1. Columbus Cocktails (15-7 over Chicago Nothing's Great Again AKA Babymaker)
Women's
1. Chicago Nemesis (15-14 over Rival)
2. Columbus Rival (15-4 over Chicago Dish)
MID-ATLANTIC
Men's
1. Washington DC Truck Stop (15-6 over Temper)
2. Pittsburgh Temper (14-13 over Philadelphia Patrol)
Mixed
1. Philadelphia AMP (13-9 over Space Heater, earned bid with 15-3 win over Loco)
2. Washington DC Space Heater (earned bid with 13-11 win over Alloy)
3. New Jersey Jughandle (14-12 over West Chester Loco)
Women's
1. Washington DC Scandal (15-8 over Washington DC Grit)
NORTH CENTRAL
Men's
1. Minneapolis Sub Zero (15-14 over Madison Club)
2. Madison Club (13-9 over Kansas City Prairie Fire)
Mixed
1. Minneapolis Drag'N Thrust (13-7 over No Touching)
2. Minneapolis No Touching! (13-7 over Madison NOISE)
Women's
1. Madison Heist (13-12 over Minneapolis Pop)
2. Minneapolis Pop (12-8 over Kansas City Wicked)
NORTHEAST
Men's
1. New York PoNY (15-11 over GOAT)
2. Boston Dig (15-10 over Toronto GOAT)
Mixed
1. Boston Snake Country (def. New York XIST in the final, earned bid with 15-11 win over Metro North)
2. New York XIST (earned bid with 15-8 win over Grand Army)
3. Boston Slow White (13-12 win over Boston Wild Card)
Women's
1. Boston Brute Squad (15-8 over 6ixers)
2. Toronto 6ixers (15-12 over Ottawa Stella)
NORTHWEST
Men's
1. Vancouver Furious George (13-10 over Sockeye, earned bid with 13-6 win over Voodoo)
2. Seattle Sockeye (earned bid with 13-9 win over Rhino Slam)
3. Portland Rhino Slam (14-12 over Seattle Voodoo)
Mixed
1. Seattle Mixtape (13-11 over BFG)
2. Seattle BFG (12-9 over Boise Lochsa)
Women's
1. Seattle Riot (13-7 over Schwa, earned bid with 12-11 win over Traffic)
2. Portland Schwa (earned bid with 13-5 win over Elevate)
3. Vancouver Traffic (13-7 over Utah Elevate)
SOUTH CENTRAL
Men's
1. Austin Doublewide (15-14 over Johnny Bravo)
2. Denver Johnny Bravo (15-9 over Denver Inception)
Mixed
1. Fort Collins shame. (15-12 over Denver Love Tractor)
Women's
1. Denver Molly Brown (went 6-0 in pool play, got key 17-15 win over Texas Showdown)
SOUTHEAST
Men's
1. Raleigh Ring of Fire (15-11 over Chain Lightning)
2. Atlanta Chain Lightning (15-10 over Huntsville Freaks)
Mixed
1. Durham Toro (15-9 over Florida Weird)
Women's
1. Atlanta Ozone (15-7 over Phoenix)
2. Raleigh Phoenix (15-9 over Florida Tabby Rosa)
SOUTHWEST
Men's
1. San Francisco Revolver (15-11 over SoCal Condors)
Mixed
1. San Francisco Mischief (13-10 over Polar Bears, earned bid with 13-5 win over BW Ultimate)
2. San Francisco Polar Bears (earned bid with 13-6 win over San Francisco Classy)
3. San Francisco Blackbird (15-8 over Sunnyvale BW Ultimate)
Women's
1. San Francisco Fury (15-7 over Nightlock, earned bid with 15-4 win over LOL)
2. San Francisco Nightlock/San Diego Wildfire (both teams have earned bids)
3. San Francisco Nightlock/San Diego Wildfire (both teams have earned bids)