Full finishing order from Europe's top club competition.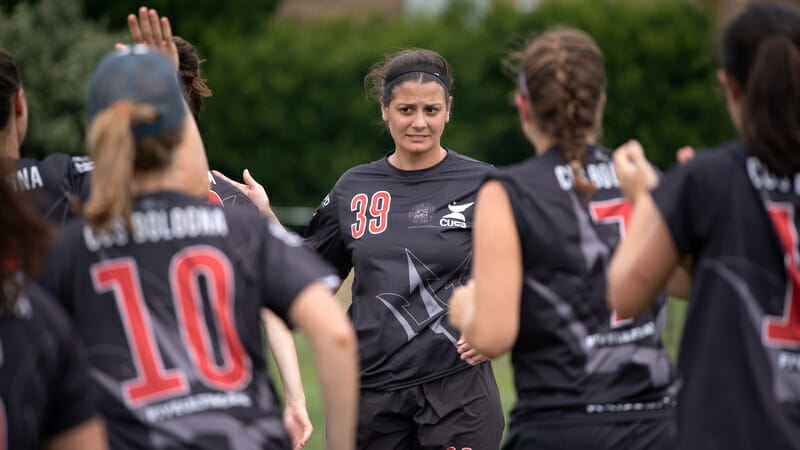 The European Ultimate Championships Finals (EUCF) took place this past weekend in Wrocław, Poland. In the Men's division, London Clapham took their seventh straight EUCF title defeating Bologna CUSB La Fotta in the final. In Women's, Bologna CUSB Shout became the first Italian Women's team to earn a title by defeating London Iceni for gold. The Swedish team Gothenburg SeE6 also claimed their first ever EUCF title winning over Hässliche Erdferkel from Marburg, Germany.
Look for more recaps coming later in the week on the tournament. Here are the final results for each division.
Clapham – London, UK
CUSB La Fotta – Bologna, Italy
The Mooncatchers – Brussels, Belgium
Bad Skid – Heilbronn, Germany
Chevron Action Flash – Manchester, UK
Salaspils Wild Things – Salaspils, Latvia
Iznogood – Paris, France
M.U.C. – Munich, Germany
FUJ – Prague, Czech Republic
CUSB Red Bulls – Bologna, Italy
Reading Ultimate – Reading, UK
Crazy Dogs – Stans, Switzerland
Flying Angels Bern – Bern, Switzerland
KFK – Copenhagen, Denmark
Yellow Block – Prague, Czech Republic
FWD>> – Vienna, Austria
Freespeed – Basel, Switzerland
PELT – Limerick, Ireland
RealFive – Dzerzhinsk, Russia
Frank N – Franconia, Germany
Heidees – Heidelberg, Germany
Rampage – Moscow, Russia
Otso – Espoo, Finland
Uprising – Poznan, Poland
CUSB Shout – Bologna, Italy
Iceni – London, UK
Troubles – Warsaw, Poland
Mantis – Vienna, Austria
SouthWest – Moscow, Russia
Mainzelmädchen – Mainz, Germany
Seagulls – Hamburg, Germany
Brilliance – Moscow, Russia
3SB – České Budějovice, Czech Republic
Nice Bristols – Bristol, UK
Freespeed Ladies – Basel, Switzerland
Helsinki – Helsinki, Finland
SeE6 – Gothenburg, Sweden
Hässliche Erdferkel – Marburg, Germany
Rebel – Cork, Ireland
Disc'over Lisboa – Lisbon, Portugal
Flow – Wrocław, Poland
Glasgow – Glasgow, UK
Colorado – Karlsruhe, Germany
Left Overs – Brno, Czech Republic
Maultaschen – Tübingen, Germany
Die 7 Todsünden – Paderborn, Germany
Wizards – Geneva, Switzerland
Sirocco – Riga, Latvia