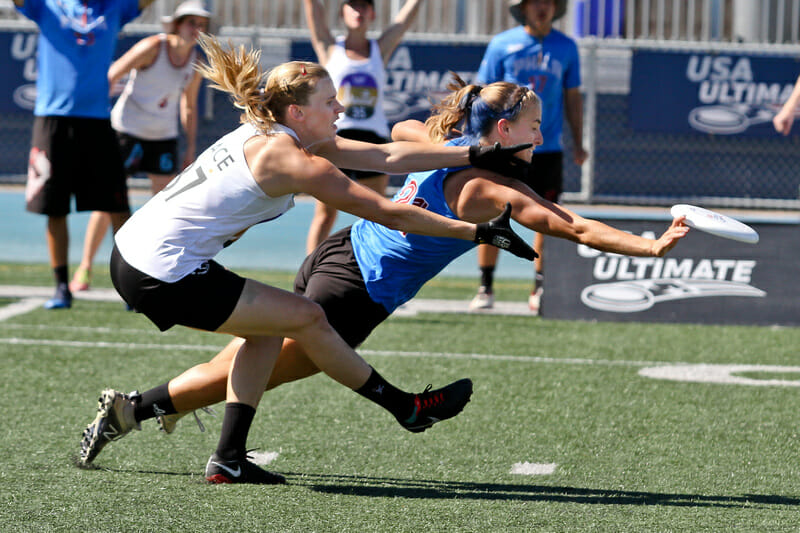 Ultiworld's reporting on the Mixed Division is presented by Universe Point cleats. All opinions are those of the authors. Please support the brands that make Ultiworld possible and shop at Universe Point!
SAN DIEGO — A thrilling second Mixed Division semifinal saw Philadelphia AMP beat Washington DC Space Heater on double game point 15-14 to secure their place in the final against Seattle Mixtape. 
AMP makes a return to the final after just coming up short last year, but the semifinal game was not without its controversy, as a number of contested calls and dramatic swings of momentum made this game an instant classic. Space Heater took the early lead and had multiple chances to close the Philadelphia squad out but was never able to seal the deal. "It was back-and-forth, and it was just an incredible game," said AMP star handler Carolyn Normile. "[We] didn't know who was going to pull it out in the end, glad it was us."
The first debatable call came midway through the first half as Space Heater moved it up the field towards Claire Desmond (1G, 1A), who made contact with Normile moving backwards to try to make a play on a high pass. She called a foul which was upheld by the observers despite some murmurings on the sidelines that it was not a foul and helped Space Heater to take the lead 4-3.
However, the call that had everyone's attention after the game came midway through the second half, as, tied at 10-10, AMP handler Nicky Spiva grabbed a poach block about ten yards outside the endzone but could not find a target, forcing AMP to burn their second timeout of the second half. Out the timeout, AMP moved it between their handlers and Spiva eventually found Linda Morse on the sideline for an apparent crucial break score, called in by the observers. However, Desmond disputed the call, arguing that Morse had bobbled the catch as she headed out of bounds while Morse maintained that she had caught it in bounds.
"Well I had possession of the disc when I was in bounds and I feel like I definitely kept it until I finished with it," said Morse after the game. "The player [Desmond] went over to the observer and didn't come over and talk to me at all about the play. The game kept going after that."
With the observer ruling, the score stood and AMP had a key break, taking the lead 11-10. Video replay and sideline photos would show that Morse had bobbled the disc. Observer Mitch Dengler confirmed on Twitter that he had made a mistake with his ruling:
Here is the play and a series of photos of the sequence from Steve Kotvis:
But don't dwell on the controversy: this was a fantastic contest with plenty of chances for both teams. Space Heater was led by Patrick Shriwise (1G, 2A), Jenny Fey (3G, 1A), and Alan Kolick (1G, 3A), and AMP by Nicky Spiva (1G, 5A), Ben Pelleg (2G, 2A), and Sean Mott (3G, 1A). Less heralded players like Kelly Hyland (4G, 2A) of Space Heater and Nico Lake (1G, 2A) played key roles in the later parts of the first half. AMP held and then broke after the Desmond/Normile call, but Space Heater made a move to take half 8-7 with Hyland getting two assists and a layout goal. Lake picked up an assist and a goal in the first half to help AMP hold and keep pace with Space Heater.
The start of the second half saw five straight holds before the aforementioned bobble, and, at that point, the eventual winner was still unclear.
"We had no idea how that game was going to go from the beginning," said veteran Space Heater cutter Georgia Bosscher, "and it felt like both teams just never gave up, they made it so hard on us to get every point and I feel like we did that back to them, which made for a good game."
The intensity continued to ramp up as did the plays from each team's top players. Space Heater first responded with a hold from Shriwise to Kolick through a tiny window and around a bidding Spencer DeRoos, and then Kolick found Hyland after a missed AMP huck to break for 12-11, three points away from the win. AMP connected on their next huck, from Anna Thompson to a streaking, wide-open Spiva, and the score was back to even at 12-12.
Bosscher throw a cross-field hammer to Fey only to see the veteran captain handler drop it in the end zone, giving AMP an opportunity to break. A turn for each team later, Normile put a huck into the end zone that drew a foul call, which was upheld, and DeRoos flipped it to Pelleg for the AMP break, 13-12. Space Heater responded with a hold as Kolick played dominator and Fey scored, knotting it at 13-13. Game to 15.
The energy was high throughout the end of the game
"It was such a battle, and really really fun the entire time, [with] lots of back and forths," said Desmond.
Thompson echoed that sentiment. "That was a really fun one," she said. "These moments don't come around a lot and being in these games, I don't think we revel enough in it until after it, and it was a really good game to just enjoy every single point."
Outstanding plays came aplenty in the last series of points, as at 13-13, Normile went deep for AMP but Allison Maddux came through with a layout D at the back of the end zone, giving Space Heater a chance to break. AMP got the disc back, though, only to see Spiva turn it back over immediately and a diving Joe Freund saved a missed catch by Sandy Jorgensen. The disc went up into the end zone for Space Heater and a foul was called and upheld, and then David Boylan-Kolchin found Crystal Davis for the Space Heater break, up 14-13 with a chance to break for the win.
Raha Mozafarri tried to find Pelleg on AMP's offensive point, but Kolick got a block, only to have Morse get a layout D to give AMP another chance to hold. Pelleg hit Mott in the end zone to hold for AMP and force double game point, the third straight DGP finish of the still young semifinals Saturday.
Space Heater started on offense and worked it almost the entire length of the field before an inside throw from Bosscher was just out of the reach of Shriwise, and AMP took their bonus overtime timeout with the disc to win.
Out of the timeout, Normile forced a throw to Spiva that Shriwise came down with, but Spiva and Pelleg combined to get the disc back almost immediately. A couple of throws to Spiva and a huck from him to Mott delievered AMP the dramatic double game point win, sending them to a rematch against Mixtape in the final.
"While [Spiva] was walking to pick it up, I was jogging by him. I yelled at him, I said, 'Give it to me.' As soon as I said that, I knew he was going to throw it to me," said Mott.
Despite the controversies surrounding the final result, both teams were effusive in their praise of their opposition.
"Space Heater is the real deal. Kolick, Claire Desmond, Georgia, Joe Freund. They are the real deal," said Mott, "They have superstars on their team, but the big thing is top to bottom everybody can play. They use their whole roster and everyone is a baller on that team. They could have very easily took that game and be in the national championship game tomorrow."
"We totally respect this team," said Desmond of AMP. "They have some amazing athletes, particularly the women, and it's really fun to match up against them. It was fun to be a part of, and we love AMP."