The players that defined the club season!
Ultiworld's 2018 Club Awards are presented by Greenbackr, a custom crowdfunding platform from Savage; all opinions are those of the authors. Please support the brands that make Ultiworld possible and utilize Greenbackr!
Ultiworld is pleased to announced our fourth annual Men's Club Player of the Year award. While we consider both regular season and postseason performance, because of the nature of the club division, we weight success in the Series and at Nationals above all else. The All-Club teams are selected based on input from Ultiworld reporters, contributors, and editors.
2018 Men's Club Player Of The Year
Jimmy Mickle (New York PoNY)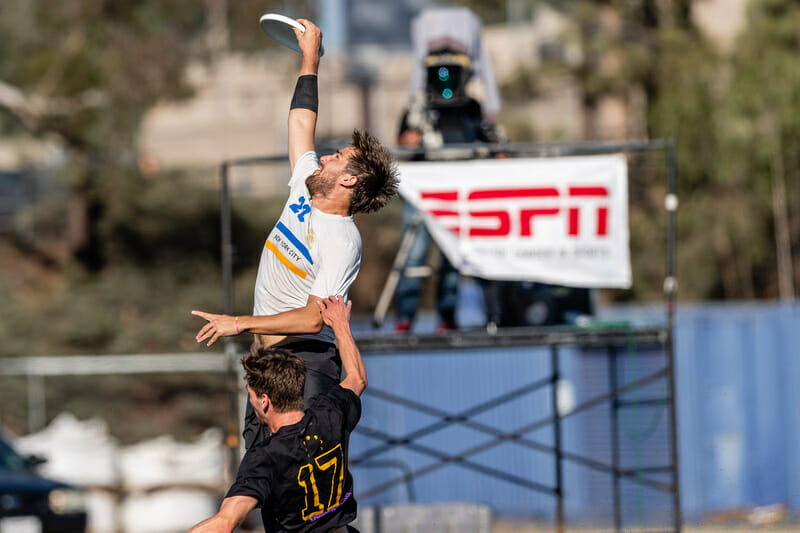 What more is there to say at this point? He came, he saw, he conquered. Mickle won his second national championship in his first year with New York PoNY, taking over a new city and taking down the Revolver dynasty in the process.
News of Mickle's arrival in the Big Apple made PoNY immediate contenders, a testament to his gravity, but his performance over the course of this season defied even his own potent legacy. He showed up in Cincinnati for WUCC after spending months training down under with Australian club Colony and immediately looked like the best player in the world.
With an extra half step of quickness that we hadn't seen before from Mickle, to go along with the trademark towering throws, he was a menace. His game had always been big: big hucks, big skies, big breaks coming from big pivots, but this season he showed a mastery of the little stuff as well. His handler movement bumped up a notch from previous seasons and his arsenal of tricky throws had grown. Most notable was a devastating high-release around flick from a backhand-side pivot that erased marks all season.
Once he took the field for PoNY, the results spoke for themselves. All four tournaments he played with New York — the U.S. Open, Pro Champs, Northeast Regionals, and Nationals — PoNY won. Along the way, they beat every credible challenger to the throne, surpassing Ring, Sockeye, Truck Stop, and Revolver (twice!) on their way to a championship.
Acting as the primary initiating cutter in New York's offense, his size was too much to keep out of the lane. New York was virtually guaranteed a 15 yard gainer to start every offensive possession as no one could get through Mickle once they were behind him and no one wanted to start in front of him for fear of getting smoked deep for a goal. Once he had the disc, the entire field became a target. Ben Jagt could make a whole career out of being the loyal retriever for Mickle's booming throws to space.
But while PoNY could have made Mickle's hucks and deep cuts the sole focus of their offense, the team was able to spread the disc around because of how effectively he fit a role in the system. Those initiating cuts were usually followed by a continuation throw to Chris Kocher, and Mickle's feel for movement in the handler space created a platform for Sean Keegan and Harper Garvey to change the angle to attacking the breakside. This season, Mickle unlocked the highest level of play, exerting himself as the clear best player on the field while blending into a well functioning team concept.
It's the third Player of the Year award for Mickle, who is now creating his own even-year magic after taking home the honor in 2014 and 2016. No one else has ever been named POTY more than once. Mickle has become clearly the best ultimate player on the planet. The question now: how high can he push the ceiling of what an athlete in the sport is capable of?
1st Runner-Up: Jack Williams (Raleigh Ring of Fire)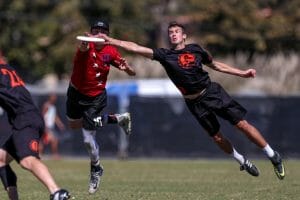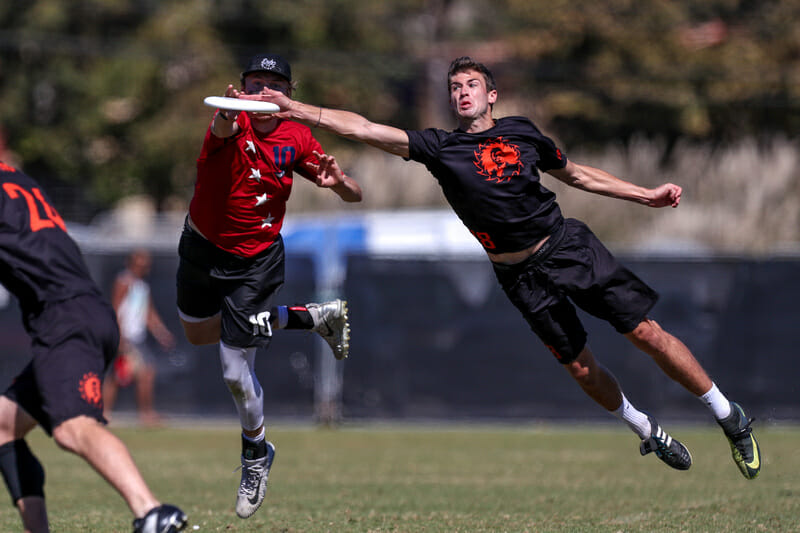 In the first round of the tournament, Ring of Fire met up with a full-strength Chicago Machine in a classic Nationals clash. Fast forward to 14-14. Sudden death. Ring is on defense, trying to avoid giving up the opening upset and potentially derailing their path to another semifinals appearance.
Jack Williams, only occasionally a D-line player, peeled off the back of the stack as a low shot to the end zone went up and knocked down what would have likely been the game-winner for Chicago for his only block of the game. Moments later, he caught an under, turned around, and bombed a forehand huck just past the defense to Jacob Fairfax for the win.
That sequence said a lot about Williams' game. While he is still an absolute terror as a cutter — he carved up Revolver in semis with six goals and an assist in the losing effort — he has developed tremendous field sense, excellent throws, and the ability to flip the playmaker switch that we saw in his Under-24 campaign this past winter.
He finished the weekend with 13 goals and six assists — and just four turnovers.1 He has risen to the truly elite echelon and still seems to be getting better every season.
2nd Runner-Up: Grant Lindsley (San Francisco Revolver)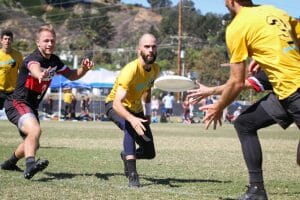 The moment that best encapsulated Grant Lindsley's season came on the last throw of double game point in the semifinals of Nationals against Raleigh Ring of Fire. Lindsley zipped an outside-in flick into a preposterously tiny window — beyond the reach of any defender but within the catch radius of Revolver's Simon Higgins. Higgins left his feet to snag the disc and Revolver escaped a scare to take the team to its fourth straight National final.
The throw from Lindsley could not have been blocked by any defender, and it relied on Higgins to make an impressive, but not spectacular, play to take the game. It represented both a high level of craft from Lindsley, as well as a perfect understanding of his teammate's abilities and the confidence to trust both himself and his teammate to make the play.
This is what Lindsley has become in his third season on Revolver, a technically brilliant player who has learned how to maximize playing with nothing but all-world talent around him. It defies the role player/high volume shooter binary that defines many player's careers and lets him play like a star while still elevating the players around him. In a season where several of Revolver's historically top players started to show some signs of decline, Lindsley grabbed the mantle as the team's best and most important all-around player.
---
Ultiworld's internal stats from the Ring/Revolver game actually credit him with one more goal and one fewer turnover than USA Ultimate. ↩