Some of the best high school squads from Pennsylvania and the Mid-Atlantic are ready to get in some action before winter.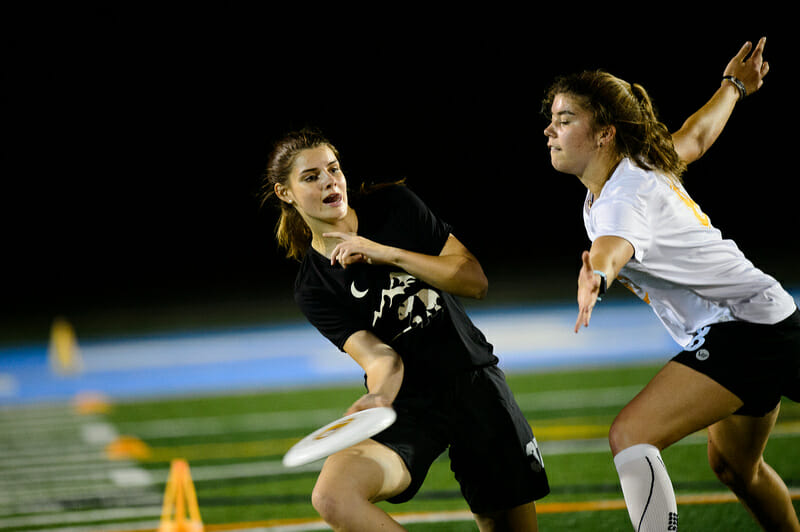 As the ultimate world settles down following another club Nationals and shifts its focus to Thanksgiving hat tournaments, the next generation is taking the field. Some of the top youth teams in Pennsylvania, New York, Maryland, Virginia, and New Jersey will get together for the 11th annual Coconut Classic.
Tournament Profile
Date: November 3-4

Location: Freehold, NJ

Weather: Temperatures in mid 50s, potential for some rain on Saturday

Top 25 Teams: 71
Boys' Division
In the Boys' Division, there are four pools of four, with only the top two from each pool going into a quarterfinal on Sunday morning.  As a result, pool play will truly be a battle.
Columbia (NJ)
The birthplace of ultimate takes the top seed in a deep field. Columbia is coming off an incredible 2018 spring season capped off with a comeback win in the NJ State Final. Columbia truly tested itself against top competition, beating Center Grove and Neuqua Valley at Paideia Cup last season. The performance earned them a spot at the High School National Invite as well.
CHS is led by senior Tristan Yarter, coming off a season of club with New Jersey Garden State. He and fellow senior Zach Singer have already led Columbia to a tournament victory this fall at Jersey Devil. Yarter and Singer can lean on their sisters as well for some leadership advice as Skylar and Izzy captain the CHS girls team. If not their sisters, fellow teammates will do. The Columbia boys are senior heavy with 17 players in their final year of high school, including 6'4" Ben Harris. CHS has its sights set on challenging the top teams in the country in the spring.
Pennsbury (PA)
Ever patrolling the skies, Pennsbury returns for another season, eager to build on the flashes in demonstrated in the spring. The boys from Yardley reached the final of the Amherst Invite in 2018 and came just two points away from winning the tournament. The leadership group of Matt Krauss, Matt Labar, and Matt Pilla command the offense of this explosive team.
It seems like Pennsbury is building on the potential with a tournament win this fall when they hosted Fall Brawl in New Jersey2. They has wins over other teams in this field, such as Westfield and Columbia, and managed wins over top programs Carolina Friends and Jordan, both from North Carolina. Look for Konrad Dzelzgalvis to spark this team defensively and set up break opportunities for a team looking to return to the mountaintop of high school ultimate.
Woodrow Wilson (DC)
Wilson makes the trek from the nation's capital to face off with some top competition. Another participant at the High School National Invite this year, the Tigers finished on the wrong end of a 9-8 scoreline in the Virginia State Final last spring. Wilson is on a quest to avenge their state final loss and hopes along the way to knock off some top tier teams across the country.
The Tigers have yet to field a full team yet this fall, running split squad in their only tournament appearance so far. Those teams met in the final of Fall Fling. Wilson is not lacking in playmakers. It starts with U-20 French National Team fixture Jacques Nissen on offense. Nissen and senior Aaron Rosenthal won a national championship with D.C. Foggy Bottom Boys at YCCs this summer. Captain Aaron Bartlett will look to make enough big plays on offense to potentially win the tournament.
HB Woodlawn (VA)
Winners of the 2018 Virginia State Tournament, HB Woodlawn rolls into the competition having topped some of the top teams in attendance during 2018. Woodlawn took down WL Slarenegs and Woodrow Wilson on their path to a state title. They also picked up a win over Columbia in the semifinals of YULA.
There isn't much to base this team on so far this fall, appearing as a split squad at Fall Fling. One of those squad reached the semifinals, which is always a positive sign. This team was right in the mix with top teams in the country last season, falling in the final of YULA to Carolina Friends. Expect Woodlawn to be a factor in 2019.
Stuyvesant (NY)
The reigning New York state champions enter the fray looking to build on a successful 2018 spring season. It is difficult to get a good read on how good Stuyvesant is on a national level. Regular competitors at YULA in D.C. in the early spring, the team uses it as a chance to develop rather than truly compete. Stuy will be out to continue that growth this weekend against a talented field.
Thomas Zhao, Sergei Mishchenko, and Horace Fusco captain the Sticky Fingers for the 2018-19 season. The team traditionally plays a well-structured approach on offense, but will rely on some athletic big plays in critical moments. Stuyvesant is all about growing as a team every time it takes the field and no doubt knows the journey to another state title begins in November.
Westfield (NJ)
The end of the 2018 spring season was tough for Westfield. After some solid results, finishing third at YULA and Pioneer Valley Invite, WHS fell in the state final after holding a 7-2 lead at half over rival Columbia. They said goodbye to a talented senior class, but seem to be recovering well with some very positive results in the fall. They reached the final at Fall Brawl, falling to Pennsbury.
When Westfield puts their full team together, they puts a lot of faith in handlers Grayson Shovlin, Eric Palia, and Luke Barry. Downfield, Jacob LaRue is a constant headache for opposing defenses. Senior Felix Baur will be in the mix as well taking advantage of the space LaRue creates underneath. Don't be fooled by the lack of seniors on this team, Westfield still means business.
Bethesda Chevy Chase (MD)
The boys from Bethesda make the trip north with a clear long-term goal in mind. Chevy Chase was upset in the 2018 Maryland State Final and wants to get back on top. The process to getting there starts with developing the team in South Jersey.
Bethesda is familiar with the field having already played Columbia and Pennsbury at Fall Brawl. Like Wilson, Chevy Chase boasts a key contributor to the 2018 YCC champion Foggy Bottom Boys in Sasha Frank-Stempel. Expect Griffin O'Neal-Freeman to catch in cuts before launching hucks to top scorer Liam Tsang. Those three will need to be clicking in order for Bethesda to knock off one of the top teams at this tournament.
Yorktown High School (VA)
Yorktown did not put together the type of season we expected from them in the spring, playing close games with Wilson and Westfield at YULA, but failing to come away with a signature win along the way. Still, they managed a third place finish at the Virginia State Championships, beating fellow Coconut competitor WL Slarenegs in the third place game.
The offense for Yorktown will run through Foggy Bottom Boys standout Marcelo Ruggiero. He is unafraid to uncork deep throws to stretch the field. Fellow captains Chris Hahn and Ben Dickson will hope to guide this team through another tough fall test. Look for the continued emergence of Caelen McSweeney as well.
Radnor (PA)
It might seem a little strange to see the 2018 Pennsylvania State Champions enter the tournament as the third team in a pool, but following the graduation of U-20 US National Team star Henry Ing and a 13-5 loss to Pennsbury this fall, it makes sense. Radnor had an uneven spring season as it was, entering the state tournament as the no. 7 seed before running the table.
With appearances at Fall Brawl and Jersey Devil already this season, the results indicate this might be a little bit of a rebuilding year for Radnor. While the fall is far from a certainty in predicting how teams will fare come the spring, a strong showing in Freehold would do a lot to quiet the doubts. Based on how last season went for Radnor, they are certainly capable of making a run at any time.
Washington-Lee Slarenegs (VA)

If you are looking for a team that could improve from last year, look no further than Washington-Lee. WL Slarenegs missed the bracket at Born to Dive and YULA, but lacked much experience. A number of their key players were underclassmen trying to learn the role they were thrust into.
Senior Matthew McKnight, fresh off a YCCs win with Foggy Bottom Boys, returns to lead this team. Washington-Lee also features a few U-17 YCC competitors as well, still relying on the youth to get the job done. WL Slarenegs is still searching for its first Virginia state title, finishing fourth a year ago. Clearly, this is a team on the rise.
West Windsor North (NJ)
Usually a regular contender in the New Jersey State Championships, West Windsor has undergone a serious rebuild in recent years. With the emergence of Westfield alongside Columbia, North has been boxed out of the championship game. Still, they made a semifinal run, falling to CHS 10-5 to end its spring season.
So far this fall, West Windsor has beaten fellow New Jersey team Watchung twice.  They have have been knocking on the doorstop of the top teams with a two point loss to Westfield and a double game point loss to Stuyvesant. If things go their way, West Windsor is a dangerous squad.
Madison (VA)
The fifth place finisher from Virginia's State Championships joins a loaded field looking to take down some in-state foes. Madison boasts a lineup featuring several players with YCC experience, including a pair of players from Foggy Bottom Boys in Patrick Kennedy and David Thornton. With a good young core, this will be a chance to see how Madison measures up against some of the top teams in the region, as MadHouse hopes to close the gap on the rest of Virginia.
Bronx Science (NY)
Hailing from New York City, Bronx Science is still working on competing with the top teams in the state. A 10th place finish in New York last season was a solid result, but this team will certainly be looking to climb higher. In the spring, they came up short, but were competitive against Radnor, Madison, and Stuyvesant at the YULA Invite.  One fun note about this squad is their coach, Skip Kuhn, is actually a member of the USA Ultimate Hall of Fame. Look him up.
Watchung Hills (NJ)
Another upper tier squad from Jersey takes the stage. Watchung reached the state final in 2017 before falling back to the semis in 2018. It has been a rough fall so far with two losses to West Windsor North and a loss to Columbia JV at Fall Brawl. They might not be competing in the bracket, but Watchung won't be an easy out.
Beacon (NY)
Beacon missed the bracket at states last year. The Blue Demons are continuing to build as a program and will likely be looking to gain more experience from this tournament. Without any other fall tournament results to look at, this is going to be telling of how talented Beacon will be this season. Jacob Cowan and Noel Sierra lead this team as seniors. As Beacon ventures into more organized youth ultimate, improvement should follow.
Columbia JV-A (NJ)
Despite there being a JV Division for this event, Columbia JV-A was granted a bid into the upper division. For most JV teams in an elite tournament, they would be a pushover. However, this is not your ordinary JV team! With 17 seniors on Columbia's Varsity Team, this JV team is truly powerful. They shocked Watchung Hills at Fall Brawl earlier this year and actually ended up tied for 5th at NJ States just last year!
They also pushed West Windsor to the brink at Fall Brawl, losing by just one point. Many players have experience on the DEVYL U-17 YCC Team and this team will surely battle every point regardless of the score.
Girls' Division
The Girls' Division features eight teams from New Jersey, Virginia and Pennsylvania. It features a group of regional powerhouses looking for top competition and some younger squads hoping for some invaluable experience.
HB Woodlawn (VA)
The reigning champs from the Amherst Invite and Virginia state champions headline this field of girls teams. HB Woodlawn gets a chance to see some fellow Virginia teams and face some out of state competition as a final tune up for the fall.
Miranda Baltaxe and Chloe Fugle are fresh off summers playing with D.C. Rogue at YCCs and will lead this Woodlawn team. Emma Vorathiankul is a young cutter with a bright future. She will have the platform to continue her rise. This is Woodlawn's tournament to lose, but as the first test of the fall, it is hard to know how long it will take for HB to get into gear.
Woodrow Wilson (VA)
Fellow Virginia team Woodrow also makes the trip north for the Coconut Classic. The runners-up at Virginia states, Wilson is clearly the next best team in the state behind Woodlawn and looking to close the gap.
Wilson will have to take on its competition without senior captain Colleen McCaig, who is still out with injury. The other two captains, Claire Schmitt and Margaret Heffernan, will have to focus a veteran group to make up for McCaig's absence. We could be in for a rematch of the Virginia State Championship game if this tournament goes to seed.
Lower Merion (PA)
Home of Kobe Bryant, Lower Merion is also home to one of the best girls ultimate teams in the state of Pennsylvania. LM is well tested against the rest of this field, beating Watchung Hills, and both West Windsor North and South at the Watching Spring Fling in 2018.
Now this is still a warmup for Lower Merion, who will be running open lines again. Olivia Thornton is still on her way back from injury, but should be closer to the star handler she was for LM before her injury. Sophie Yang and Talia Gallagher should benefit from Thornton's return reeling in her deep hucks. While this tournament is about progressing as a team, there should be plenty of exciting ultimate to watch from Lower Merion over the course of the weekend.
West Windsor North (NJ)
Four years ago, West Windsor North and South split into two teams, and it is clear the North has succeeded the most so far. North won New Jersey States last season, beating Watchung in the state final. This team is quickly becoming a fixture at Pioneer Valley Invite and YULA in the spring as well.
North is looking for potentially a third fall tournament win. West Windsor won Jersey Devil and Fall Together over local competition and now has a chance to see some better regional competition. Vidushi Vashist and Melanie Tsai captain this up and coming team. Tsai is one of the top defenders on this team, something North is going to need to topple these top teams from Virginia.
Yorktown-Lee (VA)
Much like West Windsor, Yorktown-Lee is a team formerly combined with another school looking to build from a recent split. However, as Yorktown and Washington-Lee work to build the infrastructure of new teams, they still play as a combined team in the fall.
Both these teams finished tied for third as individual squads at Virginia States. Y-Lee features plenty of YCC experience from both the U-20 and U-17 levels. D.C. Rogue made it the YCC final, so these girls are no stranger to big games. This team is deep and talented with several young players playing critical roles already.
Columbia (NJ)
Sparkle Motion is eager to get back in action this fall after featuring in Jersey Devil and Fall Together. CHS is a much younger team this season after losing three seniors from last year and this will just be the next step in gaining more experiences for the full team.
Youth is stepping up across the board. Skylar Yarter is a sophomore captain alongside senior Izzy Singer. Leadership runs in those families as their brothers Tristan and Zach captain the Columbia boys team. With a good sophomore core, this team is preparing for the future and while the results might not go their way, the process and growth is all important at this stage.
Watchung Hills (NJ)
The final two seeds in both pools are comprised of Watchung Hills split squads. The runners-up in New Jersey are taking the fall to develop the whole roster. Watchung traditionally has been a powerhouse in the state and the region as a whole. This seems to be a bit of rebuild year for the Warriors.
For such a young team, they have two pillars to lean on in seniors Yvonne Tang and Sydney Brewster. Both have several years of experience playing at YCCs with DEVYL. This weekend is about setting Watchung up for the spring. It wouldn't be a shock for one of these teams to pick up a win, but the results are not what is important for them right now.
---
At the end of the previous season. ↩

not to be confused with the Fall Brawl in North Carolina, won by Chapel Hill, that they also attended ↩