How should ultimate's infrastructure develop?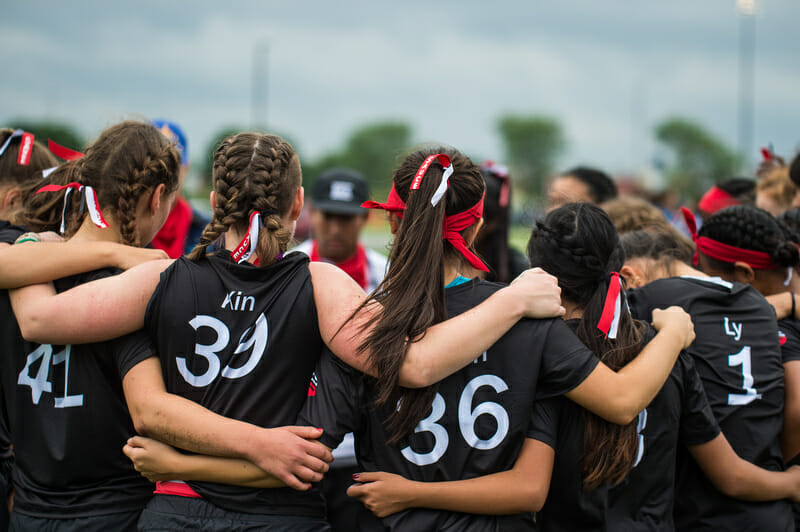 Last month, USA Ultimate announced the second and final wave of invitations to the 2019 Youth Club Championships, the annual mega-tournament held in Minneapolis alongside the U.S. Open for high school players from around the country.
Conspicuously absent were four of the five teams that applied from DiscNW, Seattle's local disc organization, which routinely sends championship-caliber teams in all divisions to the tournament from the deepest youth program in the country. Last year, the U17 DiscNW Boys won gold, the U20 Mixed and Boys took silver, and the U20 Girls took bronze. None was initially invited in 2019.
While the Under-20 Mixed team has subsequently received an invitation off the waitlist, the snubs sent shockwaves across the youth ultimate world, prompting online discussion and a statement from USA Ultimate with some explanation of the details of the invite process.
What this is really about, though, is much more than a single year of YCC: it is a skirmish in a much larger battle over the future of the sport's youth structure and development.
***
YCC is not structured as a typical USAU championship event. Unlike in the College and Adult Club Divisions, there is no Conferences->Regionals->Nationals qualifying process designed specifically to crown a national champion. YCC, instead, was created as a celebration of youth ultimate designed to incentivize growth at the local level.
As a result, the bid process has nothing to do with the competitiveness of the teams that apply. Here's a flowchart that shows how USAU determines the priority for YCC consideration: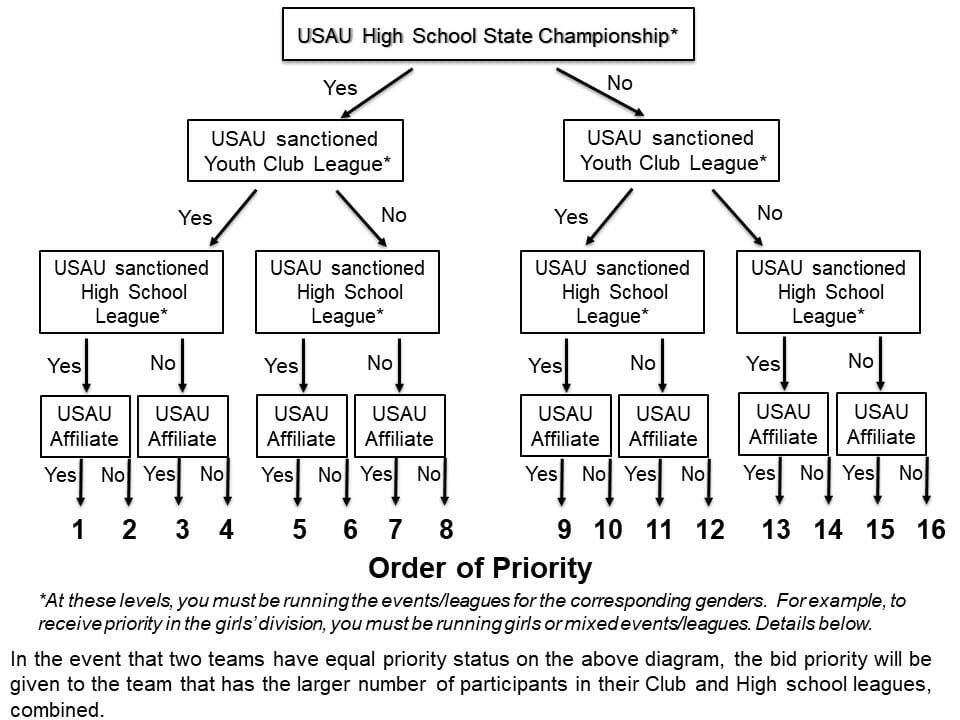 As is clear from the chart, USAU gives preference to local organizations that are providing USAU-sanctioned playing opportunities for their youth players — state championships, club leagues, and high school leagues, in that order. There is a small preference given to those organizations that are affiliates of USA Ultimate, a program that offers insurance coverage and discounted sanctioning, among other benefits, for local events.
DiscNW falls at priority order #6: they sanction their state high school championships and leagues through USAU, but do not offer sanctioned club leagues and are not an affiliate.1 Historically, that has been plenty high enough for the DiscNW teams to get into the tournament without any issues.
However, according to sources familiar with the situation, the organization missed a deadline for applying for sanctioning for the Girls' state championship and was subsequently placed into Phase II consideration2 by USA Ultimate. During Phase I, 90 of the 94 available slots at YCC were awarded, according to DiscNW Executive Director Mel Clark.
"We are extremely disappointed," she said. "This is not the outcome we were hoping for…Was everything done perfectly on time? No. USAU made the choice to then move us into tier two."
Will Deaver, the head of competition and athlete programs at USA Ultimate, declined to discuss specifics about DiscNW's situation, but said, "We have been working with [DiscNW] to try to get them lined up with how they run sanctioned youth programs. Like I said, they have some challenges with the size of their organization and the way they've been doing things, and we acknowledge that and try to meet them where they are. Their priority ends up being how they execute on that plan, and this is the same as other organizations both this year and in the past."
For many years, DiscNW, one of the largest local ultimate organizations in the country with over 5,000 youth members alone, has run extensive programs outside of the USAU system. They did not start sanctioning their high school tournament with USAU until 2017, when the national governing body changed the rules for YCC eligibility, requiring players to have competed in the USAU-sanctioned high school state tournament to compete at YCC, a change seen by some as directly targeting DiscNW.
DiscNW has never been an affiliate of USA Ultimate. "DiscNW, from a board and strategic planning perspective, has chosen not to become an affiliate," said Clark, adding that "the current affiliate model doesn't make sense for us."
***
One of DiscNW's pillars in their strategic plan is to ensure "accessibility and inclusiveness" in their programming. They see affiliating with USAU as a pure cost increase with few to no benefits to their members. Affiliating would require players to pay USAU membership fees, but the benefits (namely event insurance, said most local organizers asked about what affiliation offers) aren't worth it to DiscNW, as they provide their own insurance at a lower cost. With affiliation membership costs that would approach $100,000, DiscNW can't justify affiliating.
"The root of affiliate is the membership and the insurance," said Tristan Green, the Executive Director of Triangle Ultimate, a USAU affiliate in North Carolina. For the Triangle, affiliation was a no-brainer, as the insurance coverage made sense for them. Ditto DiscNY in New York.
"What became very apparent early on, if we went on our own, to buy insurance for our events or even a blanket coverage, in New York is very high," said DiscNY Board Chairman Andy Borinstein.
"For a lot of groups, I think it's really working well," said former DiscNW Executive Director William Bartram, who presided over the organization from 2005 to 2017 and helped USAU develop the affiliate model. "Even back then [when we were developing the affiliate structure], I said that there's going to be a difference between big organizations and newer, smaller organizations and what they need."
To his point, many larger local disc organizations — including DiscNW, Philadelphia Area Disc Alliance, Boston Ultimate Disc Alliance, Bay Area Disc Association, and more — have not affiliated. They tend to have access to their own insurance, run their own coaching certification processes, and operate independently, without the need of support from the national governing body.
USA Ultimate, through the affiliate program and the newer state-based organization model — which offers $40,000 in start-up grants over three years and a 7-8% rebate on membership fees paid to USA Ultimate — is trying to build a multi-layered national infrastructure that connects local groups to Colorado Springs.
"You look at sports that have been able to grow and get capacity to get more kids playing and provide more opportunities, and they're sports that have multiple levels of organization," said Deaver.
Many local organizations have fit in seamlessly to the affiliate model and the new state-based one. Grant funding has allowed for new hires or programming, and USAU's expertise on important new youth safety rules (SafeSport) can be vital to proper compliance.
"To have guidance from a group of people who know what needs to be done, it's super valuable and really important for the sport to grow the right way without making a big mistake," said Deaver.
But the financial structure is not working for everyone.
Minnesota Ultimate has been one of the crown jewels in the USAU model: the state features a thriving youth system, hosts the US Open and YCC every summer, and was an early adopter of both the affiliate program and the state-based organization model. But Minnesota's rapid growth is creating challenges.
"We're seeing a lot of growth in our participation, but our resources are not growing in a way to support that growth, whether that be staff, funding for scholarships, or access to better fields," said a source with knowledge of Minnesota's situation. "We're creating a lot of new members, but we're not able to provide the support that we want to be able to for those members. It comes down to dollars and membership shares."
That 7-8% rebate Minnesota gets on its players' USAU memberships doesn't feel sufficient, given that Minnesota is doing the lion's share of the organizing work, sources said, and the organization has been negotiating with USAU on that revenue share for months as they prepare to roll out their next strategic plan for 2020 and beyond.
"DiscNW has accomplished really great things out there [in Seattle]," they said. "And some of it can be attributed to not being an affiliate or state-based organization."
What share should USAU get? How much should local organizations keep in state? It's a question that's starting to matter for ultimate as the sport matures. There are important services being provided by USAU that benefit everyone, from rules development to sport marketing to observer training to media promotion. Is it fair for some organizations to try their best to avoid paying into the system? Then again, how can you look at the success of DiscNW and their wide accessibility for low-income youth players and argue that they're doing something wrong? DiscNW covers the costs of participation for hundreds of players. (It is worth noting that funds from USA Ultimate's Play It Forward program cover the costs of about six youth teams in Washington state that require full aid.)
"There's definitely a solution out there, and being partnered with USA Ultimate is something valuable and comfortable and good for the sport that we definitely appreciate," said a Minnesota source. "It's just kind of the point that ultimate is at that we haven't had to deal with these issues before."
What exactly is that solution? Bartram thinks that a tiered affiliation model — with different benefits at different tiers — would allow for smaller organizations that need a lot of services to have access to them as they do now while creating a more hands-off version for large organizations that don't need much support from USA Ultimate.
"[USA Ultimate has] great people and they're doing wonderful work," he said. "But unless they are able to alter their affiliate model, I don't see the impasse breaking."
***
As for YCC, at some point, the demand for access to the tournament will necessitate changes to its structure. There may be more regional competition, or the national tournament may have to grow from its already large size to accommodate more teams.
"As far as I was concerned, it was a matter of time before they ran out of space at the tournament," said Bartram.
Given DiscNW's reluctance to work inside of USAU's structures, some of those interviewed for this article felt it was only fair that they get locked out of YCC in favor of organizations that are complying with the rules set out by the national governing body that hosts the event. Clark knew this day was coming, too, but she was disappointed that it happened so suddenly, and after DiscNW had already completed tryouts and selected teams.
Adding to the complexity of the issue, DiscNW is also an exemplary model for inclusive governance: no other local ultimate organization in the world supports as many disadvantaged players. The organization is doing the things that USAU wants to see from its affiliates — background checks for coaches, SafeSport training, creating playing opportunities — and USAU often features DiscNW members in its marketing materials.
Given that everyone involved broadly agrees on common goals for the sport's growth, the debate seems to come down to where resources should be allocated: is it better to create a strong central governing body or strong local organizations? It's not necessarily mutually exclusive, but the sport is still small and budgets are thin.
"It's gotta be local," Bartram argues. "Especially if you're trying to set up a new scene, you can't do it from afar. Somebody has to set up the fields."
Deaver sees it more as a rising tide lifting all boats. "There's a sense that we need to redistribute what's already in the pot, but I think we need to continue to find ways to grow what's in the pot to pay for all these things," he said.
***
The Seattle teams that didn't get invited to YCC will still have opportunities to play this summer. The U20 Boys and Girls teams are going on a trip to the east coast to compete in five different cities. The U17 Boys and U15 Mixed teams are headed to Youth Quake, a tournament in Utah, later this month.
And DiscNW is hosting YES Futures, a youth club tournament on July 12-14, for all five divisions, mirroring YCC, and with zero bid fee.
It won't be USA Ultimate sanctioned.
---
More on that later ↩

Priority orders #9-16. ↩