Teams will fight for bracket positions in power pools!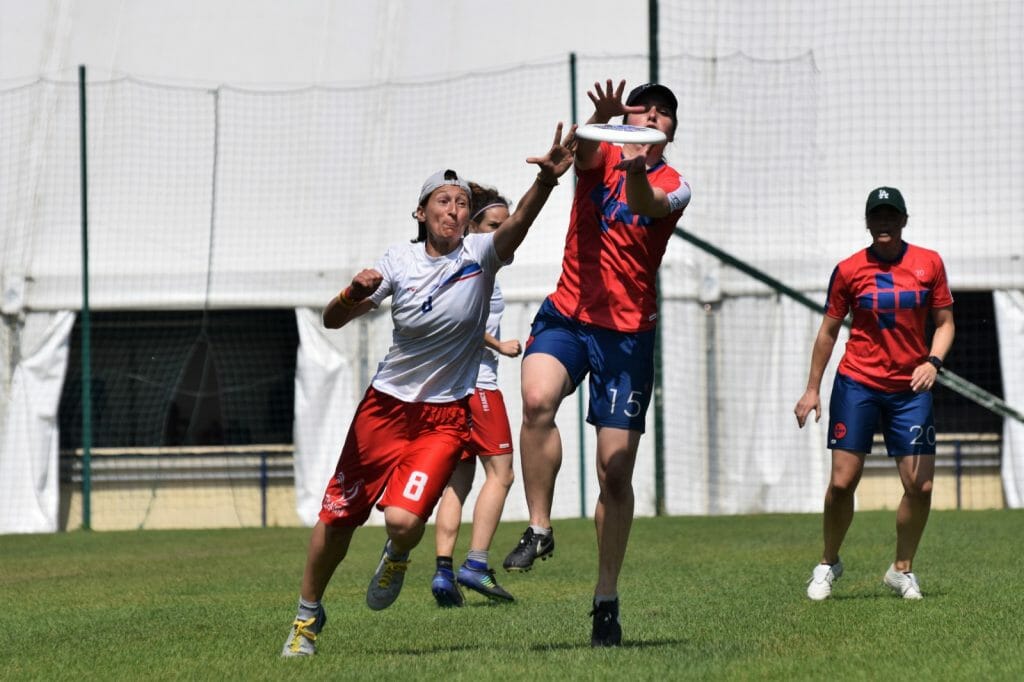 After the first group phase the decks are reshuffled and 2 power pools will decide who has the best position for the bracket. Teams in the top pools do not take any games with them into the next round.
| Pool XE | Pool XF | Pool XG | Pool XH |
| --- | --- | --- | --- |
| 1XA Germany | 1XB Great Britain | 3XA Denmark | 3XB Austria |
| 1XC France | 1XD Switzerland | 4XA Ireland | 4XB Lithuania |
| 2XB Sweden | 2XA Russia | 3XC Norway | 5XB Hungary |
| 2XD Finland | 2XC Italy | 4XC Belgium | 3XD Czech Republic |
| | | 5XC Slovenia | 4XD Poland |
| | | | 5XD Belarus |
Power Pool XE: France, Germany, Finland, Austria, Sweden
In the first power pool France is the only undefeated team. They survived a scare against fiery Italians but in the end dominated group XC. They will meet Germany, who crushed Denmark's hopes this morning in a 15-6 whooping. The Germans are getting more and more professional from game to game according to co-coach Philipp Hartmann. Finland's only loss was on double game point against Switzerland so they will have some confidence going in the second tournament phase. Sweden came back in the decisive game against Austria from 9:12 down to win 13:12.
Germany and France are the clear favorites to skip the pre-quarter and advance to the round of 8 directly.
Power Pool XF: Great Britain, Switzerland, Russia, Italy
After a somewhat shaky start GB dominated their last 3 games giving their opponents Austria, Sweden and Hungary only 6 points in total. Switzerland also won all their games in pool XD which seemed to be the weakest in the initial pool phase. Russia has to thanks Germany's dominant performance to be in power pools. They have a win against Germany in their first game and they are keen to demonstrate that their loss to Denmark was just a slip up. Italy showed in the game against France that they have a dline that can trouble top teams. Their consistency might not be at the level to avoid pre-quarters though.
Lower Pools XG & XH
Denmark, Austria, the Czech Republic and Norway are unbeaten against their peers in the lower pools. They will carry these wins into lower pools and are the favorites to get to pre-quarters at the moment. Only the top two from each lower pool will make it into the pre-quarter rounds.