USA wins the North American battle!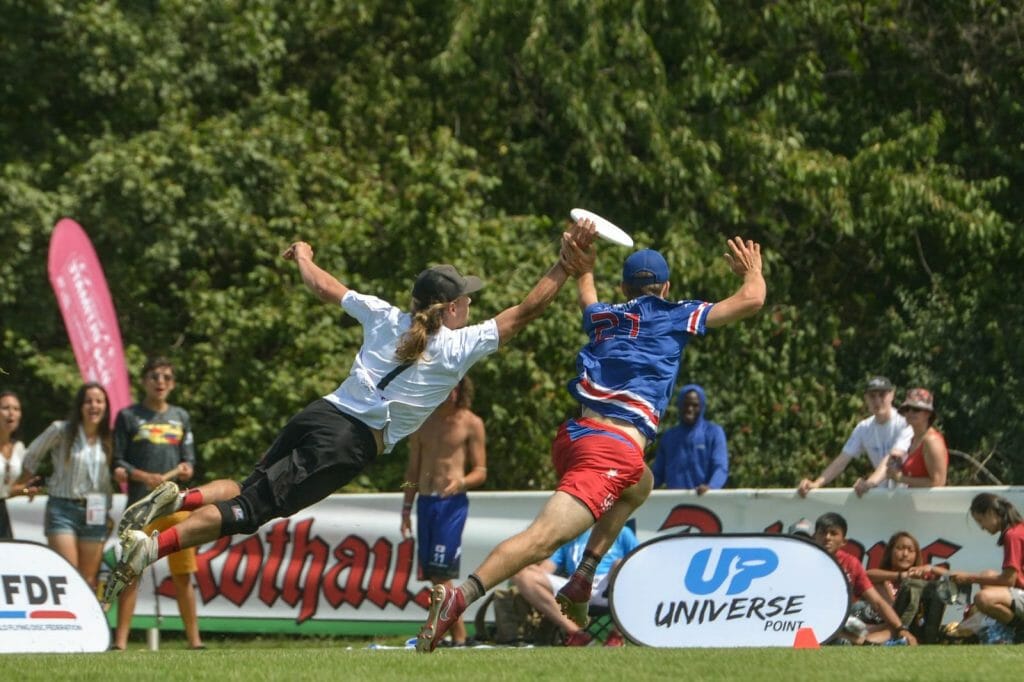 Ultiworld's coverage of the World U24 Championships is presented by VC Lookfly; all opinions are those of the author. Please support the brands that make Ultiworld possible and shop at VC Lookfly!
HEIDELBERG, GER — Few things are certain in this world except death, taxes, and the USA playing Canada during worlds. This meeting would be a clash for the gold medal as both teams came in undefeated, although with slightly different paths. USA cruised through their bracket play coming out fast in both the quarter and semi-finals. They beat Australia 15-3, and Italy 15-7: their results were never in doubt. Canada on the other hand, had a bit more trouble. They dispatched Colombia 15-14, and Japan 15-10. While the Canadian coaches and players may say they had it the whole way, it certainly was more nerve wracking for Canada than the United States on their way to the gold medal game. USA won gold by dispatching Canada 15-12.
Canada opened with the first pull. Although most points during the game were relatively clean the first one was more difficult. As teams traded turns, the Canadians had three chances to get the break but it was the United States who would get on the board first with a hold. USA would get the first break of the game on the next point. The turnover rate slowed down as each team would find their rhythm, but with both teams working with less efficiency than they had shown in previous games. The throwing windows were smaller, the overall margins were thinner it was difficult for either team to pull ahead. It was the USA who would do a better job finding some space and take the lead into halftime 8-5. Canada found some early success with their three and four person cup zones, but as the game continued the boys in blue were able to move the disc against it. Working around and over the cup, USA would get to midfield often as Canada would transition to person defense. The USA would then calmly work the disc in time and time again relying on the around throws to open up space for both the break side and give cutters the room to operate on the force side. Mac Hecht was often a focal point would throw some absolutely dirty around flicks making them look easy.
At the half Canada needed to make adjustments. They needed to be stingy with the disc and figure out a way to slow the US offense and generate some breaks. Unfortunately for them, the Americans would continue to play well. On offense, USA would start in a side stack looking to attack the space underneath, Canada tried to respond with the cup that found success early. But at this point the players had found their throws and had little difficulty moving the disc past the zone. Blades and hammers would relieve pressure, and as Canada tried to recover or transition the USA would transition into a vertical stack. From there dump passes, upline cuts, and around throws to the sideline would be where the USA found most of their success. Canada would try to go on a run late in this game. Down 14-10 they were able to hold and get one break. However at 14-12 USA would not relinquish the disc. Working on the far side of the field, John Randolph went upline and despite a Canadian defender jumping recklessly out of the stack to bid for the disc, Randolph collected it under pressure spiked it and celebrated. USA took gold.
After the medal ceremony, Canada's head coach, Jon Hayduk, said of the game, "It was a close game, we put ourselves in a position to get the breaks. When you play a team of this caliber there's no room mistakes and when the opportunity is there you need to take it." He went on to say, "The score was close, but the game was closer." Talking about the final points, he reminded his players that "ultimate is a game of runs, you can only score one point at a time. We could break them, we have success and that's all you can focus on. The boys battled hard each and every point, and for me, that's success." While they certainly would have wanted to come home with gold, silver is not bad. After a disappointing finish in Perth a year and a half ago, they are happy to add to their trophy case. Any opportunity for them to play good ultimate helps build the program for future years.
Bob Krier, the head coach for the US, said that their strategy was to play match defense the whole game. "We have a force middle, junky set but no coordinated zone look. The weather didn't look terrible so we didn't want to [spend time on that] with only two weeks to prepare." Asked if he or any of the staff were nervous he responded, "Nervous, no. Super excited to play good games here at worlds…. Canada vs USA, we get to do it every time, let's keep doing it." About the program he wanted to talk say that it's all about the broader communities back home. Smaller communities are what got them here and success like this builds a positive feedback loop. Local ultimate produces good players who are given new ultimate experience with the national team which they take back to their local communities which produces new good players. USA will take this win and add it to their tally. Each USA player took home a gold medal and some good memories.