Can Dublin bring an Irish women's team to the EUCF for the first time since Ireland moved West?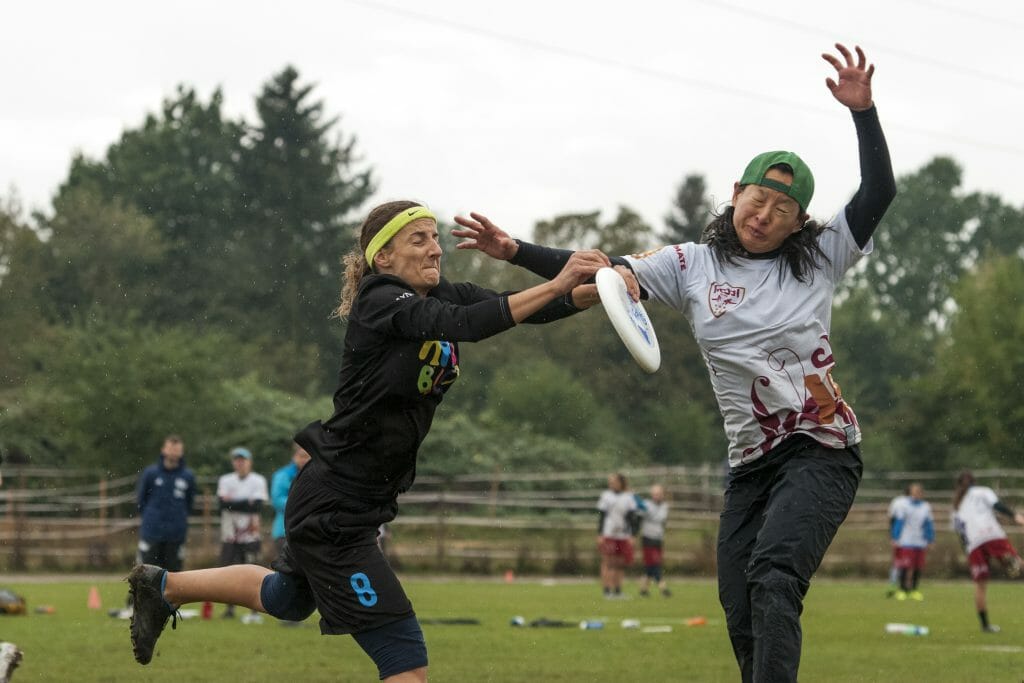 The women's division is the most difficult to call in the Western region (also known as UKU Nationals). There are eight teams in the running, but the winner could be any one of four, with no team looking out of place in this high-quality field.
Tournament Profile
Location: Birmingham, UK
Teams: 8
Bids to EUCF: 2
Team Breakdown: UK-6, Ireland-2
Weather: Partly Cloudy, 20-27 C, 8-13 km/hr wind
Format
| Pool C | Pool D |
| --- | --- |
| Iceni | Bristol |
| Gravity | SYC |
| Throwback | SCRAM |
| Rebel | Red |
Pool winners go straight to quarters. 2 and 3 of each pool play a crossover pre-semi. Winners of semis automatically qualify for the two spots, so semis are the games to go.
Can Gravity break through?
Gravity (Dublin, Ireland) will feature many of the women who memorably took the title at EUC this summer with Ireland. They attended last season as well and had some impressive performances but couldn't quite break into the EUCF spots, finishing third with only two places available. They'll be missing superstar Sarah Melvin as she competes with the EuroStars out in the USA, but will have their other star Fiona Mernagh available. Mernagh will play both ways and leave her imprint on every point, whether with huge blocks or big throws. Aine Gilheany will bring a vast array of throws to the party as well and in the kind of conditions we're expecting (sunny and still) her overheads are going to be a huge weapon.
An Irish women's team has not qualified for EUCF in the short time they've been attending UK nationals as a qualifier. Gravity could be the team to break that precedent, particularly with the kind of confidence and winning attitude they'll have after their success in Hungary earlier in the summer.
The UK Big Three
The three best women's teams in the UK are back for another crack at the title, though, and won't make it easy for the Irish women. Reigning champions Bristol have been uneven this season. They started out with two split squads early in the season but selected a single squad for sectionals and nationals. At the UK southern sectional, they lost to Iceni (London) for the first time in some time after finding a way to beat them in each of their five previous tilts. While the deficit was only two points at 10-8, the team from London seemed reasonably comfortable for most of the game. That will be a concern for Bristol, but the talent here is enough to give them a real shot at being the first team other than Iceni to retain the title in the last 15 years1.
Iceni, on the other hand, have had a successful bounce back year domestically. While they were defeated in the final of nationals, they finished ahead of Bristol at both WUCC and EUCF and were able to bring strong performances when matched up with other elite teams. They have kept the same leadership group but have brought on some dedicated coaches this year in the shape of Fire of London captain Adam Lothian and injured mainstay Jackie Verralls. It's tough to say whether that's the difference that helped them overcome Bristol, but it can't hurt. There are a lot of rookies in the team but the overall level of athleticism and the experience of captains Karina Cooper and Fiona Kwan puts them in a strong position to snatch the crown back.
SYC (London) are the other team with a chance to make a run at a qualification spot, albeit a slightly more remote one. They brought on a new coaching team this season in the shape of former Deep Space player, Dom Norton, and former Fire of London player, David Pryce, but have been able to keep their high standards up, winning the third ranking event in Birmingham2. They're returning to the scene of that victory here and will be hoping to carry on their run of success. The addition of rising star Rupal Ghelani will help them in big games and the squad is perhaps deeper than it has been in the past. Still, the overall level of athleticism is a step behind their rivals which makes them fourth-favorites.
Potential spoilers
Throwback is a team made up mostly of the GB masters women from EBUC and the upcoming masters' championships in Madrid. They bring an unmatched level of experience at the top of the game in the UK and Europe and can still run with the younger players they'll be facing. Some GB under-24 women to add a dash of youthful enthusiasm, meaning this team is going to be one to watch as the tournament unfolds.
Rebel (Cork, Ireland) will be bringing a small squad to this event but won't be without talent. It appears that they might struggle to compete at the top end of the tournament given their numbers but look out for Brionagh Healy who has flashed the potential to be one of the best cutters in Europe Red (Leicester) will similarly struggle to get into the top spots but have had a great season in consolidating their first team in the top eight of the women's division.
The final team is SCRAM (Scotland). Many of these players come from the mixed division with Black Eagles and Glasgow, much like Alba in the men's division. Their main issue against the top teams this season has been depth, but the top of their roster is excellent and has great cohesion – the former Black Eagles trio of Lulu Boyd, who won gold with Ireland women, Ellie Taylor, who won gold with GB mixed, and Hayley Dalmon is the best example of that. They have lofty aims and if they can continue to develop after a promising debut season it won't be long until the big three becomes a big four.
So, what's the outlook?
Realistically, the pools will likely end with the top two seeds in each keeping hold of those spots. However, because there are only two spots available for EUCF in this division there will be two crossover games before we get to the semi-finals between the second-placed team in one pool and the third in the other. That could mean a SYC v Throwback matchup which would be of some interest, although SYC ran out 15-9 winners in southern sectionals. The real intrigue starts at semi-finals, which double as two games to go. The loser of the Iceni v Gravity pool match will have to play against Bristol, a massive game between elite teams whoever's in it. Like I said right at the beginning, women's is the most difficult division to call but with games like this in store, that also means it's probably going to be the most exciting to follow.
---
Only Bristol last year and LeedsLeedsLeeds in 2010 have interrupted Iceni's hegemony ↩

Bristol and Iceni were not present at that event ↩