Fury got the win against a tough Molly Brown team, whose comeback was cut short.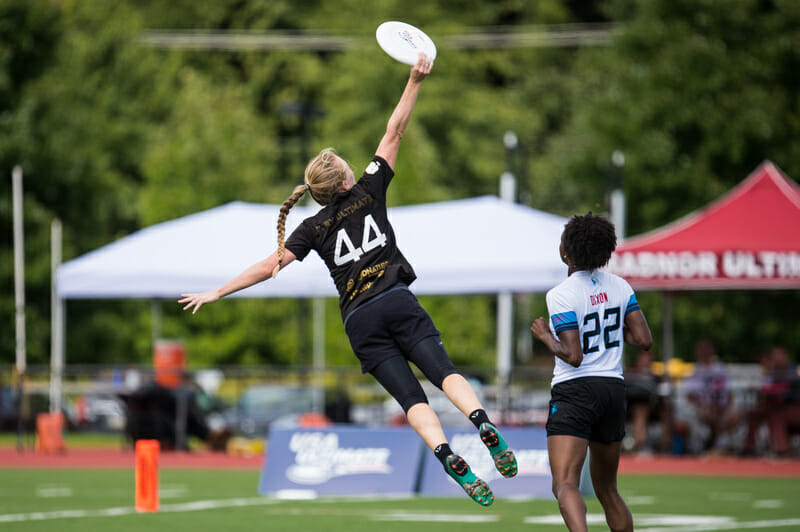 PHILADELPHIA — As #4 San Francisco Fury and #5 Denver Molly Brown prepared to compete in the women's division final of the Pro Championships, it felt like two teams vying to make a statement about their capabilities. But in a game where the tables were about to turn, weather had the final say. As the clock was ticking toward soft cap, Molly Brown broke Fury twice to come within one, 12-11. But with a lightning delay earlier in the day and another on the last point forcing a halt in play, both teams decided to call it there. They both packed up to fly back west, but Fury carried the title of this year's Pro Championships.
Fury's offense wasn't the cleanest in the first half, but they managed to escape break-free. Meanwhile Molly Brown's deficit was largely due to basic mistakes — miscommunications and drops — which gave up holds and even break chances.
But those mistakes didn't have any consequences — until the fourth point. After a series of holds, Fury pounced. Both teams got a bit loose with the disc, as Denver's Alika Johnston lost possession in the red zone and Fury's attempts to push the pace turned into rushed errors. After a Claire Chastain misthrow, the high tempo finally paid off for Fury. Spotting Sarah Griffith sprinting deep, Kirstin Johnson picked it up to huck, and Griffith shrugged off the three Molly Brown defenders around her to get up and land with the disc neatly in the end zone.
The outcome from that mess dictated the play for the rest of the first half. Fury took advantage of another missed handler connection and punched in a short field break to make it back to back. Despite Molly Brown's offense calmly punching through a Fury junk defense for a hold, Denver didn't steady the ship. After a Fury hold, Liza Minor dropped an under and Beth Kaylor found Kaela Helton with an inside break to make it 6-2. Fury closed the half with another break a few points later, when a Chastain drop gave Fury the disc, and Nancy Sun lined up a beautiful forehand huck that dropped into Yelena Gorlin's hands, giving San Francisco an 8-3 halftime lead.
But that was the last break Fury would get. Whatever happened during halftime changed the shape of the game. Fury's offense was not broken once in the first half, but neither was Molly Brown's in the second.
Molly Brown's offense started to shake off earlier mistakes and find their own groove. Holding out of half, Denver kept Fury's defense at bay as they continuously moved the disc around the field, finally dictating the play. More importantly, they were catching the disc; they coughed up five drops during the game.
Despite the rain starting, the teams exchanged clean holds. But Lisa Pitcaithley kicked off Molly Brown's climb back up the scoreboard. Molly Brown got a handblock on a Cree Howard attempt to earn possession (and some yards, as the disc rolled back toward Fury's end zone), and Pitcaithley caught a sharp inside pass meant for Ronnie Eder for bookends. It was also their first break, bringing the score to 10-6.
"Is this the beginning of a Molly Brown rally?" said commentator Evan Lepler on the ESPN broadcast. "Time will tell."
But the weather wouldn't let us find out.
It was a while before the next break, or even the next turnover. The next few points were clean holds, but Fury's last was to bring the game to 12-8.
As the clock for soft cap ticked down, so did Fury's lead. Molly Brown easily worked through Fury's defense (and the rain starting up again), with Minor making an impressive grab despite two other players around her to make it 12-9. Denver rolled a pull out of bounds to set a trap zone, and it worked the second time around. Fury turned the disc off their first pass, and Allysha Dixon hucked it to Pitcaithley right on the end zone line for a dish to Liz Narmour to close the gap, 12-10.
Another rolled pull preceded a trap zone, but this one didn't work as effectively. Further dramatizing Molly Brown's comeback was an elongated point with several unforced errors on both sides, and the downpour everyone dreaded. Carolyn Finney's throw fell short of Kaylor. Chelsea Twohig misread Pitcaithley's full-field huck, but Howard's throw landed in Chastain's hands instead of Fury's. Johnson tipped the disc on a second huck attempt to Twohig, but Twohig got it anyway. Chastain dropped the disc in Fury's end zone, as did Opi Payne near Molly Brown's. After a timeout call, more turns, and rain nearly blocking all vision, Eder caught a Chastain scoober, and Molly Brown swung the disc by the end zone until they found their way back to Chastain to secure the back-to-back break that shifted the score to 12-11.
Could they have brought it to 12-12? A second final going to double game point?
The last point did not give us those answers. The only things we saw were Molly Brown missing a chance to break, and in a scary moment, Claire Desmond going down on a non-contact injury. The lightning horn was called right after that. Facing further significant delays, both teams left the game at 12-11, to Fury.
The first half of the game was Fury's as they led 8-3, but the second half belonged to Molly Brown as they went 8-4 to almost tie it 12-11. This was a staggering difference as Molly Brown started correcting their basic mistakes and kept better possession of the disc.
Molly Brown's coach Joe Durst emphasized that change after the game. "We were just dropping the disc, like a lot," he chuckled. "But we weren't mentally out of it. It happened to Machine too. We were just ready to have a good time, and we did."
"We could have ended on a tie, that would have been sweet," he said. Perhaps the teams could have been declared co-champs, as was the case in the U20 divisions of this year's YCCs.
When asked what Molly Brown would continue to work on, Durst added pace to the table. "We love playing with a team that plays with the pace of Fury. We always talk about dictating pace, and they dictated pace. We're going to go back and work on dictating pace."
Fury coach Matty Tsang commented on the change of game play once the downpour started. "It was interesting how quickly it was when the game changed from one condition to the other. It felt a bit strange — just a completely different situation," he said. "It was kind of funny not to finish the game, so that's a little odd. Ending on an injury is also mentally tough."
While both teams will feel good after strong showings at the tournament, it's Fury who will reap the mental benefits of winning the tournament. Weather withstanding, they outscored Molly Brown with a well-rounded effort that was emblematic of their program's brand. It felt like their whole team contributed to the victory. But the defense benefited from Molly Brown miscues, as Fury registered just one block in the final, offering some opportunity to improve.
That stands in contrast to Molly Brown, who might need to figure how to integrate more of their talented roster in their offense. Denver had four players accrue over 100 yards gained, the lowest of any team in a finals this weekend. Star Claire Chastain was the only Molly Brown player to gain over 71 yards receiving; she was the only player in any of Sunday's games to eclipse 400 total yards. Molly Brown also struggled to get the deep game going, with San Francisco winning the battle in the deep space. Yet they demonstrated their intense grit and willpower.
For all of the lack of clarity in the game's crescendo, there's no doubt about the message delivered to the division: this year's championship is very much up for grabs.