Pool X is still almost anyone's game!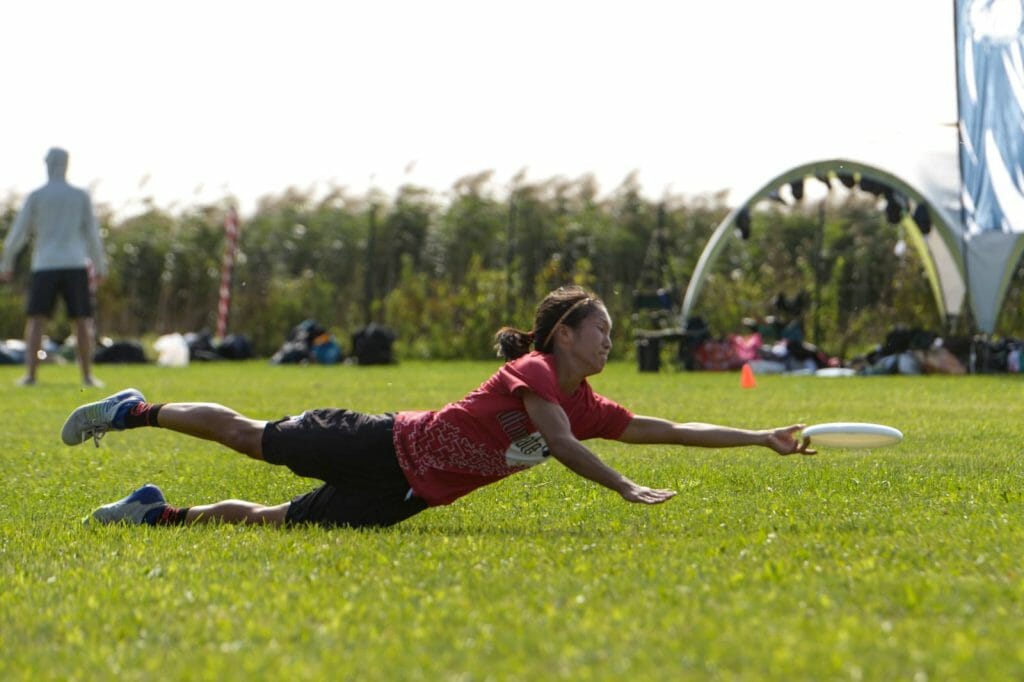 EUCF coverage is presented by Tokay Ultimate cleats. Support Ultiworld Sponsors!
The first day of EUCF is over and done. Some teams have played as well as expected and others have surprised everyone in Caorle and at home with their performance. Each team played three of their five pool games today. All 12 teams began the day energetic and excited to play on the European stage, ready to face off against some of the toughest competitors they had met all season. Here are the pool standings after day one.
Pool W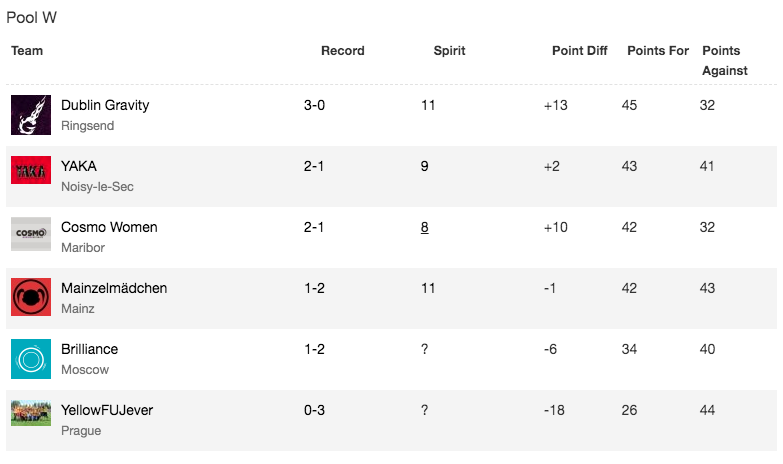 The most hard fought game in this pool was YAKA (Noisy-le-Sec, France) vs Mainzelmädchen (Mainz, Germany). It was both teams' first game of the tournament and YAKA managed a close win on double game point 15-14. The Parisians secured the first break of the game and looked stronger at the beginning, scoring points with ease and willing to throw hammers and overheads in the gusty wind. Mainzelmädchen, however, were not ready to let them take the game without a fight and managed to bring them to double game point at 14-14. With YAKA starting on offense it seemed like an easy win, but this turned into a marathon point with both teams getting multiple turnovers and chances to win the game. In the end it was YAKA who managed to bring the game to a close. YAKA then went on to win their next game against Slovenia's Cosmo Women (Maribor, Slovenia) a little more comfortably.
Mainzelmädchen had another tough game when they faced off against Gravity (Dublin, Ireland). Once again, they were pipped the post and Gravity came away the winners with a score of 15-13. Gravity's deep game was exceptional and Mainzelmädchen used their zone to shut that down. Gravity on the other hand struggled to shut down one of Mainzelmädchen's star players, Kyoko Hosokawa, who played very well as always. However, it was not enough and the Irish girls came out on top.
Gravity and YAKA both won their first two pool games and then played each other later in the evening in the Caorle Stadium where Gravity won 15-13. Although the support for the French was loud, Gravity managed to win the game, making them the only team to win all three of their games today. In this intense clash, the Irish side, who were down by two points, managed to score five consecutive breaks before essentially trading out the rest of the game for the win. After the match, Gravity coach, Ian French said it was the team's energy and intensity that pushed them through the wins. While they didn't play perfectly today, they are looking forward to executing more consistently tomorrow.
Brilliance (Moscow, Russia) did not have the greatest of starts in the tournament. The Russian team faced Cosmo Women (Maribor, Slovenia) first and managed to keep up with them in the first half, but the Slovenians stole the show in the second half and capitalized on some mistakes made by Brilliance. Cosmo managed to score seven points while only allowing the Russians two. Cosmo's Aurora Lesnik played phenomenally on defense while also scoring and assisting numerous goals. Brilliance did manage to win one of their pool games, however, beating the Czech team, YellowFUJever (Prague, Czech Republic) with a four-point lead.
Pool X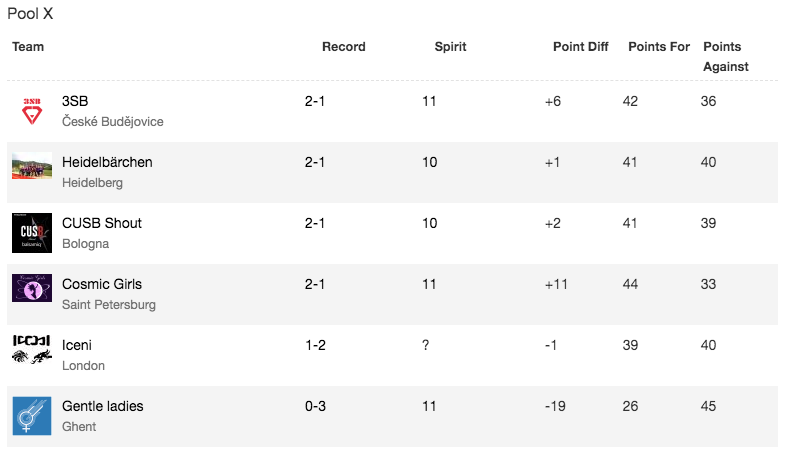 Pool X saw some major shake ups today with four of the teams winning two games and losing one each.
The first surprise of the day was Heidelbärchen (Heidelburg+Karlsruhe, Germany) who were seeded last in the pool. They won against the reigning EUCF champions and first seeds, CUSB Shout (Bologna, Italy). The German team said afterwards that they did not go into that game with any big expectations, they just wanted to play their best and are understandably very happy with the win. Heidelbärchen's last game of the day against Czech team, 3SB (České Budějovice, Czech Republic), did not have such a happy ending for the Germans. 3SB forced Heidelbärchen to make a lot of errors using their well-rehearsed zone defense. 3SB then capitalized on those errors and played some tidy offense with their deep shots coming off a lot more frequently than in previous games.
3SB were a little shakier in their only loss so far against Iceni (London, UK). It took the Czech team a little longer to get into this game and they ended up turning over on a lot of their deep shots. 3SB played their zone defense, forcing Iceni to throw quite a few overheads, however 3SB couldn't convert the turnovers they worked hard to force. After half time the Iceni offense had figured out the Czech defense and worked the disc up the pitch much easier than before.
Iceni's other two games did not work out so well. One of those was against Cosmic Girls (St. Petersburg). Star Cosmic Girls handler, Sasha Pustovaya has not been seen in Italy this weekend as she missed her flight and has decided to stay in Russia instead of purchasing another flight to Caorle. Even without Pustovaya, the Russians a very intense start to the day. Iceni tested their zone defense, but this did not phase Cosmic Girls, and the Russians took half with a three-point lead. After halftime Iceni scored three breaks to tie the game and looked much more confident than they had before. The game eventually went to double game point with Cosmic Girls starting on offense. Iceni played their tightest defense of the game, however, it was not enough, and the Cosmic girls managed to score. Cosmic girls also won their game against Gentle (Ghent, Belgium) where they went on a four-point scoring run to start off the game. Gentle were unable to recover unfortunately.
Although CUSB Shout lost their first game they did not let this affect their day and they managed to secure a double game point win against Cosmic Girls and another win against their familiar foes, Iceni. Iceni managed to score the first three points of the game and looked much more confident than the Italian side. CUSB were not ready to lose another game however, and after a timeout came back with much cleaner offense. CUSB took half and from then on, they played with much more confidence in themselves. The CUSB coaches said that using the full depth of their squad helped to secure this crucial win. Not being as strict with their offense and defense lines also helped to rest players and game play was smoother from then on. They said that in the end, it was the team's athleticism brought them the win.
Outlook for Semis
The remaining pool games will take place tomorrow and the securing wins is crucial to several teams. In Pool W, Yaka and Gravity likely to come out of the group in semis. Cosmo Maribor still have a shot to qualify if they beat Mainzelmädchen and beat Gravity by three points. In Pool X there are four strong teams all still in running to secure a semi-final spot and their results in games against each other tomorrow will determine their place in this tournament.