The editors make their preseason bid predictions!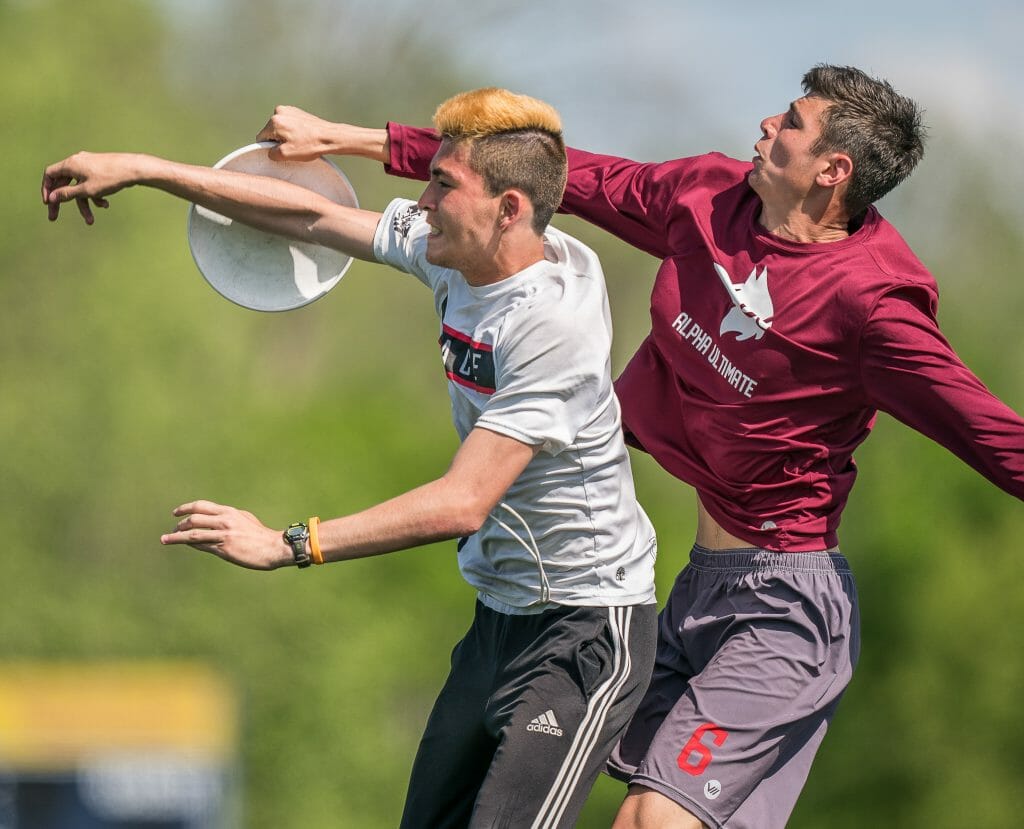 It's time to unwrap some presents as we introduce the 12 Days of College Ultimate. Over the next few weeks of December, we will be releasing one gift per day, though don't count on getting any partridges in pear trees: it's all college ultimate. From top players to strength bid predictions to highlights, we've got a little something for everyone.
Today's topic: Day 10 means it's time to talk to bids! Charlie Eisenhood (men's) and Keith Raynor (women's) go over their predictions for strength bid earners this season.
D-I Men's Division
First up, let's take a look at the teams we expect to earn the autobids.
Atlantic Coast: NC State
Great Lakes: Michigan
Metro East: Cornell
New England: Brown
North Central: Carleton
Northwest: Washington
Ohio Valley: Pittsburgh
South Central: Texas
Southeast: Georgia
Southwest: Cal Poly SLO
Now, the fun part: strength bids.
Metro East
Strength Bids: 0
Confidence: ?????
You can still say this about the Metro East: the race for the lone bid is going to be exciting. No team looks like they're way out in front. No team looks like they will be competitive at the national level. Rutgers is going to take a step back after their Nationals run last year, Cornell is still a solid team, and UConn should be more experienced and better than last year.
Great Lakes
Strength Bids: 0
Confidence: ????
I'm not going to call the Great Lakes to get any strength bids, but I'm at least curious about how good Indiana will look. They made a 'surprise' run to the regional final last year before getting waxed by Michigan, and it's fair to say that, without a bid, they won't have a chance of getting past MagnUM this year either. But they're on the come-up, and perhaps they can make a splash this regular season.
North Central
Strength Bids: 2 (Minnesota, Wisconsin)
Confidence: ????
Yea, I know Carleton missed Nationals last year, but this is going to be a monster bounce back year for a team with a comically talented senior class featuring Joe White, Dillon Lanier, Stan Birdsong, and Luke Webb, among others. Minnesota should be strong again, led by Cole "Beef" Jurek, and Wisco brings back center handler Rami Paust and strong defender Logan Martin as fifth years.
Northwest
Strength Bids: 2 (Oregon, BYU*)
Confidence: ????
Hey, the Northwest could snag four bids this year as well. Washington, Oregon, and BYU feel like locks, honestly, and UVic has their biggest playmakers coming back. Who's going to come out on top? With Washington retaining most of their talent and adding USC's Sam Cook, and Will Lohre returning alongside Xander Cuizon Tice at Oregon, it should be a fun battle. Plus, BYU's the best of the bunch: could they have a special regular season?
Southeast
Strength Bids: 0
Confidence: ????
I was way too bullish on the Southeast at this time last year and I won't make the same mistake again. Georgia's the clear frontrunner. UCF looks very thin after their top four or five. LSU hasn't proven they can win when it counts. Emory's window has closed. CCC results don't point to much from the other Southeast teams. Another one bid year is coming up.
South Central
Strength Bids: 1 (Colorado)
Confidence: ???
This region might look dull — and it may end up being so, but only because Texas and Colorado look poised to have big seasons. Behind the two powerhouse teams, UT Dallas and Colorado State should remain strong challengers that will have a chance to play their way into a bid during the season.
New England
Strength Bids: 2 (Massachusetts, Northeastern)
Confidence: ???
What an intriguing region this year. There's the possibility of four bids — Brown, UMass, Northeastern, and Tufts — and a lot of questions about every team behind Brown. I do feel like we should see a resurgent UMass team this season: Tannor Johnson's too good to just fizzle out like last year, right? Really, we should probably more excited about the potential from Northeastern and Tufts, both of whom won games at Nationals last year and look poised to be even better this season. I'm not quite bullish enough to call a four-bid year, but three feels well within range.
Southwest
Strength Bids: 0
Confidence: ???
I was wrong last year to call a one-bid Southwest, but I'm going back to the well this year. 2019 bid-earner USC is going to take a step back, and I don't know that Cal has quite the firepower to earn a bid. UCLA is improving, but, again, I think they'll miss out on getting a bid. Cal Poly SLO isn't the same team they were last year, but they should still be talented. Southwest Regionals should be a ton of fun!
Ohio Valley
Strength Bids: 1 (Ohio State)
Confidence: ???
It's a two horse race in the Ohio Valley. I'm not sure anyone else is really even close to Pitt and Ohio State. Who's going to finish atop the rankings during the season? Who's gonna win the region? The history says Pitt, no doubt, but OSU looks poised to improve on their Nationals run from last year.
Atlantic Coast
Strength Bids: 2 (North Carolina, UNC Wilmington)
Confidence: ??
Depth, depth, depth: the AC still has it in spades. I'm getting spicy with an NC State pick to earn the autobid, but even if they don't, a three bid region seems likely (if UNCW's CCC performance is to be believed). Don't forget that William & Mary could be flying back up the rankings with the return of Jonny Malks. Oh, and don't sleep on South Carolina…
D-I Women's Division
We'd be wise to predict a regional winner in each region to start to figure out who might win strength bids. At great risk to my personal reputation, I'll press on.
Atlantic Coast: North Carolina
Great Lakes: Michigan
Metro East: Cornell
New England: Dartmouth
North Central: Carleton
Northwest: British Columbia
Ohio Valley: Ohio State
South Central: Colorado
Southeast: Georgia
Southwest: UC San Diego
Now that we've pegged, without commentary, the favorites, we can get down to the task at hand.
South Central
Strength bids: 1 (Texas)
Confidence: ?????
We start in the same place we did last year: a two-bid South Central. Colorado and Texas could both wind up in quarterfinals come Nationals, with good balanced teams that have some depth. The really experienced Colorado College team that upset Colorado in pool play at Regionals last year lost a lot, further cementing these two at the top.
Metro East
Strength bids: 0
Confidence: ?????
The top end of the Metro East should be very competitive with one another, with all of Cornell, Columbia, Ottawa, and Yale returning some talented players. They should probably be ordered as such, but no pair looks dominant enough to score the types of wins necessary to get both into bid-earning range.
Southeast
Strength bids: 0
Confidence: ????
All signs points to the beginning of a reign for Georgia in the Southeast, anchored by the Marie Perivier and Josie Veal pairing. Florida, Florida State, and Georgia Tech are all in the mix, with Tech perhaps being a sleeper, though they've yet to live up to hype that's been sent their way the past few seasons.
Great Lakes
Strength bids: 0
Confidence: ????
It could be an up year for Michigan, but Northwestern and Chicago each lost key pieces. Chicago does still have Cassie Brown, who might be the best player in the region. Drama at Regionals seems more likely than two teams having top ranking regular seasons.
Ohio Valley
Strength bids: 1 (Pittsburgh)
Confidence: ????
Pittsburgh and Ohio State could both be top 10 teams this year, and some of the top players on other regional threats have graduated. It looks like a two-team race, and both inspire confidence that they will earn a bid.
North Central
Strength bids: 1 (Wisconsin)
Confidence: ???
With Carleton entering the season as potentially the title favorite, the duty of bid-earning will likely fall to Wisconsin and Minnesota. They both spent a few years toiling in this spot, and despite graduating ample talents, both teams should have enough remaining in their stockpiles to stay consistent. I like Wisconsin's ability to attack with top end talent more than Minnesota's depth, even if their losses were more notable.
New England
Strength bids: 3 (Tufts, Northeastern, Vermont)
Confidence: ???
Things are heating up in the Northeast corridor, with buzz for most of the top end in the region. There are cases for each team to hit impressive ceilings, and the possibility of a four-bid season is very much in play. Any of the four teams listed could conceivably win the deep region.
Atlantic Coast
Strength bids: 0
Confidence: ??
UNC's stranglehold on the region was in brief doubt at AC Regionals last year, but they look like a very safe bet to rule again this season. South Carolina had a strong fall, and Virginia could be returning to form. Clemson and NC State are also not pushovers. Expect an AC team to be right around the bid margin.
Northwest
Strength bids: 2 (Washington, Oregon)
Confidence: ?
The Northwest is one of the toughest regions to peg right now, and a skeptical position on the region's stock is reasonable. UBC really complicated things by missing Nationals, and Washington has again built up preseason attention on which they've yet to cash in. Western Washington is certainly strong enough to even win the region. Are people overlooking Oregon as their star power dwindles? While none of these teams might be in title contention, they are all tough, and Utah and Whitman cast further doubt on what could happen in the Northwest.
Southwest
Strength bids: 2 (UCLA, Cal Poly SLO)
Confidence: ?
What to make of the Southwest this season? So many stars have graduated, leaving a predictive mess. UC San Diego was deep enough to remain atop the region, but UCLA might be one of the few top teams in the region better than last year. SLO returns some awesome playmakers, UC Santa Barbara was one of the biggest successes of last year, and Stanford, Cal, and UC Davis are all quality programs.