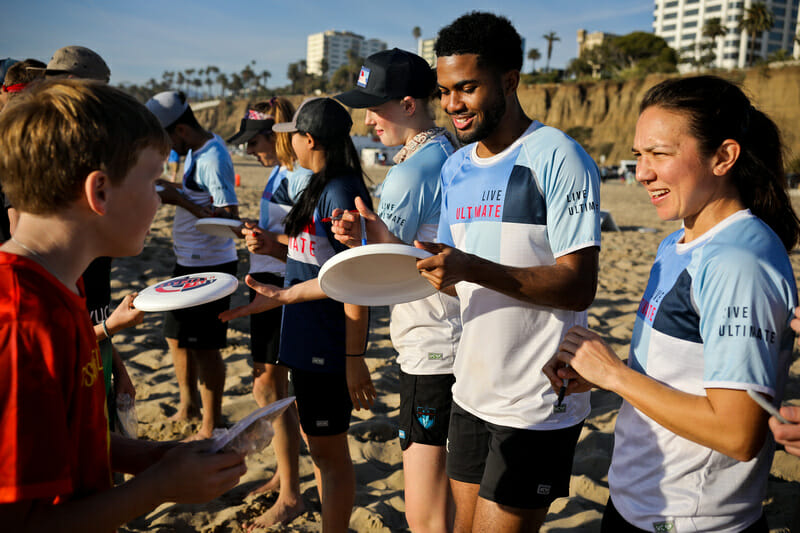 Combining the excitement and joy of youth ultimate, the background of a pacific sunset, and elite showcase games during bye rounds, Beach of Dreams ended with champions crowned in three youth divisions and smiles on the faces of hundreds of youth ultimate players. While a lot of the internet discussion focused on USA Ultimate flying in a group of #LiveUltimate ambassadors (more on this later), the event was first and foremost a youth tournament.
Traveling south from Seattle, Lou's Burning Tigers won the U20 boys division by defeating Monarch High School (Colorado) A and B in the semifinal and final, respectively. After taking an early loss to the local La Canada Disc Demons, the Tigers swept the rest of their games and cemented the win on a full field chicken-wing on double game point.
Another out of state team, Utah's Green Canyon, won the U20 girls division with an undefeated tournament. Like the Burning Tigers, they beat Monarch in an entertaining final. Sky View Ultimate, also from Utah, took third and fourth with split squads to round out a small division. Because Beach of Dreams ran on a Friday-Saturday schedule, the teams from Utah (many of which do not compete on Sunday) were able to compete through bracket play. Playing this tournament over many schools' winter breaks made the logistics of Friday-Saturday play a bit easier, but it showed that teams are willing to break the standard Saturday-Sunday model to accommodate as many teams as possible.
The U20 finals were staggered in alternating halves, so that the boys and girls finals were essentially being played at the same time. Because Monarch had a team in each final, as well as the additional boys team that lost in the semifinal, their sideline was full and cheering loudly. Though they ended up losing both games, their support for one another was unwavering.
San Diego Youth Ultimate Club took the championship in the U15 mixed division over the hometown Los Angeles Embers, getting a big cheer from the fans on the adjacent showcase field.
Many of the #LiveUltimate ambassadors adopted youth teams and followed them around the tournament. Nicky Spiva joined the Green Canyon boys team, Jesse Shofner made a connection with the Green Canyon girls team, and Byron Liu and Carolyn Normile cheered on a local team from Montclair, CA. The Monarch teams got a lot of attention from Colorado natives Nhi Nguyen and Jimmy Mickle, while Joe White and Angela Zhu supported the local de Toledo team. Not wanting to pick sides, Gabe Hernandez organized a pickup game in between rounds and played with youth athletes from a variety of teams.
After Friday's showcase games, the youth and #LiveUltimate players spent the evening on the Santa Monica pier. Some players were literally speechless trying to talk with the elite athletes who they'd only seen before in filmed games, while others competed in a rousing game of slackjaw. I caught a high school player explaining slang terms like "YOLO" and "no cap" to Raha Mozaffari and an AMP crew of Carolyn Normile, Anna Thompson, and Michael Ing riding a roller coaster with a bunch of the youth players.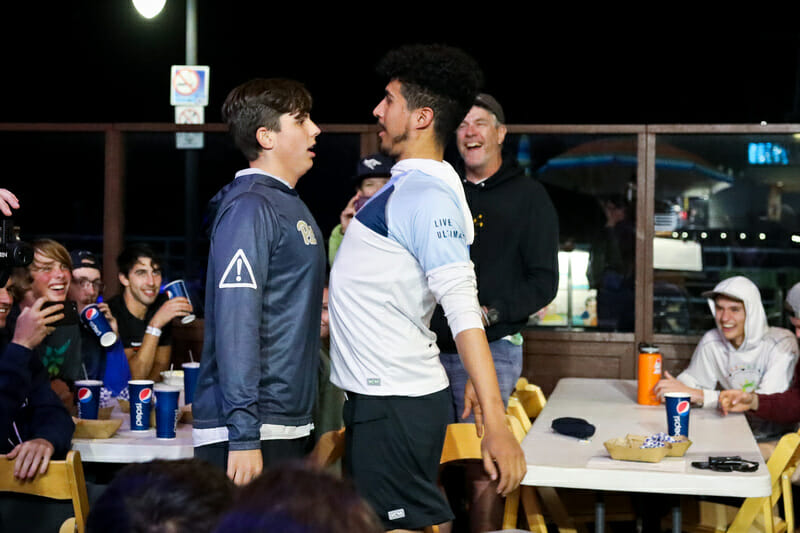 "There was a moment when a coach came up to me after we started meandering around the field and engaging with kids and said, 'I have a player who would love for y'all to watch her play and give her tips to be better, but she was too nervous to come talk to you,'" Jesse Shofner told me earlier in the day. "Watching that team and that player was one of my favorite parts of the weekend, because she has the thing you can't teach which is raw desire to improve and anybody who has that right now and plays the way that she does–I feel like we're going to be reading her name in a few years [keep an eye out for Olivia from Green Canyon]. Her team ended up winning, but at the time it was just the first few moments of showing up and watching this game. There was no other context except for the desire to improve and I think that that is one of the most beautiful things."
Shofner spent a lot of time with Olivia and her team and gave her a jersey after the game. "[The ability to] make a connection and communicate down the road instead of through her coach, having that barrier; that kind of stuff is what makes all of this worth it," Shofner said.
The #LiveUltimate ambassadors also played some games themselves. The players were divided into teams Grit and Grace for the showcase games: a mixed game each day, and a men's and women's game on Saturday. Players competed hard, and many had never played on the beach before, creating an environment where youth got to watch elite players learn and figure out strategy on the fly.
While there were all the makings of a standard game — a PA announcer, a scoreboard, and a filming crew — these games were about more than the scoreline. The youth players who made up the majority of the crowd were invested in cheering on the athletes who they had talked to and learned from throughout the day. Joe White collected Goldfish from the de Toledo team the same way Marshawn Lynch eats Skittles after he scores, and the Seattle crew chanted "2-0-6" whenever Khalif El-Salaam did something notable. The atmosphere was fun and the games were exciting, but this event succeeded most in connecting youth athletes (especially those from the region I called a "barren ultimate landscape" a few weeks ago) with the elite athletes they hope to play with someday.
These games were beneficial for the elite players too. Spiva spent a lot of time watching a short-handed Green Canyon boys team. Though he was injured and only played in one showcase game, he said "it was inspiring to see them play and give it their all on every point."
Other players were similarly inspired by the youth who took the fields around them.
"I love opportunities to play and interact with high school ultimate. I think very fondly of my time in high school and how meaningful it was for me to meet or watch high level players play," Jimmy Mickle said. "I think of the level of accessibility that allowed me as a high schooler to think 'I can get there at some point,' so I find it meaningful to try to give back in that way: to talk to different high school players about the challenges they're running in to, what they want out of their ultimate career, and what steps to take to where they want to be."
While Mickle grew up surrounded by ultimate, Christian Boxley went his first four years of playing without meeting a single elite ultimate player. "Getting to meet a few of these kids within a few months of playing is incredible, and telling them that they can be great, they can start a team, they can get to where they want to be is why we're here," he said.
While inspiring the youth in important, there are other reasons for this elite showcase as well. "Beach of Dreams is a vehicle for us to pilot several different things at the same time," said USA Ultimate CEO Tom Crawford.
Along with supporting the growth of California Ultimate — USAU's state-based organization that supported the showcase event alongside the local Southern California Youth Ultimate affiliate that ran the youth tournament — USAU is looking to build the foundation for ultimate to be a part of the $160 million that the Los Angeles parks and recreation department will receive from the International Olympic Committee as a part of the Los Angeles 2028 Summer Olympics agreement specifically to spend on youth sports.
USAU is also looking to help develop a bigger beach event in Los Angeles, working alongside other sports like volleyball and surfing to make a large youth event with elite athletes there "to show the sport off to all of those kids who have never seen it before."
Given the success of the merger of the Youth Club Championships and the U.S. Open and the GUM Ball that brings together youth players and top club athletes in a meet-and-greet, USAU is also working to develop more opportunities for young players to directly interact with the sport's best.
"Let's build a huge, really successful youth program — we have one in the summer (YCC), one in the winter," said Crawford, highlighting the community building that happens when young players can find role models in the older players they meet.
Highlighting elite mixed and beach play in Los Angeles, along with interest from youth, could also help to make the case for the sport to get added into the Olympic Games in 2028.
Few of the goals of bringing in #LiveUltimate ambassadors were communicated publicly before the event, which led to confusion and criticism online. Many people had questions about where the funding for the elite athletes came from — the USAU marketing budget — and there were several people who I noticed online who seemed to have no idea that this was a youth tournament in its fourth year.
As a high school coach myself, I greatly valued the presence and excitement of the #LiveUltimate ambassadors, and I know that the players on my team benefitted from being there more than they'll even be able to articulate right now.
The focus now, said Crawford? "Building a bigger experience for next year."
Additional reporting from Charlie Eisenhood.