A college-flavored treat: the first-years are first up.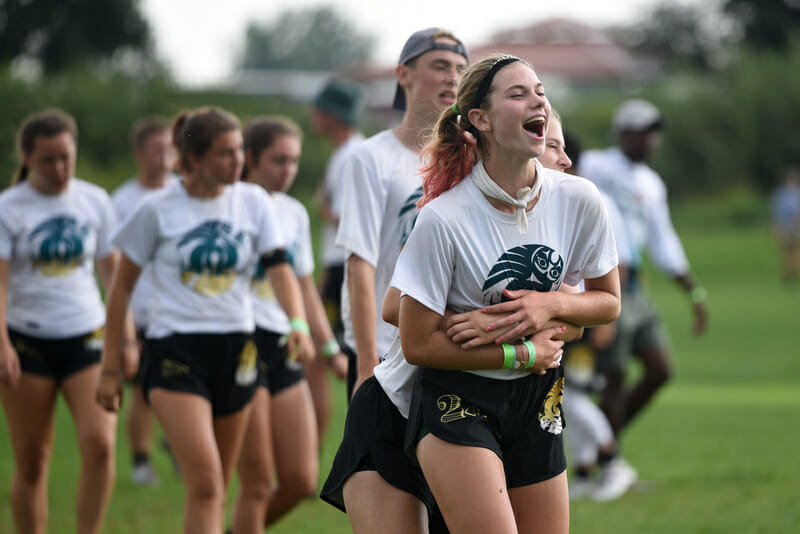 It's time to unwrap some presents as we introduce the 12 Days of College Ultimate. Over the next few weeks of December, we will be releasing one gift per day, though don't count on getting any partridges in pear trees: it's all college ultimate. From top players to strength bid predictions to highlights, we've got a little something for everyone.
Today's topic: On the first day of 12, let's take a look at some first-year players that we expect will make a big impact right away.
Women's
Alyssa Ehrhardt (Carleton)
Alyssa Ehrhardt is following her family footsteps from Boone, NC to Carleton College. Like her sister, Karen, she brings a calming and consistent presence to the field. She will add another extremely talented rookie handler to an already potent Syzygy lineup. Ehrhardt earned trust and respect from her teammates and opponents in high school, at YCC, and at U20 Worlds. She has a U20 gold medal, a pair of YCC titles, and many college tournament victories already with the Triangle Tourists. The level of competition will not stifle the accomplished handler in any way.
Ehrhardt has experience on both offensive and defensive sides of the disc. She has excellent break throws and makes smart huck decisions that will allow her to fit in smoothly wherever Carleton needs her. With Carelton benefitting from a wealth of returners — including her older sister — Ehrhardt won't have to carry the load in the way she has at other points in her young career. Slotting immediately into a deep and talented Syzygy club, she offers a similar skillset to another Triangle-to-Carleton handler — reigning D-I Rookie of the Year Kate Lanier.
Stacy Gaskill (Colorado)
Stacy Gaskill was a formidable D-line presence in her second season on Molly Brown, at only 19 years old. She has height, power, speed, and skill that have all been refined over the past club season, and her impressive level of experience further enhances her application of those talents. In addition to her club experience, she has won a high school state title, and gold with USA at U20 Worlds, where she was the leading goal scorer on the team, as well as gold with the U24 US Women's National Team. Not to mention, she is a world-class snowboarder on the 2020 U.S. Ski & Snowboard team.
Helped by the gap year she took for the 2019 college season, Gaskill will be one of the most experienced and physically dominant freshmen we've seen enter the stage since Jack Verzuh's rookie year. Although Molly Brown didn't perform to expectations this club season, Gaskill will surely be hungry to make Colorado a top contender this year. Along with sophomore Bailey Shigley and fellow rookie Skye Fernandez, Gaskill could usher in a new era in Boulder.
Abby Hecko (Washington)
After turns with Seattle Mixtape and the US National Team with both the U20 and U24 groups, Abby Hecko enters the 2020 season as perhaps the most well-known name among the rookie class. She amassed nearly every accolade a youth player can, leading her teams to a High School National Invite win, a YCC first place,1 and gold medals in international competition. And to be clear, Hecko was not merely an apprentice on the U24 team, getting extensive playing time and acquitting herself among the best players in the college-age cohort before her first tournament with a college team.
It's tough to project exactly what Hecko's future looks like, except that she has all the hallmarks of a star. She's versatile, able to handle, cut, and defend at a high level already. Her power, form, and anticipation all have ample room for growth. It's likely she'll operate from the backfield for Element, where she can absorb a large volume of touches and use her sharp upline cutting skills to power an offense. Hecko will be an out-of-the-box threat for First Team All-Region — even in the Northwest.
Kennedy McCarthy (Vermont)
It's been quite a few months for Kennedy McCarthy, who has gone from little-known name to youth star to club-level standout in the blink of an eye. She announced her presence this summer by leading Maine Riptide to the U20 Girls' final of YCC, outshining bigger name young players from more established programs. She followed that up by earning women's Club Breakout Player of the Year honors a few months later, growing from a role player on Boston Siege to one of the team's stars. Matching up with the reigning D-I Player of the Year, Dena Elimelech, at the Club Championships will be tougher than 99% of who she'll compete with during the college season.
McCarthy joins an up-and-coming Vermont club that is sure to garner a lot of preseason buzz, in no small part due to her sizable presence. McCarthy slots in next to tall sophomore Bethany Eldridge to give Ruckus a tremendous downfield playmaker. Vermont is already a tall athletic team and McCarthy will still be a standout from day one. All signs point to her being able to propel Vermont through their Nationals wall, if not this year, then soon thereafter.
Hazel Ostrowski (Tufts)
Ostrowski was the clear stat leader for Seattle Bankroll in dominating the mixed division at YCC this year, compiling 10 goals and eight assists, exceeding even Hecko's numbers. She also was ahead of Hecko, Ehrhardt, and Fernandez (but behind Gaskill) on the USA U20 leaderboard with 10 goals and four assists. At Club Nationals, she was second among female players for Seattle Mixtape with three goals and four assists.
There's a lot of confidence in Ostrowski's cutting style, and it's justified. She's very comfortable operating in isolation and in space, with long strides and decisive moves, as well as good hands that let her play bigger than her size. But she's also capable of putting up hucks when she invariably gets left free underneath. And she's dangerous in the red zone. Expect more gaudy stats from Ostrowski at the collegiate level.
Others to Watch
Cece Collinson (Florida)
Skye Fernandez (Colorado)
Allison Fridkin (Carleton)
Anna Goddu (British Columbia)
Lanie O'Neil (Clemson)
Allyn Suzuki (UC Davis)
Theresa Yu (North Carolina)
Men's
Aidan Downey (Georgia)
Aidan Downey is the most hyped men's division rookie to enter college since Liam Searles-Bohs and John Randolph enrolled in fall 2017. Downey brings well-developed throwing skill, size (at 6'2"), athleticism, and sky-high confidence (no look high release forehands? Yup.) to Jojah. All of that should make him an instant impact starter, presumably on offense where the team needs an infusion of talent.
Downey led his high school team, Atlanta's Grady, to a High School National Invite championship in 2018 and was instrumental on the offensive line for Atlanta ATLiens in their U20 Boys YCC co-championship this summer. Downey's talent is undeniable, but some see his flashy play as a negative. He clearly knows he's good. Certainly, the big step up in competition at the college level will require an adjustment: defenders are going to suddenly be a lot tougher. But he has the goods to help Georgia become a more polished offensive team and cement their status atop the Southeast.
Leo Gordon (Brown)
Another highly touted prospect, Leo Gordon enters Brown fresh off the team's national championship run. With 2019 Player of the Year Mac Hecht now on the sidelines coaching, Gordon won't get to redshirt for a season behind the starting QB. But he's up to the task. A 2018 USA U20 gold medalist, he was one of the top handlers at YCC this year, pairing up with teammate Danny Landesman to lead Bay Area Red Dawn to a 3-3 appearance with losses only to the two finalists, Boston and Atlanta. And he was the no-doubt MVP for Berkeley High School in their impressive victory at the 2019 High School National Invite.
Gordon is a versatile offensive player — fast and capable as a deep scorer, even more comfortable leading the O-line from the backfield. That's a more appropriate spot for him in a college offense — he's not tall — and Brown had him at the handler position at CCC back in November. He won't necessarily take over a game with his throws, but he has plus vision, and his quickness makes him a perfect fit in Brown's deadly red zone set.
Daniel Landesman (Colorado)
As a player coming from the relatively barren ultimate landscape that is southern California, Danny Landesman has quietly earned a number of accolades and is poised to make an impact as a rookie on Colorado Mamabird this year.
In 2018 as a high school junior, Landesman was the unofficial MVP of the San Diego Powerline team that finished as U20 YCC Mixed Champions. In 2019, he not only led La Cañada High School to a Southern California Youth Ultimate league title, but also carved out a role on the Los Angeles Aviators O-line, notching 28 goals and 11 assists while throwing for a 97% completion rate in nine AUDL games. He can be the focal point of an offense or fit into a no-turnover role while other players do the heavy lifting around him. As a rookie, that versatility should be on display as the talented Colorado coaching staff figures out his most effective role.
Mamabird impressed last season, upsetting Pittsburgh en route to a semifinal appearance, and should again be a contender in 2020. Colorado returns most of their contributors, and adding Landesman should give a jolt of offensive power to a team that traditionally relies on grinding defense and a simple, no-mistakes offense to earn their wins.
Jacques Nissen (Brown)
A practice player on Truck Stop this past season who got real minutes during the regular season, a YCC champion in 2018, and breakout surprise for the Breeze in the AUDL, Nissen brings the kind of pedigree into his freshman season that college programs dream about. With the precision throws of a handler and the lanky athleticism of a cutter, he will offer Brown some vital positional flexibility as they reconfigure roles on their roster following the departure of lodestone Mac Hecht.
A somewhat cautious player, Nissen may need to adjust to the responsibility of being a top player on a college team after being in a "no turns" mentality with Truck Stop and the Breeze. That said, given the talent surrounding him on Brownian Motion, Nissen may not be thrust into that role right away and should be able to ease into the transition as he gains confidence alongside All Americans and his fellow star underclassmen.
Tony Venneri (Washington)
Following in the lineage of Seattle savants who put together impressive resumes before they even set foot on a college campus, Tony Venneri will arrive on the Washington campus with a club championship medal already around his neck thanks to his time with Sockeye in the club season. Venneri is a do-it-all offensive weapon who should give the Sundogers instant pop on offense, working into the team alongside fifth year transfer Sam Cook. His quickness gives him a lot of potential as a handler cover.
Venneri's path to Washington is a continuation of the trend of elite Seattle youth talent sticking around for college instead of heading off to Carleton or some New England school. Washington has pushed themselves from occasional Nationals qualifier to consistent bracket team on this crop of players, and perhaps Venneri will help them take the next step into semis and beyond.
Others to Watch
Jack Brown (Washington)
Justin Burnett (Emory)
Kai Durvasula (Tulane)
Aylen Learned (Colorado)
Matthew McKnight (North Carolina)
Adam Miller (Georgia)
Kevin Pignone (North Carolina)
---
Tie ↩