The showcase delivered on its promise.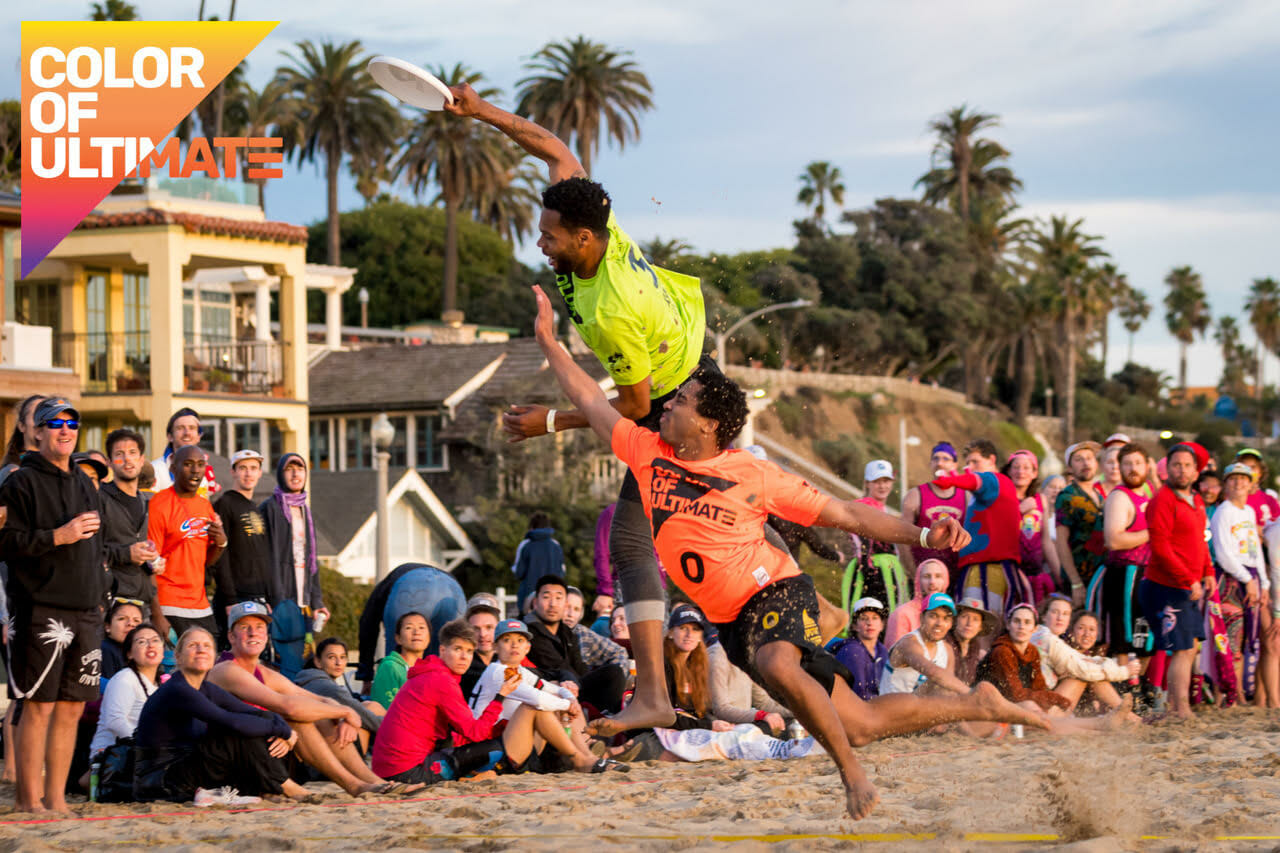 The Atlanta Flying Disc Club Project Diversity's Color of Ultimate: LA showcase took place this past weekend as part of LA Throwback, a popular beach tournament in Santa Monica, CA. Two teams comprised of many of the game's best players of color competed in the tournament and played in a filmed showcase game on Saturday afternoon. In a game that mattered more for its visibility and excitement than for the score, Team Manuel defeated Team Biles 15-13.
More than just a game, this event was an opportunity for the ultimate community and AFDC: Project Diversity to demonstrate ways to make the game more accessible for players of all racial and socioeconomic backgrounds. The players returned to the Color of Ultimate house (their Airbnb) following their showcase for dinner and a conversation about diversity, led by Shanye Crawford, a founding committee member of Project Diversity who was recently announced as USA Ultimate's new Equity, Diversity, and Inclusion National Outreach Director.
One of the goals of the project was to bring the success of the Color of Ultimate initiative to the Southwest United States and the beach ultimate scene, and this game certainly succeeded. Adding to the excitement of a high-energy showcase, this game was played in front of hundreds of fans lining the perimeter of the field with the Santa Monica Pier in the background. Max Charles, who won a national championship with Philadelphia AMP, appreciated the atmosphere. "I've played in front of people before, but not like this," he said. "This was a much different atmosphere. People were here with a lot of energy and excitement. They weren't just waiting for another game or had just been eliminated from the tournament. There was a lot of energy being given to the game and I think that fueled everyone on the field."
A raucous halftime dance party, free pizza for fans, and a beautiful pacific sunset created a celebratory vibe. Fans were excited to see the game and to support the players, and that energy was matched on the field. Amel Awadelkarim said during the game that it was the most fun she had had playing ultimate.
Though they had already played multiple games as part of the main tournament draw, the teams were still getting used to playing on the beach, and the early part of the game featured plenty of sloppy play and turnovers on many points. Throws that would look great on grass sailed out of reach of cutters moving a bit slower than they're used to.
Despite the lack of chemistry that comes with pick-up teams and the early hiccups, both teams played well and treated fans to some big plays. There is a certain floor that any team of talented athletes will compete at, but there was some especially strong play as the game rolled on. Lauren Lee said, "It's cool to have those connections without having watched each other play or known each other before." Despite the adjustment to playing with new teammates, each team held their offensive points until Byron Liu got a block for Team Biles, which punched in the break to take a 5-4 lead.
The game continued back and forth with highlight plays from both sides. With the game tied at six and Team Biles looking to cement their advantage, Abby Cheng ripped a crossfield inside-out backhand that looked to be floating out of bounds. As it helixed back towards the field, Jakeem Polk lined up his toes just inside the end zone line, falling dramatically into the catch and earning Team Biles a 7-6 lead as the crowd roared in approval.
Team Manuel was not content to just ride out the half. Nhi Nguyen laid out on the next point to secure the hold, setting up a crucial point for half. Team Biles overthrew a pass to Jasmine Childress on the sideline, and Amel Awadelkarim called timeout to set up a play for Team Manuel. On the ensuing possession, Awadelkarim, who ended the game with a pair of goals and assists, led a give-and go and eventually threw an assist to a bidding Claudia Vasquez to take half 8-7.
Team Biles may have been short on momentum but not on energy coming out of half. They held to tie it up and broke on the next point after a slew of turnovers and a massive Sadie Jezierski layout for a goal.
By this point, teams were getting comfortable with each other and not falling victim to the sloppiness that plagued the beginning of the game. Points came quickly and the scores flew to 12-12. Nguyen then caught her second goal of the game to give Team Manuel a 13-12 lead.
On the next point, a Team Biles throwaway game Team Manuel a chance to break, but they gave up possession. Jesse Bolton, who said that he was playing regularly on a D-line for the first time since 2015, threw a hammer to Remi Ojo for the largest lead of the game at 14-12. Team Biles was able to secure the hold to inch themselves closer, but Lauren Lee closed out the game catching a long huck for Team Manuel's 15th score.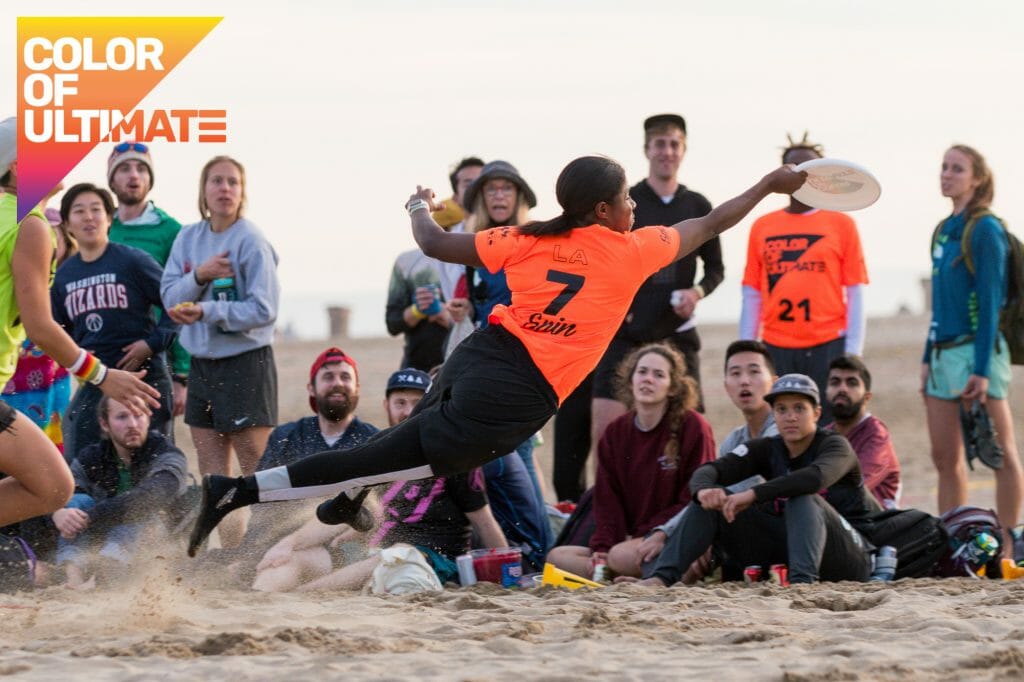 Cynthia Thomas was a revelation, scoring four goals for Team Manuel. Rumor has it that she's playing with the Arizona Sidewinders of the Western Ultimate League (WUL) this year, so it shouldn't be too long until we get to see her play on a big stage again. For Team Biles, Jakeem Polk led the way with three goals, using his tall body to get over defenders (though he was guarded by a much shorter Mark Rauls for a significant portion of this game) who had trouble adjusting their downfield movements to playing in sand.
This game was not as built-up as the Atlanta showcase earlier this year, but it meant just as much to the players. About half of them played in both games, and multiple players mentioned the incredible community that has been built up of players of color through the initiative. Zubair Abdulla was especially grateful for the opportunity to reconnect with players who he hadn't seen since the Atlanta game, thrilled to get the chance to play with them again.
Felicia Yang, the commissioner of the WUL, played in the game and spoke about the intersection of the goals of Color of Ultimate with the gender equity movement.
"It's all the same thing," she said. "It is providing a platform for people and communities who haven't historically had it. Whether it's culture or socioeconomic status or gender these are all things that we're trying to bring more awareness too and trying to show that there's opportunity and creating that opportunity no matter where you're from."
Everyone on the beach could clearly see that great opportunity. The showcase game was initially planned to be played under the lights on the beach, so players were outfitted in neon orange and green uniforms (dubbed citrus and lime by the players). While they wouldn't need the fluorescence in a game that ended minutes before sunset, the bright uniforms were impossible to miss and helped bring attention to the teams and their mission.
Charles mentioned that a few of the teams they played against asked where the Color of Ultimate teams were from, perhaps indicating an ignorance to the project as a showcase of people of color from around the country. While everyone was friendly and the showcase game garnered a lot of attention, there is still more work to be done.
The success of this game and Atlanta's last summer is a clear indicator that the ultimate community will continue to support AFDC Project Diversity's mission to help people of all socioeconomic and racial backgrounds access and enjoy the opportunities and benefits of ultimate.
Full game footage of the showcase game is coming soon! Tino Tran's full photo gallery is here.