Having the right discs can make a big difference in your game!
Tuesday Tips are presented by Spin Ultimate; all opinions are those of the author. Please support the brands that make Ultiworld possible and shop at Spin Ultimate! Disclosure: We have affiliate marketing deals with the merchants below. When you buy certain products via Ultiworld, we receive financial compensation.
Disc golf and ultimate frisbee — they should go together like peanut butter and jelly, right? Throw a disc to a teammate or throw a disc to a basket: fundamentally, it's not that different.
But as any ultimate player who has put down the Ultrastar and picked up some golf discs can tell you, it's not quite so simple.
We've already got a Tuesday Tips all about how to improve your disc golf game when you're coming over from ultimate frisbee and a whole series from James Bress about making the transition, but today we're going to talk about an underrated part of getting off on the right foot: picking the correct discs.
Unlike in ultimate, disc golf has hundreds of discs to choose from, produced by a variety of different manufacturers with different strengths and weaknesses. Just like in golf, there are putters, mids, fairway drivers, and distance drivers, each with a specific set of flight characteristics. So where do you begin? We've got just the guide for you.
Understanding the Flight Ratings
Before I suggest some of the best discs for ultimate players, a quick aside. Every disc is going to be categorized by its flight numbers — which give you a sense of its purpose and how it flies.
The four categories, in the order they are listed on discs, are:
Speed [1 to 14] — a measure of how quickly a disc can fly through the air when thrown properly (higher is faster)
Glide [1 to 7] — a measure of how much loft a disc has, how much it "wants to fly" (higher is glidier)
Turn [+1 to -5] — a measure of a disc's tendency to "turn" or "flip" in the initial part of its flight when thrown at high speed (more negative = more turn)
Fade [0 to 5] — a measure of a disc's tendency to "fade" out at low speed at the end of its flight (higher = more fade)
If you're looking for a more in-depth explanation, check out this post. Here, we'll keep it simple: ultimate players that are new to disc golf will be more comfortable with slower speed discs (nothing higher than speed 9), glidier discs (4 or higher), discs with a good bit of turn (-1 or lower), and discs with low fade (0 or 1).
Why? Well, ultimate players are really accustomed to throwing Ultrastars, which are slow with a lot of glide, with a good amount of turn and minimal fade. If I had to put numbers on it, I'd probably say the Ultrastar maps to a 2/7/-2/0.
Here's what you don't want to do (a common rookie mistake): go into a Dick's Sporting Goods and buy the highest speed driver you can find. Faster discs are not your friend as a beginner, as they demand impeccable form and high arm speed, which are not going to be there for the large majority of new players. I promise you that as an ultimate player, your disc golf form will be bad at first. It takes practice to learn the correct habits.
So, now, let's get into some disc recommendations.
All-Around Great Discs for Ultimate Players (And the Best Midranges)
Latitude 64 Fuse (5/6/-1/0)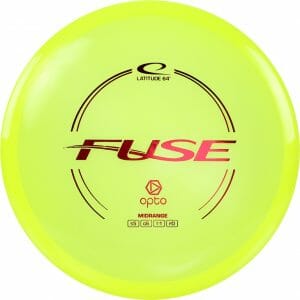 The Latitude 64 Fuse is a perfect choice for a starter disc for ultimate players. It's a midrange disc with a ton of glide, a little bit of turn, and minimal fade. It goes where you throw it. It's kind of like a putter that can fly further. It will also hold the line you throw it on, so it will teach you about angle control. The best thing about it is that it's an appropriate disc even for advanced players, so you'll keep it in your bag even as you improve as a player. It will be a very comfortable first disc for ultimate players used to throwing Ultrastars.
Innova Mako3 (5/4/0/0)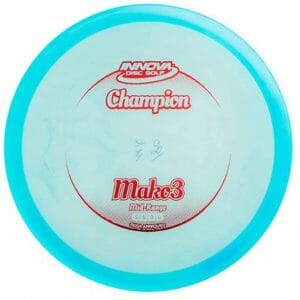 The Innova Mako3 is a quintessential "first disc for ultimate players." I keep one in my bag even after years of playing. It is a true "point and shoot" disc with minimal turn and fade. If you're struggling to get those straight shots down a tunnel fairway, the Mako3 may be your answer. A unique disc that can teach you form lessons while allowing you to enjoy your rounds as a beginner.
Discraft Buzzz SS (5/4/-2/1)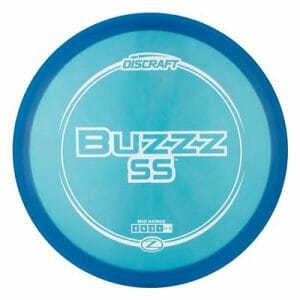 The Discraft Buzzz SS is the more understable cousin of the Buzzz, probably the world's most popular midrange disc. I recommend the SS version over the original for brand new players, as it will be a bit more forgiving with less fade. One of my first-ever discs was a Buzzz, and I still keep one in the bag. The SS version will act almost like a Buzzz that's been worn in for a few months, which is the sweet spot if you're just learning. The disc has a bit more turn and fade compared to the Mako3 and Fuse.
The Best Drivers for Ultimate Players
Discmania FD (7/6/-1/1)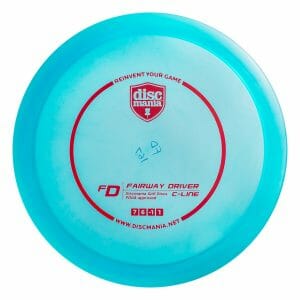 The Discmania FD is an awesome fairway driver that's a great choice as a first driver for ultimate players. It's glidey, not too fast, and has consistent but not overpowering fade. This thing can really fly a long way, and it has more control than other discs in its category (and a lot more control than higher speed discs). It's one that can stay in your bag forever as well. I recommend a slower, more neutral disc like the FD, rather than a higher speed disc with a lot of turn, as a first driver, because you'll learn better habits and want to keep it in your bag as your form improves.
Discraft Heat (9/6/-3/1)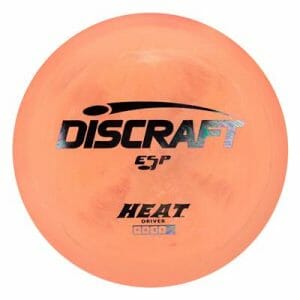 The Discraft Heat is a little faster with a little more turn. It's not overpowering for slower arms. When I was a new player, this was my farthest flying disc, and it remains useful for experienced players as a downwind or hyzer flip disc. If thrown properly, this disc will glide forever and really maximize the distance you can get out of your throw. It's not quite as beginner-friendly as the slower FD, but it's a great first distance driver.
Innova Valkyrie (9/4/-2/2)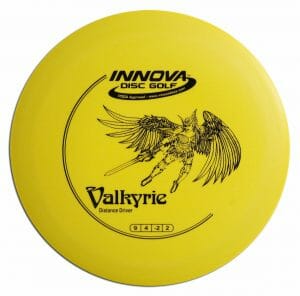 The Innova Valkyrie is a fantastic understable driver that can be a good first higher speed driver. It's got a bit less glide than the two above options, which can make it more controllable. At lower weights, even brand new players can get good distance out of this driver.
The Best Putters for Ultimate Players
I'm going to be honest with you: finding the right putter for you is more about feel than anything else. What do you make putts with? Which disc feels good in the hand and gives you confidence? Here's a selection of putters I like.
Dynamic Discs Judge (2/4/0/1)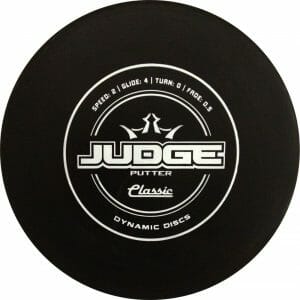 The Dynamic Discs Judge is my go-to putter on the green. It's glidey, easy to throw, reliable, and goes right where you throw it. I've tested out a bunch of different putters and this one just goes in the basket for me in a way others don't. It's consistent but not too overstable. Fantastic putter.
Axiom Envy (3/3/0/2)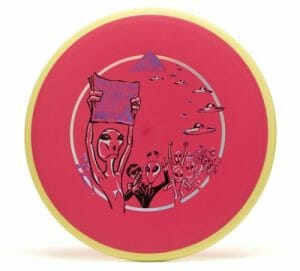 If you like a more overstable putter, the Axiom Envy is for you. A very popular mold for using off the tee and on approaches. It offers a clean release and a great hand feel. It may have too much fade for ultimate players, but for those that like a more consistent putter in the wind, this could be a great fit.
Prodigy P Model S (3/5/0/2)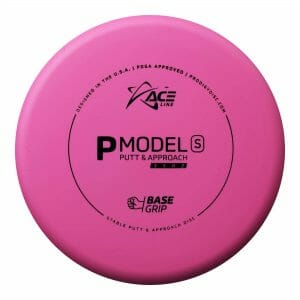 The Prodigy P Model S won Ultiworld Disc Golf's 2019 Disc of the Year and it's easy to see why. It's an ultra glidey putter with a great feel in the hand and enough stability to fight in the wind. I used it for a few months as my putting putter but ultimately decided it was better as a throwing putter. But some people swear by this disc on the green. A great putter.
Innova Aviar (2/3/0/1)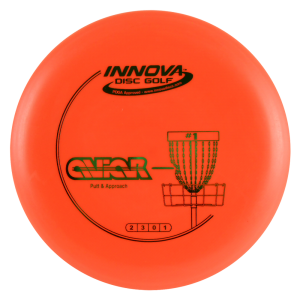 The Innova Aviar is the disc that set the standard for what a putter should be. It's the most popular putter in the world, and there are a ton of variations of it to suit different preferences. Thousands of disc golfers swear by the Aviar. A bit less glidey than the Judge.
Kastaplast Reko (3/3/0/1)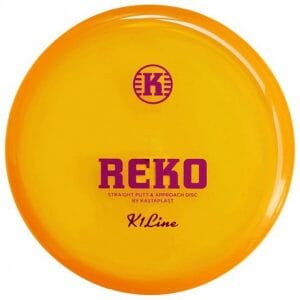 The Kastaplast Reko is a low profile, very straight flying putter in some of the best plastic you can find on the market. It's more of a niche disc, but its fans absolutely swear by it. It's grippy and comfortable and popular both off the tee and on the green.
***
This is just a small sample of great discs out there for ultimate players. But pick a disc or two off this list and you'll be in great shape to start shaving strokes off of your rounds.
Submit your own Tuesday Tips to our Tip Jar to win a free subscription and even become an Ultiworld writer.