Their name foretold the end of the world. Now it's off to Valhalla.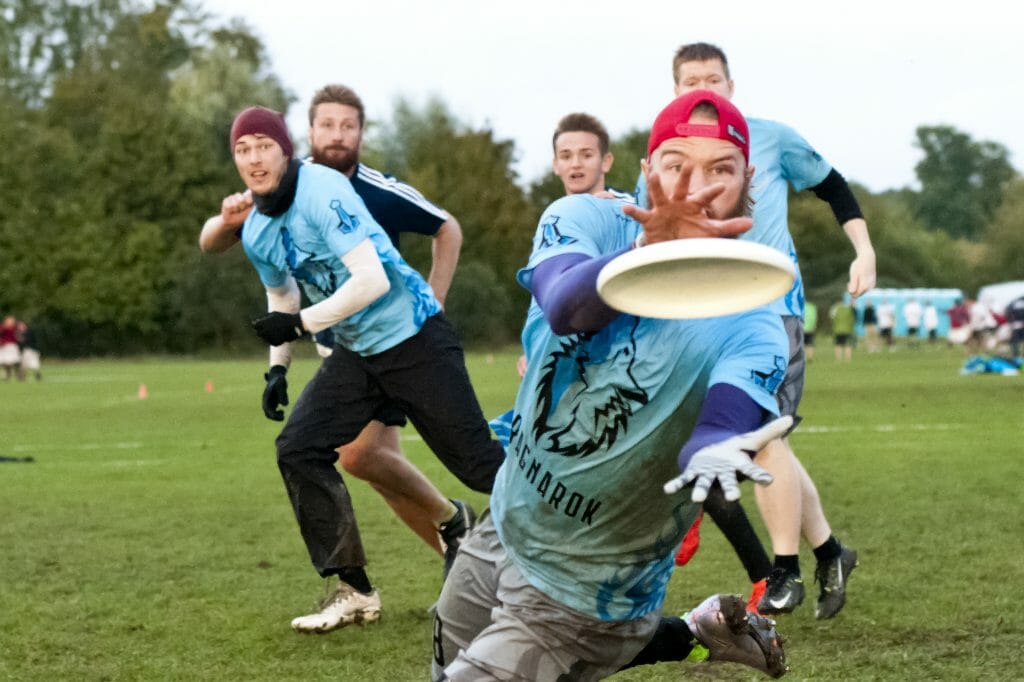 Copenhagen's top men's team, Ragnarok, announced today that they would be ceasing operations as a club. A fixture of the elite European scene since 2000, the club has won 19 of the last 20 Danish outdoor men's titles.1 They have participated in three cycles of WUCC and medaled numerous times at the EUCF.
As described to Ultiworld by Christopher Sværke, a longtime Ragnarok player who was active on the team through this week's announcement, Ragnarok had not made developing Danish talent a primary goal, instead focusing on being as competitive as possible each year. But Ragnarok has also had an aging problem: the elite core that established the team two decades ago, including Mads Bakkegaard and Daniel Ocariz, has still been carrying the team in important tournaments like Danish nationals and the EUCF despite being well into Masters eligibility.
After a disappointing 2019 season where the team failed to qualify for the EUCF, a number of the older guard decided to retire from Ragnarok and found a new team, Valhalla,2 with an emphasis on fun and social play over competitive ambitions. A core group of around six remaining Ragnarok players had aimed to use 2020 as a rebuilding year and redirect the club's focus. Things started to go south in the indoor season when the board of the club failed to secure training slots at any indoor sports facilities. Then COVID-19 hit.
"COVID did not help," said Sværke. "It was just too hard of a year to build up. There wasn't a true national championship in 2020, and for the vast majority of the year, we were only allowed to train with a maximum of 10 people, if that. This was not a great breeding ground for trying to bring new people into the club."
As uncertainty lingered into 2021, the club decided to disband.
"Honestly, I have seen this coming for five years," continued Sværke. "We tried to do something about it. There are a lot of players in Copenhagen, but there are a lot of clubs as well. Ragnarok had a lot of players in 2018 and 2019, with enough players to make a second team. But once the old guys went off to Valhalla, there were just not enough players left. The emergence of KFK as another elite club in Copenhagen has also taken away some of the talent in the city."
The remaining players have yet to determine next steps, and a small group plans to meet this weekend to discuss. Sværke says that elite players who want to continue playing hope to decide on an existing club to join and try to make the transition as a unit, eyeing possible mergers with the Copenhagen Hucks or perhaps rival club KFK (with Sværke adding that if KFK gets the six to eight elite players left in Rangarok's ashes, the team would add the depth they need to be a real European contender).
There has been no love lost between KFK and Ragnarok, so a merger would come as a surprise to some. KFK has in some ways built itself in opposition to the now-disbanded club, focusing more on development while still pushing themselves to the elite level of European competition. They have had their eyes on the Danish crown for around a decade, but despite a few close calls,3 were never able to take it from Ragnarok.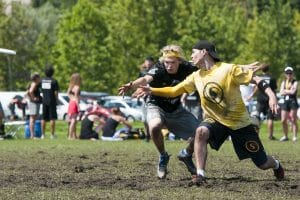 KFK's Sverre Stütz lamented Ragnarok leaving before KFK was able to win the championship.
"I'm extremely disappointed we never managed to beat Ragnarok fair and square — we've had our fair chances, and more than once it's felt like us losing the game rather than them winning it. All due respect to Ragnarok, 'cause they've managed to beat us every single time, being up or being down. We've had close games, we've also been shut out from the beginning during the more or less 8-9 years we've played the final against them. It's been our identity, as Frelle, my teammate said, and I couldn't possibly agree more — and now it's gone. We'll have to look forward, see what the future has in store for us, 'cause the past just closed its door on us."
In Norse mythology, Ragnarok is a foretold apocalypse of epic warfare and natural disaster that will leave the world stripped bare, yet still fertile. In that new world, two humans will repopulate the earth. As for Danish men's ultimate, after Ragnarok, could these two humans be KFK and the remaining Ragnarok players? Or have we not yet seen the end of the battle?
---
Losing once in 2003 to Flying Circus, who eventually became the Copenhagen Hucks. ↩

In Norse mythology, the majestic hall reserved for those who die in battle. ↩

Including one universe point thriller in the mid-2010s. ↩