Grenoble advances to the international stage!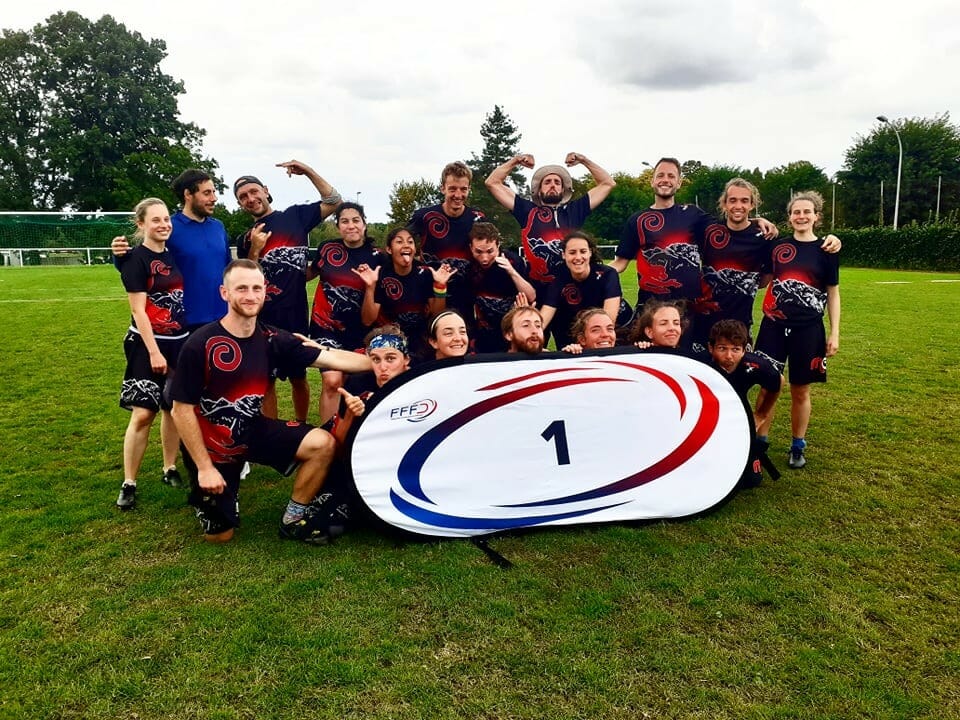 Disclosure: The author of this piece played for PUC at the PQI
This past weekend, five French teams battled in Blois for the bids to the XEUCF and WUCC 2022 at the Phase Qualitative Internationale (PQI). The playing field was wide open and ripe for upsets due to roster shakeups and different training regimens since the return to play.
The format was a round robin with no final, meaning each team only had four games to make adjustments. The teams in contention included Sesquidistus (Strasbourg,), PUC Ultimate (Paris), Freezgo (Blois), Monkey (Grenoble), and Freev'Owl (Montbéliard). Monkey finished the tournament undefeated and earned a guaranteed spot to WUCC and the XEUCF. Sesquidistus and PUC also earned spots to the XEUCF,1 but it is still unsure how many mixed bids WFDF will grant France for WUCC in the mixed division.
Monkey overcomes PUC
The results of the first two games went according to seed as PUC took down Freezgo 15-11 and Sesquidistus handled Freev'owl easily, 15-4. However, the third game of the day between PUC and Monkey was an intense battle from beginning to end.
PUC's roster had a lot of turnover from when they went to EUCF in 2019, though they still maintained a central core of players who have been with the club for years. Similarly, Monkey maintained a large portion of their 2019 roster, but added the throwing talent of Moby Espitia, who has played for Tchac and Belgium Open. Espitia had big targets in Pauline Berte and Brice Nemoz downfield. While both offenses started off stingy with the disc, Monkey managed to take two breaks in the first half off of their zone and their sideline energy to go up 8-6.
Despite excellent handler defense from PUC's Mario Cantú on Espitia, Monkey was able to hold their offensive points with hucks to their big receivers. Their zone continued to wear down the PUC O-line. After a short field turnover and an easy endzone conversion at 12-8, it looked like Monkey had put the nail in the coffin. PUC finally scored their O-point and bounced back on defense with two hucks from Tazio Torrieri to make it 12-11 with Monkey up, but looking rattled. Monkey calmed down and the two teams traded O-points to make it 14-12. Monkey pulled it deep into PUC's endzone and got a quick D off a PUC misthrow. A few passes later and they'd completed the upset 15-12.
Monkey takes on Sesqui
A couple rounds later, Monkey faced off against perennial competitors Sesquidistus, 2018 WUCC qualifiers and former French champions, in another back-and-forth match. Sesquidistus looked like they had the game under control and took half 8-5 off of tight defense and fluid disc movement from their experienced handlers. Once again, Monkey rode their zone and their energetic sideline to a 4-0 run coming out of halftime to give them their first lead of the game at 9-8.
Sesquidistus calmed down and got their O-line back on track with France Mixed standout Gaël Ancelin leading the charge. However, Sesquidistus' legs finally gave way and at 12-11 Monkey cashed in yet another break to go up 13-11 in the cap, game to 14. Sesquidistus got a turn and had the disc on the end zone line to tie the game at 13s and force universe point. Monkey was able to play shut down defense and get the disc back, followed by a quick timeout. Espitia put up a huck that looked like it was blading out, but Nemoz managed to toe the line just inside the end zone for the victory 14-12 and their second upset of the day over the two top seeds.
Sleepy Sunday
In contrast to the upsets and drama of Saturday, Sunday was almost a formality as Monkey comfortably took down Freev'Owl 15-8, clinching their bid for XEUCF and WUCC. Their narrow victory over Freezgo in their last game 13-12 likely resulted from them knowing that they had already clinched spots at XEUCF and WUCC. PUC continued their fall from grace, losing to a young Freev'Owl team in the morning, but bounced back to soundly beat a tired Sesquidistus team 15-8.
How did they do it?
At the last championship in 2019, Monkey came in 9th place (out of 12 teams total). What changed to make them able to take down the top-level competition? Monkey entered the tournament knowing that they had a chance at grabbing the bid to XEUCF and WUCC, but for many of them it seemed "a sort of dream" to win in such dominant fashion over more established teams. The Monkey coaching staff Brice Nemoz, Pierre Gruau, and Lucile Richard credited their success with a team-focused dynamic, choosing not to highlight any individual's performance above anyone else.
"Things worked out for us over the weekend because we stuck together, everyone was key in their own way. We really took it to heart to convert our friendship off the field into collective energy on the field and that's really how we won." This showed through in their philosophy for preparing for the tournament as well, choosing to focus on their athleticism with team workouts every week and concentrating on their inner game. "We didn't really adapt our preparation for the teams we faced, but rather tried to maximize our potential by analyzing what we specifically needed on the team."
Monkey will be using XEUCF as a way to prepare for Cincinnati next year and get used to top-level international competition without the pressure of aiming for the podium. As for WUCC, they are hoping to use it as motivation for their team in the coming year to raise the level of everyone in the club and represent Grenoble at the world level for the first time in their history as a club.
Tiebreakers and bids
The final piece of drama from this weekend didn't come from any specific game, but from a wrinkle in the French tiebreaker system that rates global point differential over the records between tied teams or the point differential between them. Monkey went undefeated at 4-0, but three teams finished at 2-2: PUC, Sesquidistus, and Freev'Owl.
Using the metric of point differential between teams, PUC stood at +5, Sesquidistus at +4, and Freev'Owl at -9. However, unlike WFDF, France uses global point differential as their first tiebreaker between teams of equal record. This put Sesquidistus ahead because of their lopsided victories over Freezgo and Freev'Owl. Several days after the event, France was awarded 3 bids to XEUCF due to teams from other countries dropping out, rendering any arguments for XEUCF bids moot as Sesquidistus and PUC will join Monkey in Bruges. However, the number of bids to WUCC is still unknown, and if France receives two bids, the tiebreaking system will make the difference between who gets to go and who stays home.
Final Ranking
Monkey (Grenoble)
Sesquidistus (Strasbourg)
PUC (Paris)
Freev'Owl (Montbéliard)
Freezgo (Blois)
---
When the tournament was played, France only had one spot to XEUCF. With GB and Russian teams dropping out, they were given two more bids later this week. ↩