Rival came out on top with an impressive final showing.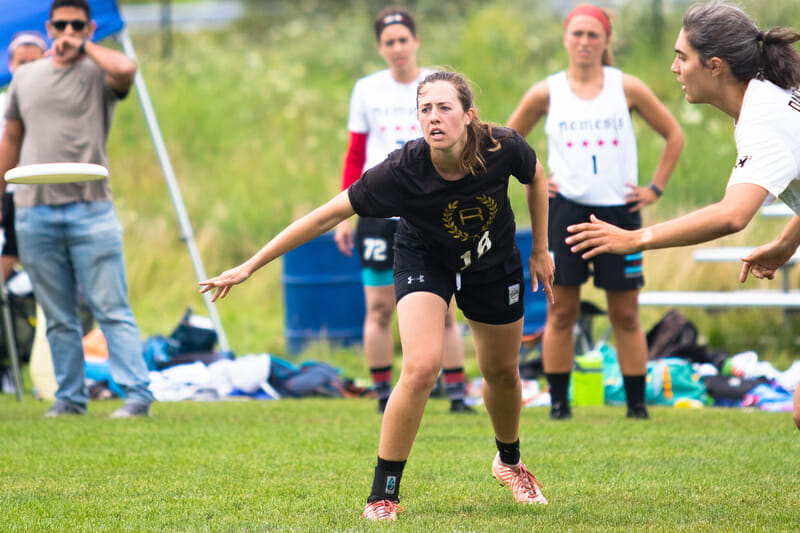 All Power Rankings are from the time of the event.
Additional reporting contributed by Brittany Kaplan and Grit.
After each of the first four major Triple Crown Tour events of the year failed to garner enough interest to support a women's division, the weekend of August 21-22 finally saw many of the division's best take to the field. While several of the West Coast's best met in Eugene, a total of nine ranked squads from the East and middle of the country met in Lebanon, OH to take part in the Elite-Select Challenge and kick off the women's club season in earnest.
With so many top programs in attendance, it was always going to be a battle to emerge victorious. In the end, no team escaped unscathed, but hometown Columbus Rival landed the final blow and took home the title over Washington DC Grit.
Rival Exact Revenge in Final Rematch
As has been the case for many teams this season in their first competitive action since the pandemic, #17 Columbus Rival and #16 Washington DC Grit took to the fields on Saturday morning of ESC full of excitement and gratitude. Through two rounds of pool play, the pair had enjoyed similarly successful starts to their weekend, and season, blowing out a bottom seed and then doubling up ranked opposition — #21 Virginia Rebellion and #23 Colorado Small Batch, respectively — in highly spirited games. When the pair of pool winners met for a crossover match to decide seeding for Sunday's bracket, there looked to be little to distinguish between them. The wind picked up in the afternoon, as did the teams' defensive pressure, with Grit earning a couple early breaks via their zone and fast-break D-line offense. They were able to maintain a slim lead as the teams traded most of the rest of the way. Up 11-9, DC put the game away with a three-break run to claim a five-point victory that felt closer.
On opposite sides of the bracket, both Grit and Rival faced stiffer competition on Sunday. With the heat index forcing additional water breaks each round, scores stayed low and margins were slim. Grit took down #10 Pittsburgh Parcha in the quarterfinals 10-8 and then matched the two-point margin with an 11-9 victory over #11 New York BENT. On the other side, Rival quickly dispatched #19 Florida Tabby Rosa, but then had the unenviable task of taking on a top-seeded #9 Chicago Nemesis team that had thoroughly dominated all comers to that point in the weekend. Down 11-10 when the cap went off, Rival held their nerve for a hold before breaking to win with a goal to Sara Scott. Rematch time.
Despite both teams coming in tired after tough semifinal battles, Columbus was able to ride the momentum from their comeback to an early lead in the final. Grit started on O and utilized the same fantastic spacing that had served them so well throughout the weekend. But after repeatedly working the disc up the field with relative comfort, they could not find the final pass into the end zone. Rival pounced on each turnover and quickly blitzed the other direction, hucking and counterattacking their way to a 4-0 lead. Tracey Lo and new Columbus recruit Laura Gerenscer were heavily involved, active in the backfield and both throwing and catching goals in the early going. After the mandatory heat break, Grit finally broke through behind the play of Eliza Pugh and Michelle Carey, a pair that combined well throughout the game.
After finding success with the zone in the Saturday crossover, Grit went back to that well on their first defensive point of the game. While they earned a turn, DC could not convert and Rival held on the second attempt with a nice break look to set up the scoring throw. The teams traded holds before Rival added to their lead with another break. Despite continuing to spread the field well and mostly hitting open cutters to advance the disc, a Grit drop on an under gave the disc over to Rival and Lo continued her assault on the deep space, hucking to give Columbus a 7-2 lead. Carey and Pugh connected for another Grit goal, but Rival took an 8-3 lead into halftime.
In the second half, the DC zone finally started paying off. They notched a quick break on the first point out of half before slogging through a long, multi-turnover point that ended when Grace Riley-Adams hauled in a second straight break. The Rival offense continued to struggle against the Grit zone, frequently crowding all seven players within 15 vertical yards of the disc. Eventually, they were able to huck their way over the defense and stop the bleeding, with Caitlin Harley catching their first goal of the half to go up 9-5.
For as hard as the Grit zone worked to finally get their team some breaks, the O-line gave them back just as easily. A throw into a Rival lane poach gave Columbus a chance to convert and Lo picked up her third assist of the game. On the next point, Grit missed on a throw into the end zone that needed to be saved by a bidding Claire Smullen backing up the intended receiver. DC added another break to their second-half tally, giving Rival a taste of their own medicine with a huck to get it to 10-7. Grit had a chance to get within two, but couldn't convert as Rival punched in a hold. Grit once again dropped an under, but the O-line applied heavy defensive pressure to try to avoid giving up any more breaks this late into the game. That didn't faze Rival, who hit receivers in tight windows next to bidding DC defenders before Iris Javersak sent a long pass into the end zone for a break to restore the five-point cushion. Columbus padded their score with another through who else but Lo.
With time working against them, Grit started settling for risky passes to try to move the disc. A first throw hammer off the pull — turn. An unnecessary high release into traffic — turn. Grit could still earn turns with their zone, but couldn't convert to get themselves back in the game. Down 13-8 in the cap, Grit had their chances to score and extend the game, but Rival eventually punched it in for the game-winning goal.
Rival earned their rematch victory as the more aggressive team from start to finish in the final. While they took the harder looks on offense — launching big hucks, attacking break lanes, and throwing into tighter coverage — they made plays under pressure and quickly attacked when they found themselves in dangerous spaces. Their bend-but-don't-break defense tightened up around the end zone and forced numerous turns when Grit stalled and had to swing back and forth in the red zone. After coming up short in 2019, Rival look poised to return to Nationals this fall, and will also feel good having earned a win over their main regional rival, Nemesis.
While they were ultimately undone by a series of execution errors in the final, Grit at times looked like the best team at the tournament and will have a lot to take forward into the Series. They spaced the field well in split or horizontal stack offenses, moving the disc up the field to big, fast receivers who made disciplined, well-timed cuts. Before they ran out of gas in the final, their high-intensity defense had held every opponent to fewer than ten goals, and even in the final their zone frustrated and generated turns against the Rival offense. DC also leave this weekend having beaten their primary challengers for the Mid-Atlantic's one bid, Parcha.
The Drama of Pool D
Despite having three very talented teams battling each other on Saturday, the dangerous Pool D couldn't place any team into the final. Perhaps it was because they spent three rounds battling in games all decided by a single goal.
New York BENT came into the weekend looking to gel as a team and work on their mental game in high-pressure situations, in their first action with anything close to a full roster. They opened their weekend with a very clean game against Pittsburgh Parcha, mostly trading points. In the first half, the Pittsburgh team pushed deep successfully to take an 8-7 lead into the break, anchored by the play of Shani Rosenthal, who scored four goals and notched an assist on a beautiful forehand huck in the first half alone. Parcha up 8-7 at half, broke twice out of half, both keyed by deep throws, to make it 10-7, and the teams traded to 12-9.
The New Yorkers held just after cap went on, but watched a bidding Parcha cutter bring in a Rosenthal huck for the game-winning goal…only to drop it at the last moment. Ximena Montaña hit Yina Cartegena with a crossfield huck that she laid off to Margo Cody. Cartegena and Cody combined to pressure an upline throw into a turnover, and in a flash, Samiya Ismail was hucking to the end zone for another break to tie it at 12-12. Pittsburgh moved the disc all the way to the red zone, but their cutters fell stagnant, Cartegena blocked all options to Erica Baken as a reset, and Parcha gave it away. BENT walked their best sustained possession the other way, ending with a goal to Renata Pepi from Cartegena for the 13-12 come-from-behind victory.
Parcha's next game also went down to a sudden death point, this time against a feisty Tabby Rosa team with a core group of vets and some young legs around them. In a game with some very long points in the warm weather, Pittsburgh couldn't grow their narrow 5-4 lead and eventually fell to the Floridians. Tabby was on the other end of a double game point match to close the round against BENT. The strong backfield play of Kate Travaglini and Sunny Harris couldn't get them across the finish line.
Other Notes
Top seed Chicago Nemesis, meanwhile, cruised through their pool1 and thoroughly dominated Small Batch in the quarterfinals, picking up an impressive 15-7 victory. Then they met Rival in what's expected to the Great Lakes final, and the match was appropriately close. Nemesis didn't ace that test, losing 12-11, and falling to BENT in the third place game. But they are working with new coaches and seemed to be very much still figuring out the pieces.
Virginia Rebellion's results improved as the weekend progressed, as a good sign for the club. They took significant losses to BENT and Rival, before closing with a narrow loss to Parcha and a win over Tabby Rosa. Lisa Dang showed the ability to play a central role for them.
Small Batch and #20 Houston Crush City turned in results that put them a good step behind the more established top 20 clubs. Both fared well against the lower seeds — Solstice, Medusa, Autonomous, and Sureshot — with confident wins, but never threatened the top competition they faced, save a late-weekend 10-8 Small Batch victory against Tabby.
---
Which was actually a bracket in place a pool. It was weird. ↩