Favorites ruled the day, but the level of competition remained high across the field.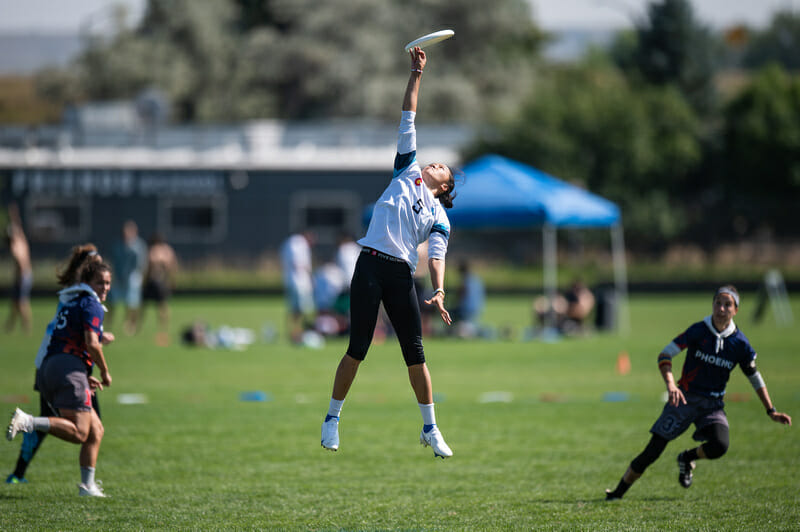 BOULDER — Heading into the second day of play, the elite teams of the women's division at 2021's Pro Championships had a few more reps under their belts, but also faced the challenges of wet, muddy fields and a beating sun.
Sunday's results were largely predictable, with the favored star teams going undefeated in pool play and semifinals. But every team displayed elite skill on offense and defense, making even games with high score differentials interesting for spectators as well as meaningful training grounds for teams ramping up to the Series.
In Pool Play, Brute Squad and Molly Brown Balance Learning with Competitive Dominance
The depth of Boston Brute Squad's roster did not disappoint in their final pool play games, which they won handily (15-7 over Washington DC Grit and 15-9 over Chicago Nemesis). However, Brute Squad also clearly took the opportunity in these games to intentionally experiment with their offensive and defensive strategies. While they never fell behind, neither game was quite the blowouts we know their players are capable of. But even despite playing with fluid lines and player roles, their lineup of athletes from newer additions to longtime contributors maintained a high standard of play, and showed they can both prioritize competitiveness and full team development. As player Becky Malinowski shared semi-jokingly, their squad is doing better than she (and likely others) expected with this strategy.
Denver Molly Brown had similar goals and similar results heading into day two, still refining their strategies and systems on only their second day of tournament play this season, yet making dominant showings against a talented field. Like many elite teams, Molly Brown has a reputation of playing through their stars, but coach Joaquin Nagle made a point to say that, by the end of pool play, every player on their roster had either a goal, block, or assist. And the score sheet speaks for itself: their rising momentum over the weekend suggests this team could be a major contender this year, finishing pool play with decisive wins over Portland Schwa (14-7) and Grit (13-10). They entered semis excited to match up against Raleigh Phoenix, who — despite missing some big names and playing on a smaller roster than usual this weekend — would push the team to learn with the strength of their play.
Phoenix Soars in Pool Play While Schwa, Nemesis, and Grit Struggle Despite Flashes of Greatness
Sunday morning's games — Molly Brown and Schwa, Nemesis and Phoenix — opened with tightly matched play that lived up to expectations. Relative underdogs Nemesis and Schwa each started off with skillful offense and intense defense to keep their games tight, but the tides shifted in both matchups, and their respective opponents supercharged to pull away in the end. Unfortunately, the tone took a particular shift in the Molly Brown vs. Schwa game following an injury for Schwa's Mariel "Murl" Hammond. Losing their key playmaker deflated a Portland team that was already struggling with momentum and mental toughness. This blow was reflected in their 7-14 loss to Denver, and carried over in their disappointing showing against Raleigh (5-15).
Nemesis planned to bring their A game to their matchup with Phoenix, and they certainly did in the first half, staying neck-and-neck until the game was tied at sixes. But after Phoenix pulled forward 8-6 heading into half, Nemesis wasn't able to make up lost ground. They had a rollercoaster second half, initially falling behind, then coming back to end the game 12-15. Despite losing 9-15 to Brute Squad in their second game of the day, Nemesis continued to make plays, forcing turns with run-through blocks and executing big hucks against contested matchups. This team may not have lived up to their full potential at this tournament thus far, but certainly showed they have particularly strong defenders and a high ceiling for growth.
Grit faced a gauntlet at the start of the day, playing back-to-back games against tournament leaders Brute Squad and Molly Brown first thing in the morning. But even though the DC team has not gotten a win yet this weekend, their athletes certainly had some great highlights. They ended the day fending off a blowout from Molly Brown and making the home-field favorites work for the 13-10 win, even getting a break in the second to last point of the game.
Day Two Concludes With Exciting Semis Matchups, Denver and Boston Advance
Semifinal matchups were determined from pool play results, as the small division's bracket structure did not include quarterfinals. Molly Brown and Phoenix would battle first, then Brute Squad and Schwa as the schedule shifted to accommodate filming exigencies. Both games were thrilling to watch, delighting spectators with sweeping hucks, big defensive plays, and dramatic break throws.
Molly Brown and Phoenix each came into their game with the momentum of decisive wins under their belt. Although the teams opened by trading holds, soon Molly Brown got two breaks, and for a moment it seemed like they might run away with the game on the force and excitement of plays like Valeria Cárdenas' two-handed block on Claire Revere's backhand huck attempt. But Phoenix finally regained their stride, tying the game back up 6-6 with strong play by Revere and Amanda Murphy.
After a missed opportunity to pull ahead after an endzone turn by Phoenix, Molly Brown reclaimed dominance by adjusting their handler set to mitigate their opponent's shutdown handler defense and shifting some D line players to support their offense. They closed out the half 8-6. Both teams admitted to feeling exhausted in the second half, but still executed skillful throws and leaping catches, demonstrating the high caliber of play these teams are capable of even when they're not 100%. Offense dominated in the second half, and Molly Brown was able to maintain their lead to clinch their spot in the finals with a 14-12 victory. But even following the loss, Phoenix's spirits remained high. Player Karen Ehrhardt described how proud she and her teammates were that their team — particularly their D line — was able to compete, even having lost key players to injuries.
Given Schwa's tough weekend on and off the field, it wasn't clear how competitive their semifinal matchup against Brute Squad would be. But Schwa was able to use their bye to regroup and reset their mindsets before the game, and came out against their formidable opponents with some of their strongest play so far. Turns due to offensive miscues and defensive pressure abounded on both sides, but the first half had few breaks as the teams eventually went point for point. Unstoppable offense by Schwa's Julia Sherwood helped them stay in the game, even with tenacious performances by Brute Squad stars like Erin Rea and Lien Hoffman.
By the end of the half, Brute Squad's looser, more experimental approach to earlier games was shelved, as they put on a kill line at 7-6 to break for half 8-6, and clearly made some strategic shifts out of half time to come out explosively. Schwa fended off their effort at first, but lost momentum as the game progressed. In the end, Brute Squad clinched their spot in the finals they were favored for with a signature IO flick to Claire Trop to win 15-9.
Monday Shapes Up To Be Exciting Day of Play
By earning a spot in the finals, Molly Brown has technically already broken seed, but most expected a matchup between Denver and Boston in Monday's championship game. Nagle expressed that Molly Brown is prepared to take advantage of the lessons they've gleaned from play this weekend to continue refining their system and bring strong competition in their rematch. Brute Squad will likely continue to prioritize development and tinker with their lines, but don't be surprised if we see more consistent appearances from their ringers if play is tight.
Phoenix and Schwa will meet again tomorrow in the third place game. This rematch could certainly be tighter, since Phoenix's short roster could falter a bit on day three of intense play, and Schwa will likely enter the game with something to prove after Sunday's blowout. Nemesis and Grit will also face off again — this game could easily be a repeat of Nemesis' dominant win on Saturday, or Grit could bring some of the tenacity they displayed in Sunday's games to elevate the competition.
Livestreams on Monday
12:00 PM (Mountain): Women's Final (ESPN3)