The league's annual final four showcase comes to DC for the first time. New York comes to town looking for a repeat of its 2019 title while Chicago, San Diego, and Raleigh are ready to earn their first titles.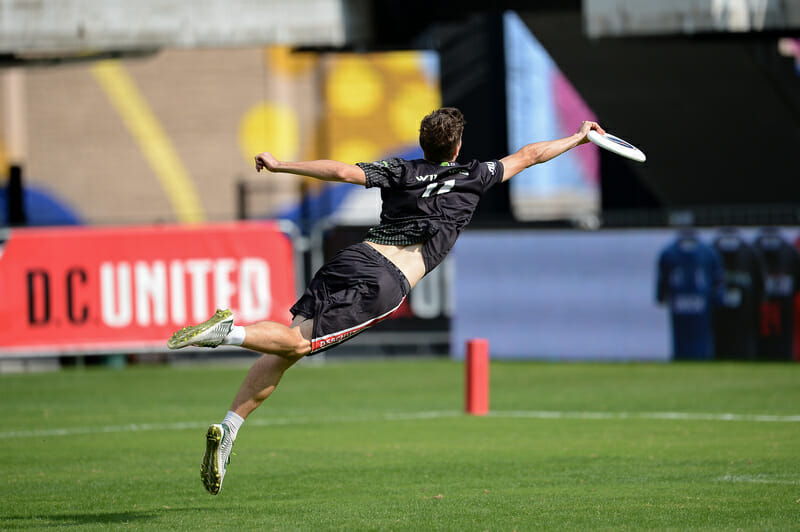 Our coverage of the 2021 AUDL season is presented by VII Apparel Co., who provides premium performance apparel for the active world, featuring their proprietary GreenLine fabric made from 100% recycled plastic bottles.
WASHINGTON, DC—In the first AUDL semifinal, the New York Empire beat the San Diego Growlers 22-18 to earn their spot in Saturday night's final.
San Diego entered the game hoping to learn from their 2019 Championship Weekend experience, where they lost their first game. The team was fresh off a thumping of the Dallas Roughnecks in the West division playoffs; two weeks ago, San Diego burst out to an early lead and rode a wave of energy to a four-point victory.
New York, on the other hand, narrowly escaped their playoff game last week, falling behind by five goals against the Atlanta Hustle before coming back to win on a buzzer-beating huck in overtime. It took a Herculean effort from Jack Williams and Ben Jagt to pull off that win, so the Empire were hoping to rest their stars better in this game and save their energy for a potential final Saturday night.
During warm ups, both teams struggled to calibrate their throws in the stadium-affected wind. Audi Field is a beautiful complex, but the 4:00 PM local time start lead to a sparse crowd that didn't initially match the energy of the players on the field. None of that mattered once the game got going.
New York got its stars involved early as Jagt hucked to a flying Williams to open the scoring. The Empire brought out a diamond zone, which gave up a hold on the first point, but on the second attempt Ryan Drost intercepted a slashing crash cut the second time around and New York broke first with just a short field to convert, earning a 3-1 lead. Continuing to build an advantage, Angelo Olcese point blocked San Diego's Lior Givol a few points later, and Sam Feder hit Connor Kline for their second break and a 6-3 lead. The Growlers finally scored another hold against a flatter 3-3-1 New York zone, but they still looked tentative and uncomfortable on offense. In a rare bright spot, Jeff Silverman — always good for a highlight in a nationally televised game — hand blocked Sol Rueschmeyer-Bailey and San Diego punched in their first break to bring the game to 6-5.
From then on, though, it was all Empire. A Growlers miscommunication in the downfield cutter set led to a turfed disc with time running out in the first quarter. As time expired, Brownlee found Mike Drost for an 8-5 lead. At the start of the second quarter, New York piled on the scores. This time a miscommunication in the reset space gave New York the disc. Jagt laid out for the goal and 9-5 lead. Execution errors plagued San Diego as the Empire pulled away. Jeff Babbitt came down with an outrageous sky on a tough-to-read huck in the wind to give New York a 13-7 lead at halftime.
The Empire continued their stunning stretch out of halftime, scoring and breaking to take a 15-7 lead as part of a 9-2 run spanning the first to third quarters. The Growlers shifted their strategy and used sideline double teams to generate quick turns, but their D-line was only able to convert a single break in the third quarter and New York took a 19-12 lead into the final frame.
San Diego wasn't walking off quietly. A hold opened the fourth and a roller pull forced yet another turnover; with a time out, the O-line converted the break to close the game to 19-14. San Diego had a few more chances to inch back, but every time it looked like the Growlers were close, New York would come up with a clutch grab or a layout block to maintain both their lead and their momentum and New York clinched the four point victory.
"I feel like we didn't really execute at our highest level, and that cost us," Growlers mainstay Steven Milardovich said after the game. "They're too good of a team to make mistakes against. They obviously made their big plays too – they had some jump balls they came down with, you gotta expect that, but even outside of those we had missed opportunities that cost us too much."
The Growlers converted just five of their thirteen break opportunities into scores. New York earned just ten break chances, but managed to punch in eight of them. The Empire held the Growlers stars in check. Travis Dunn managed just two assists and a goal, Goose Helton had three assists and two goals, and Jonathan Nethercutt went 57/59 throwing for 609 total yards and three assists, but none of them were able to break open the game or force the New York defense to change their strategy.
"We knew that San Diego ran through a few of their players," said New York's Jeff Babbitt after the game. "Goose Helton, Travis Dunn are incredible players. We also knew that they like to shoot deep so we had a strategy to limit that. That was some junk points, some flat marks, and knowing they really liked when they had forehand crossfield shots – we were hyper aware of that as well. I think we locked in really well, especially in the first half, against that."
The Empire were led by their stars, but earned contributions up and down the roster. "Our secondary defensive line played incredible, out of their minds," Babbitt added. "I think a lot of the credit goes to them. Anytime that the back half of the roster plays well and puts out, that's good."
Ryan Osgar managed six assists and two goals. Babbitt scored four goals and earned two blocks. Williams was 74/76 throwing with five assists of his own, and Jagt — before he was named DraftKings King of the Year — threw two assists, caught four goals, and also recorded two blocks.
New York will face the Raleigh Flyers in the AUDL title match Saturday night. The Empire beat Raleigh 24-23 in double overtime back on August 7 in New York. The Flyers held a two-goal lead in that game with thirty seconds to play before New York forced unlikely turnovers and completed a comeback. While this game might also come down to the wire, expect Raleigh to play a cleaner, more confident game, after back-to-back playoff comebacks against DC and Chicago respectively.
For New York to win the game, it will likely rely on a heavy dose of star power; Williams and Jagt have proven that they can play big minutes when needed to get a win. If the Empire D-lines can convert breaks on their own, without crossing over offensive players, this game could turn into a blowout for New York. If the Empire need to expend the energy of their stars early, Raleigh could run away with in. You can watch live on AUDL.tv Saturday night at 7:00 PM eastern.