Whose numbers stood out at Championship Weekend?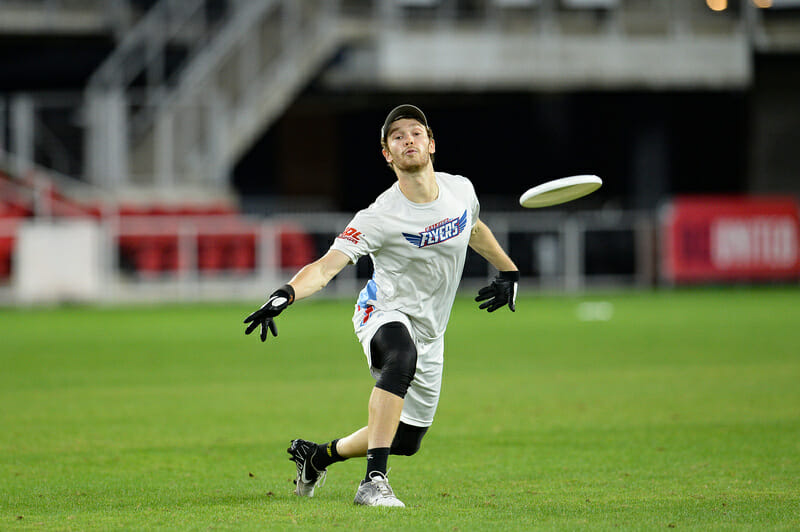 Here's a stat that perhaps best communicates the nature of this 2021 Raleigh Flyer's team, whose masterful offense in Saturday's Championship Game led them to their first AUDL title:
| vs. DC | vs. New York |
| --- | --- |
| Yanuck (4.2) | Fairfax (4.1) |
| Mitchell (2.7) | Fisher (2.9) |
| Gouchoe-Hanas (2.7) | Laviolette (2.7) |
| Taylor (2.6) | Juengst (2.7) |
Table 1. Top 4 Raleigh Flyer offensive contributors (EDGE-O Scores in parentheses) for two of their 2021 post-season games.
Not one of the names is repeated, even though all the players played in both games. (By comparison, Ryan Osgar's hand was so firmly and deftly on the wheel of NY's offense that he finished top four in every game he played.) All season, Raleigh's calling card has been balance and efficiency, with six Flyers among the top 50 in regular-season EDGE100, and they became an even better version of themselves on Championship Weekend.
Better Box Score Metrics: EDGE Stats for AUDL Championship Weekend is only available to Ultiworld Subscribers
Already have a subscription? Log in
Whether you visit Ultiworld for our reporting, our podcasts, or our video coverage, you can help us continue to provide high quality content with a subscription. By becoming a subscriber, not only do you receive benefits like exclusive articles and full article RSS feeds, you also help fund all of Ultiworld's coverage in general. We appreciate your support!