Diving into the numbers from the World Games.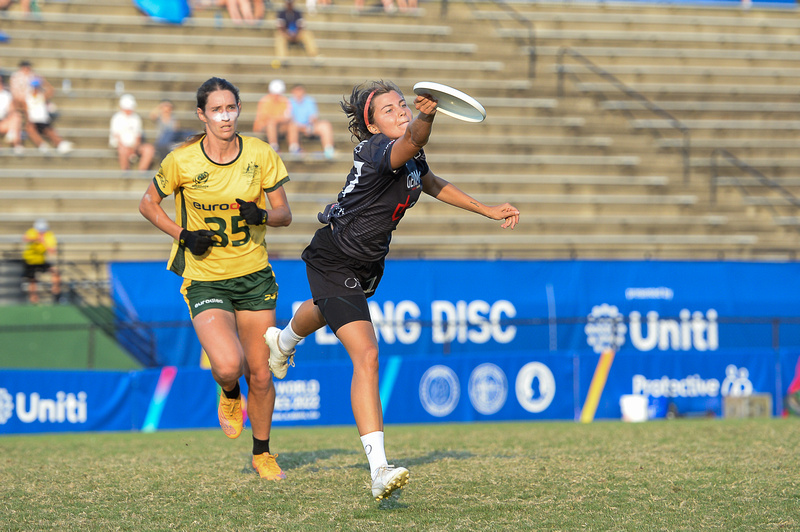 Ultiworld's written coverage of the 2022 World Games is presented by Spin Ultimate; all opinions are those of the author(s). Find out how Spin can get you, and your team, looking your best this season.
Thanks to Barry Stockbrugger and Robert Gough for helping collect the data for this analysis.
The World Games brought together the best of the best in the world of ultimate, while letting a global audience train their eyes on individual matches. It is rare to have this much of a tournament's competition take place where everyone can see, and, certainly at this level, allow us an opportunity to capture data about players and teams that often can elude audiences and analysts.
We collected statistics from each pool play and gold medal bracket game at the 2022 World Games in an effort to give you the best picture of all of the action in Birmingham, AL. For each of the teams that reached the medal rounds, that means all of their games were entered into our dataset. Conversely, for France, Japan, Great Britain, and Canada, who were eliminated from medal contention after the group stage, their first three matches were recorded.
After pioneering work on statistics in 2012 and 2013, we have used the Statto app across a number of events to gather data about team performance, including yardage, to better understand the games we cover and ultimate as a whole. Since then, the development of the EDGE model has offered new perspectives on understanding the data of ultimate.
Let's take a look at what the data say about some of the top teams and how it views the best players at the 2022 World Games.
The Numbers of the Top Four
| | United States | Australia | Colombia | Germany | Average |
| --- | --- | --- | --- | --- | --- |
| Completions | 94% (664/705) | 95% (749/785) | 97% (996/1024) | 95% (850/897) | 96% (815/853) |
| Hold % (Points) | 72% (38/53) | 75% (46/61) | 80% (44/55) | 75% (40/53) | 75% (42/56) |
| Break % (Possessions) | 73% (24/33) | 56% (14/25) | 73% (19/26) | 43% (24/56) | 57% (20/35) |
| Passes Per Goal | 11.3 | 12.9 | 16.3 | 14 | 13.6 |
World Games 2022: The Story of the World's Best in the Data is only available to Ultiworld Subscribers
Already have a subscription? Log in
Whether you visit Ultiworld for our reporting, our podcasts, or our video coverage, you can help us continue to provide high quality content with a subscription. By becoming a subscriber, not only do you receive benefits like exclusive articles and full article RSS feeds, you also help fund all of Ultiworld's coverage in general. We appreciate your support!