Raleigh Ring of Fire and Atlanta Chain Lightning both looked poised for a deep run at Nationals after blowing by their regional competition.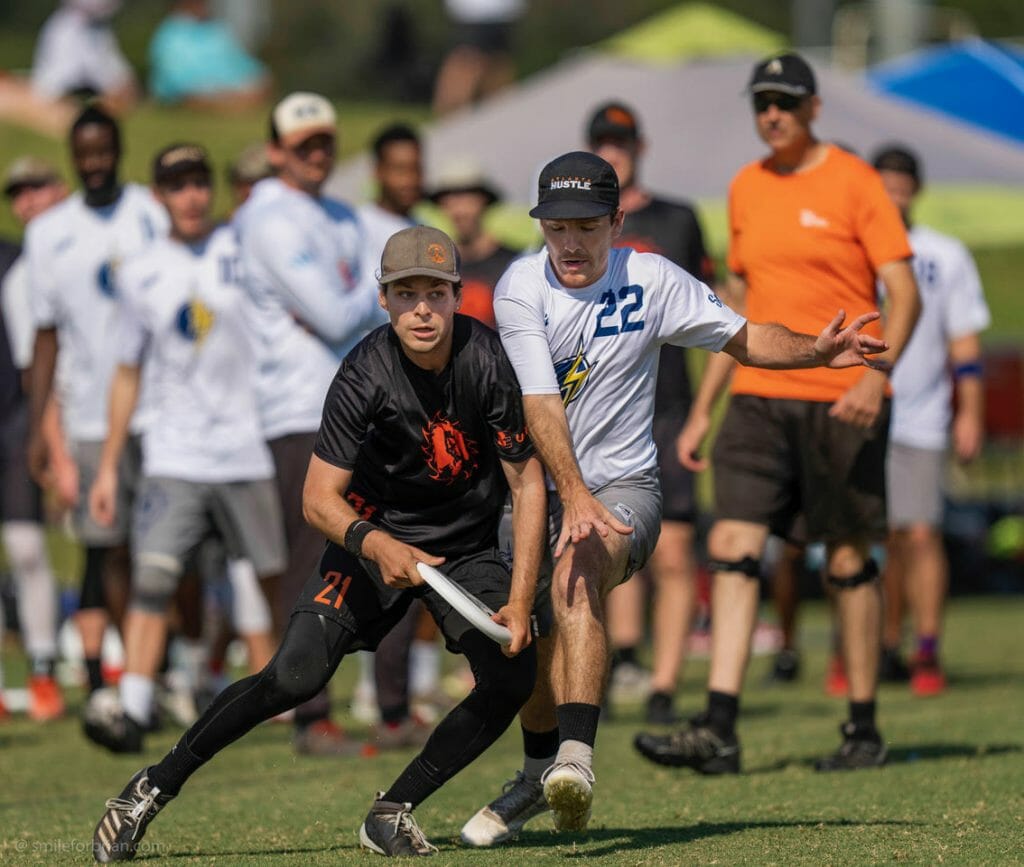 Ultiworld's 2021 coverage of the club men's division is presented by Spin Ultimate; all opinions are those of the author(s). Find out how Spin can get you, and your team, looking your best this season.
BERMUDA RUN, NC—There were ample signs leading into the men's division final between #3 Raleigh Ring of Fire and #4 Atlanta Chain Lightning that it could be the closest game the two teams have played in many years. While the Southeast rivals have met in the regional final in five of the past eight seasons, Raleigh has been by far the more dominant in recent years. But this year they have been largely a mystery in the club division, choosing not to participate at all before the Series while they chased down their first AUDL championship. Meanwhile, Atlanta had put together their most successful regular season in a decade, picking up decisive victories over fellow top 10 teams in the club division — while also making a playoff run in the AUDL — and proving themselves as a legitimate national semifinal threat.
The final matchup in Bermuda Run did not disappoint, with two division heavyweights producing a tight battle throughout that bodes well for both teams' prospects at Nationals. While Ring was tested in several moments during the final, the team put together a largely complete performance beating Chain 13-11. Atlanta recovered quickly and smoothly navigated a dangerous game-to go, putting away a pesky #20 Tennessee Tanasi squad 13-6 to also claim their bid to San Diego.
Ring of Fire Convincingly Retains Top Spot in the Southeast
Both Ring and Chain have shared a similar story thus far in the postseason, needing to integrate or reintegrate exciting new pieces that were plying their trade elsewhere during the AUDL season this summer. Ring of Fire has welcomed back old stars in the form of Jack Williams and Jonathan Nethercutt, as well as plugging in a brand new weapon, Ryan Osgar. Likewise, Chain Lightning has been figuring out how to integrate star Florida-based handlers Bobby Ley and Andrew Roney into their offensive unit. Despite this on-the-fly team building, neither was meaningfully challenged at either Sectionals or on Day 1 of Regionals leading into the final.
Ring took an early two-break advantage in the first half going up 4-2. With Ethan Bloodworth and Nethercutt taking on the Ley and Roney matchups, Ring opted to apply flat marks and shade backhand to push the disc toward the sidelines. Atlanta was hardly fazed by the early hole and quickly broke back, applying flat marks of their own to limit the throwing angles of Sol Yanuck. As Jack Williams came back for a swing, Player Pierce poached off of the front of the stack and got a shoulder height layout block. As Williams struggled to catch up on the fast break, Pierce swiftly launched a huck to Bradley Seuntjens who made an impressive skying catch of his own to tie the game up at 4-4. A few points later, Atlanta broke again to get back on serve 6-5 as longtime Chain veteran JP Burns made a huge layout catch on a flick huck from John Stubbs. Atlanta rolled into half with a 7-6 lead and for the first time in a very, very long time Ring found itself down at halftime in the Regional final.
"Chain's a great team," commented Ring captain Sol Yanuck. "I think that they are going to give other teams a ton of trouble at nationals."
Receiving the disc out of half, Ring quickly held on a huck to Osgar that was stripped from his hand after he secured the disc. On the subsequent point, a long pass from Stubbs to Roney floated too far into the grass. Eric Taylor found Bloodworth deep with an OI flick that Bloodworth secured with an impressive sky and line toe on the endzone sideline. Ring was back on top and both teams settled into a rhythm of trading holds up and down the field for most of the second half. At 12-11 with Ring one point away from the win, a flick from Atlanta's Antoine Davis caught the breeze and bounced out of the outstretched hands of Matt Smith. Ring's D-line marched the disc downfield and swiftly worked the disc through their endzone set with Noah Saul, Nethercutt, and Bloodworth all getting multiple touches in the red zone. Bloodworth caught Roney watching the disc and swiftly exploited the advantage to get open at the backhand cone to secure the game-winning goal from Saul to claim the regional title 13-11.
The final was an excellent representation of both teams at their best. Ring of Fire's defense looks dangerous with Nethercutt applying great marks alongside Bloodworth and the big downfield presence of players like Alex Davis, Jacob Fairfax, and Connor Russell.
"I was really excited about our defense in the first half," said Yanuck. "Second half we were using all of our big, scary targets to get chunks of yards, and as soon as we got within 20 yards of the end zone we had a lot of scary guys in that kind of an area."
On a turn, Nethercutt wasn't so much a shot-taker as a distributor, patiently working the disc with Taylor and Saul. Osgar and Williams have also adjusted well, and with Anders Juengst taking off in 2021 ahead of San Diego, the team's offense looks as good as it probably can after just two tournaments to the team's name this season. Ring of Fire has evolved and they are ready to contest for a national title after years up coming up agonizingly short.
"Since 2016-17 we've been working on the structure of our offense and running it a specific way," Yanuck reflected. "I think that for a long time the structure was sort of warped around Nutt as an amazing center quarterback. But I think me and Matt [Gouchoe-Hanas] bring an element to the offense that complements our downfield personnel extremely well. It almost feels like this is an evolution of the offensive structure in a way. It's amazing to be on O and look across and look at the guys we have on D having Nutt, having Eric Taylor, having Ethan Bloodworth. Those are guys that we can throw out there and I don't have to tell them anything. It's amazing to be with the O and maintain our confidence and vibe with our unit."
Chain Lightning Prepares to Make a Run at Semis
Chain Lightning also looks ready to contest for their goal of a semifinals appearance in San Diego. While their offense struggled with Ring's flat marks at the start of the regional final, their O-line was resilient and their defense proved to be up to the task of getting the team back into the game swiftly. It was clear that Chain could put themselves into a position to win the game, and just as with their closely affiliated semi-pro squad, the outcome of the game was determined by their execution on the final point.
Ley and Roney are a very good backfield duo, and the Florida pair seem to be adjusting well to Chain's system and personnel. Atlanta has a wealth of great downfield players and plenty of chemistry to work with from an active regular season in the club division.
"We're still trying to work through how they like to run dumps and feed it into our system," said longtime Chain veteran Austin Taylor. "They love to get the disc off of the sideline quickly and that's great for us because that's something Chain has struggled with."
A regional title may have to wait for Atlanta, but they are more than capable of writing their own destiny in San Diego. At their last two nationals appearances, the team did not meet the outcome goals they set out for themselves. Semifinals is an ambitious goal for Atlanta this year, but the team clearly believes it is attainable.
"We are very confident," said Taylor "This past Hustle season has given us the most confidence I've seen on an Atlanta team since I started playing for Chain. We think that we're that good of a team. We think we can make it to semis and it would be a disappointment to us if we didn't get that far."
Tanasi, Raleigh Teams Look to 2022
Of all of the teams outside of the two qualifiers, Tanasi had the best regionals weekend, playing Chain to 13-10 in the first place semis and outplaying #25 Raleigh Expendables 12-10 and #22 Raleigh-Durham United 12-9 in the backdoor bracket on Sunday. Unfortunately, they ran out of gas for the game-to-go, as Atlanta raced past them in a 13-6 loss that never felt particularly close. Knocking off one of the two favorites to earn an invitation to the Big Show was always going to be a tall task for Tanasi, but Tennessee has something brewing right now and don't look too far off the pace from challenging to earn a strength bid in the near future if they can continue growing on the same trajectory.
United avenged their Sectionals loss to local rivals The Expendables, earning the final spot in the championship bracket. They were unceremoniously trounced by Ring, but then advanced in the backdoor bracket. The first-year rebranded program struggled to stay composed against Tanasi and was eliminated before the game-to-go, but finished the weekend in fourth place.