Massive news five points into the tournament.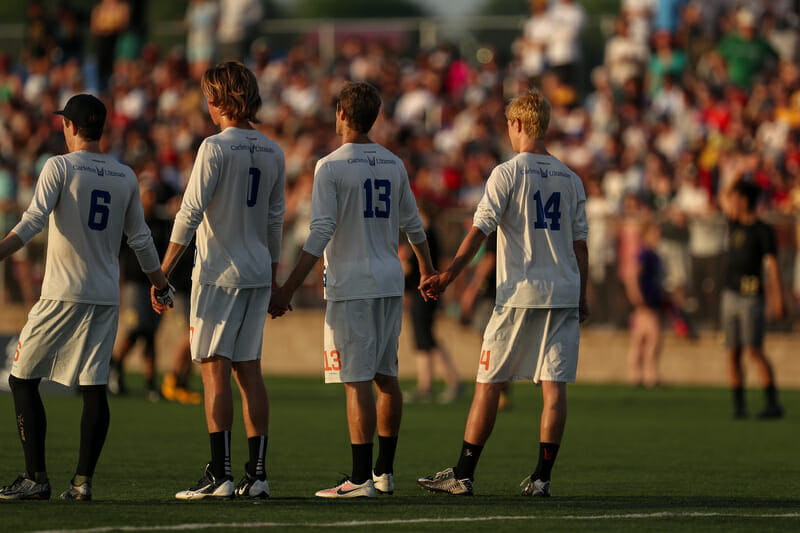 Our coverage of the 2021 College Series is presented by Spin Ultimate. You can get 15% off all college uniforms and swag right now at Spin Ultimate!
For the second time in less than 6 months, SilverLake Sports Park is the site of a COVID case at a major USAU ultimate tournament.
Five points into the first round of the 2021 College Championships, Carleton CUT was forced to forfeit their opening game against UNC Wilmington and enter a contact tracing protocol that could affect their ability to continue in the tournament for the rest of the weekend. Here's what we know about the situation so far.
After first feeling sick on Wednesday, a player returned a positive result for COVID this morning. Most of the team has been on the ground in California since early this week for a training camp of practices and film study. Once the player noticed symptoms of illness, he began taking precautions to self-isolate, including wearing a mask around the team and staying with his parents instead of with teammates. He took a rapid test this morning before coming to the field and returned a positive result.
Carleton leadership reported the positive result to USAU as soon as they found out, about 15 minutes before the opening pull of their first game in Round 1. USAU immediately began its contact tracing protocols, interviewing the affected player to determine close contacts.
It became clear quickly that a number of teammates would qualify as close contacts — per the governing body's COVID guidelines, spending more than 15 minutes over 24 hours within 6 feet of the affected player — and would need to be removed from action. As the circle of potential contacts grew — at least six players immediately qualified, and the number ballooned quickly from there as those players began contact tracing — USAU informed the team that they would need to forfeit their game so the full team could be assessed before they continued.
At the end of a long point to go up 4-1 on Wilmington, the CUT captains walked onto the field and informed UNCW of the situation. While the contact tracing continues, Carleton took a loss on the game, but has not yet been forced to forfeit the remainder of the tournament.
"We're in the process of dealing with logistics so that any positive case stay isolated and make sure that all the negative cases also stay compartmentalized so there's no chance of continuing to spread," said CUT coach Phil Bowen. "The logistics of housing people, whether that's with parents, keeping the negatives in separate hotel rooms."
Per the USAU COVID guidelines, any player that has had a close contact with the affected player would need to present a negative PCR test five days after their most recent exposure to the player in order to be deemed safe to return to competition. Anyone who has been a close contact more recently than five days ago would remain ineligible to play or be at the facility until that window elapsed and they could return a negative PCR test.
With a bye before CUT's next game, USAU is continuing their contract tracing protocol within the team to determine which and how many members of the team would need to be removed from competition. With a roster of 42 players, it is possible the team could still end up having enough players available to compete, though it is too early to know the extent and results of the contact tracing protocols. For Carleton, that is a secondary concern.
"Ultimate is definitely secondary at this point," said Bowen. "If we do find out through the contact tracing that we have a big enough number to play based on USAU's policies…it's not our decision. USAU follows their policy, we follow USAU's policy, and whatever the policy says we do."
Bowen is also sensitive to what the situation might mean for opponents. "If we had enough players to play, my sense of ethics is that it's not necessarily our choice, that if anyone is uncomfortable, then we shouldn't continue. There's no reason to put anyone in an uncomfortable position for any reason. This would certainly qualify."
Story last updated at 11:45 AM Pacific.
Correction: An earlier version of this story stated that the affected player first started feeling symptoms yesterday; symptoms began two days ago and he started to isolate from the team at that time.