Two all-stars have already joined rival teams, and there's almost assuredly another showstopping move or two to come ahead of the 2022 season.
As the calendar shifts to 2022, AUDL teams across the continent are re-signing key players, holding open tryouts, and finalizing their rosters. For a league that largely does not have trades or free agency in the traditional sense, player movement largely consists of players joining new teams as they move cities for their day job or elite players recruiting their friends to join the few "superteams" around the league. Even with its limitations, the AUDL hot stove season is sizzling. Here are the big stories to get you caught up.
New York Signs Antoine Davis and Retains All-Star Core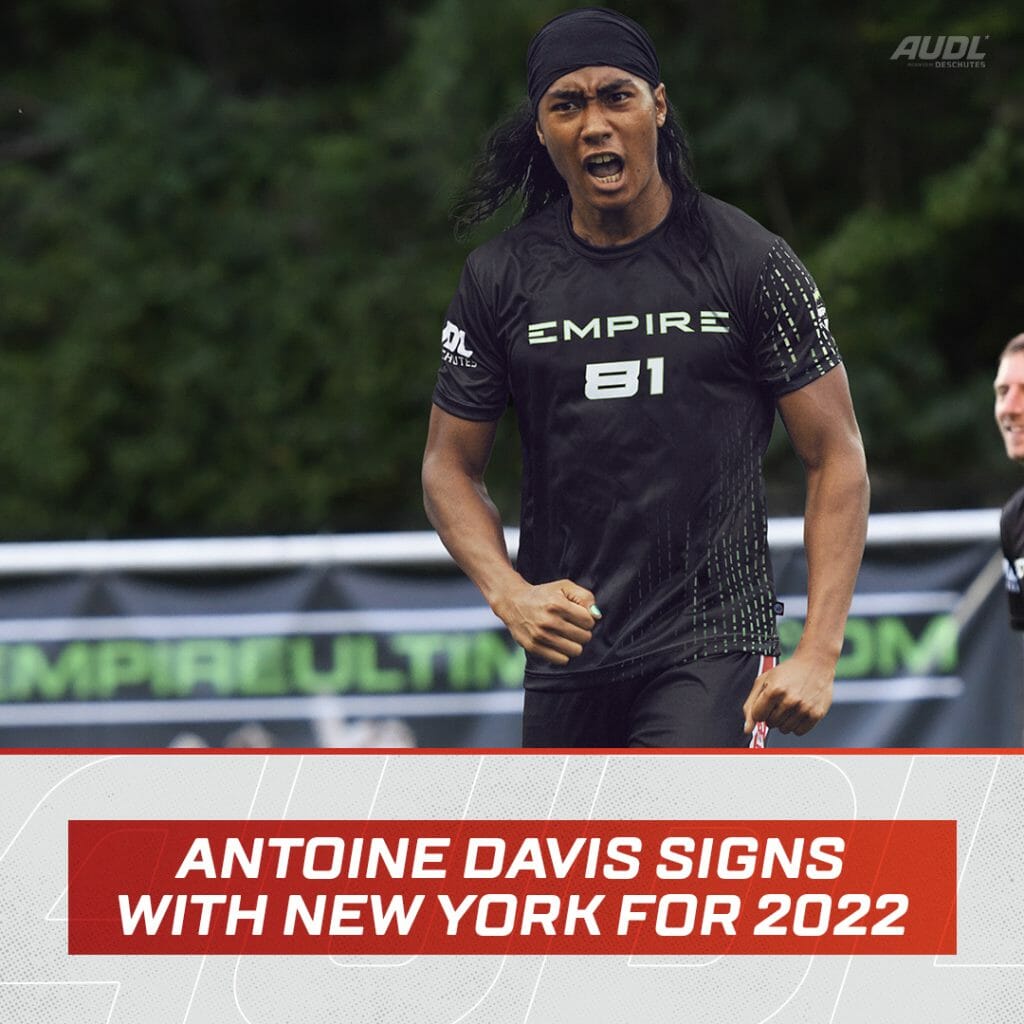 In what is so far the biggest player move of the offseason, Antoine Davis announced on February 1st in an Instagram Live video titled 'The Decision' that he is signing with the New York Empire. Davis had 25 assists, 31 goals, and a career high 90.11% completion percentage in 2021 while playing for the Atlanta Hustle. Davis's budding modeling career likely spurred the move to New York after he spent 2021 living with his family in Atlanta. He'll join an Empire team that made it to the AUDL championship game for the second consecutive season. After winning the title in 2019, the Empire lost to the Raleigh Flyers in 2021 after defeating Davis and the Hustle in the first round of the playoffs.
"Versatile hybrids are kind of the future of ultimate right now," said Empire President of Ultimate Operations Matt Stevens. "And Antoine is a perfect example of that." Stevens said that Davis reached out to the team about a month ago and spoke with other Empire players including Jack Williams and Jeff Babbitt about the potential of joining the team. Davis was considering other teams as well but chose to take his talents to New York.
"I think it's really important because it gives us a lot of versatility," said Stevens. "Any time you add a star player like this, it adds to your depth." Davis could slot into a D-line that at times needed some more offensive punch or get added to an O-line that would terrify cutter defenders.
New York also announced the re-signing of reigning two-time MVP Ben Jagt, Jack Williams, Ryan Osgar, and Jeff Babbitt. The former three made the 2021 All-AUDL 1st Team; Babbitt made the 2nd Team. Williams signed a three year deal, cementing New York as a contender at least until 2024.
Atlanta Retools with Ley and Seuntjens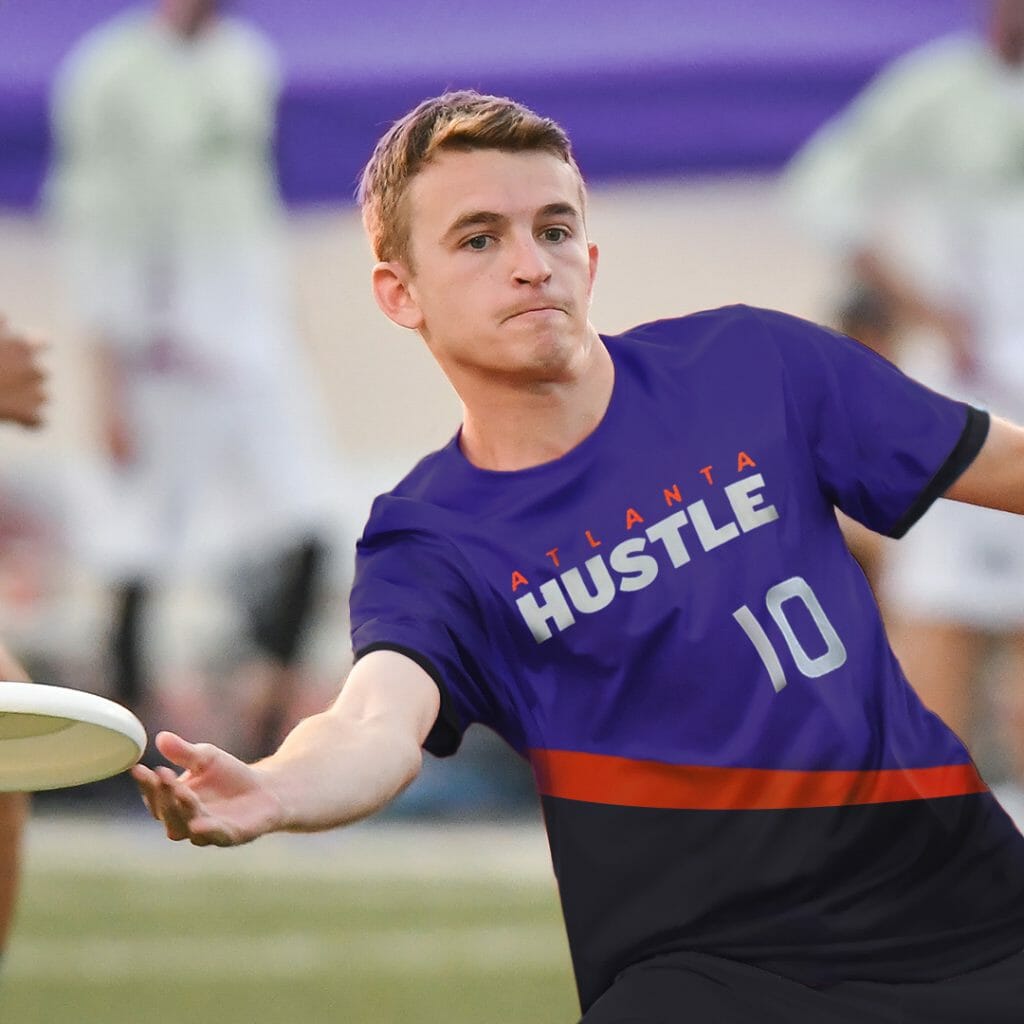 With O-line mainstay Antonie Davis now in New York, the Atlanta Hustle rebounded by signing two former Tampa Bay Cannons starters, Bobby Ley and Bradley Seuntjens.
Ley managed 46 assists in just nine games in 2021, but also threw 48 turnovers in the Cannons risk-accepting offense. Seuntjens was limited to just five games in 2021, but scored 42 goals in his last full season in 2019. As a powerful thrower, Ley can take some of the pressure off of Austin Taylor to produce in the backfield. Seuntjens has played plenty of defense in his career, but he also could be an intriguing fit next to Karl Ekwurtzel, Matt Smith, and Elijah Jaime as a dynamic cutting quartet.
Both Ley and Seuntjens played for Atlanta's elite men's club team Chain Lightning in 2021, which is coached by Hustle head coach Miranda Roth Knowles and features many Hustle players.
Atlanta also re-signed the bulk of its roster from 2021, a season which saw the Hustle come within inches of making Championship Weekend in a first-round playoff loss to the New York Empire. Atlanta is bringing back (among others) Taylor, Ekwurtzel, Jaime, Smith, Jakeem Polk, Parker Bray, Michael Fairley, Brett Hulsmeyer, Kelvin Williams, and 2021 College D-I men's player of the year Hayden Austin-Knab.
Sean McDougall Flies South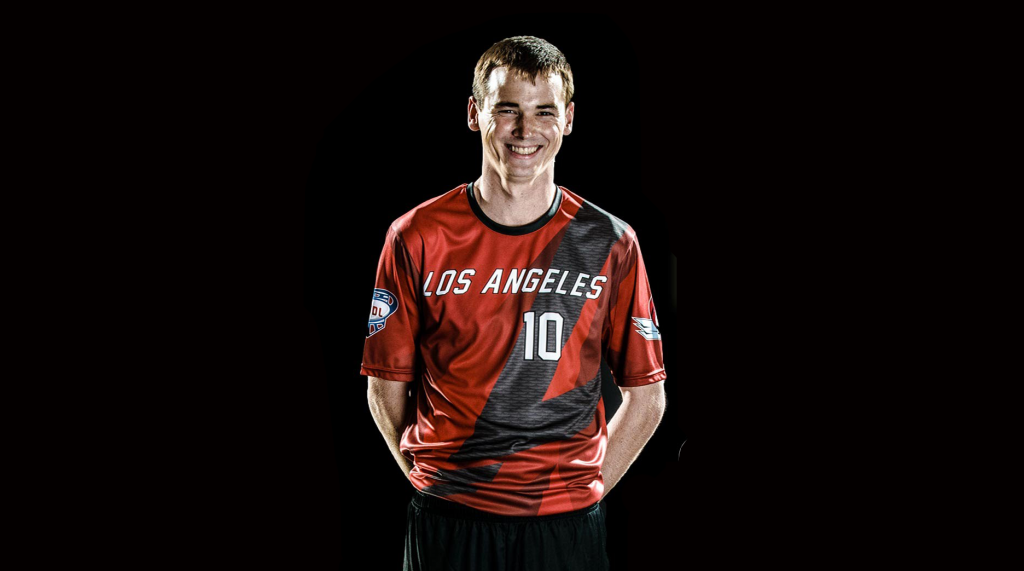 In a shake-up of southern California talent, 2019 AUDL All-Star Sean McDougall signed with the San Diego Growlers for the 2022 season. McDougall was a founding member of the Los Angeles Aviators and has played with the team every season since 2015. On a recent episode of the AUDL's Swing Pass podcast, McDougall elaborated on the move, explaining that the chemistry he build with his San Diego teammates while playing together with the club team SoCal Condors, along with his move to Orange County, made the decision to switch easier.1
San Diego is also bringing back many key contributors from its 2021 season: Jonathan 'Goose' Helton, Paul Lally, Michael Tran, Travis Dunn, and Steven Milardovich have all been announced as returners. Coaches Kevin Stuart and Kaela Helton are also returning to lead the pack.
Delrico Johnson Comeback in the Works
On February 8, former DC Breeze star Delrico Johnson tweeted a picture of his old jersey with the caption "the.climb.back."
While the signing has not yet been officially announced, all signs point to Johnson signing with DC.
Colorado Aiming for the Summit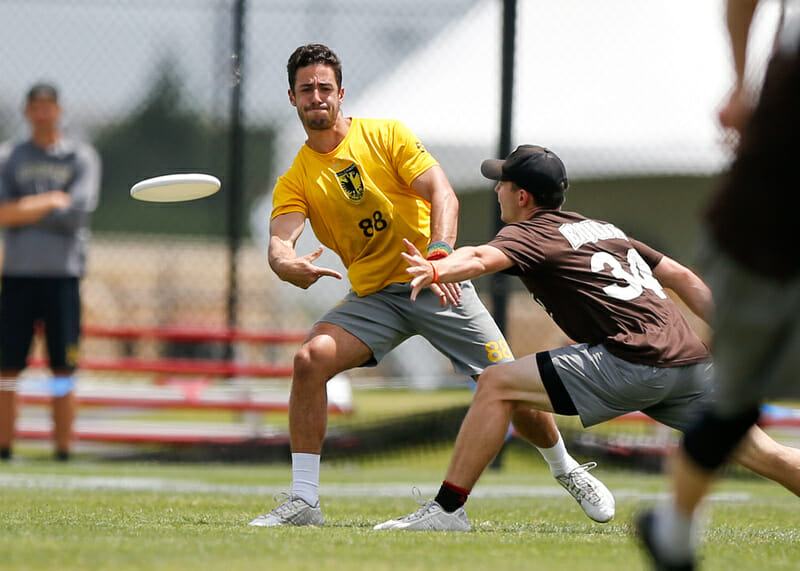 An expansion team with immediate playoff aspirations, the Colorado Summit have announced a starting line of star players to kick off its inaugural season. Jay Froude and Matt Jackson join after playing previously in Dallas. Both were members of Denver's club team Johnny Bravo. Additionally, University of Colorado standouts Quinn Finer and Alex Atkins, Colorado State alum Cody Spicer, and Fort Collins Shame standout Nick Snuzska have all been announced and are expected to be key players for Colorado in its first season in the league.
The team will be coached by Mike Lun, who has also coached the University of Colorado men's team and Boulder Lotus; Tim Kefalas, who coached Colorado State; and Ryan Segal, a former Seattle Cascades player and Colorado Cutthroat YCC coach.
Salt Lake Shredding the Lions Label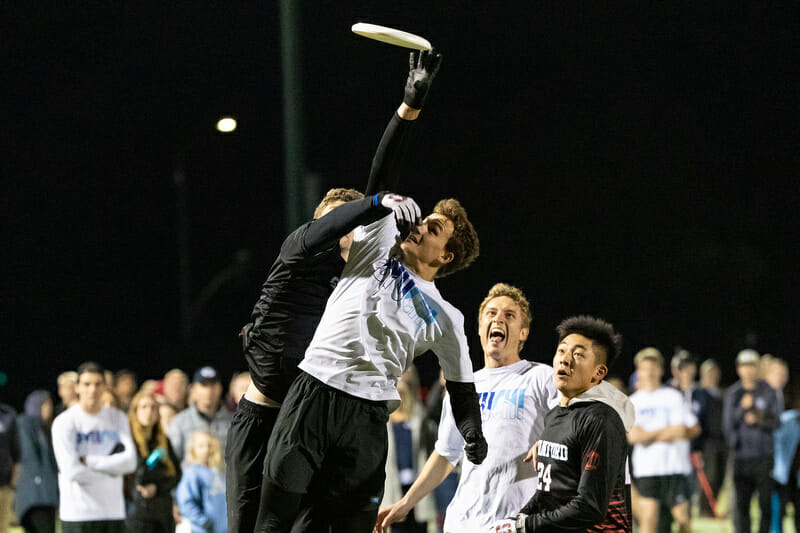 In a region chock full of budding talent, Salt Lake announced a starting line's worth of preseason signings. BYU alumni Devon Terry and Taylor Barton and current BYU players Jordan Kerr, Joe Merrill, and Jacob Miller lead the way. Kerr won Ultiworld's 2020 Player of the Year award in the college D-I men's division and was named to the 2021 AUDL All-Rookie team after his first season playing for the San Jose Spiders. Miller also played for the Spiders in 2021 and Merrill suited up for the DC Breeze.
Former Seattle Cascades and Utah State standout Garrett Martin will be a key D-line handler for the Shred. Martin was named to the 2021 AUDL All-Rookie Second Team in 2021. Ben Green, formerly of the DC Breeze has signed as well.
The team will be coached by Bryce Merrill, who also coaches the BYU men's team, plays for The Killjoys in the USA Ultimate club division, and advises the Utah YCC programs.
Portland Makes First Signings

A bit behind the other expansion teams, Portland has only announced the signing of four players. Timmy Perston and Chris Hancock come ready to play with plenty of MLU and club experience with the Portland Stags and Rhino Slam, respectively. Jon Snyder, a Fort Collins Shame player, also signed with Portland, and most notably, Ke'ali McCarter was announced as well. The former YCC standout is currently playing with Oregon Ego in the college division and is expected to be a key contributor.
Other Rhino Slam players like Leandro Marx and Raphy Hayes are expected to sign with Nitro but have not yet been announced.
Austin Brings in More Talent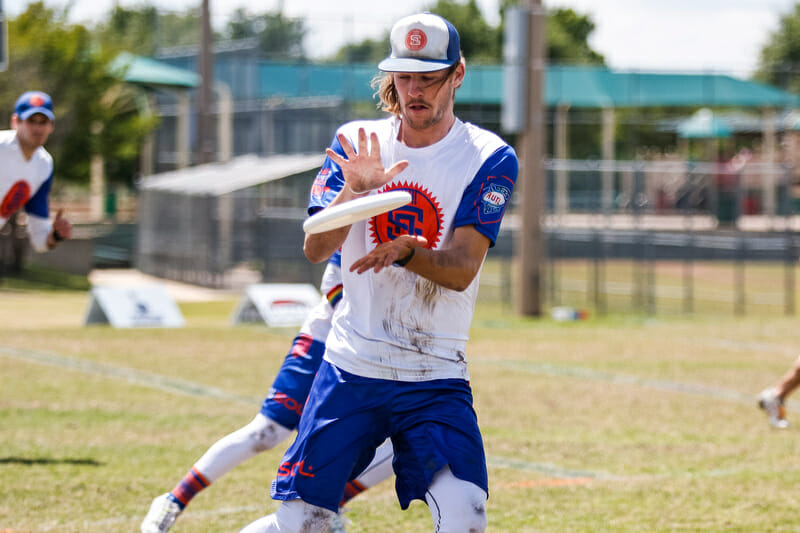 The balance of power between the two Texas teams has been slowly moving from Dallas to Austin since the 2017 Roughnecks superteam began to fall apart ahead of the 2018 season. In 2021, Austin nearly knocked Dallas out of the playoffs, and they'll be favored to do so in 2022. Former Sol All-Star Kyle Henke is returning to Austin after a season as Dallas's primary downfield threat. Additionally, the team announced the signing of Mark Evans, who recently played for Sunder, a top club team in Australia, and was a former standout at UNC Wilmington in his college days.
Austin is also re-signing significant contributors from 2021 like Vinay Valsaraj, Elliott Moore, Eric Brodbeck, Mick Walter, Evan Swiatek, Matt Chambers, Matt Armour, and Shane Heath. Team captain Jake Radack, who Austin coaches have consistently hyped as an impact player, is expected to take the field in 2022 after missing the 2021 season with an injury.
Multiple Teams Rebrand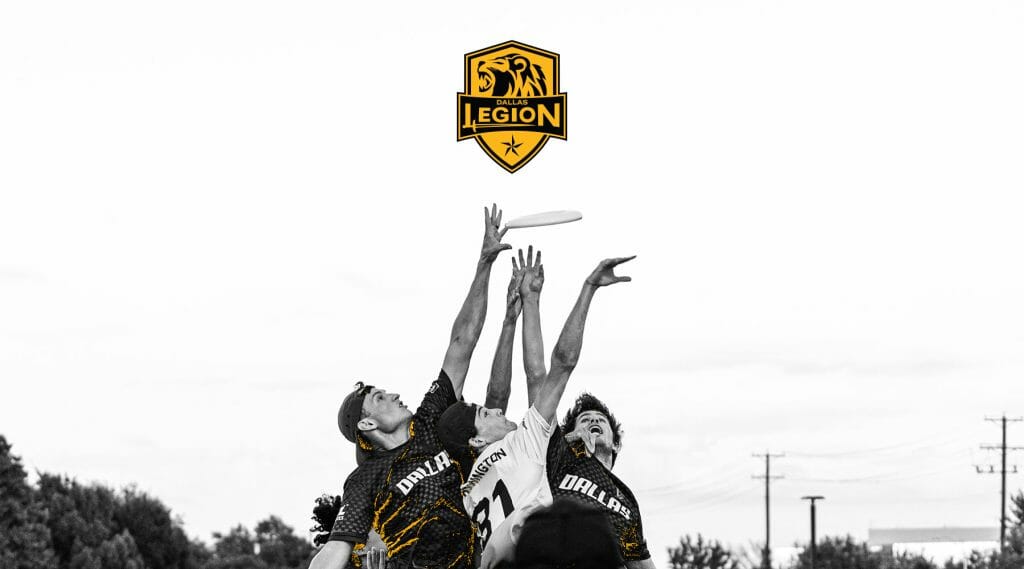 With the passing of franchise ownership from Jim Gerenscer to former minority owner Young Byun, Dallas has rebranded as the Legion. Usually one of the teams willing to make a big splash in free agency, the Legion have so far only announced retained players — captains Kaplan Maurer, Kevin Richardson, and Ben Lewis. Former player Dan Emmons is taking over as the team's head coach and former coach Wes Nemec is coming back as an assistant after taking 2021 off.
Farther west, the Spiders are moving to Oakland and changing their official name to the Oakland Spiders. The league's only two-time champions had previously played in San Jose since the team's inception in 2014 (although they played games in Oakland in the 2021 season).
Could the Raleigh Flyers be making a change as well?
Free Agents Still Available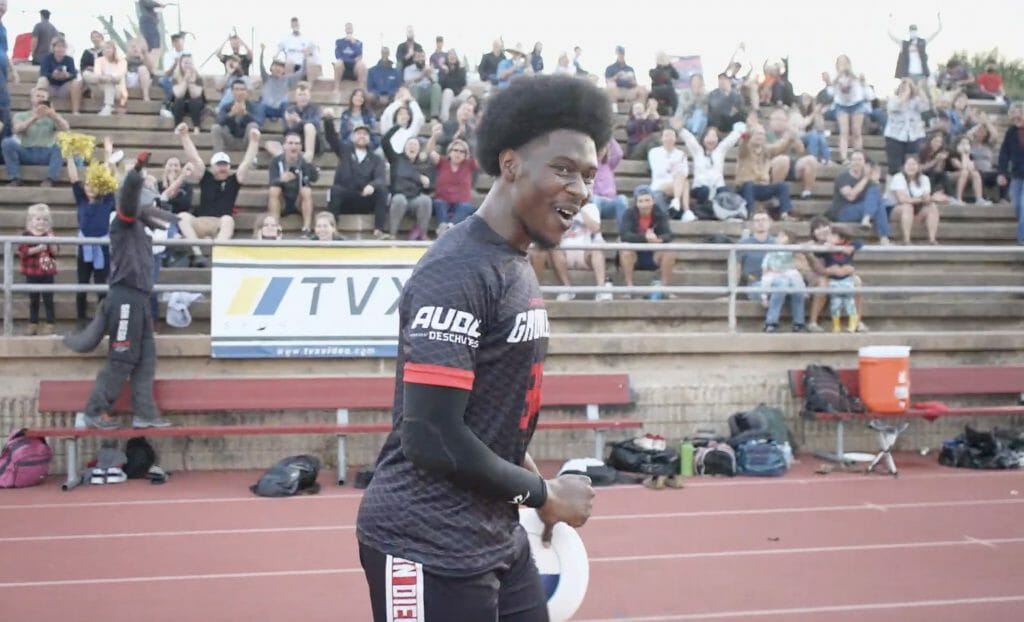 While many top players have signed with their teams, there are still a few all-star quality players remaining. Khalif El-Salaam, who spent the early part of his career with Seattle before playing 2021 with San Diego, is yet to decide if he will play in 2022. Another 2021 Growler, Jonathan Nethercutt, hasn't popped up on a roster yet: could he play with San Diego again or join up with the Summit in his backyard? Former Roughnecks and Aviators (and Connecticut Constitution) handler Chris Mazur has yet to sign with the Growlers, but all signs point to him playing for San Diego this season, especially after McDougall's transfer south. Matt Rehder's contract with the Minnesota Wind Chill has expired, freeing him to sign with any team in the league. The star cutter has played with Chicago and Seattle in previous years and has not yet made any decisions about playing pro this season.
---
Orange County is south of Los Angeles and is about equidistant between the typical practice locations of each the Growlers and the Aviators. ↩