What we're watching for as the D-III season gets into full swing.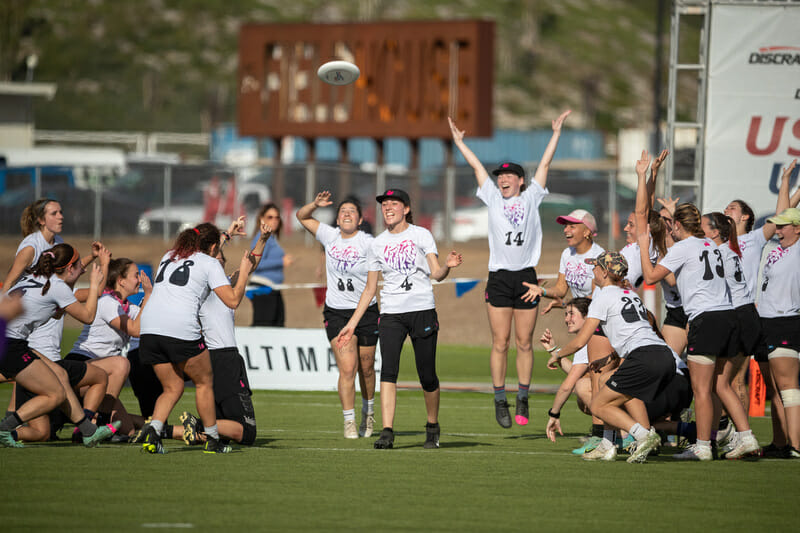 Our coverage of the 2022 college season is presented by Spin Ultimate. You can get 15% off all college uniforms and swag right now at Spin Ultimate!
With the benefit of watching a Fall championship series, we actually know a lot more about the landscape of D-III ultimate than we usually do entering the spring. However, even with that information, we still have plenty of questions about what to expect over the next few months of the 2022 college season. Here are five of the most pressing:
1. Can anything stand in the way of Middlebury defending their championship title?
The Middlebury Pranksters dominated the 2021 fall season, improving at each stage of the Series to top the traditionally strong New England region before claiming a national championship in Norco this past December. With numerous players from that squad populating the various Ultiworld award podiums and All-American teams – in addition to Josie Bourne being voted a Donovan Award finalist – the Pranksters are certainly the team to watch again this spring. Losing only two players from their title-winning roster and still able to count on Keziah Wilde's command of the disc, Kamryn You Mak's stifling defense, and the overall brilliance of Player of the Year Claire Babbott-Bryan, the Pranksters' are sure to continue into this season with confidence. Can anyone stand in the way of a repeat?
The good news for Middlebury fans is that in addition to their continuity, several of their closest competitors from the fall may not be quite as strong this spring.
Their opponent in the national final, Portland UPRoar, also put together an impressive run in Norco – their +35 point differential from pool play on the first day topped the division and immediately made them a team to watch. Portland enjoyed a meteoric rise in the past few seasons, qualifying for their first Nationals in 2019 before advancing to the final last fall. POTY runner-up Jaclyn Wataoka returns this spring to once again lead UPRoar with her dominant disc skills, although Portland does lose Donovan Finalist and two-time All-American standout Kim Dorr. They'll have to rely on the growth of a number of promising younger cutters to enjoy similar success in 2022 and continue to build the program.
Nationals top-seed Truman State TSUnami also looks set to take a step back; they competed last fall with 13 graduates on their roster, setting up a huge exodus of talent to replace in 2022. The fourth semifinalist, Carleton Eclipse, may be the most likely to challenge the Pranksters; despite having one of the smallest rosters at Nationals, Eclipse return many of their key contributors and have the programmatic experience to develop younger players over the course of a year.
Plus, this being D-III, there's always the possibility of a surprise threat emerging during the spring. With the return of regular season tournaments ahead of the next championship Series, we are left to wonder, will a team come out of nowhere to become a legitimate challenger? What programs have gained steam after the 2021 season and now have their eye trained on a national title? In D-III ultimate, anything can happen.
2. Which regions stand to benefit or lose out with the irregular Nationals Bid allocations?
With only six discretionary bids to dole out after an auto-bid for each region, D-III always feels squeezed for Nationals bids and the resulting allocation always leads to consequential Regionals upsets that invert tournament seeding and Ultiworld Power Rankings. That problem is likely only to be exacerbated in a spring where we're not factoring in current-season performance. Bid allocation is always a delicate science and the caliber of D-III ultimate programs is famously known to fluctuate year to year.
Based on the criteria laid out by USAU last week, the three strength bids look set to go to New England, North Central, and Northwest. If we look at 2019 numbers for reference, the three regions most likely to walk away with a size bid are the Ohio Valley, New England, and Metro East, with the North Central the next closest. Obviously, a lot has changed since 2019 and we don't really know the individual stories behind why some teams did not compete this fall, so this could change once we see who signs up this spring.
Even if they land three bids, the New England region might still feel the most aggrieved this year. The region has earned the maximum four bids to National each spring since 2015 thanks to the depth of quality programs from the region. In the fall, New England had four teams in the Top 25 of the Power Rankings last fall, but only two bids. Thankfully, past season results meant NE secured one of the three strength bids this spring, but they will still max out at three, assuming they receive one of the three size bids yet to be allocated. And there are plenty of teams that can challenge for those spots. 2021 National Champions Middlebury Pranksters are the clear top dogs, but fall qualifier Brandeis Banshee, last fall's regional top-seed Amherst Sparkle Motion, Williams Nova (formerly La WUFA), former perennial Nationals contender Bates Cold Front, and even Stonehill could all be in the mix. The talent in this region is overwhelming and competition will be fierce for the three invitations to Milwaukee.
Looking at how the strength and size bids will potentially shake out, it looks like the extra bid to New England could come at the South Central's expense. Both Truman State and Rice Torque finished inside the Top 10 in Norco, but their region may be staring at just a single bid this spring.
3. How are programs recovering after two years off?
At the D-III level, the small school size understandably impacts team size. With ultimate being a club sport reliant on in-person recruiting for teams to continue to field competition, there was certainly very real concern around program longevity going into the pandemic lockdown. The first taste of the division's recovery was demonstrated at Nationals, seeing college freshmen taking the field alongside returning alumni. But that's not to say that everything will easily or immediately feel smooth moving forward.
With most if not all of the graduated players now departed, many teams' captains are in their first year of leadership, finding themselves suddenly the oldest and most experienced on the team. The continuity of programs definitely relies on the passion and drive from these individuals who have suddenly found themselves the core of the team, even though the last time they played might have been just their freshman or sophomore year.
The caliber of play we saw in Norco was encouraging and hopefully inspires new players to stay involved and improve their game, allowing established programs to maintain their momentum and new programs to emerge and grow. While there may be some growing pains this spring, we still see a bright future for the D-III women's division.
4. What are the most important regular season weekends to watch for D-III?
Anyone who has played D-III ultimate can tell you that the regular season tournament schedule is a hodgepodge of trips to fields in obscure pockets of the country. These tournaments don't have the same level of production as the bigger name events that D-I teams attend, but thanks to our D-III contact survey, we have been able to assemble an idea of the tournaments we'll want to keep an eye on.
Vineland, New Jersey is a famous locale for Ultiment-hosted college tournaments, bringing in teams from across the east coast. Bring the Huckus from this past weekend kicked off the annually packed schedule, seeing perennial top performers of Ohio Valley region Haverford/Bryn Mawr Sneeches and Lehigh Gravity take first and second with Swarthmore Warmothers and Metro East pair SUNY Geneseo Escargot and Ithaca Kweezy also in attendance. A windy weekend kept scores low and close, with upwind breaks few and far between. Still, expect to see a steady flow of D-III women's competition traveling to Vineland through the spring, where college tournaments will be hosted in four of the next five weekends.
As we move into the heart of the college season in March, the tournament schedule gets a lot more crowded. This coming weekend will showcase a variety of D-III women's teams across the country.
Four New England D-III teams will congregate at Prospect Park for No Sleep 'Til Brooklyn, where they will face off against each other and several D-I teams. Philly Special brings teams back to Vineland where Lehigh Gravity and Brandeis Banshee have already claimed the top two seeds. Midwest Throwdown has Truman State TSUnami representing the South Central region and Carleton Eclipse back to battle out their third-place tie in Norco. Michigan Tech Superior Ma's and St. Olaf Vortex are also slated to attend and represent D-III Women division, setting the stage for an exciting season premiere.
Additionally, New England Open in early April expects to see the powerhouse teams from this region begin their contest against one another to jockey for position in the race for Nationals bids. Finally, D-III Midwestern Invite is another tournament to watch. Each year the tournament expands, bringing in high-level competition from across the country to the Great Lakes region. Local teams can expect a taste of Nationals-caliber competition as teams with the goal of qualifying for nationals are sure to use this as a warmup.
5. How did Nationals 2021 inspire college ultimate?
The story of 2021 College Nationals is one of a reunion. Having lost 18 months of college competition, the return to the biggest stage was electric. Not only were teams excited to compete, the alumni who traveled to the sidelines to support their programs completed the celebration of the return of shared passion. For many teams, this was the majority of their rosters' first time on this stage. The excitement that grows from national competition is sure to have fired up college team rosters.
2021 College Nationals in Norco also boasted perhaps the best produced D-III tournament ever. The continued growth of coverage across the division helps reach the teams that did not attend. Watching film is always valuable to a college team, and having access to D-III competition and being able to watch your direct competition at the level you compete at is sure to perpetuate the value of this event for teams.
The celebration of this event across social media connected the ultimate community as a whole. Teams are sure to be inspired to set high goals for this spring. Although Nationals is one of the only live-streamed D-III tournaments, expect excitement at each weekend tournament D-III teams attend.