Do we already know the PUL's title contenders?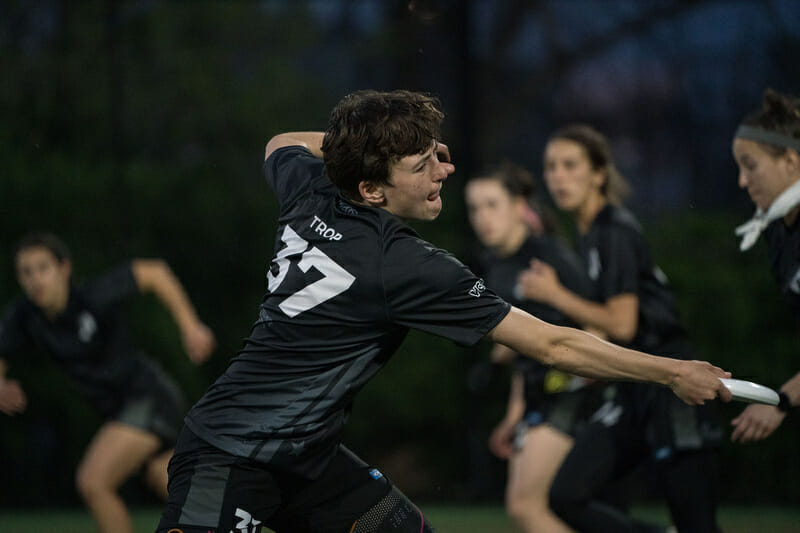 This is it, folks; this is not a test. Both the Western Ultimate League and the Premier Ultimate League are both in season, simultaneously. Get ready for a lot of women-matching semi-pro action! A seven-game weekend across both leagues brought the stars out, and further established league pecking orders. Seattle was the first team in the WUL to officially lock up a playoff spot, Revo's top players piled up points, the Monarchs got on SportsCenter, and a Super Bloom star set a league record.
And don't miss this week's Double Overtime, where Jenna Weiner and Sascha Vogel will break down the big slate and what it all means.
Results & Standings
WUL Results
WUL Standings

PUL Results
PUL Standings
East
Medellin 1-0
Portland 1-0
Washington DC 1-1
New York 0-1
Midwest
Indy 1-0
Mikwaukee 1-1
Minnesota 0-0
Columbus 0-1
South
Raleigh 2-0
Nashville 0-1
Austin 0-1
Atlanta 0-1
Weekly Storylines
Top PUL Teams Establishing Contender Tier
Is it getting late very early? We're just through three weeks, some teams still haven't made their debuts, and nobody has played more than two games. Things could certainly change and there's no way around that we are drawing conclusions from a pitiful dataset. On the other hand, some teams are already a third of their way through the season and what we've seen on the field lines up with the scoreboard and the pedigree of the rosters and organizations.
Three teams appear to have announced themselves as the league's title contenders: RevoPro, Radiance, and Shadow.
Raleigh Radiance obliterated Atlanta in their opener with the biggest blowout in league history, and followed that up by outpacing DC in one of the highest level games in league history. Their roster is loaded with proven talent, they're well led by an accomplished coaching staff, and were considered one of the strongest organizations in the league coming into the season.
As if Washington DC Shadow's narrow loss while visiting Raleigh wasn't proof enough, DC just delivered an emphatic beatdown in their home opener against New York. Claire Trop was a force to be reckoned with, forming the foundation of a stout Shadow defense that kept the Gridlock from establishing any rhythm. A 10-3 halftime score could have been worse, but NY was able to take the last possession off of DC and score in the dead time. Perhaps as a counterbalance, DC hit Trop at the fourth quarter buzzer to make it a 20-9 final, completing a dismantling of a 2019 semifinalist.
Finally, Medellín Revolution made their 2022 debut — their lone home game of the season — against Milwaukee Monarchs, a contender hopeful. In their 18-10 victory, they made a good team look average — a sign of an elite competitor.
Playing in front of their fans at TEP, Medellín was in a groove, using their signature well-oiled small-ball style to set up stretching throws by their skillful handlers. Valeria Cardenas and Yina Cartegena torched the defense point after point with saucy shots, with each amassing seven assists — the former along with a pair of goals and the latter hitting Revo's first four assists and adding a goal. While they began to show fatigue late in the game, they were steady in the first three quarters, in part because of Manu Cardenas' consistent presence in a four goal and four assist performance. While Milwaukee's Erynn Schroeder made the play of the night and the highlight of the week, don't overlook Ximena Montana's electrifying goal-line layout block in the first quarter.
Not only did these three squads establish themselves, but they also distanced themselves from some other potential challengers. Milwaukee and New York both failed to impress in their first difficult tests. Portland's offense looked rocky in their first half versus Austin. The Torch then blew their lead and failed to score in OT to give Rising their first regular season win. All of these teams have plenty of other chances to build chemistry, relearn league play, and get better as the season marches on, but the picture could just as easily look the same going into Championship Weekend as it does now.
San Diego Gains Ground In Homestand, Seattle Clinches
A two-win weekend made for a happy homestand for San Diego Super Bloom. Kaela Helton, who has positioned herself as an MVP candidate through the first six weeks, and Kristen Pojunis led the way, anchoring the defense and making spot appearances on offense. Together, they combined for 17 blocks in the two games, including a record-setting seven block performance by Pojunis in their 12-11 win over Los Angeles Astra. They added 10 goals and two assists to mark a tremendous weekend that was important for a San Diego team playing without offensive star Alex Diaz.
The pair of wins had different tones. Their first match against LA was tight throughout, as neither team could generate more than a goal advantage on their way to double overtime. LA led with about four minutes left, but Super Bloom couldn't add to their 10-9 lead despite multiple break chances because they couldn't find a way to get the disc past Pojunis. The defenses held the offenses to a hold a piece in OT. In the sudden death period, Astra earned a break chance, but Lexa Staumbaugh came up with a clutch layout on an under cut. Audrey Brown narrowly missed a matching block going the other way, but her miss opened up a quick give-and-go for Pojunis to collect the game-winner. Maggie O'Connor tallied two goals and three assists in the losing effort.
Arizona was not able to keep pace the way LA had, the San Diego defense closing too many windows for the Sidewinders to build up offensive flow. Arizona found themselves in high stall counts trying to force contested completions, and even when their defense was battling back, they couldn't find the end zone. San Diego held the visitors to a single first quarter goal, and they turned their 4-1 lead into 8-3 at halftime and 17-11 at the final buzzer. While LP Aragon still managed five assists, San Diego kept Kody Lippincott and Aubree Dietrich quiet.
Meanwhile, the first postseason berth of the year was claimed by none other than the undefeated Seattle Tempest.
It was another balanced effort for Seattle, whose defense reigned supreme in an 18-9 victory against San Francisco, that powered them to their latest win and set them on a course for the no.1 seed. Tempest recorded 21 blocks, with 14 different players registering a forced turnover. Steph Lim tied the team-lead with three goals, adding an assist, despite playing just six points. The Falcons actually looked to be nipping at Seattle's heels, appearing to score to make it 10-9 before being rewound with a stall call and Seattle punched it in to Lim to take the 11-8 lead. Perhaps that took the wind from under the Falcons' wings, as the Tempest poured it on from there.
Power Rankings
WUL
PUL
Highlight of the Weekend
Honestly, what else could it be? Erynn Schroeder's athletic back of the end zone one hander made it deep into the SC Top 10 and we don't have to explain why.
WUL Fantasy Updates
Standings
It's a big weekend, but already, we are coming down the pipe towards the postseason:
Jomskylark – 655
Jesse C. – 640
Kat T – 607
Carlos R. – 604
Spencer T. – 581
Teresa – 580
Venu M. – 569
Corey A. – 562
Keith R. – 561
Frankie S. – 559
The four-game weekend caused some massive shifts in the standings. Jomskylark captured the top spot for the first time this season, up from sixth last week, thanks to a roster featuring three of the week's top scoring players — Jade McLaughlin, Avery Jones, and Kaela Helton in the captain slot. Jesse C. moved up to second place from eight with a similar lineup, plus Maggie O'Connor, another top five scorer. Kat T popped up from tenth, while Carlos R. roared into the top four with Helton as captain, and block-star Kristen Pojunis on the roster.
Top Scorers in Week 5
Here are the top-scoring players for the week1
Kaela Helton (San Diego) – 48 [71% rostered]
Jade McLaughlin (Arizona) – 48 [12%]
Kristen Pojunis (San Diego) – 36 [19%]
Maggie O'Connor (Los Angeles) – 30 [9%]
Avery Jones (San Diego) – 30 [12%]
Dena Elimelech (Los Angeles) – 24 [80%]
Kelli Iwamoto (San Diego) – 24 [36%]
Connie Wang (Los Angeles) – 21 [3%]
Han Chen (San Francisco) – 18 [26%]
Hana Kawai (Seattle) – 18 [6%]
Blocks were the secret sauce this week, as Elimelech piled up four and Wang tallied three, and most players in the top had them.
Top Scorers Overall
Jade McLaughlin (Arizona) – 99 [12% rostered]
Dena Elimelech (Los Angeles) – 84 [80%]
Kaela Helton (San Diego) – 72 [71%]
Maggie O'Connor (Los Angeles) – 69 [9%]
Morgan Zajonc (Oregon) – 60 [1%]
Lindsey Doyle (Arizona) – 60 [2%]
Han Chen (San Francisco) – 60 [26%]
Kristen Pojunis (San Diego) – 54 [19%]
Claire Toth (San Francisco) – 51 [3%]
Qxhna Titcomb (Seattle) – 48 [54%]
The trio at the top are coming off some high-scoring weekends, and while in the larger context, Jade McLaughlin and Lindsay Doyle were not expected to be this effective — check their roster rates — it is worth noting Arizona is the only team to have completed their six-game schedule. Helton, Pojunis, and Titcomb each have two more games to go, while Zajonc (and Utah's leaders like Kendra Miller and Cori Bigham) have three games!
The top chalk has hit in the form of Elimelech, Helton, and Titcomb, and we have to wait and see if the next most popular picks — Claudia Tajima, Alex Diaz, Kelli Iwamoto, and Jamie Ericksson — can deliver. They've all been productive in their games, but Diaz didn't play this weekend. The list has plenty of surprises on it, too, led by Zajonc, who has been a monster this season and really could be the #1 scorer by the end.
Up Next
Western Ultimate League
Oregon (2-1) at Utah (1-2)
Oregon (2-1) vs. San Diego (3-1)
Seattle (4-0) at Utah (1-2)
San Diego (3-1) at Utah (1-2)
Premier Ultimate League
Minnesota (0-0) at Columbus (0-1)
Minnesota (0-0) at Indy (1-0)
Atlanta (0-1) at Portland (1-0)
---
Does not include players who were not rostered. ↩