One playoff spot is up for grabs in the WUL and the PUL gears up for its busiest weekend yet.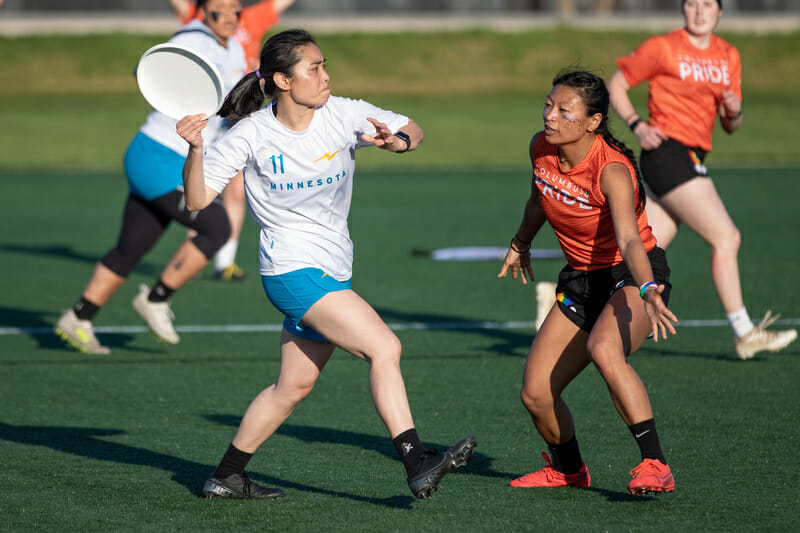 Get ready for a lot of women-matching semi-pro action! They say time flies when you're having fun and that couldn't be more true considering we're somehow already approaching the final week of regular season action in the Western Ultimate League. After seven weeks and 19 games, the final two matchups are set for this weekend, with three teams still in the mix for the postseason, decided by a single game. The Premier Ultimate League has its busiest weekend yet, as teams are getting their second, third, or fourth games in. We'll see how teams are developing and growing.
Results & Standings
WUL Results
WUL Standings

PUL Results
PUL Standings
East
Portland 2-0
Medellin 1-0
Washington DC 1-1
New York 0-1
Midwest
Indy 2-0
Milwaukee 1-1
Minnesota 1-1
Columbus 0-2
South
Raleigh 2-0
Nashville 0-1
Austin 0-1
Atlanta 0-2
Weekly Storylines
San Diego and Oregon Join Seattle In Postseason

With the WUL Championship Weekend just around the corner, three teams have secured their spots. Seattle Tempest will be the no.1 seed, thanks to their spotless 5-0 record so far. No doubt they'll be vying for another W this weekend against Oregon Onyx to claim a perfect season. Seattle has not only won every game so far, but they've generally done so in a decisive fashion, with only a single close game against Utah Wild this past weekend. And it's not just a single player carrying the team – Tempest has depth, relying on many different players throughout the season. Cassie Wong, Jamie Eriksson, Sam Rodenberg, Frances Gellert, Qxhna Titcomb, and Hana Kawai have all left their mark on the stat sheets, with many more players putting up consistent numbers week after week.
San Diego Super Bloom also recently locked in their spot in the Championship Weekend, with their only loss coming on the road against Seattle. Coming in on the preseason Power Rankings at #4, SuperBloom has put the doubters to rest week after week as they've rolled through their competition. Kelli Iwomoto had 68 completions this past weekend alone – from quick dishes to big hucks, defenders were having a hard time coming up with an answer to her play. Alex Diaz, Kaela Helton, and Kristen Pojunis have also caused problems for the opposing teams, with Pojunis leading the league in blocks by a wide margin. Even without Helton for two games this weekend in Utah, San Diego handed losses to Oregon Onyx and Utah Wild to finish off the regular season on a high note.
The final team already confirmed for Championship Weekend is Oregon, again coming from a low preseason ranking to be the no.3 seed in playoffs. They'll finish off their regular season at home, trying to deliver Seattle its first loss and further confirm their place is in the top four. While the results of the game don't impact playoff seeding, grabbing a victory would certainly give the Onyx with some momentum heading into the postseason. Onyx hasn't run away with any games, but even their losses were tight matches. Morgan Zajonc has put up impressive stats game after game, Aly Steinfield has given us several highlight plays, and Claudia Tajima has been the force on the field we've all come to expect.
Final WUL Playoff Spot On the Line
The fate of three teams will be determined by the results of a single match this weekend – Los Angeles Astra versus San Francisco Falcons. Right now, any of Astra, the Falcons, or the Sidewinders could clinch the fourth playoff spot, it all depends on who wins and by how much in San Francisco this weekend.
Here's the situation: Los Angeles currently has a 2-3 record, Arizona sits at 2-4, and the Falcons are 1-4. The Sidewinders regular season is done, so their record and their point differential against the potentially tied teams (+1) will not change. Tiebreaks are determined first by score differential amongst tied teams, then score differential against common opponents, and then it would move to many very specific tie-breakers that likely won't come into play.
The simplest outcome is that if Los Angeles wins, they take the fourth playoff spot. Where things get complicated is if Los Angeles loses to the Falcons this weekend, the margin by which they lose will matter. If San Francisco wins by four or fewer, Los Angeles will still clinch the fourth spot. If San Francisco wins by five to seven goals, Arizona will actually take the fourth spot. Only if San Francisco wins by eight or more will they secure the last spot in the Championship Weekend. After going 0-2 in front their home crowd, Utah Wild fell to 1-5 and will not participate in the postseason.
So the stage has been set for a fun last weekend of regular season play. Tune in to Astra vs. Falcons on Saturday, April 30 to find out who will take the spot in the playoffs and watch Onyx vs. Tempest on Sunday, May 1 to see two playoff teams go head-to-head.
Midwest Mess in PUL
It didn't take long for the Midwest division of the Premier Ultimate League to go topsy-turvy. Minnesota Strike entered Week 3 as the only team to have not played, and they certainly did their part to add some chaos to league with a 1-1 road trip. They beat the Pride in Ohio, thanks in part to the strong throwing of Rachel Johnson and a clutch reset block by Sarah Helm on Columbus' final possession. After upending Columbus, Strike left behind the frying pan for the equally difficult temperatures of the fire, a role played by Indianapolis as they visited the Red, only to leave with one goal loss for their troubles.
Air is perhaps the more relevant element than flame, however, as the windy conditions defined the matchup in Indy, and the home team's late upwind push was enough to secure them a second win. Strike, in stark contrast to the relatively long-tenured Indy side, showed some understandable inexperience in only their second game, botching an end-of-quarter opportunity that might have turned the tide. But giving up the game's lone upwind score was the true cause of their demise. Tracey Lo powered upwind throws and Anastasia Foster made some clutch catches to help set Red up for the pivotal score. A second-effort toe-in catch by Jalyn Baumgartner dramatically sealed the deal for Indy. Strike, on their final possession of the game, put together one of their most threatening upwind drives, but couldn't finish it in the end zone.
After the dust has settled, Red sits atop the division table at 2-0, while Columbus is surprisingly 0-2. Milwaukee, the preseason favorite, resides at 1-1 after a respectable loss to Revo in Colombia, and have to still be considered the biggest threat to take the top spot. But clearly there's some parity that should lead to excitement as the season rolls on.
Power Rankings
WUL
PUL
Highlight of the Weekend
Indy Red managed a late-game upwind score to take down the visiting Strike, capped off by this line-dancing grab by Jalyn Baumgartner.
WUL Fantasy Updates
Standings
It's a big weekend, but already, we are coming down the pipe towards the postseason:
Jomskylark – 709 (3)
Jesse C. – 689 (5* – Qxhna)
Carlos R. – 688 (4)
Corey A. – 676 (2)
Kat T – 673 (6)
Frankie S. – 664 (3)
Emma EF – 656 (3)
Steven M. – 644 (4* – Qxhna)
Fred – 642 (6* – Qxhna)
Teresa – 640 (5)
With just two games remaining, #1 and #2 stayed the same, and four of the top five (welcome back, Spencer T.) are the same. In order to let us look at what is really settled here, I've added in parentheses how any active players each entry has going into the week, with a star for those with a captain. (In all three cases of a captain, it is Qxhna Titcomb) With every team competing playing just one game, that will make this week more low scoring than last, with the best lineups in similar weekends scoring in the low 200s, not including the captain's bonus. All that is to say that it is certainly possible to make up ground.
There certainly is some lineup overlap. Seven of the top 10 has Titcomb, including three with her as captain, and all of the top three. Teresa, Frankie, and Emma are all hoping Titcomb is quiet, though anyone without her as captain might hope for the same. Claudia Tajima is the next most popular, with five selections, followed by Han Chen and Steph Lim, each at four.
Potential diffentiating picks? Fred's is the only top 10 entry rostering Jessie O'Connor. Steven M's was the only one to get to Morgan Zajonc. Frankie S. could get a big boost from being the lone Aly Steinfeld backer, as well as Aimee Kawai.
Could someone else break in? Of course. I don't believe there are many lineups loaded up with players and captains going this weekend, those Ellen R. (who has been in our top 10 and has been a weekly presence in Western Ultimate League's own fantasy game) does have Lim, Chen, a bunch of other active players, and 556 points, so who knows. I, myself, have four active players: captain Han Chen, Julia Sherwood, Shayla Harris, and Abbie Abramovich and currently am at 11th with 633, so not looking good for me, although having some unique players and a potentially high-scoring captain means there is a narrow path for me.
Top Scorers in Week 7
Here are the top-scoring players for the week:1
Paige Kercher (Utah) – 39 [16% rostered]
Jeg Cogburn (Utah) – 30 [12%]
Alex Diaz (San Diego) – 39 [42%]
Kendra Miller (Utah) – 33 [6%]
Kristen Pojunis (San Diego) – 30 [19%]
Jess Olsen (Utah) – 30 [1%]
Molly Robbins (Utah) – 30 [4%]
Sarah Staller (Utah) – 30 [6%]
Cori Bigham (Utah) – 27 [28%]
Kyra Khoroujnikova (Utah) – 27 [14%]
There's a saying among fantasy sports nerds that applies to football and basketball: volume is king. And Utah got in three games in one weekend, making for lots of volume for their roster. Shout out to Alex Diaz and Kristen Pojunis for cutting through! Paige Kercher dialed up three or more assists in every game, while a number of other players had a big game or two in the trio.
Top Scorers Overall
Jade McLaughlin (Arizona) – 99 [12% rostered]
Dena Elimelech (Los Angeles) – 84 [80%]
Kristen Pojunis (San Diego) – 74 [19%]
Morgan Zajonc (Oregon) – 74 [1%]
Kaela Helton (San Diego) – 72 [71%]
Avery Jones (San Diego) – 69 [12%]
Maggie O'Connor (Los Angeles) – 69 [9%]
Aly Steinfeld (Oregon) – 63 [3%]
Lindsey Doyle (Arizona) – 60 [2%]
Han Chen (San Francisco) – 60 [26%]
Will someone take down McLaughlin or Elimelech? It looks a lot like the game's most popular pick will finish first in points, with one game remaining for Elimelech. Zajonc would need a big game to get there, but with her ability to heap goals onto her totals, it isn't out of the question.
Up Next
Western Ultimate League
Los Angeles (2-3) at San Francisco (1-4)
Seattle (5-0) at Oregon (4-1)
Premier Ultimate League
Washington DC (1-1) at Minnesota (1-1)
Columbus (0-2) at Indy (2-0)
Columbus (0-2) vs. New York (0-1)
New York (0-1) at Indy (2-0)
Nashville (0-1) at Raleigh (2-0)
Washington DC (1-1) at Milwaukee (1-1)
---
Does not include players who were not rostered. ↩