After competing in their first-ever college series last fall, the new program has qualified for nationals less than half a year later.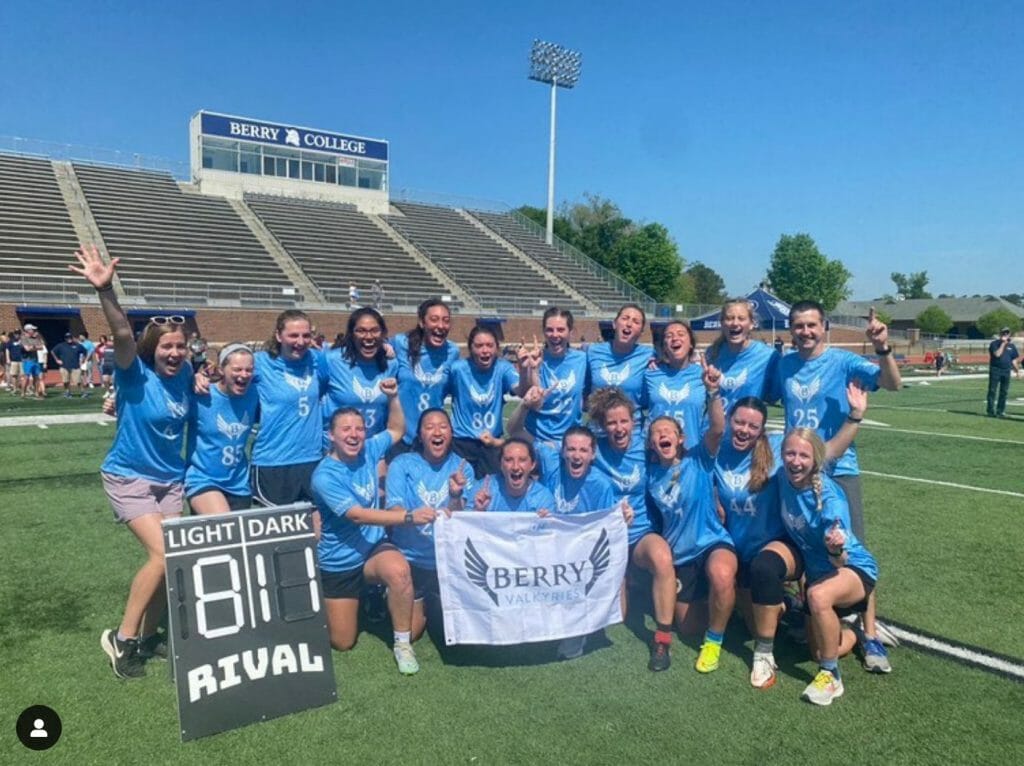 There's an ever-present question that every college program faces when it decides "we want to go to nationals this season." How do you meet that goal?
That's an easier question to answer at an established elite program like a North Carolina or a Colorado, as they have years of experience gunning for and reaching a high bar on season-long goals. A big school is going to have a larger pool of students to recruit from, and many already have a core of youth players who've been developing their skills since middle school.
D-III teams have to be more creative, to build on the passion of individuals who just don't want to stop playing sports after high school, and work as hard as the blue-chip teams to build long-term institutional support.
Berry College is sending teams in both gender divisions to nationals this season. That's a pretty remarkable achievement on its own – only 10 schools in the country managed that feat – even more so when you consider the context of the last couple of seasons. COVID aside, Berry sent their first team to regionals in just 2017 and their women's team competed in their first-ever college series during the abbreviated 2021 fall season. In the case of the Valkyries,1 the foundation for building a team of their own was laid by three players practicing with the men's team.
"Before a women's program existed, Malia Ellard, Stahr Stembel, and I practiced with the men's team," recalled Berry captain Kendel Holan. "Stahr had been playing ultimate since middle school but Malia and I were completely new to the sport. Malia and I both played sports in high school and missed being part of a similar community. We thought that if we felt this way, then maybe other women at Berry did as well."
"Playing with the ladies who started our women's program was a really encouraging time," said Berry men's captain Walter Ellard. "It was awesome to see them like ultimate enough to keep sticking it out even when there were only three women at each practice. They worked really hard at improving even when there were no tournaments or a team to train for. They've set a great example of leadership for all of the newer players who have joined the program they started."
A central piece of building a women's program at Berry was getting buy in from alumni coaches. Morgan Dale, who competed with the women's program when it was an unsanctioned club in 2014-2016, shares head coaching responsibilities with Cori and Robert Bradham who have been coaching Berry's men's program together since 2019. The closeness of the coaches to the program reflects the closeness within the culture of the small college.
"At Berry, we all say we live in the 'Berry Bubble,' and that shines through in how close we are to our coaches and to each other," said 2022 Valkyries captain Hannah Tritschler. "We are such a tight-knit school, which means we are an even tighter-knit team, and that is just so special."
The closeness described by Tristchler makes organizational responsibilities for the club – like booking fields, or organizing logistics for tournaments – surprisingly easy. It also gave the club the institutional legs to withstand a pandemic. COVID hit right in the midst of the women's team's first sanctioned season. With no competition and no guarantees of exactly how ultimate would materialize in the stuttering nature of the crisis, the team had to re-imagine its purpose.
"I would never want to say COVID was a good thing for the women's program, but being forced into a situation that had no option for competition allowed a slower build into enjoying the fun side of ultimate," reflected coach Cori Bradham. "Once we could start to compete against other teams again, I felt there was almost a craving for that competition by a core group of women. Obviously not everyone was as patient with that so we lost many talented players, but for those that stuck around it was really fun to see them get a chance once COVID restrictions started to ease up."
The hunger to compete again saw Berry competing at its first nationals qualifying event in the Fall 2021 series. In the three-team round robin, Berry fell meekly to eventual regional champ Union College 14-6 but managed to notch a tight 9-8 win over in-state rival Georgia College.
The fall Series left the Valkyries hungry for another chance to earn their way to nationals. During the winter and spring, the team's commitment and focus shifted towards building more discipline with practice attendance and skill development. The team created throwing pods and found opportunities for extra workouts.
"Before this season it was not uncommon for a third of the team to miss practice at a time," said Tritschler. "But the whole attitude of the team shifted. As our team gained new faces, we began to kind of divide practices to allow newer individuals to establish foundational skills while the returners would fine-tune old skills and develop new ones. Our coaches were integral to the organization of our practices and were constantly introducing new drills to tweak our skills."
The standards of the coaches also shifted the commitment level of the team. Rather than letting mistakes slide, the coaches stepped up their feedback. Building a strong foundation of skills and on-field systems put Berry in a realistic position to compete for nationals in the Southeast. Without a deep field to overcome in the region, this approach made the most sense for the new program.
"The coachability of this team sets this program apart," said coach Morgan Dale. "These players listen and truly buy into what we say as coaches. They make our jobs very easy. They also are a team in the truest sense of the word team where they want to see each person succeed. There are no egos on the team that we have to worry about."
The team-centric, systems-oriented culture on Berry gave the Valkyries the foundation they needed to come out ahead of Union in the Southeast Conference this time around. The 11-8 win, hosted at Berry's own fields, was a fitting atmosphere for the team's first-ever nationals qualification.
Not many programs have the good fortune to compete at nationals so soon after starting. In the case of both Berry teams, the turnaround between becoming sanctioned teams and nationals qualifiers has been pretty swift.
The program has been doing a lot of development the right way. The payoff speaks for itself. Nationals is a new beggining for the Valkyries, an opportunity to show who they are on a big stage, and begin building towards an even bigger competitive vision for the team.
"I would love for this program to keep drawing the level of athletes we had come out this year," said Dale. "I want this program to be able to sustain itself once our core group graduates. Honestly this is just the beginning for our program. We have an opportunity to bring more recognition to the Southeast region along with Union who have an incredible program."
---
Berry's women's program ↩