One bad half wasn't enough to spoil Middlebury's day.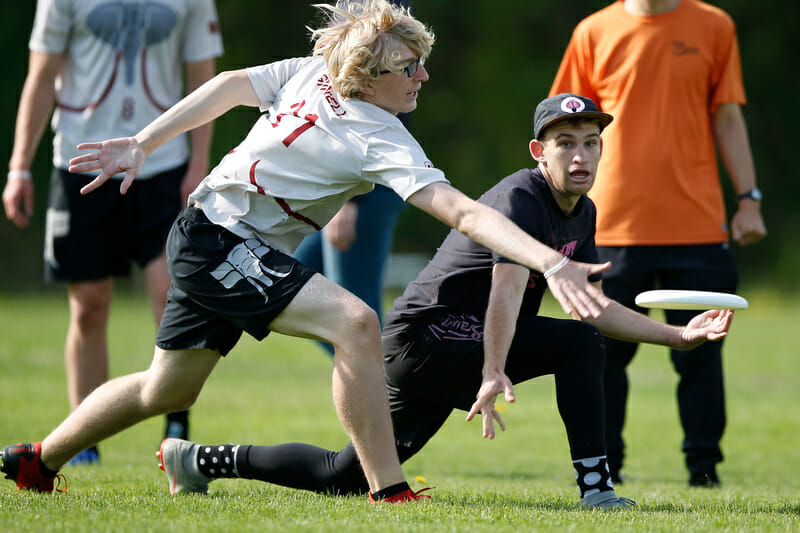 Our coverage of the 2022 College Series is presented by Spin Ultimate. Please support the brands that make Ultiworld possible and shop at Spin Ultimate!
It was expected to be an easy jaunt through pool play for reigning national runners-up Middlebury, but Claremont gave them a fight. The two otherwise took care of business to remain atop the pool, though another bottom-of-the-pool upset sends Grinnell to the bracket and Pacific Lutheran to consolation.
Middlebury Pranksters Win Pool B Despite Minor Hiccup
The #2 Middlebury Pranksters went 3-0 in pool play today and have a bye to the quarterfinals on Sunday. In their first two games, Middlebury handily beat Pacific Lutheran and Grinnell 15-5 and 15-8, respectively. Their third game of the day was against Claremont Braineaters, where they trailed at one point by four goals. Middlebury would eventually come back to win this game 15-11.
In the early games, the Middlebury stars took limited reps. To be sure, Walker Frankenberg and Leo Sovell-Fernandez got theirs, looking solid on their lines without ever needing to cross over or overexert themselves. Frankenberg did a great job of cutting up zone defenses with his throws over the top of the cup. Another standout player was Max Chaflin-Jacobs, who was able to earn this disc back after turnovers — sometimes on the next pass after a turnover he just committed.
It wasn't all smooth sailing for the pool's top seed, though, as Middlebury went down early in their final round game against Claremont. The Braineaters took half at 8-4, which stunned most of the field. Would this be the unseen upset for Pool B? Unfortunately for fans of chaos, it wasn't meant to be. Middlebury threw a zone out of half and notched four straight goals to get back within one. With the momentum firmly in their corner, it was all Middlebury's game from there on out, and they win the pool in a commanding fashion.
The next game for Middlebury will be a quarterfinal against the winner of Oberlin and Williams. Both teams should be a comfortable enough matchup for the Pranksters, and if they play as they did in the first two games of pool play or the second half of the Claremont game, the reigning national runners-up should manage their third consecutive trip to the semifinals.
Claremont Braineaters Come Close to an Upset
Much like their seesaw matchup with Middlebury, it was an up-and-down day overall for #8 Claremont, whose 2-1 record wasn't quite as straightforward as it looks in the rearview mirror. The opening game against Grinnell immediately exposed some minor flaws in Claremont's game. The Braineaters came out flat in Round 1, which coupled with underestimating Grinnell's deep game, lead to some early struggles and left them trailing the Grinnellephants at half.
"We have always had problems with coming out with low momentum," said fifth-year Logan Stouse. "It tends to kind of wreck us in games in general."
Claremont battled back in the second half, however, scoring three straight shortly after halftime to turn the tide, then breaking again on game point to pick up a 15-13 win. By the start of the second game, the switch had fully been flipped. The game against Pacific Lutheran went much more to script, with Claremont's defense going on runs in each half, including scoring the last five points of the first to pull away. They never let Reign close the gap and cruised to a 15-8 victory.
"We really pulled it together. We had super effective and dynamic swinging and handler movement," Stouse said. "We also played everyone on the team that game," added August Cosinuke.
A standout in these first two games was Samin Zachariah, who knitted some crafty throws through zones to punch in much-needed holds in the Grinnell game.
The growth through the first two games bled into a hot start in their third and final game of the day. Claremont were in position for a shot at a big upset, playing their game to perfection to take an 8-4 halftime lead against Middlebury. Out of half, things began to unravel again, as the Braineaters were unable to keep up this pressure and fell behind quickly to lose the game 15-11. It was a disappointing end of the day, which coach Alex Rubin acknowledged after the game, understanding that they let a golden chance to win the pool slip through their fingers and putting the loss on themselves more than Middlebury, even though the Pranksters are obviously a very talented team.
But there is no time to wallow at Nationals and Claremont faces Scranton Sunday morning in pre-quarters. If they win, they would advance to face the tournament's top seed St. Olaf. Claremont has demonstrated that they will learn from every game and grow for the next one. If this trajectory continues, the Braineaters may be a dark horse semifinalist pick on Sunday.
Grinnell Grinnellephants Make Bracket
The #23 Grinnell Grinnellephants kept their season alive with a 15-13 win over Pacific Lutheran Reign. This capped off a successful first day for Grinnell after a string of respectable losses. They dropped the first game 15-13 to Claremont and lost 15-8 to Middlebury in the second round. In both games, they played their higher-seeded opponents tight and made some impressive individual plays.
Jacob Cowan was making plays for the Grinnellephants all over the field on Saturday; defenders had lots of trouble slowing him down, as he is crafty enough to get open in the handler space and tall enough to contest shots downfield. Donovan nominee Jo Saito was another impact player for Grinnell on Day 1, especially in the first game against Claremont as the North Central runners-up chased an upset. Finally, Alex Hecht was a huge asset on offense; when the Grinnell offense was looking slow, they would take control and launch a huck downfield. And if the huck didn't work out, they were able to flash poaches in the lane to get the disc back.
Grinnell's final game against Pacific Lutheran was a slog in the wind. Conditions started to get worse at the end of the day, which meant that teams started to rely on zone defense. This was the tale of the tape for the whole game against Reign. Neither team altered their defensive style, so whoever could last the longest, and turn the disc least, would end up winning. This time, it was Grinnell, though the margin was slim. They advance to pre-quarters to face Berry on Sunday morning. Keep an eye on two big stat leaders for Grinnell, William Norry and Ishai Melamede, to contribute as best they can in bracket.
Grinnell has already demonstrated they deserve to be here and are not just the stand-in for CHOP. They have another great chance to play some fierce competition in the bracket and may just upset a top team to extend their season even further.
Pacific Lutheran Reign Take an Early Exit
It was a first day to forget for #17 Pacific Lutheran Reign in their first-ever Nationals appearance, as they were unable to win a game today and drop into the consolation bracket on Sunday.
Reign dropped their first game to Middlebury 15-5, and their second game to Claremont 15-8. The nail in the coffin for Pacific Lutheran today was the 15-13 loss to Grinnell. The zone-heavy game proved too much for Reign, as they turned over the disc too many times to string together the points needed to win.
While the Grinnell win could be considered an "upset" in a seeding sense, Reign never really looked like a solid enough team to make it into the bracket. They had some strokes of brilliance against Claremont. Their zone generated a block every now and then. But the enemy of opportunity was inconsistency, and there were never enough converted chances for Reign to win.