Just how stratified is the women's division in Cincinnati?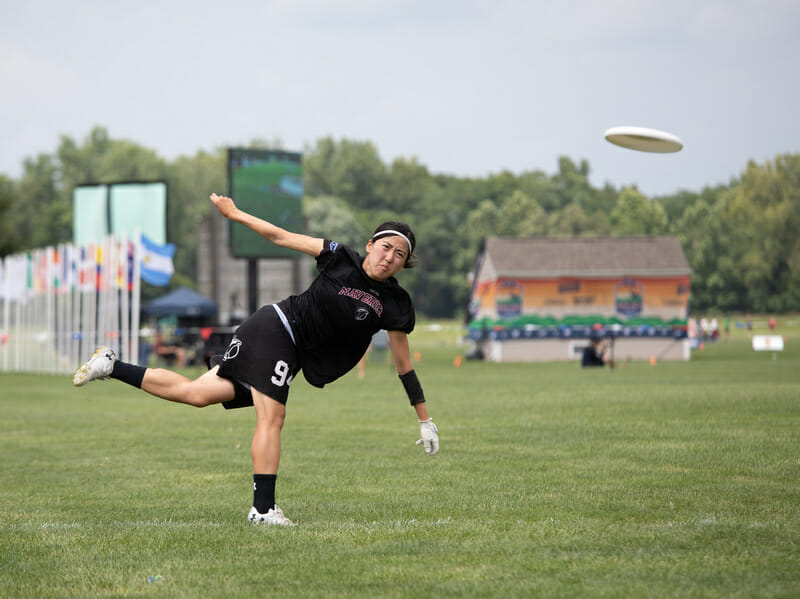 LEBANON, OH — Day one of the women's division at WUCC saw several expected results, but also some surprises. Daniel and Claire break down the biggest storylines of Sunday, and what they could mean for the rest of the week.
Riot Crashing
The two-time defending WUCC champions Seattle Riot (USA) had not lost a game at this tournament since the semifinals of the 2010 iteration in Prague. That winning streak did not make it two rounds into play here in Cincinnati, as they were absolutely rolled by Melbourne Ellipsis (AUS) in a truly shocking performance.
Riot did not start the day particularly well, going down 8-6 to the Auckland Blueberries (NZL), Pool F's bottom seed coming into the day. Seattle did rally in that game to win 15-13 against the impressive Blueberries, but they looked a far way off from the Riot we're used to seeing on this stage.
It would have been easy enough to write off the opening round performance, for any number of reasons: they were playing at 6 am their time, it was simply early tournament rust, they underestimated the Blueberries before the start, etc.
But then the Ellipsis game happened. And frankly, Riot looked completely outclassed. Traditionally, Riot finds themselves on the other side of 15-3 results in pool play at Worlds. But it was apparent immediately that Riot was simply not on Ellipsis' level.
It's probably not possible for a game that finishes 15-3 to be an unfair score line for the losing team, but in this case it certainly wasn't. Riot struggled to string passes together, while often offering virtually no resistance on any Ellipsis possession. The Australians scored seven times before Riot finally crossed the goal line, and they even had one more break chance that could have completely shut out the Seattle club in the first half. While there were some bright spots for the title-holders in the second half, they were too few and far between to ever close the gap — or even prevent it from ballooning further. In fairness, many would have considered Ellipsis the favorite going into the game due to the two teams' performances earlier in the day, but to see such a lopsided result truly was astonishing.
This is clearly a very different Riot team than the last time they competed at WUCC and a step back from being a true contender for the tournament was expected. This is a young group without a ton of experience at this level and the team's focus going into the week reflects that.
"There's so much for us to learn from that game," said Val Pinillos, who is one of many players making their first WUCC appearance with Riot this year. "I felt really happy with our community care in that game and our self care in that game. And I think obviously there's things to learn…but I think we were prioritizing playing with joy and playing with each other and I think that is a plus for us. And I think moving into the next couple of games this week, we can continue to focus on effort and excellence, playing really gritty and just enjoying the grind."
The team took plenty of time and care to process the defeat in a way they hope will be healthy and beneficial to the team's long-term growth as well as its improved performance for the rest of this week. "I think in the aftermath of the game, we're giving each other and ourselves the time and space to feel what we need to feel about the game and then recognizing that it's never fun to have a score line like that," said Pinillos. "We're not pretending that it is, frankly, but focusing on the growth aspect. We're here to grind with each other and if there is no difficulty, then what's the point?"
If there's a bright way to look at Riot's performance on day one, it's that it left a lot of room for growth. Their roster on paper isn't what it was four year ago, but it's also a lot stronger than it showed today. But Riot also has never been dealt such a shock to the system quite like this before. It will be as fascinating to see how they respond to it going forward as it was stunning to see them defeated in such a manner.
Ellipsis' Ascendency
On the flip side of Riot's poor display lies Melbourne Ellipsis' roaring sprint into true contender status. Riot did not play anywhere near their best game, but Ellipsis was as ruthless as only the best teams are capable of being.
They're much deeper than their six Australia World Games players, with 21 players recording at least one goal or assist across their two games and no player posting more than three total in either game. They play sound, punishing ultimate, and are equally capable of making every highlight real play as they are marching it methodically down the field.
"We're going for gold," said coach Steve Wright after the game. "I think we demonstrated today that we're a genuine threat. And what happens down the power pools, down the brackets, who matches up on who, we're not thinking about that yet. We're just going to take it one game at a time, but that is the explicit goal."
It remains to be seen whether or not Ellipsis are true gold medal contenders, but they did certainly look like they're on pace for at least a run to semifinals if they continue to play as well as they did today. It wasn't just the one game of dominance from Ellipsis either, as they dispatched Winnipeg Fusion (CAN) with similar efficiency in their opening game. And based on Fusion's subsequent 15-8 victory over La Septima (COL), that result didn't come against a bottom dweller of the field.
But Wright doesn't think the team has hit its peak yet, either. "I think we've got a little bit left in the tank," he said. "There's a couple of things we didn't do today, knowing that we're on the stream. And so I think there was no need to pull them out…also probably personnel wise, we didn't really need to tighten lines very much."
Wright also highlighted some specific areas where the team could clean up its performance. "Certainly there were some points of offensive flow that I think were really clean but there's still some turnovers from the O-line that I think we could probably clean up," he said. "There were some long, grindy points where I love the D-line's intensity, but probably just needed to put it away earlier and better things will just get it and put it in the next time around. So there's definitely stuff to work on. But in terms of the week at hand, every team here is looking to build through the week and this is a pretty damn good foundation."
It still feels surreal that Ellipses trucked Riot in the way they did. And maybe in a way that means it's difficult to extrapolate just how good this Ellipsis team is from their results on day one. But question marks over the true difficulty of their tests to this point aside, Ellipsis emphatically passed the eye test as a team that will be a real challenge for any opponent here.
Japan: Unified in Superiority
For as impressive as Ellipsis looked today, they weren't the only representatives from the Eastern hemisphere who put in a fantastic performance in the tournament's opening days. Following Tokyo MUD's upset of Vancouver Traffic (CAN) in the opening showcase game yesterday, all but one of the four women's teams from Japan went undefeated on their first day of pool play. The exception was Tokyo HUCK's expected loss to Boston Brute Squad (USA), but even that game was far from a blowout, with HUCK putting 12 on the board before Brute hit 15. Japan's collective performance was solid all around with full team contributions and smart decision-making, something many of their opponents noted while debriefing after the game.
A third Japanese team Swampybarg beat Halifax Salty (CAN) by a comfortable nine-point margin, and while their margin against Chicago Nemesis (USA) was slightly closer, they achieved nothing short of a one-sided victory there as well, finishing 15-10. Swampy are the reigning national champs in Japan and looked the part today. Despite having no World Games players on their roster — unlike the other three Japanese teams — Swampybarg doesn't feel as though they are at any sort of disadvantage, utilizing contributors across the roster. "There were some players who were invited to the tryouts for the World Games [who] thought that this year on Swampybarg was really important," shared Minori Yahata. "They decided to choose Swampy instead of world games [so] we just want to make them feel that they chose the right decision. That makes us work harder." Swampy plays with focus and intention as we saw today, a team to surely challenge opponents while creating a positive spirited environment.
MUD and Tokyo Mavericks also looked strong today, winning almost all of their games by 5+ point margins. Only Berlin jinX (GER) — stacked with impressive World Games talent of their own — came close, taking Mavericks to universe in a gritty game with lots of contested calls, but the Japanese pulled out the stops they needed for the win. In their one game today after taking part in Saturday's showcase piece, MUD comfortably eased past London Iceni (GBR), punishing the many unforced errors surrendered by the English en route to a 15-9 win.
HUCK made Brute Squad work for their win, but Boston ultimately reminded us why they are the overall no.3 seed, and got the job done, even if sloppily. In their first game of the day, HUCK beat Florida Tabby Rosa (USA) rather decisively.
Besides representing the same country, these four teams are similar in both play style and actual style on the field. Most players on any of the Japanese teams can be seen rocking a signature look consisting of tinted sport performance sunglasses, Nike caps, and neck gaiters. These teams are far from synonymous though, each bringing their own strategies, mental approaches, and team dynamics to the field. In all, the eight games we have seen so far from these four teams remind us Japan is not to be underestimated as the tournament moves forward.
Untested Top Dogs
Extra extra, read all about it: none of the powerhouses surprised us in day one of pool play. Okay, so maybe not the type of news to earn a banner headline, but San Francisco Fury (USA), Medellin Revolution (COL), Raleigh Phoenix (USA), Brute Squad, and Toronto 6ixers (CAN) dominated as expected, all going two for two. Aside from the close game between Boston and HUCK, no team managed to post more than eight goal on any of these top seed, most opponents not even achieving that watermark.
Both Fury and Phoenix looked unquestionably strong, displaying pristine athleticism from the get-go. San Fransisco kicked the day off with a 15-4 win over jinX and squashed Mexico City Malafama (MEX) in their next round. Their three Worlds Game gold medalists — Opi Payne, Carolyn Finney, and Kaela Helton — showed no signs of burn out and chemistry was flowing across the Fury roster. Both victories were obtained efficiently and well before time was called, leaving us to wonder what Fury did with all of their extra free time. Pool party, perhaps? Phoenix, out of North Carolina, soundly defeated Dublin Gravity (IRL) by 10 and London SYC (GBR) by 11. Phoenix nearly beat Fury at 2021 Club Nationals in the semifinals, and judging by their respective performances today, these teams are top contenders for a chew-your-fingernails-off rematch down the line, whether in Cincinnati or with another domestic championship on the line. With well-seasoned vets like Sarah Meckstroth, Kami Groom, and Jesse Shofner supplementing the existing stable the young talent on Phoenix, there is an exciting week ahead.
Revolution looked uncharacteristically tired today, likely a result of the suffocating heat — not to mention the hefty chunk of the roster that represented Colombia at the World Games, as well as pickups Levke Walczak and Mish Phillips for Germany and Australia, respectively. That cohort may not have gotten as much of a recovery as they'd have liked before diving into WUCC. However tired, there was no question at any point today that Revo would win both of their games comfortably. That's exactly what they did, first beating Pittsburgh Parcha (USA) 15-8, then Bern FABulous (SUI) 15-6.
The Canadian 6ixers held their own despite missing some usual big names on their roster. They kicked off the day with a win over Spanglish (VEN) 15-3, followed by another over Noisy-le-Sec Yaka (FRA) 15-8. They have held the title as the top Canadian team for the last few years, but are one of the more unpredictable storylines amongst the leading teams.
Brute Squad defeated Seagulls Hamburg (GER) much more decisively (15-6) than they did HUCK, their first round game.
For now, the top dogs are untouched, but that can only remain the case for so long.
Other Fun Things We Saw Around the Fields on Day One
The Blueberries singing a Maori song after their defeat to Riot about love, peace, and being together.
Kaity Williams of Spanglish howitzering a full-field huck straight up the middle of 6ixers' zone defense perfectly over the top of the deep defender and into the hands of her sprinting target in the endzone — with the appropriately bemused reaction from the somehow beaten Toronto defender as the cherry on top.
Phoenix's Austin Prucha's humongous layout and off-hand grab just in bounds of the sideline to cap their 15-4 romp over SYC.
Susanna Casarini exploding for a huge layout block against Dublin Gravity to virtually no reaction at all from any of her CUSB Shout (ITA) teammates. They must see her do that all the time.
The completely fearless huck from Ilse Maldonado of Malafama — who finished the game with 7 assists — against Nottingham Spice (GBR) right up the middle of the defense with game tied at 12-12 and in an increasingly tense crescendo. Of course, it was perfectly weighted and led to the hold for a 13-12 lead.
Halifax Salty and Nottingham Spice breaking to win on universe in their games against Box Vienna (AUS) and Malafama, respectively.
jinX's Simona Lieberth had some beautiful full extension layouts, one of which tipped the disc to teammate Annika Prien in the end zone, but Mavericks still won on universe a few points later.