The Auckland Blueberries are making the most of their first trip to WUCCs.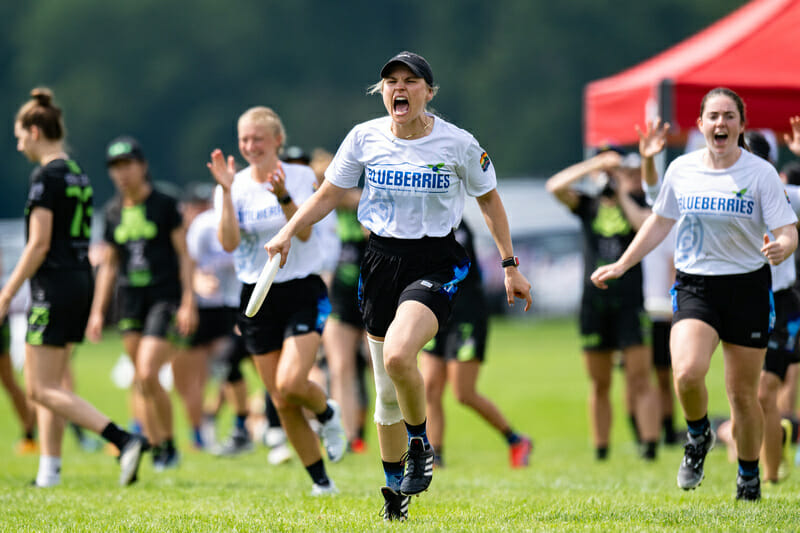 The Auckland Blueberries (NZL) not only have the best team name of all 128 attendees at the 2022 World Ultimate Club Championships; they're making the program's WUCC debut as well. And like many teams who are making their first WUCC appearance from a non-ultimate power such as New Zealand, they haven't put together a perfect tournament so far. But through the bruises and imperfections, they've had sweet, shining moments as well and have made an impression greater than their 1-3 record in Pool F would suggest.
Opening Statement Performances
The Blueberries came into the tournament as one of the bottom-seeded teams but in their first game they took half against the two-time defending WUCC champions Seattle Riot and were deserved leaders based on their performance. The Blueberries looked more athletic than their American counterparts at a lot of times – not something many non-American opponents of Riot have been able to say over the years – and never looked smaller than the moment.
Their offensive execution was not enough to hold onto the lead through the second half, but they never looked overmatched against Riot. Even if Riot's shocking demolition by Melbourne Ellipsis (AUS) in their second game took a bit of sheen off of the Blueberries opening performance, it was still one they could hang their hats on going forward.
"We came into this game being realistic," said captain Kelly Carter after the 15-13 defeat. "We're bottom of the pool, they're top of the pool, we don't know what to expect…So we came in taking it one point at a time, and thinking every small success we're gonna celebrate and actually we had some big successes as well."
A blowout 15-4 victory over La Septima (COL) – the Blueberries first win in WUCC history, as a few of their players shouted to the rest of their teammates after the spirit huddle – cemented the Blueberries as a breakout story on day one of the tournament.
Hanging tough with Ellipsis to start day two only further added to the team's run of overachieving play. They didn't quite have the depth of skill to string together the necessary D-line offensive possessions to convert breaks at a high enough rate to come back and beat the Australian champions, but again they did not look overmatched by the team that was the story of the tournament just the day before.
It was as impressive a start as a 1-2 record realistically could have been, especially for a New Zealand team making their WUCC debut.
Disappointment
A blowout win over the pool's No. 3 seed and two impressive showings in defeat against two of the tournament's top 10 seeds had Blueberries looking like a potential Cinderella story, but also bestowed upon the team something it perhaps didn't have before: expectations.
In their final pool game against Winnipeg Fusion (CAN) the Blueberries didn't find the same success they had the rest of the weekend. Their offense didn't click as well, their zone defense was resolute but didn't generate as many shortfield or fastbreak break opportunities as it had, and despite leaving everything they had on the field, they couldn't find a way to claw back from a mid-game deficit and dropped the game 13-10.
It was only the final pool play game, and with their earlier win over La Septima, Blueberries had already guaranteed that their hopes of making the bracket were still alive regardless of the result against Fusion. And yet after Fusion scored the game-winning goal, several Blueberries broke into tears.
"After the Riot game it kind of felt like we could have taken it to them a bit more, and then just looking at score differentials, we really hoped we could have taken this one," said captain Janelle Simpson after the defeat to Fusion. "It's hard and some players will always take it harder than others, but part of our culture is you have to take each point and each day as it comes and playing frisbee is continuing growth [and] experience, you just try and be yourself and if you focus on the good things that happened it can be easier to reset."
But it was clear what a win against Fusion would have meant to the Blueberries. And it was the first time that it really felt like the Blueberries didn't come close to putting their best foot forward, at a time when they were really looking for a self-affirming victory.
Getting Here
Just getting to this tournament was the fruit of a project five years in the making. "Five years ago, when Chicks won the bid from New Zealand to go to Worlds, I sat down with Blueberries and was like, 'Guys, we could do this. It could be a whole lot of fun and really build the club' and five years later, we're here," said Simpson.
The Blueberries spent those following years building the program from a core group of players who bought into the vision and committed to the program for the long haul. And having never finished higher than fifth at New Zealand Nationals prior to the WUCC qualification year, they earned the bid to come to WUCC.
Training camps and a test run at Australian Nationals, where they finished third, were the final stages of preparation for the team, but most of the team's growth over the years were borne from an internal grind.
"It is so tough to find that sort of competition being all the way down under," said Li Yeoh, who helped coach the team leading up to the tournament and is here playing with the New Zealand-based open club Wildcats. "Aussie [Nationals] is our best bet most of the time, but it's just honestly like a self-driven competition that we try and do as much as we can within ourselves. I think the New Zealand Ultimate program has been doing really well at growing that. We've been looking to drive that competition within ourselves."
Even when the Blueberries weren't necessarily finding results to help reaffirm their lofty goal of making it to Worlds, they were able to turn those disappointments into further fuel for their mission. "Your worst enemy is yourself, you know, in terms of trying to find that improvement," said Yeoh. "I think Berries are a really good way of doing that. I think they show that when they play nationals, they often are the hardest on themselves and they go away and they work at it and they've been getting results."
Those results now all trace back to Simpson's initial goal five years ago and the buy-in and commitment she was able to get from her teammates. The Blueberries, and especially Simpson, don't seem to take any of that for granted. It's present with them even while they play games here now five years after the project started.
"I had buy-in five years ago from the team that this was what we wanted to do. After that, it's just finding more people who are really willing to commit funds and time and grow together and think, focusing, focusing on that team culture of positivity, and growth means that like you want. You want to hang out together as well, and you want to keep buying any season even when seasons don't turn out how you want them to," Simpson said. "You just look for that long-term improvement. We're not looking to go from turning up at world's, to winning Worlds. We're looking at moving from the 38 seed to higher than the 38 seed and just taking each game as a gift, because we've come a long way to be here. And we just want to show the world what we can do."
Meeting The Blueberries
The team now does have a handful of impactful American pickups. Erynn Schroeder has been a focal point of the O-line and Vivian Chu and Rachel Johnson have been D-line anchors. But the Blueberries have not played as well as they have because they picked up a bunch of American ringers.
Zoe Risner is a long, speedy deep defender who would almost certainly lead the division in blocks if the stat were being tracked at the tournament. Ellipsis, in particular, learned that you should probably just never throw it deep when Risner is on the field.
Zaria Ireland is hyper-athletic and plays with the confident composure and disc skill of the most enjoyable-to-watch ultimate players you can think of.
Meg Lake Armstrong helps anchor the backfield with the likes of Simpson and fellow captain Kelly Carter and leads the team in assists.
Kate Charlesworth is a workhorse deep cutter and Melody Yong is a speed demon in the team's zone wing and bides her time perfectly to make interceptions on seemingly open upline throws.
The Blueberries have certainly been given a boon by the addition of their American teammates, all of whom have previous connections to the team.1 But they aren't a team that has headhunted its way to its successes this week. And plenty of their year-round players have shown out this week and been pivotal to the team's brightest moments.
They play with a team identity, as well, and that includes the players they added for this week. Their zone defense, in particular, has been a stone wall at times, with impressive determination and commitment from all levels of the defense. At points against Fusion, they held resolute in the red zone for what must have been at least three minutes before finally getting a block.
They play with personality and commitment to each other and have more than enough highlight level playmakers to excite any ultimate fan. More than anything, the Blueberries are truly fun to watch.
The Rest of the Tournament
Of course, the team would like more than just their lone win to go along with being one of the moral victory darlings of the tournament. They play in Pool O on Tuesday against Ottawa Stella (CAN) and London SYC (GBR) and if they can find something closer to the form they showed against Riot, La Septima, and Ellipsis, then they should have a great chance of winning both of those games. If they can manage that, the round of 32 would be next.
"A couple of wins would be nice," Simpson said as she laughed. "But we've got a mentality where, if we don't come out on top in a game, we want it to be because the other team beat us, not because we lost…Those are the kind of games we want to play, where regardless of the result, we know that we did everything we could and so as long as we keep doing that and it'll hold us in a decent state at least for the rest of the week."
Simpson admitted that the Fusion game was probably a combination of being beaten by a good team and beating themselves a little bit, but she also took confidence from the fact that they really did play well against two good teams in their losses to Riot and Ellipsis.
The Blueberries have already proven that they very much belong on this world stage. And based on their breakout performance in pool play, they aren't done showing the world what they can do just yet.
---
Lake Armstrong studied abroad for a year in New Zealand and Chu, Johnson, and Jenn Collins were high school teammates of Lake's. ↩