What will be the pools and games to watch on Tuesday?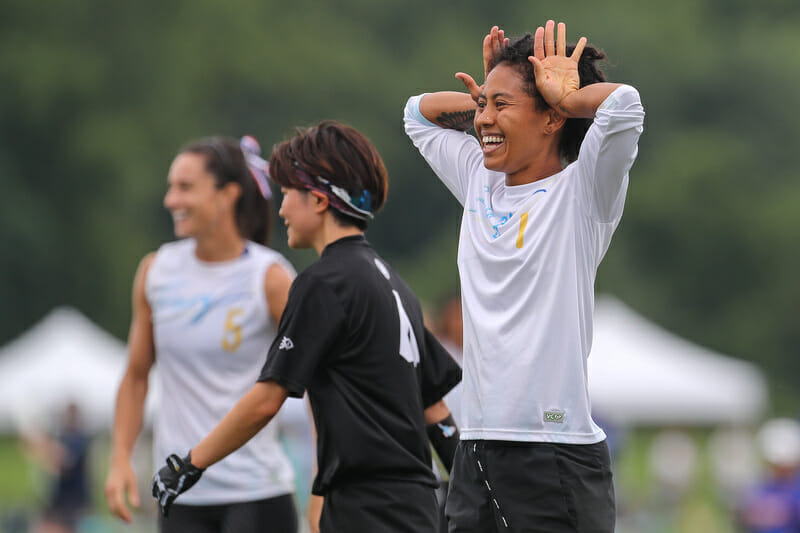 LEBANON, OH — Two days down. Five to go. At the end of day two, Power Pools have been formed and we are creeping toward increasingly competitive games. The teams that finished top two in their pool at the end of Monday are sorted into four power pools that will hash it out on the pitch on Tuesday to see who makes the championship bracket. Even though the top squads to watch have been narrowed to 16, there is still an overwhelming amount of ultimate happening.
Before the focus shifts to Tuesday, Monday saw some moments worth debriefing. The theme of pool play was that bottom-seeded teams tend to produce the closest games with a higher likelihood of unpredictability than the undefeated big shots. Bristol Women (GBR) and Quebec Iris (CAN) were an even match, pushing each other for much of the game, but the Canadians pulled away in the second half for a 14-10 win. World Games star Levke Walczak's former club team, the Hamburg Seagulls (GER), seemed to be doing ok without her. They had a tight game with Tokyo HUCK (JPN) who led for a decent portion of the first half, but couldn't keep up with the Seagulls when they started utilizing the deep space and upping the defensive pressure. Another bit of semi-shocking from Monday was the first-half strength of Tokyo Mavericks (JPN) in their game against the untouchable machine that is San Francisco Fury (USA). Mavericks came out strong scoring the first point. Their speed and aggression was enough to stall Fury from taking off until half, only down by two, in position for a not unrealistic comeback. Unless, that is, you're playing the soul eaters that Fury are for most of their challengers, which Mavericks were unfortunately.
The frontrunners — including Fury, Medellin Revolution (COL), Raleigh Phoenix (USA), Boston Brute Squad (USA), and Toronto 6ixers (CAN) — lengthened their list of victims today, all remaining undefeated. The 6ixers had a competitive game with Colombia's Aerosoul, but emerged victorious 14-12. Other than that, blowouts and big athleticism continue to be the theme for the top five seeds. Games moving forward should not look quite as one-sided as they have the last few days, though there are sure to be more lopsided affairs.
Here's where the tournament stands after two days:

Now let's delve into where we expect the thrills to come from when Tuesday's Power Pools start. Below is the Ultiworld breakdown of Power Pools by which we predict will be the most fun to watch.
Power Pool Thrill Rankings
1. Pool L
Melbourne Ellipsis (AUS)
Raleigh Phoenix (USA)
Bologna CUSB Shout (ITA)
Seattle Riot (USA)
Ellipsis absolutely wiped the floor with the two-time reigning WUCC gold medalists on Sunday and looked just as threatening Monday against the Auckland Blueberries (NZL) and Bogota La Septima (COL). Phoenix slid through pool play and is favored to beat Ellipsis — at least by seeding — but the Aussies will challenge them more than any team they have faced yet. With trademark Australian vigor, Ellipsis should not be written off too soon making this the game to watch and putting Pool L at the top of the thrill list.
It's no secret Riot is not the team they were four or eight years ago, but day two looked substantially better for them than day one. Tuesday will reveal if Seattle just needed to get some early nerves out and settle in, or if their time as a top team has passed (for now). CUSB Shout suffered just a single loss in pool play, Phoenix shutting them down at 15-7, and has been middle of the pack consistently. They may have a shot at beating Riot, but even that would be a tinge surprising based on their first two days.
2. Pool J
Medellin Revolution (COL)
Swampybarg (JPN)
Chicago Nemesis (USA)
Quebec Iris (CAN)
This ought to be a pool worthy of attention primarily because Revolution has often taken their time settling in these past few days, and Swampybarg has displayed nothing but speed and smarts. However, when asked about these seemingly slow starts, Revolution's coach, the amiable Mauricio Moore said, "it's a part of our plan to have a really big rotation in our team … to learn and get the experience of worlds [and] give the opportunity to all players to get on the field." Given Revo's stacked roster, consisting heavily of World Games athletes (from team Colombia, USA, Australia, and Germany), they need to pace themselves throughout the tournament. Mauricio will make changes as games get more intense, so these "slow starts" may not be indicative of the patterns to come for Revolution. Claire Chastain, a newer member of the Revo roster, will join her teammates on Wednesday, Moore said.
Swampybarg has yet to lose as well and has maintained their signature sharp play style and is fixed on their goal to advance, providing Revo a worthy competitor. Iris and Nemesis have both lost once, often defeating opponents with a four- to eight-point margin. These teams are evenly matched and will have a grindy game, but neither is unlikely to upset Revo or Swampy.
3. Pool I
San Francisco Fury (USA)
Tokyo MUD (JPN)
Vancouver Traffic (CAN)
Tokyo Mavericks (JPN)
While it would take a truly special performance to break Fury's win streak this early in the week, the other three teams are going to be what makes this power pool thrill-filled. In this pool, we will see the first all-Japanese faceoff of the week which will excite given the similar, intelligent play styles and roster optimization both teams rely on. Mavericks came out with intensity against Fury, with one of their captains, Risa Harada, commenting that "even though Fury is the first ranking team, we weren't afraid; we came strong, we showcased what we've been practicing throughout the last four years." We'll see what more the Mavericks showcase on Tuesday from their bottomless bag of tricks and creating some chaos in their pool.
The opening ceremony may feel like years ago, but it was just two days ago that MUD beat Traffic in the showcase game. Traffic has played increasingly cleaner and meaner since then, as they've climatized to the WUCC environment and Ohioan heat. The bottom line in this power pool is that Fury should continue to line 'em up and knock 'em down, though nothing is predetermined for games amongst the remaining three. Tune in.
4. Pool K
Boston Brute Squad (USA)
Toronto 6ixers (CAN)
Noisy-le-Sec Yaka (FRA)
Seagulls Hamburg (GER)
In the last of the power pools, a diverse group of top teams from their respective countries battle for their spot in prequarters. Of all the power pools, this is shaping up to be the least thrilling of the four. Brute Squad, like Fury, shouldn't encounter issues staying undefeated. They have used their two days of pool play to focus on, and achieve, improving team cohesion and eliminating uncharacteristic sloppiness. Much like the previous power pool, the other three could be wildcards. Yaka has been effectively utilizing the deep space and demanding the offense with their pressure. However, the Parisians lost by seven to the 6ixers on Monday. Most of the areas of strength should prove assets against the other teams in their pool. The Seagulls were throwing dimes left and right in their final pool play game of Monday against HUCK, but their strategy is going to be more challenged by this group. The 6ixers have done well so far and, despite a young team and a roster lacking many big names, the "young players are fitting in really, really well and [the vets on the team] are doing a great job of stepping up and being leaders on the field for those players, helping those newer players, those younger players to shine," said coach Jordan Meron. Expect Brute and the 6ixers to be sitting pretty at the end of the day.
—
The sixteen teams that finished either third or fourth in their initial pools will advance to lower tier pools Tuesday, where few may be scrappy enough to claw their way through the backdoor. San Francisco Nightlock (USA) may be one to watch on this route, as they have demonstrated energetic play. In pool play at least. Nightlock's downfall tended to be their lack of consistency, often going on a three-point run followed by sluggish defense and fundamental errors. Luckily, these are manageable adjustments and the talent is there, leaving a crack in the door for the Bay's second team to force their way into the bracket. HUCK, the lone Japanese team not to advance to a power pool, will also show nothing but ferocity as they try to worm their way back into championship contention as well, but they now have virtually no room for error.
After a largely predictable two days of pool play, Tuesday should bring some welcome excitement for athletes and fans alike. Additionally, rain is in the forecast starting Tuesday and will likely keep things spicy and slippery.