The Union's Championship Weekend experience led them to an easy victory against the expansion Colorado Summit.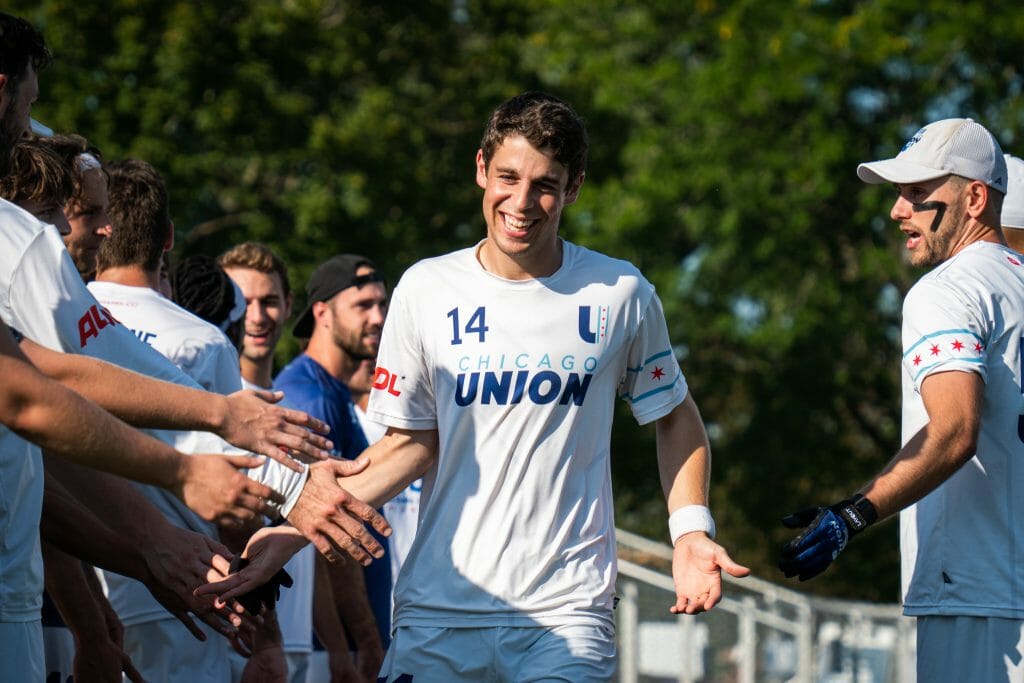 MADISON, Wisc. — The west division representative has not won a game at the AUDL's Championship Weekend since the now-defunct San Francisco Flamethrowers took home the 2017 AUDL Championship. With Chicago's 19-14 blowout win over the Colorado Summit, that streak will extend for at least one more season.
Entering the game, the Union carried the experience of losing the 2021 semifinal in excruciating fashion. With the advantage of playing previously at Breese Stevens field, home of their rival Madison Radicals, Chicago ensured their place in the final this time around.
In true west division fashion, the opening of this game featured plenty of loose play and chances for both teams. On the opening possession, Paul Arters misplaced an inside under to Ross Barker and Colorado had a chance for an early break. Alex Tatum bobbled a diving clap catch, though, and the Union were able to settle down given a second chance at a first impression. Arters made up for his earlier mistake, flipping an inside backhand to Kyle Rutledge for the first hold, but Chicago initially had some worry.
The Union raced to an early lead when budding defensive star Jace Bruner knocked down Matt Jackson's inside flick. Joe White's half-field shot to Tim Schoch gave the Union the first break of the game and an early two point cushion.
Colorado had its early chance in the driver's seat but was still operating on a learner's permit as Championship Weekend novices. A patient hold put the Summit offense on the board. Then, Cody Spicer forced Pawel Janas deep and blocked the ensuing shot. The Summit had an early chance to tie the game, but the Union managed to hold on to their lead as Ross Barker cleaned up a floaty throw and the Union held.
While Colorado did a good job forcing the Union to take difficult shots into a slight upwind breeze, Chicago managed to hit most of them, and Colorado would not come any closer. About halfway through the first quarter, Sam Kaminsky made a tough catch on a floaty huck against a poachy defense that baited the open look. Two defenders were able to converge on the play but couldn't get the block despite their ability to catch up.
Chicago fully seized momentum with a sideline rolling pull that forced a quick throw from Matt Jackson that snuck past Jay Froude. On the counterattack, Dalton Smith launched a warning track flick huck to Nick Pappas. After a few resets between Smith and Joe White, White hit Pappas with a hammer and Chicago extended their lead to three. Smith and White were lethal for the Union d line offense, combining to go 63/63 for 500 yards, 6 assists, and 3 goals.
Colorado's offense, in contrast, looked sluggish once broken. Early in the second quarter, Danny Landesman's open side flick to Jon Nethercutt went a bit too low and wide. White and Smith worked the disc in the backfield and Smith found Nate Goff wide open in the upwind end zone for another break. Chicago controlled much of the second quarter, out-scoring the Summit 4-1. The Colorado offense looked lethargic compared to Chicago's supercharged defense and struggled to hit away shots in the thick midwest air.
"We're really good at stretching the field and using our athletes," Nethercutt said after the game. "Credit where credit's due. They did a good job running a bunch of help schemes off of the pull and making us work more in flow rather than out of sets. We didn't show a great success on countering that and finding the weak spots. We did at times, but not consistently."
The Union tacked on another two breaks to open up a six point lead as the pace of the game dragged on–five of the six second quarter points lasted at least 90 seconds as Chicago built an 11-5 lead.
Looking to shift momentum as the game swung in Chicago's direction, Colorado came out fiery in the second half, but Chicago took their punch and hit back. Nate Bucholtz did well to anticipate a Union cross field reset early on the first point and deflected it, but Paul Arters ran down the tipped disc in his own end zone to keep possession alive. Arters' high stall cross field flick found Kyle Rutledge to extend the Union lead. Chicago's defense got early turns on the next two points–both Union breaks to build a nine point lead after an 8-1 run.
The Summit did manage to push back midway through the third quarter, scoring consecutive breaks to shorten a nine goal Union lead to merely six. The Union found their feet again by crossing over Smith and White to pace the offense and Chicago entered the fourth quarter up six with a commanding 17-11 lead.
"I think we stuck with playing more possession than last playoff game against Minnesota," said Smith. "We kind of got a little huck happy. We know we have the talent on our D-line first to get Ds, put a lot of pressure on the opposing offense, and then just move the ball at our own pace."
Chicago comfortably burned the clock, taking about two minutes off the clock on their next possession. Colorado actually earned a turnover but gave the disc away, allowing the Union to possess for another two minutes or so before Smith hit an uncovered Mica Glass for a late insurance goal. The Summit overloaded Chicago's handlers with additional defenders to try and force a turnover, but the Union were able to navigate the tricky situation. Chicago's offense continued to possess the disc and run out the clock, as the Union pulled away for a 19-14 win.
Janas quietly led Chicago's offensive charge with a 48/49 throwing night for 507 total yards. He posted just two assists as he focused on keeping the disc moving and letting the D-line offense run up the score. The Union defense converted eight of their 14 scoring opportunities. White put together a strong three goal, three assist game and added a block. Paul Arters paced the offensive scoring with five assists and two goals.
For Colorado, Quinn Finer had a stellar all-around performance, finishing with two goals, two assists, and one block while completing twenty throws without a turnover. Nethercutt led the offense with a 36/40 performance for three assists and 562 total yards. While he lamented the mistakes the Summit made–fundamentals like catching easy passes–and acknowledged that the team's general inexperience caught up to them, he was quick to share pride in the season Colorado had.
"We're a brand new franchise," Nethercutt said, specifically shouting out the Summit coaching staff. "Getting them 11-1, getting them here at all is a huge accomplishment. Bringing a lot of Colorado ultimate together. I'm proud of those guys for leading us all year."