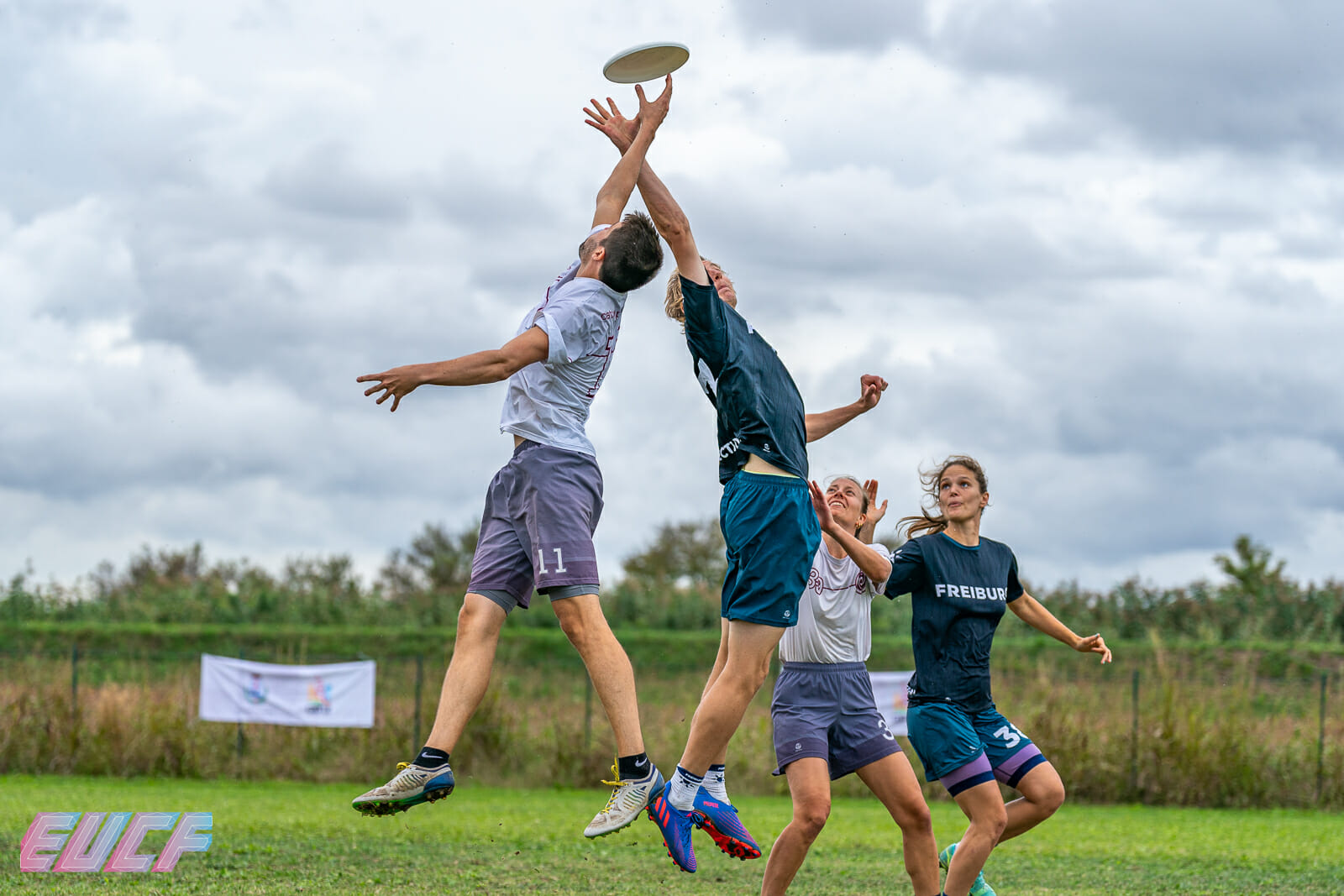 Day two of the mixed division was a tale of two pools. In Pool A, GRUT (Amsterdam, Netherlands) and Reading Ultimate (Reading, England) dominated proceedings. Both teams are likely headed for the semifinals, barring a big upset. Pool B is still feels open, with Left Overs (Brno, Czechia), Disconnection (Freiburg, Germany), and Catchup (Graz, Austria) all having a shot at the semis.
Pool B
After four games, Left Overs stand undefeated, having beaten everyone in the group outside of Disconnection. They are guaranteed a spot in the semi-finals, the only question that remains is whether they finish first or second in the group. Captains Martina Kmecová and František Szczepanik go into Saturday with a sense of freedom, knowing they're advancing regardless. They identified the team's two defensive lines as key to their success. In the second game of the day, SMOG (Manchester, England) took a convincing lead over Left Overs into half time, but the Czechs were able to break SMOG's offense consistently in the second half and claw their way back to a universe point win. In the other games, both their offense and defense were able to execute consistently in comfortable wins over Deep Space (London, England) and GOLD (Ghent, Belgium).
Disconnection suffered a surprise loss to Catchup in the second round of the day, but otherwise took care of business against SMOG and Deep Space. Against both SMOG and Deep Space, their offense looked largely well-drilled and organized, with players knowing exactly where their teammates would be before even receiving the disc. Captain Oliver Jung commended Catchup for coming out with a lot of energy and playing boldly with success. He said that his team were unable to connect with their deep shots, but lamented the hole their first half dug them. Jung also said the team were treating their last game of pool play as a quarter-final, in that they feel they need to win the game to go through. Disconnection can take first in the group by defeating Left Overs, second by losing (if Catchup also lose), or they could be eliminated (if they lose and Catchup win).
Catchup had an up and down day. They started by losing on double game point to SMOG, but followed that game up with two wins against Disconnection and GOLD. Captain Sven Kleinhapl said the team are feeling good about their performances. He said that the loss against SMOG was easier to digest because the game was incredibly spirited, making it easier for the team to be focused going into the game against Disconnection. Kleinhapl noted that the game against Disconnection featured a good mix of risky and controlled offense, that things came together for them. They know that they're relying on a Left Overs win to give them a chance of qualifying, but they are focused on what they're able to control.
SMOG fall to 1-3 on the weekend, yet their point differential is -3. They've played four very close games, but have been unable to put complete performances together in any of them. Helen Thompson and Will Collier had standout performances on the day, though the latter eventually pulled up with what looked to be a serious injury. SMOG looked very good at times, but they were simply unable to remain consistent enough to challenge for a place in the semi-finals.
Deep Space were 1-2 on the day, falling to 2-2 on the tournament, while GOLD are still without a win. Deep Space cannot qualify for the semis, but they could eliminate Catchup with a win in the morning.
Group A
Group A has been significantly chalkier, with a clear hierarchy forming. GRUT are undefeated on the weekend, winning pretty convincingly against all of their opponents. Captain Ben Oort said the team are coming together after making some line changes. After defeating Mosquitos (Klosterneuburg, Austria) 15-12, they felt the need to make some changes to their lines, which clearly paid off as they finished the day with 15-6 and 15-4 wins over Prague Devils (Prague, Czechia) and PUC (Paris, France), respectively. Oort commended the performances of Lola Dam, Ben Eppstein, and Joris Steneker.
Reading remain second in the group following their loss to GRUT in a shortened Thursday game. They were perfect on the day. Captain Bex Palmer was much happier with the team's performance on Friday than Thursday. She noted that the team has struggled with taking control of games early on, forcing them into comeback situations, but that that was not the case on Friday. Reading need a win in their last game to guarantee a spot in the semis.
Mosquitos exceeded their own expectations with wins against Prague Devils and Leamington Lemmings (Leamington, England), as well as a one point loss to PUC. Mosquitos player Christoph Nurschinger was full of praise for the consistency the team showed. He knows they go into the game against Reading as underdogs, but feels they can do so with an open mindset.
PUC managed a win against Lemmings early on, but fell against Mosquitos and GRUT. Prague Devils and Lemmings were winless on the day. However, Nathan Sanders of Lemmings assured me that spirits were high in the team's camp, and that they were looking to use their first experience at EUCF as a building block in the team's development. Having gotten a taste of EUCF, they're determined to come back.
MVP voting
EUF has introduced MVP voting for the first time at this tournament, so if you're watching along at home or taking part, you can vote for the most valuable player in your division (and all the others too) here.