The defending champions stymie their regional rivals en route to 17th straight semifinal berth.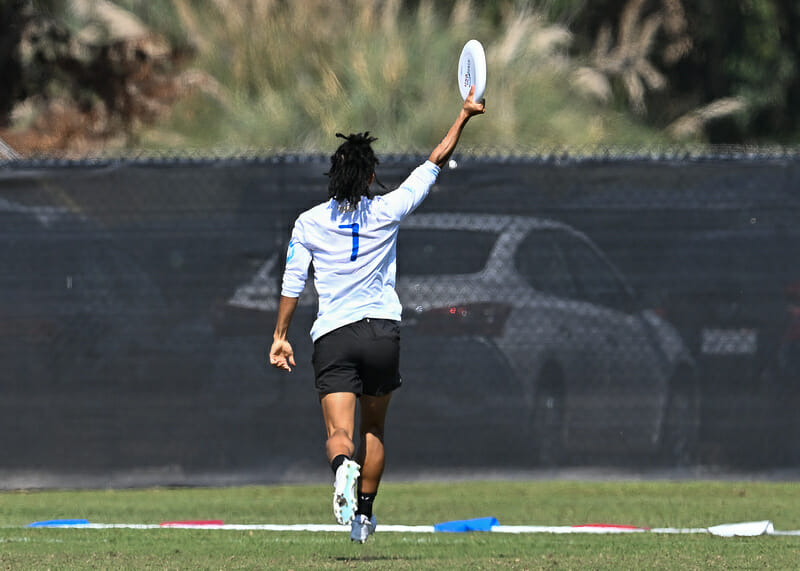 Ultiworld's coverage of the 2022 Club National Championships is presented by Spin Ultimate; all opinions are those of the author(s). Find out how Spin can get you, and your team, looking your best this season.
"You have to beat Fury to win, this is just earlier than we planned."
That was former San Francisco Fury stalwart Kaela Helton speaking after San Diego Flipside's prequarter win over Seattle Riot, talking about how her new team would have to face off against her old team in a battle of the two top seeds in the tournament.
While Flipside took Fury to universe twice during the season before Nationals, their matchup in the morning quarterfinal round didn't quite have that same level of drama as San Francisco rolled San Diego to a tune of 15-9. The reigning champs were supremely clinical: their offensive line gave up only a single break to Flipside for San Diego's final score of the game, while some adjustments to Fury's defensive game plan made life exceptionally difficult for Flipside throughout the game.
From the outset, Fury looked a step above Flipside's level. With the wind picking up in the day's second round of games, San Francisco put on flat marks against the San Diego handlers to slow down the potent Flipside deep game. That shift in their defensive approach made a near immediate difference. While Flipside were able to get a hold on their first offensive point of the game, Fury then scored three straight points to spring to a 4-1 lead.
"We made adjustments for their deep game because that's kind of their thing," said second-year Fury player Shayla Harris. "We wanted to have pretty flat marks on some of their handlers and the people who will huck it, and then we want to back some of their big targets. I think we did that pretty well, so we executed."
Harris matched up with her former teammate Dena Elimelech in the early going and each won the matchup once through the opening exchanges. Elimelech took first advantage, getting up over Harris at the front of the end zone and dishing to fellow former Fury Helton for Flipside's first goal of the game. Two points later and it was Harris who claimed a floaty Flipside throw, leading to Fury's first break of the game as Fury rookie Calise Cardenas flipped it forward for Opi Payne for the goal.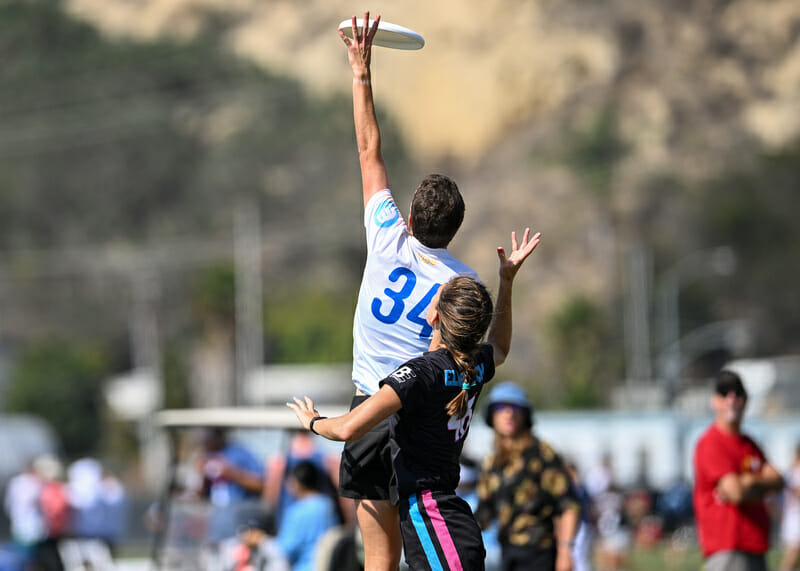 "I think they have a fantastic rotation of athletes that play tight defense, aggressive defense, all the time," said Elimelech after the game about Fury. "It's really hard to keep up with that and then do it again." Indeed, while Flipside were able to stabilize their offense on the following few points, Fury's offensive line was simply too efficient.
San Francisco's old guard combined with San Francisco's new guard time and again as Fury relentlessly ran their system into the ground point after point. It was Anna Nazarov to Anna Thompson to Claire Desmond in one sequence that gave Fury a 5-2 lead, Thompson to Michelle McGhee for a 6-3 lead, and Thompson to Sharon Lin for a third Fury break and an 8-4 halftime lead. Thompson put on a show against Flipside, as she threw five assists while never turning the disc over. It was that kind of day for the Fury offense—sharp and ruthless as they raced down the field, jamming it down Flipside's throats.
The thing with Fury, of course, is that they have a way of making even great teams look average, and Flipside didn't play poorly by any means even as Fury led wire-to-wire. Helton (2G/4A/2B) and Elimelech (2G/2A/2B) were immense, San Diego constantly trying to find ways to get them the disc. The two former Furies connected on Flipside's first two goals of the second half, each with a goal and an assist in the exchange including a remarkable juggling catch by Helton that brought the score to 10-6 in San Francisco's favor.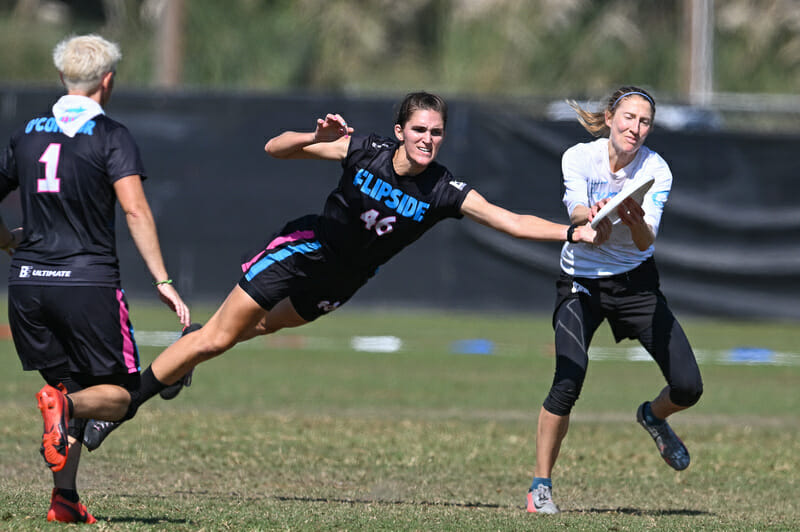 Maggie O'Connor, Kaitlyn Weaver, and Avalon Igawa, all of whom played with Elimelech on the WUL's Los Angeles Astra earlier this year, stepped up in big ways for Flipside against Fury. O'Connor was a rock in the backfield for San Diego, constantly finding ways to create tiny windows of space for resets against the ferocious Fury press, while Weaver played a central combo role as a key connecting piece between Flipside's handlers and continuation cutters. As for Igawa, she picked up San Diego's final goal of the game for their only break of the game on a pass from Helton, and provided significant value for Flipside in the defensive space as well. "[She's] one of the most underrated players coming out of LA, and just balls out on defense, shuts down some of the best handlers on Fury," said O'Connor after the game.
Even with one of the best young cores in the division, Flipside simply didn't have enough to keep up with Fury despite the best efforts of Elimelech, Helton, and co. San Francisco picked up a late break to take it to game point up 14-7 courtesy of an assist from Amel Awadelkarim to the ageless Nancy Sun, and then it was longtime Fury veterans Nazarov and Desmond connecting to confirm the victory.
That's how you win a game! Claire Desmond switches hands to make the grab in traffic while falling down before finding Anna Nazarov to send @furyultimate to the semifinal! pic.twitter.com/lfZuYYlGQy

— Ultiworld (@Ultiworld) October 21, 2022
They move onto the semifinal to face Boston Brute Squad who held off Raleigh Phoenix 13-11 to guarantee yet another iteration of this historic rivalry. The two teams actually have not faced off this season, and with a slightly different cast of characters than their last meeting in the 2021 national final it will be intriguing to see how both Fury and Brute Squad feel each other out in the early goings of this semifinal matchup.
As for Flipside, the youthful Southern Californians would seem to have nothing but upside. In their very first season, they brought together players from Santa Barbara, LA, and San Diego to form one of the best teams in the country, even without the benefit of playing in some of the biggest regular season tournaments. Between getting to build more chemistry and young players getting to learn from their club Nationals debuts, there seems no way that this Flipside team won't be better come 2023.
"What we've already built as a first season with Carlo as the coach and Alisha, Kaela, and Maggie as the captains, it's a strong team culture," reflected Elimelech. "We already have a mental mindset of like, 'we are an elite team and we can matchup and win against elite teams,' and so I think it's going to be a sustainable program in SoCal."