Bravo defensive coach Tim Kefalas shares his thoughts on the team's victory.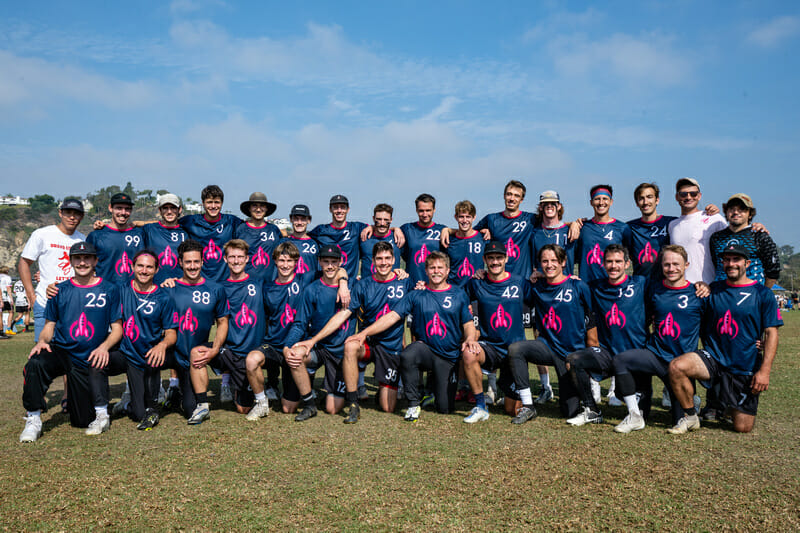 This article was originally published on the author's personal blog, Katfish Corner. It has been lightly edited.
On March 2nd, 2022, at 7:45pm, my phone rang. I had just finished reading bedtime books with the kiddo, and my wife was still in the bedroom doing the final round of cuddles and hugs. On the phone was my best friend, Andrew. He never calls – he's more of a mysterious texter. I answered the phone and Andrew told me that our friend Jason had unexpectedly passed away that afternoon. After the call, I sat calmly in my chair staring at the wall. Shayna came out of the bedroom and looked at me. I mumbled, "Jason's gone," and completely broke down.
Jason was a local singer/songwriter who never played ultimate, but when we were in college together, he would frequent the CSU Ultimate parties, belting out makeshift songs on his guitar and sharing his humor, bombast, and energy. We played disc golf together. We frequented karaoke. We played collectible card games and board games and reflected on the state of the world. Jason was such an energetic and passionate individual. He taught me a lot about what it really meant to live life.
Johnny Bravo won the Men's Club National Championship this past Sunday in San Diego. When Quinn Finer reeled in the game-winning score, my thoughts immediately went to Jason. The players screamed and hugged and cried. Joe Durst and I walked towards the crew as they celebrated on the field. Cody Spicer came barreling out unable to get any words beyond a high-pitched squeak and we shared a big hug. As I watched it all unfold in front of me, I thought: Jason would have written a fucking epic song about this.
After the 2019 club season, I was ready to hang up the clipboard. I had spent the season co-founding and coaching Mixed Signals. We had an amazing season, finishing 9th at Regionals and staying true to our core principles of competition, spirit, ownership, and inclusivity. Despite that success, I was emotionally and physically exhausted. It was time to take a break from coaching.
On March 3rd, 2020, I got an email from Todd Wolma, one of the Bravo captains, asking if I had any interest in applying for a Bravo coaching position. I did some internal reflection, talked it over with family, and agreed to submit an application. A few weeks later we had an interview where I rambled on about intentional defense, force-middle principles, playing as seven on the field, blah blah blah. I'm not totally sure why — maybe the coaches of the 1st-8th mixed teams were unavailable — but they decided to bring me on board.
The 2020 season was lost to COVID. Bravo spent that time thinking critically about our role in the Colorado community as well as our role in this ever-changing world landscape.
In 2021, Boulder Lotus formed and several long-time Bravo stalwarts didn't return. The team had a huge amount of turnover from the last full-season Bravo squad (2019), but there was an excitement and buzz around the opportunity to re-establish culture and enter into a season with only the expectations we set for ourselves.
We won the region over Doublewide and cheered as Lotus took the 2nd bid. We had a solid Nationals, culminating with a respectable 14-12 loss to Sockeye in quarterfinals.
As the 2022 club season approached, we got a new wrinkle: the Colorado Summit, a new AUDL franchise, was announced. I knew Mike Lun, longtime coach of CU Mamabird and coach/captain of Lotus, was going to be involved with the Summit and that there was a reasonable chance a lot of current Bravo players would likely be trying out for the squad.
The existential AUDL conversation is a complicated one for a lot of folks in the community, and I won't delve into the depths of that here, but I felt like the opportunity to work with my longtime rival, Mike, and the chance to coach more of the younger Lotus guys would be an amazing experience.
I applied for a coaching role with the Summit; went through some interviews and conversations with owners about my own vision, experience, and expectations; and was brought on board.
The Summit had an incredible inaugural season, going 11-1 in the regular season, winning the West Division over a rival rookie franchise, the Salt Lake City Shred, before falling to the Chicago Union at Championship Weekend. It was an amazing experience that has several blog entries itself worth of reflection.
The core tenet that the players and coaches kept centered that entire AUDL season was simple: "joy." Find your joy. It can't just be about wins. It can't just be about the competition. What brings you joy? Why do you put in the work? Why do you grind? How do you center that joy in challenging moments? How do you support others to find that joy? I hoped that joy would continue on through Bravo season.
Lotus didn't re-form. We pressed Mike to join Bravo to run the offense (which he did!). A whole bevy of current Mamabird and recent grads joined the team, including Alex Atkins, Danny Landesman, and Calvin Stoughton. Atkins unfortunately tore his PCL in a Summit game in July and wasn't able to suit up for Bravo until Nationals.
Bravo had a lot of success early in the season. We won the Pro-Elite Challenge in July. We lost to Truck Stop on universe in the finals of the US Open in August. We lost to PoNY on universe in the quarters at Pro Champs in September. Heading into our final game of the weekend at Pro Champs, it seemed likely that with a win in that game vs Rhino, we'd probably be a top 3 seed heading into Nationals. Rhino beat us on universe. A lot of negativity surrounded that loss for myself and the team. I struggled to find my "joy" and my "why."
We rolled through Sectionals and Regionals until a windy final where a fire-up Doublewide squad took us down on universe. It was a very disappointing loss. We didn't bring our best game. We beat HIP for the 2nd bid to Nationals, but a lot of that negativity still remained. For me, after 9.5 months of coaching across multiple teams and seasons, my joy was slipping further away.
After regionals, Alex Tatum ("Plow") emailed the team and organized a players-only meeting. It was an opportunity for players to talk about "why each one of us here" and "what each of us is looking to get out of this." I don't know all the specific content of that meeting, but after that,  the team absolutely dialed for our last several practices heading into Nationals. The energy, grit, and grind were there. A total re-centering of people's "why." After our final evening practice as Ben Lohre was dropping me off at our carpool spot, he called out, "TK, I never asked, what's your why?" I answered simply, "Growth."
We stumbled out of the gate at Nationals. GOAT put together an inspired performance and took us down on universe (dang, common theme). In the post-game huddle, Chance Cochran said exactly what we needed to hear: "We get to decide what happens from here. We write the story. Is this Bravo crumbling at Nationals, or is this a bump on the way to a national championship?"
I wandered off to spend some time alone before our next game against Omen. I sat down with my back to the fence in the corner of the complex and put on my favorite Jason Keen song. I thought about the loss. I thought about the games in front of us. Matty Jackson came over and chatted with me a bit. As I got back up to return to the team, I pushed away the negative energy that had seeped into my heart. We can get this done. We are here for each other. We have put in the work. The team believes and trusts each other.
We destroyed Omen. We played inspired, incredible disc against Truck in pool play, losing 15-12 in a game that, despite significant wind, only had six total turnovers. This left us at 1-2 in pool play and facing a pre-quarters matchup with 2019 national champion Seattle Sockeye. A tough draw, but we were absolutely up to the challenge.
We didn't have the cleanest offensive first half in pre-quarters vs Sockeye, but the O-line battled valiantly after every turn and the D-lines exerted consistent pressure. Down 11-8 with 19 minutes until cap, we rallied. The offense punched in a clean hold and we put out a standard D-line. Seth Faris knocked a floaty disc to the ground and the D patiently worked the disc back and forth on the goal line for 15+ passes before punching it in for the break.
Bryce Dixon skied for a big hold for Sockeye, and our O-line followed suit with a beautiful huck from Quinn to Calvin. Sockeye's O tried to force a huck to Matt Rehder around our force-middle that hit the turf. Our D worked the disc down the field and patiently found an open Denny Bechis to tie it up at 12s.
We swapped in our "starting" D-line for the 12-12 point (D2 had gotten both the previous breaks), and Nathan Buchholz got the clutch block of the tournament on a Nathan Kwon OIIO flick attempt. The D took a timeout then patiently worked the field with Spicer finding Erik Hotaling for a up-the-line score and the 13-12 lead. Sockeye held on a huck to Nick Stuart then our O-line grinded out an amazing universe win with Cole Wallin making multiple contested grabs before Ben found Danny for the score and the win.
This game was where all of what we'd worked on all season came together. We didn't expect to play perfect, but it was how we were able to react to those imperfect moments that defined our season. We didn't feel that our best chance at a come back was to stack every line with our "best," but rather that our squad was deep, hungry, and ready from 1-26. Our D2 line scored three of the four breaks this game. Our O-line had a bunch of turns but grinded almost all of them back. Players didn't waver when their number was or wasn't called to get on the field. This is the trust and belief we had as a group. Instead of letting negative energy overtake us, we stayed positive, supportive, and just shared all the love we could.
We rolled through Machine in quarters. Our O was only broken once. Our D only had two turns.
We rolled through Rhino in semis. Our O was broken three times but didn't get broken in the 2nd half and the D finished the game with seven breaks. Every single player contributed. Every player made plays. Our D2 line grinded out a coverage sack stall late in the game that captured that energy perfectly. We believed in ourselves and each other. Prior to the Rhino game, Sockeye game MVP Nate Buchholz tearfully informed coaches he couldn't play with swelling and pain in his knee. "Buck" took on marking duties (which is wildly important in our defense) on the far sideline and may have put me out of a job with how flawlessly he called the shifts.
The morning of the finals, the vibe was very laid back. Chance told me afterwards that when he felt the energy in the players' house that morning, he knew we were going to win. The trust and belief had infiltrated the entire team so thoroughly that it was inevitable. It was the biggest game of just about each player's life, and we played about as perfect of a game as you could ask for. We made significant offensive and defensive adjustments and the players simply rolled with it. We played deep through the roster all weekend, and it showed in the biggest moments.
I absolutely love what Truck Stop did this season. They dominated all year. They worked hard on every play. They played deep into their roster. They are amazingly well-coached. They trust each other so dang much (you have to to play offense like that). Despite all that, there is nobody else we wanted to play more in the finals because they are so much like us — not in style but in energy. And that felt like the best men's title game the sport could ask for. Huge props and love out to their team for an unbelievable game and season.
I'd assume folks have watched the clip above, but we took the finals 15-11. The offense had two turns the entire game and was broken zero times. It was an absolute masterclass in dynamic, efficient offense from Mike Lun and the O crew.
To circle this rambling narrative all the way back, I knew I wanted to write about this season no matter the outcome. I reflect again about my "why." I think about my own growth. I think about the things I learned from my friend, Jason, about living life to the fullest.
My personal growth isn't so much about on-the-field pieces. I'm pretty good at Xs and Os. My growth is all about how I react and respond to negative situations. It's an ongoing journey for me, but I'm proud to say I'm making progress. Our time on this earth is limited: why spend that time focusing on the negative?
I am so proud of this season, not just of this team for winning a national championship but for centering trust and love when it mattered most. I don't often smile because I internalize a lot of my emotions but this season was absolutely worth smiling about. It's easy to say that as a champion, but it would have been worth smiling about no matter the outcome.
There's only one champion for each division, but that doesn't change the value of the journey for all the thousands of people that put their time and energy into this wonderful, wacky sport each season. Don't take those moments on and off the field for granted. Be kind to yourselves and each other. Your work matters and is noticed, whether you're clawing to make Regionals or whether you're winning a title. This community is amazing and I wouldn't have it any other way.