Arizona's defense leads the way in an undefeated opening weekend, and Colorado make their debut in loss to Utah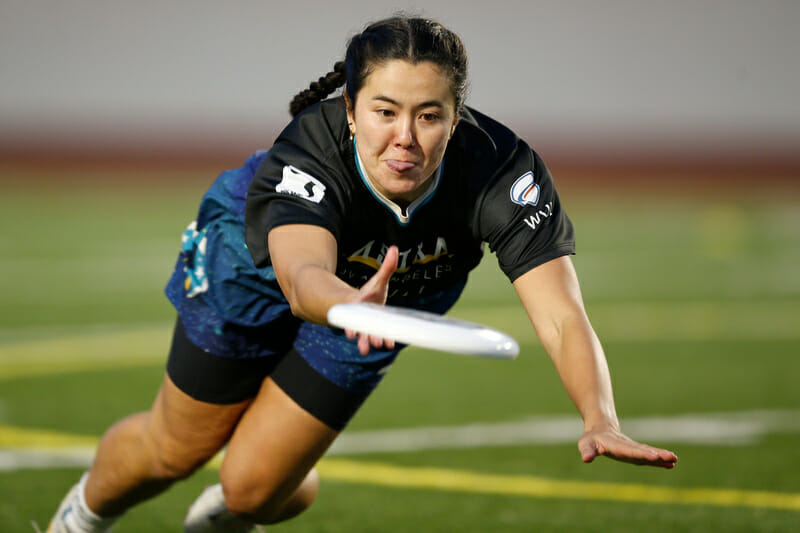 Welcome to the WUL1 Update, Ultiworld's bi-weekly women's semi-pro roundup from Jenna Weiner! We're breaking down all the action from the Western Ultimate League's first two weeks, which saw the Arizona Sidewinders go undefeated at the eponymous Sidewinders Showdown, upsetting defending champions Seattle Tempest, and new franchise Colorado Alpenglow take the field. Plus, league power rankings.
WUL Week One
Sidewinders Start Strong; Tempest Taste Defeat
At their hometown Sidewinders Showdown weekend, the Arizona Sidewinders vaulted to the top of the WUL standings with a pair of wins over two of the preseason favorites in Seattle Tempest and Oregon Onyx, 17-15 and 14-12, respectively. Arizona's defense was relentless throughout the weekend and generated an abundance of break chances for the Sidewinders. Those break chances included their final score against Oregon and the last point before halftime against Seattle that opened up an 8-5 lead the Sidewinders never relinquished. Kez Gesell — one of Arizona's fourteen rookies after being a D-I collegiate goalkeeper at Valparaiso — made an instant impact in her professional ultimate debut, racking up a 4G/1A/5B statline against Tempest and Onyx. 
While Seattle did take their first in-season loss2 against Arizona on day two of the Sidewinders Showdown, Tempest were commanding in their season opener against San Diego Super Bloom. The 2022 champs jumped out to an early 4-1 lead and later ballooned the margin to 16-9 midway through the fourth quarter before Super Bloom pulled back some consolation goals. In classic Seattle fashion, Tempest got balanced contributions from across their roster throughout the weekend. Across the two games, Sam Rodenberg and Jamie Eriksson each pitched in four goals while Steph Phillips and Steph Lim each threw four assists.
As for San Diego and Oregon, their incredibly close Sunday matchup that finished 17-16 in Super Bloom's favor exemplified how both teams' weekends went. For San Diego, Blair Messner had an incredible weekend with a league-leading ten goals, the last of which was the game-winning goal against Oregon on the final possession. To their credit, Onyx had staged a late run to tie the game up in the final minutes after being down three late, but couldn't complete the comeback. That closed out a two-loss weekend for Oregon, albeit with only a slim three-goal margin keeping them from notching an early season win in Arizona.
Falcons Fly Against Astra
Alongside the Sidewinders Showdown, week one also saw the San Francisco Falcons earn a season-opening win on the road against Los Angeles Astra 16-10. The visiting Falcons took an early two-break lead in the first quarter as Malina Wiebe caught two of her four goals of the evening before establishing a 7-4 halftime lead over Astra. Out of the halftime break, SF held LA scoreless in the third quarter as they built a 10-4 lead, before a frantic 12-goal finish in the last nine minutes of gameplay as both teams' offenses suddenly sprang to life. For Astra, despite good performances from Camille Wilson (3G/1B), Maggie O'Connor (3A), and Jasmine Childress (2A/2B), a number of unforced errors throughout the game made the Falcons' job all the easier. Heading into week two, while San Francisco had to be happy to open the season with a win over a conference rival, the loss of Audrey Sheehy, one of the Falcons' leading goal scorers in 2022, to a knee injury on the second point of the game put a damper on what was in all other respects a successful trip south.
Heavy Dose of Excitement
Contribution from Tyler Kinley
It was an incredibly successful opening weekend of professional ultimate. I didn't plan to spend a ton of time watching ultimate this past weekend, but I became an immediate Western Ultimate League fan. 10 – 0 – 1 – 0 – 1 – 2 – 4: this is the number of turns in each point of the first quarter of the Onyx-Sidewinders game. It created an awesome sense of thrill and tension for the spectator.
While there certainly were turnovers, they didn't hurt the product. After a 10-turn first point, the next six points had a combined eight giveaways. In fact, these possession exchanges enhance the watchability and add to the intrigue. Why? Well, consider what you would do as a coach. The errors are coming from a myriad of sources, and you can't practice everything – so, do you level up your team's throwing as a whole? Do you focus your touches on certain players? Is the structure of your system itself making for difficult throws too often? The turns – and the fact that they seem to be affecting every team somewhat equally – will be what determines the better teams down the road.
It was pure drama. Stars were emerging, like Greta Eisenbrey, a backfield force for the Onyx, along with Julia Sherwood and Aubri Bishop. Seeing a legend like Chelsea Putnam out there was awesome. Kody Lippincott, Chip Chang, and MEGAN MAXFIELD were all making huge impacts for the Sidewinders. And all this in the first quarter, which on its own featured 5-7 highlights.
WUL Week Two
Utah Unbowed; San Diego and Seattle Bounce Back
In both teams' season openers, the Utah Wild beat league newcomers Colorado Alpenglow 19-15 in the Northwest's first in-conference game. The game was finely poised in the first half, with Utah holding a slim 7-6 lead at halftime, before the Wild pulled away in the second half as they wore down Alpenglow in their inaugural league game. Abby Thorpe scored Colorado's first ever WUL goal and then proceeded to be directly involved in nearly half of Alpenglow's scores with an outstanding 5G/2A performance. Meanwhile, Kat Songer, who played last season with Seattle, put up a 3G/4A stat line for Utah, as the Wild matched their 2022 win total with this victory over Alpenglow.
It was a back-and-forth battle between San Diego and San Francisco in the Falcons' home opener, Super Bloom taking down the eventual win 19-15 as they outscored San Francisco 5-3 in the fourth quarter. In the opening period, it was all San Diego, Avery Jones, Kelli Iwamoto, and company building an early 7-3 lead, but San Francisco didn't go away. The Falcons responded in the second quarter as Malina Wiebe, who scored San Francisco's first five goals, and Marlena Luhr, who caught the next two goals after Wiebe's streak, led the way back for the hosts. By the third quarter, the Falcons had managed to tie the game up at 11-11 and 12-12, but couldn't break through as Super Bloom stood strong to take home the win.
Seattle maintained their claim as the Northwest's best on the road with a 15-13 win over Oregon Onyx that saw Tempest open up a 6-2 lead in the second quarter before Onyx narrowed the margin late. Kaitlynne Roling had perhaps the play of the weekend with an incredible layout block that helped Seattle take a 3-2 first quarter lead before chipping in a pair of assists late for Tempest. For the most part it was business as usual for Seattle as they got contributions from up and down their roster, while Oregon were led by Greta Eisenbrey (1G/3A) and Trout Weybright (2G/1A), the latter still just a college freshman but making an immediate impression in their professional debut.
Looking Ahead
It's an all-Southwest Conference affair in week three in the WUL as San Diego hosts Arizona, Los Angeles, and San Francisco for the Super Bloom Beach Bowl. The Falcons will look to get their revenge against Super Bloom on Saturday after San Diego got the better of San Francisco in week two before facing off against the currently unbeaten Sidewinders on Sunday. As for Astra, they'll likewise face both San Diego and Arizona after falling to the Falcons in week one.
In week four of the WUL season, Colorado takes a daunting trip to the PNW to play Seattle and Oregon back-to-back, while the PUL season kicks off with Portland Rising traveling south by southwest to play Austin Torch and Columbus Pride heading south by southeast to face off against Raleigh Radiance. 
WUL Power Rankings Update
Arizona Sidewinders

(+3): The Sidewinders' undefeated opening weekend with wins over both Seattle and Oregon makes for an easy leap up to the top spot in the power rankings.

Seattle Tempest

(-1): Tempest's two solid wins against Super Bloom and Onyx help balance out their surprise loss to the Sidewinders, Seattle's depth once again coming on strong in season two.

San Diego Super Bloom

(-1): A loss to the defending champs in your season opener isn't anything to be ashamed of, and it's now back-to-back wins for San Diego ahead of the Super Bloom Beach Bowl weekend.

Utah Wild

(+4): With a game-one win over Colorado, Utah are this week's biggest risers, and they now have three weeks to prepare for the rematch against Alpenglow in Colorado in week five.

San Francisco Falcons

(+2): A home opener loss to Super Bloom is a come-down after the Falcons' week one win over Astra, but SF has shown flashes of being an improved team this season even with all of their roster turnover.

Colorado Alpenglow

(-): It's not the start that Alpenglow will have wanted, although impressive performances from the likes of Abby Thorpe, Jade McLaughlin, and Aubree Dietrich bodes well for Colorado.

Los Angeles Astra

(-2): Astra's loss to the Falcons has to be frustrating given the number of self-inflicted errors LA had, but that means that there's only one way to go for Astra and that's up.

Oregon Onyx (-5): Yes, Onyx's three losses have come by a combined margin of only five goals, but three losses are three losses, which puts Oregon in quite the hole after just two weeks of play.
---
And PUL, once their season begins ↩

They took two losses at the 2021 Winter Cup but went undefeated in 2022. ↩