Jenna Weiner sat down with Penny Wu to discuss Wu's recent Twitter call to action, challenging cisgender men in the ultimate community to stand up for trans rights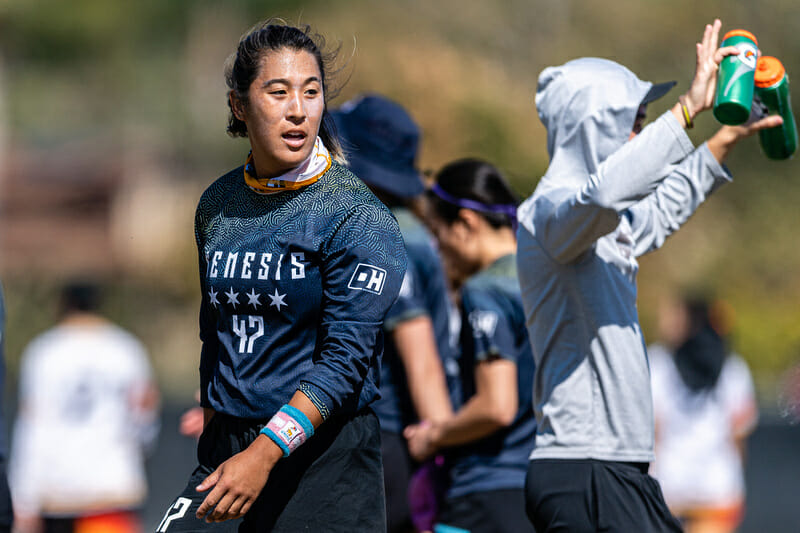 San Diego Super Bloom's Penny Wu posted a thread on Twitter on March 22 challenging cisgender heterosexual men in the ultimate community to step up in support of transgender people. In her thread, Wu implored those men to pick two of three options: call two of their state representatives to tell them they support transgender rights and gender-affirming healthcare, make a social media post your extended family and your peers will see that shows adamant support for trans people, or donate money to the cause. She also encouraged non-cishet men to share her thread to help spread the word throughout the wider ultimate community.
What followed Wu's call to action was an incredible outpouring of support from the broader ultimate community. Hundreds of people and organizations responded to Wu's public petition in one form or another, including thousands of dollars raised for transgender advocacy organizations.
Ahead of Transgender Day of Visibility on March 31, I reached out to Wu to ask about her motivation behind posting the thread, what her experience has been like as a trans person in ultimate, and what's next. Her responses, lightly edited, follow below.
Jenna: First off, thank you for starting this wave of donations and folks speaking out for trans inclusion and trans rights. I know this was included in your thread, but can you speak to your motivation to push the ultimate community on this at this time?
Penny Wu: Part of it was that Trans Day Of Visibility and Trans Day Of Vengeance were coming up, but most of it was just a boiling over of frustration that had been brewing over the past few months. For the first time in a long time I was home for more than a few consecutive days, and for the moment, I wasn't busy with playing, coaching, working, or traveling. I found myself scrolling and retweeting an endless news wave of anti-trans legislation. Right now it's about as bad as it's ever been, and I was feeling the crisis fatigue, just like we did and do with COVID, mass shootings, climate change…
So this was me swinging for the fences. And if you've ever met me or you follow my Twitter persona, my decision to do it in the style of all caps, no breaks, aggressively confronting people will track with your previous experiences. I, and all trans people, really, have very little to lose because our backs are against the wall here.
What were your initial expectations when you first put out that Twitter thread?
I didn't have any expectations. I figured there was a best-case scenario and a worst-case scenario, and I'm proud the community landed near the former. Best-case, I thought it was possible that this might leak into the disc golf community or even break out of the transgender-sports intersection, but it didn't.
Worst-case scenario was that I burn a bunch of bridges and deal with the fallout of all the men and men's orgs putting me on their sh*t list. As a trans woman, I generally live by the assumption that, until proven otherwise, men are some degree of transphobic, so I figured I didn't have much to lose.
Someone said during the week that I was coming through for the trans community, and while I love that, I think of it as coming through for the men of ultimate. I gave them a free opportunity to do what's right and to look good doing it, and the only thing stopping them was the aspect of fragile masculinity that says, "I totally would but you weren't nice about asking me." Or maybe their transphobia. It's a win-win from my end, since they either rise to the call or don't, and if they don't then I don't want to know them — for either reason.
Do you have an idea of how many people have donated to trans causes and/or contacted their representatives in response to your thread?
About 200 quote tweets plus some number of replies and people who did the thing but didn't link it to the thread. If you figure $50 per donation (based solely on my experience with fundraising, I could be very wrong), you get around $10,000. Most people went with the donation plus social media post options.
I don't know what actually does the most good, or how you would even measure that, but in my mind, having a player that other men look up to stand up and say, "This is the right thing to do, I'm doing it, and you should too," creates the most change.
Pivoting to your own experience, what has it been like to be a trans person in the ultimate community in the past year-plus as anti-trans legislation has ramped up around the country?
My own experience has been better than I expected. Organizations have been upfront with their inclusivity and people are almost always good people. I've definitely come across places where they (the people and the orgs) are both in need of education, and some individual instances of outright cissexism or transphobia.
I do think that my and other trans people's journeys are still made markedly harder by a general subconscious prejudice that pretty much everyone holds, in the same flavor that racial minorities experience, in ultimate. Were they unspirited or did it just seem that way because you are subconsciously scared of *insert demographic here* people?
With respect to the anti-trans legislation, I feel like it's a lot of what-can-you-do from the cis community. And I don't mean that in a disparaging way — I find myself in that spot all the time. People are generally good and we don't face much blatant, in-your-face prejudice at our community events. But trans people are looking down the long-term trajectory of what's happening around us, wondering if we will even be able to play at tournaments in certain states (or coach, or observe, or report!).
Honestly, though, my second biggest motivation for pushing individuals and organizations to stake a claim to trans-inclusivity was to bank those statements as insurance for trans players, because I have no idea how the discussion or legislation will unfold in the next 5-10 years. Whichever way the needle was swaying two weeks ago, this bought us a lot of room.
What has it meant to you to see people step up in response to your community-wide challenge?
You know, not much. It felt okay, I guess. [Wu clarified that this response was meant to be taken with "extreme sarcasm."]
We've seen the community rally in the moment around trans rights, so what's next in your mind?
Addressing, fighting, and preparing for climate change trumps (yeah I said it, who cares, Voldemort Voldemort Voldemort) everything else. It's the one thing we should all agree and be acting on right now.
But in a more tangible form, we really, really need more people to be getting into positions with the power to effect change. Ultimate people are good people (mostly), and I would love to see us running for school board positions and local government offices. That's where the decisions are made, where the money gets allocated, and therefore that's where change happens. You don't need a relevant degree, a lot of the time these elections go unchallenged, and unfortunately in many cases they go to a conservative NIMBY1 housewife or business owner. Please go look into how you can be investing your time back into your communities at a governmental level.
Any final thoughts?
The best time to plant a tree was 10 years ago. The next best time is today.
Be the change you wish to see in the world.
---
Not In My BackYard ↩