Super Bloom go unbeaten at hometown Beach Bowl, while Raleigh and Portland win on the PUL's opening weekend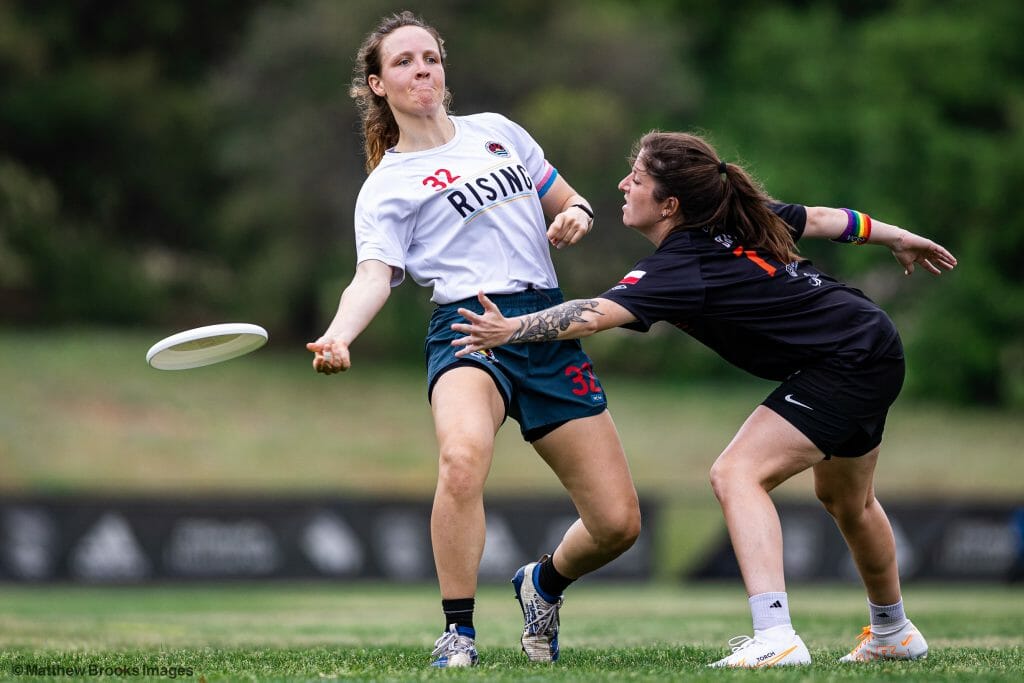 Additional reporting from Jaiden Cirioli.
Welcome to the WUL/PUL Update, Ultiworld's bi-weekly women's semi-pro roundup from Jenna Weiner! We've got action from Weeks 3 and 4 in the Western Ultimate League to recap, as well as the first two games of the 2023 Premier Ultimate League season. Plus, updates to both league's power rankings.
Western Ultimate League
For a deep dive into statistics in the Western Ultimate League, check out the latest entry in our Better Box Score Metrics series.
WUL Week Three
San Diego Southwest's Best; Sidewinders Stumble
In the second mini-tournament weekend of the WUL season, the Super Bloom Beach Bowl, San Diego cruised to back-to-back wins at home against the San Francisco Falcons and LA Astra, by scores of 18-11 and 22-11, respectively. Meanwhile, the Arizona Sidewinders, who had opened with a 2-0 weekend of their own at the Sidewinders Showdown in week one, fell just short in their games versus SF and LA, losing 11-9 and 14-13. 
After a first game loss to Seattle Tempest, San Diego have bounced back to look like the favorites in the Southwest that we expected before the season started. Against both the Falcons and Astra, Super Bloom converted on half of their break chances, and turned on the jets in the second half to open up those significant final margins. Blair Messner picked up where she left off in week one for San Diego with five goals across the two games, while Kaela Helton put together an incredible all-around weekend performance with a 6G/4A/6B stat line. Although Super Bloom do have back-to-back home and away games against the Sidewinders ahead of them in weeks five and six, going undefeated against conference opposition so far has them well positioned heading into the back half of the season.
Turning to the Falcons and Astra's matches against the Sidewinders, it's worth considering them together as the two games played out in remarkably similar fashion. In both games, Arizona's opposition were able to secure two goal halftime margins that expanded to three at the end of the third quarter, before a furious Sidewinders comeback attempt in the fourth quarter. 
In LA's game against Arizona, Astra were able to build an early 4-1 lead as the Sidewinders gave up a pair of breaks off of unforced errors. Kaitlyn Weaver, who did not play in the teams' opening game was able to claim a floaty disc in the end zone from stalwart Maggie O'Connor to open the game. After their hold, Astra got a break via a bid from Cam Helm. The first quarter, with several long points, ended in Astra's favor 4-2. Astra was able to take half at a very narrow 8-6 score, building upon their early success and pressure.
Astra was able to get several breaks to pull away in the third quarter 11-7 against Arizona, and needed to keep that same intensity level in order to close out the game and earn their first win. The high pressure and tight marking from the Sidewinders from every player on their team eventually wore down Astra, and allowed a fourth quarter comeback run from the Sidewinders to put pressure on Astra. Ultimately, Astra was able to ride out the pressure and win the game 14-13.
A trio of players led the way for LA statistically, each registering five goals, assists, or blocks. Chip Yen was Astra's constant end zone threat, Jasmine Childress directed the action, and former Sidewinders player Merideth Byl got a quintet of blocks against her former team. LA's win over Arizona was their first of the season, and they'll aim to add to it on the road against San Francisco in week five.
Astra's weak point against San Diego was their inability to threaten with deep throws. As they showed against Arizona game, their strength is in their short passes. With few strong handlers on their line, Astra needed to rely too heavily on setting up in a stack before moving the disc, and when they tried to break long, instead generated unnecessary turnovers. San Diego was able to easily capitalize on these mistakes, and by forcing Astra long, was able to generate quick turns. They have been one of the least accurate throwing teams in the league thus far, an area they must shore up. But they seem to be finding more cohesiveness, which should smooth out some of those rocky possessions.
For San Francisco, the key to their success against Arizona was holding the Sidewinders scoreless in both the second and third quarters as the Falcons turned a 4-3 first quarter deficit into an 8-4 lead early in the fourth quarter. Rachel Clarkson was a goal scoring machine, the Sacramento-area player good for five goals and an assist, while Gina Schumacher closed out a seven assist weekend with three dimes against Arizona. With wins secured over both LA and Arizona, SF maintains the head-to-head advantage against their conference rivals, and the Falcons get to welcome both to the Bay Area in the weeks to come.
Following their impressive homestand in week one, the come-down was real for the Sidewinders in San Diego, but there were bright spots for Arizona in SoCal. Team rookie Chip Chang put up seven assists against her Californian opposition, and Helen Eifert continues to be a leader on and off the field for the Sidewinders with a pair of goals, an assist, and a team-high six blocks on the weekend. The Sidewinders do get one more home game against San Diego in week five before hitting the road against both Super Bloom and Astra in double-header action week six.
WUL Week Four
Seattle Smackdown; Onyx on the Board 
Week four in the WUL offered up the slimmest schedule so far, with Colorado Alpenglow's double header against the Pacific Northwest duo of Seattle Tempest and Oregon Onyx the only games on the docket. With Tempest romping to a 28-16 dominant win and Onyx pulling away in the second half en route to a 20-13 victory, Alpenglow is now the only winless team in the league ahead of their home opener against the Utah Wild.
The further we progress into the WUL season, the more it seems that Seattle's shock loss to Arizona in week one was more an aberration than a new norm. Tempest jumped out to a 4-0 lead against Alpenglow before securing an 8-3 lead at the end of the first quarter, and it was only up from there for the hosts. By the end of the game, Seattle had set a league record for points scored with 28, and Sadie Jezierski had thrown eight assists to put herself at the top of the all-time WUL assists leaderboard. Many of the usual suspects chipped in for Tempest as well, including Frances Gellert (5G/1A/3B), Hana Kawai (1G/4A/1B), and Lexi Garrity (4G/3B). With that win, Seattle hit the halfway point in the season, and look primed for another run at Championship Weekend.
Sunday saw Oregon notch their first win of the season, although Colorado kept it close early. Onyx only had a 3-2 lead after the first quarter as the teams felt each other out, before building out their lead quarter by quarter. It was a balanced showing from Onyx against Alpenglow, with Tina Snieder and Kristin Roberts each picking up four goals to lead the way for Oregon, and nearly every Onyx player contributed at least a goal, assist, or block throughout the game. Sunday's match was Onyx's first against non-2022 Championship Weekend competition, and if they can build on this first win, they'll feel good about their chances heading into their final stretch of play in the last two weeks of the season.
As for Colorado, while the losses were heavy, there are silver linings to take away for Alpenglow after this arduous double-header. Jade McLaughlin continues to be a problem for Colorado's opponents, and put up an impressive 5G/5A/3B performance across the two games. Meanwhile, Kristen Reed remains one of the best goal scorers around and found the end zone six times against Seattle and Oregon, and Akane Kleinkopf directed the Alpenglow offense to much success against Tempest as she threw five assists. Coming out of the weekend still winless isn't what Colorado was hoping for to start off their inaugural season, but they can only go up from here, starting with their home opener against Utah in week five.
Looking Ahead
It's all critical in-conference matchups coming up in the WUL, with three games apiece in both weeks five and six. San Diego versus Arizona is the match-up in two of those games, first in the Sidewinders' last home game before they hit the road to play both Super Bloom and Astra in week six. In other Southwest Conference action, San Francisco will seek to do the double over LA at home in week five, and then it's a pair of Northwest Conference rematches as Utah and Colorado face off in week five and Seattle welcome Oregon north in week six.
Premier Ultimate League
PUL Week One
Rising, Radiance, Win in the Wind 
The 2023 PUL season kicked off with two games, with Raleigh Radiance winning at home over Columbus Pride 14-10 and Portland Rising eking out a 14-13 win on the road at Austin Torch. Even with just the two games played, Radiance already hold the early advantage in the South division with their win and Torch's loss, while Rising's road win may prove crucial down the line in what will be an extremely competitive East division.
While the margin may have been closer than expected, Raleigh did enough against Columbus in windy conditions and down a number of their talented UNC core as the Pleiades played Philadelphia Surge in a showcase game on Sunday. Strong second and fourth quarters helped propel Radiance to the win, taking an 8-5 halftime lead before holding off a charge from Pride in the third quarter. Seattle transplant Qxhna Titcomb made an instant impact in her first game for the Carolinians with two assists and three blocks, while Alice Wang and Hannah Boettcher combined for two goals, three assists, and four blocks between them.
For Columbus, team rookie Kat McGuire already looks the part with three assists and an astounding six blocks, and Maggie Rowell led Pride with four assists to go along with a goal and a block. It was a solid performance from Columbus in a game that they likely wouldn't have expected to win when the schedule was initially announced, and Pride will turn their focus to their three key Midwest division matchups as they try to build on a disappointing season last year.
In a rematch of their early season game in 2022, Portland once again came from behind to beat Austin on the road, although this time overtime wasn't necessary even with the close scoreline. Torch held the initial 3-2 advantage after the first quarter, but the next two quarters belonged to Rising as they built a 12-9 lead heading into the final quarter of play. While Austin were able to draw within one courtesy of one of Julia Schmaltz's three goals, it wasn't enough as Yuge Xiao, Sophie Knowles, and company secured the opening weekend victory. Austin's primary contributors included the aforementioned Schmaltz as well as Elise Bjork (3G/1B) and Annie Ortiz (3A), while Portland's goal scorers were led by Xiao and Kelsey Devlin.
Looking Ahead
Two more games are in store for the PUL's week two, Indy Red traveling to face 2022 finalists DC Shadow in a rematch of their 2022 Championship Weekend game, while New York Gridlock plays away to Philly Surge in Surge's PUL opener. In week three, DC plays for a second straight week, this time on the road at the Milwaukee Monarchs, Columbus hosts Nashville Nightshade, and Austin plays away to Raleigh in an important South division opener for both teams.
WUL Power Rankings
WUL Discussion
Seattle and San Diego are back to where they started the season at the top of the standings after bouncing back from their week one losses with undefeated weekends.
San Francisco and Los Angeles both move ahead of Arizona after their wins over the Sidewinders in week three, while Arizona tumbles after their 0-2 weekend in San Diego.
Oregon is off of the bottom of the rankings with their first win of the season, while 0-3 Colorado drops as they still search for their own opening win.
PUL Power Rankings
PUL Discussion
Not much movement with only two games played so far to start the PUL season, although Portland does rise after their win away to Austin, and Columbus gets credit for keeping it close against a still top-three Raleigh team.